this post, america's test kitchen's clumpalicious almond granola, was originally posted in april 2015! it needed an update (read: less crummy pics lol), so ta da.
isn't it sad when you think something's healthy, but it's really not?
take granola, for example. there's so much sugar in it that it really shouldn't be breakfast (in my eyes at least), and should probably be in a category more closely related to dessert. even if my own brain refuses to see granola and milk as a suitable dessert (suitable midnight snack though? YES).
and the more clumps that your granola has, the bigger the chance that it has way too much sugar. bc all that sugar helps the granola clump up niceeeeely.
so yes, this clumpalicious almond granola has more sugar than i'd like. and not even just for health reasons- i find it a bit sweet. but paired with a tangy greek yogurt and sweet / tart blood oranges? then this granola is perfect.
maybe you're in the mood for more granola because you also have no self control- how about this coconut almond cluster granola?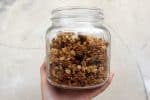 America's Test Kitchen's Clumpalicious Almond Granola
If you're a cluster granola kind of person, then America's Test Kitchen's clumpalicious almond granola will make all of your breakfast dreams come true.
Keyword:
almonds, brown sugar, dairy-free, dried fruit, egg-free, granola, maple syrup, nuts, oats, vanilla, vegetarian
Servings
:
18
½-cup servings
Ingredients
⅓

cup

maple syrup or honey

⅓

cup

brown sugar

4

teaspoons

vanilla extract

½

teaspoon

kosher salt

½

cup

oil

5

cups

rolled oats

2

cups

raw almonds

chopped coarsely

2

cups

dried fruit

chopped
Instructions
Whisk the maple syrup, sugar, vanilla and salt in large bowl. Whisk in the oil. Mix in the oats and almonds until well-coated.

Transfer to Silpat-lined baking sheet and spread into a thin layer. Compress with the back of a spatula until very compact. Bake at 325F until lightly browned, 40 to 45 minutes, rotating halfway through baking. Cool to room temperature, about 1 hour. Break into pieces of your desired size. Stir in the fruit.
Recipe Notes
From America's Test Kitchen.
Any kind of oil works! I'd pick something more neutral (ie canola or vegetable), but you can use something more flavorful if you'd like (ie coconut or olive oil).