This Biscoff latte is decadent, gently spiced and creamy. It's the perfect treat for any season, since you can make it hot or iced!
Ingredients
Cookie Butter
You can't have a cookie butter latte without cookie butter! The most well known cookie butter out there is probably from Lotus, who makes Biscoff cookies (their version of speculoos) and Biscoff spread.
Speculoos are crispy, crunchy cookies that originated in Belgium. They're flavored with spices, typically cinnamon, cloves, cardamom, nutmeg and ginger, and they're delicious plain or dipped into a beverage.
These cookies can be blended with oil until they turn into a thick peanut butter-like paste, aka cookie butter. That's the basis for this drink.
It might sound like a lot of work (not to mention dishes…) to make cookies, and then process them into a butter.
Luckily, cookie butter is widely available at Western grocery stores. It'll probably be near the peanut butter and jelly if the store happens to carry it.
And if you can't find cookie butter out in the wild or online, then you can go the completely homemade route, blend storebought cookies into butter, or find another latte to satisfy your cravings. An oat milk pumpkin spice latte, a chestnut praline latte, or a black sesame latte perhaps?
Espresso
Right now I'm working my way through a bag of Queerwave's dark roast, and can confirm that it's delicious in this latte.
If you can't get your hands on their coffee, I'd suggest something else that's dark and roasty, which helps mellow out the sweet and creamy vibes of the cookie butter for a balanced beverage.
Instant espresso works in a pinch. I can't deny how convenient and easy it is, so do what you need to do. I promise I won't tattle on you.
You can also do decaf, half caff, or any other combo to decrease the amount of caffeine if you need to!
How to Make
This recipe isn't super revolutionary – it's pretty similar to how you'd make any other kind of latte.
Start by pulling a shot of espresso. Do this however you'd like, whether that be using an espresso machine (hand pulled or otherwise; side note, had no idea these existed until I visited my friend in Minnesota?!) or a moka pot.
Combine the hot espresso with the cookie butter and salt, making sure to mix until the cookie butter is completely melted into the coffee.
Your path forward after this will depend on if you want a hot or cold beverage.
For a hot latte, steam or heat up the milk, then mix into the espresso and serve hot.
For an iced latte, prep your serving glass. You can smear a bit of cookie butter inside the cup for *~aesthetics~*, or forgo that and skip straight to filling it half full with ice.
Add the espresso and milk (straight from the fridge is fine), give it a stir, then serve!
Tips
Homogenous Drink
To get a smooth, homogeneous texture, you need to make sure that the cookie butter softens and dissolves completely. This also ensures that the cookie butter flavor is present throughout your whole sipping experience, rather than only when you happen to swallow a chunk of the spread.
The easiest way to do this is to mix the cookie butter into the hot espresso, making sure to scrape the bottom and sides of whatever container you're using to mix the two in.
Salt
A common refrain if you're familiar with this site – I add salt to everything, including drinks. Doesn't matter if it's a fruity lychee smoothie, creamy oolong milk tea, or a refreshing hibiscus green tea.
It helps bring out the flavors of the other ingredients in the drink. You wouldn't forget adding salt to anything you cook, so why not any drink you make?
Variations and Substitutions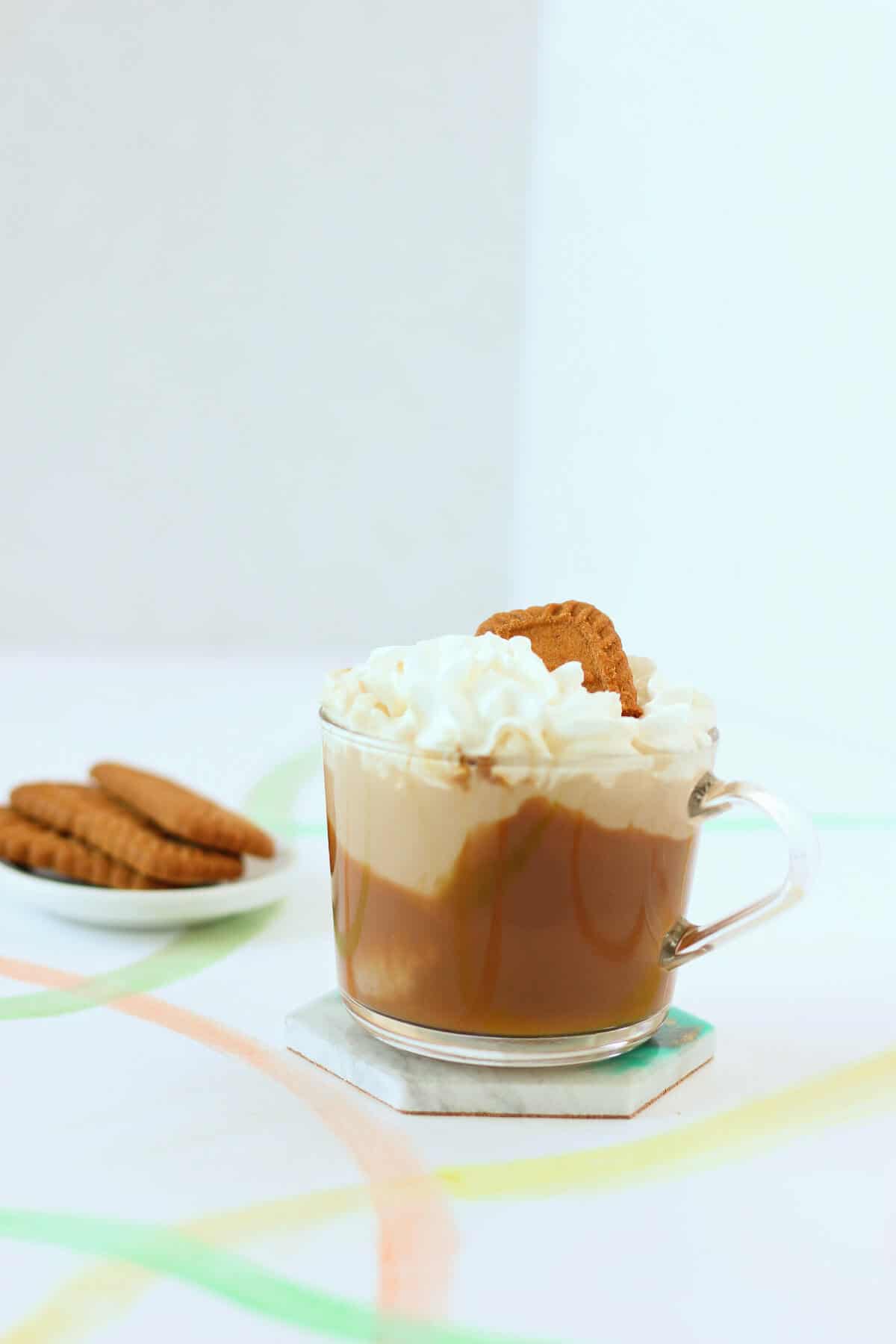 Hot vs Cold
This drink is delicious hot or iced!
The only thing to note if you decide to make this latte hot is that you may need to add a bit more milk.
I originally developed this recipe to be iced, which waters down the beverage a bit. So without any ice diluting the drink, it might be a bit too sweet or intense, depending on your taste buds.
Toppings
Whipped cream and a cookie (or five!) are always welcome accompaniments for this latte. I only used them in the pictures of the hot latte here, but you can add them to an iced latte as well.
Other options for toppings could be a sprinkle of cinnamon on top, a little shaving of chocolate, or anything else you can dream up!
Make Ahead and Storage
You can definitely make this latte ahead of time, or save your leftovers in the fridge. Make sure to get rid of any ice (or don't add any in the first place) to prevent the coffee from getting too watered down.
One thing to note is that the fat from the cookie butter floats to the top of the latte, while the solids settle to the bottom. So it's hard to enjoy this straight from the fridge.
However, if you want to sip on this hot, then you can re-heat your leftovers (a quick zap in the microwave should do the trick), give it a stir, and your coffee is good as new.
Should you be in the mood for an iced experience, you can make that work too. Re-heat to take the chill off and until you don't see any fat left on top, then stir to combine the espresso, milk and any settled cookie butter. Pour over ice and serve!
Biscoff Latte
This Biscoff latte is flavored with cookie butter! It's a little sweet, a little spiced and plenty decadent.
Keyword:
cookie butter, espresso, latte, nut-free, speculoos, vegetarian
Ingredients
1

shot

hot espresso

1 ½

tablespoons

cookie butter

1

pinch

kosher salt

¾

cup

milk

ice

for serving
Instructions
Mix the hot espresso with the cookie butter and salt, making sure that all the cookie butter is mixed into the hot espresso and the mixture is completely smooth.

Mix in the milk.

Fill your serving glass half full with ice, then pour in the latte and serve.
Recipe Notes
To make this latte hot, you may need to increase the amount of milk you use if the drink is too intense with the original amount. Steam or heat the milk before adding to the espresso/cookie butter mixture, then serve hot!