This chestnut praline latte is nutty and gently spiced, perfect for your cold weather coffee cravings!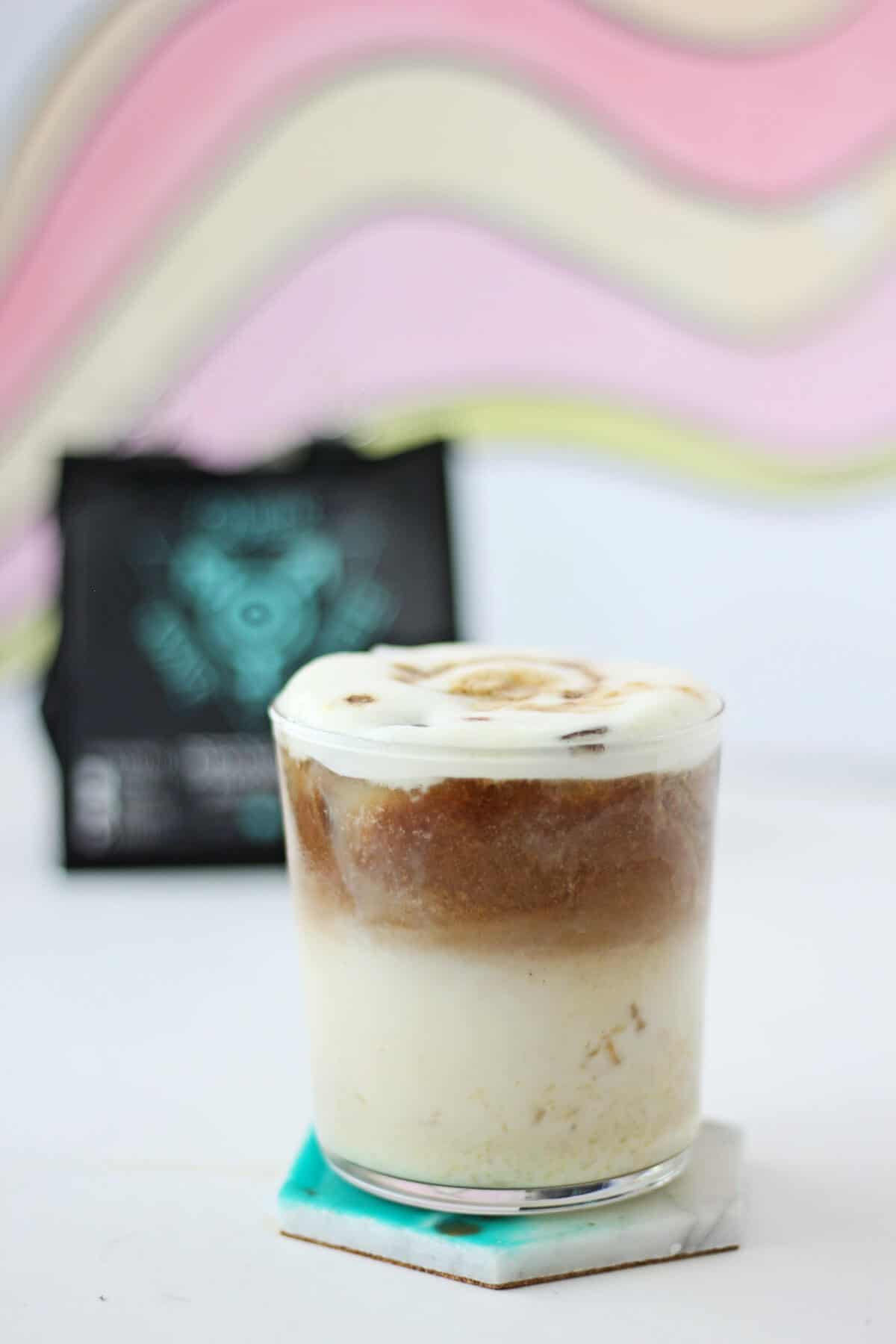 Ingredients
Chestnuts
The main flavor in this latte is chestnut.
I'd recommend looking for canned chestnuts, since they're the easiest to find year round, and you don't need to peel and cook them.
I've had good luck finding them at Asian grocery stores, though you can also buy them online!
I developed this recipe using chestnuts that were stored in syrup, so keep that in mind if you use canned chestnuts that aren't in syrup, or you're using fresh chestnuts. You may need to add more sugar.
Fresh chestnuts need to be cooked (roasted, boiled, steamed, etc) before they can be used, so make sure to take that into account if you're using fresh ones!
Spices
I stuck with the trifecta of spices that Starbucks uses (cinnamon, cloves and ginger), though you can definitely use other seasonings in addition or instead of those.
One thing to note though – I'd try to rein in the spices you use. The chestnuts are pretty mild in flavor, so if you try to add every spice in your pantry, you'll likely overpower the chestnuts.
Still a tasty latte, just not quite a chestnut praline latte anymore.
If you're in the mood for other spiced coffee drinks, how about an oat milk pumpkin spice latte, or a cookie butter latte?
Coffee
I typically like using dark roast in my lattes (especially since I tend to add a fair amount of milk and sugar and other things into my coffee), and this one isn't an exception. I'm making my way through a batch of Queerwave's Decolonize dark roast, and it's super tasty.
How to Make
Start by dealing with the chestnuts.
If you have a powerful blender, now is the time to pull it out. Blend the cooked/canned chestnuts and half of the milk until the chestnuts are as fine as possible.
For anyone else who doesn't have a powerful blender, I'd recommend cooking the chestnuts a little bit (microwave is the easiest way, though stovetop is also fine), or until they're easily mashable. You can chop them up to break up the pieces a bit before mashing the chestnuts with a fork.
The chestnuts need to be as fine as possible (ideally, you won't see any distinct chunks left). This way, the chestnuts incorporate into the drink, and you can taste them with every sip, rather than only when you bite into a chunk.
Once the chestnuts are broken down as much as possible, stir in the rest of the milk and set aside.
Mix the sugar, spices and salt into the hot espresso until dissolved.
If you're making it iced: fill a serving glass half full with ice, then pour in the chestnut milk. Top off with the espresso and give it a stir before serving!
For a hot version, combine the chestnut milk and espresso. Since there isn't any ice to dilute the drink, you may need to add a bit more plain milk to mellow out the flavors, depending on your tastebuds.
Substitutions and Variations
The vibe I was aiming for with this beverage was delicious but low effort. The resulting drink is admittedly less of a fancy, extra drink than one you'd get at a coffee shop, so feel free to embellish it as much as you want.
Brown Sugar
Brown sugar is an easy way to add a bit of caramelly flavor, without caramelizing anything or making caramel. A spoonful of caramel sauce would also be delicious.
(Maybe it's my inner homebody speaking, but this would only be delicious assuming you had some caramel sauce on hand, rather than having to change out of pj's and drive to the store to pick some up. Your call though).
If you're not feeling brown sugar or caramel sauce, or you're down to spend a little more time on this drink, you can:
Caramelize the chestnuts a bit. Either use the syrup in the can, or add some sugar, and cook the chestnuts on the stove until the sugar is a medium brown color.
Make your own caramel!
You can also ignore the caramel vibes altogether, and use another sweetener of your choice.
I think the warmth and flavor of maple syrup or honey would be tasty. However, white sugar, agave or other mild sweeteners are fine too.
Vegan
This recipe is easily made vegan. Make sure to use a dairy-free milk, and you're good to go!
My preferred milks to use in lattes are soy milk and oat milk due to their creaminess and (fairly) mild flavors, though you can also use nut milk, coconut milk or rice milk.
If the milk you use isn't luscious enough for your tastes, a splash of creamer or coconut cream doesn't hurt!
Topping
For the toppings on the hot drink you see photographed in this post, I used whipped cream and cinnamon.
That being said, no toppings are needed at all (ie the iced version you see here).
Or, on the other end of the spectrum, you can really gild the lily and finish the latte with ice cream, chocolate sauce/shavings, caramel sauce, or anything else you can think of.
The typical topping you'd find on a Starbucks chestnut praline latte are little spiced praline, toffee-like bits. I forwent those on this drink, but feel free to add storebought toffee bits or make your own to garnish the top with.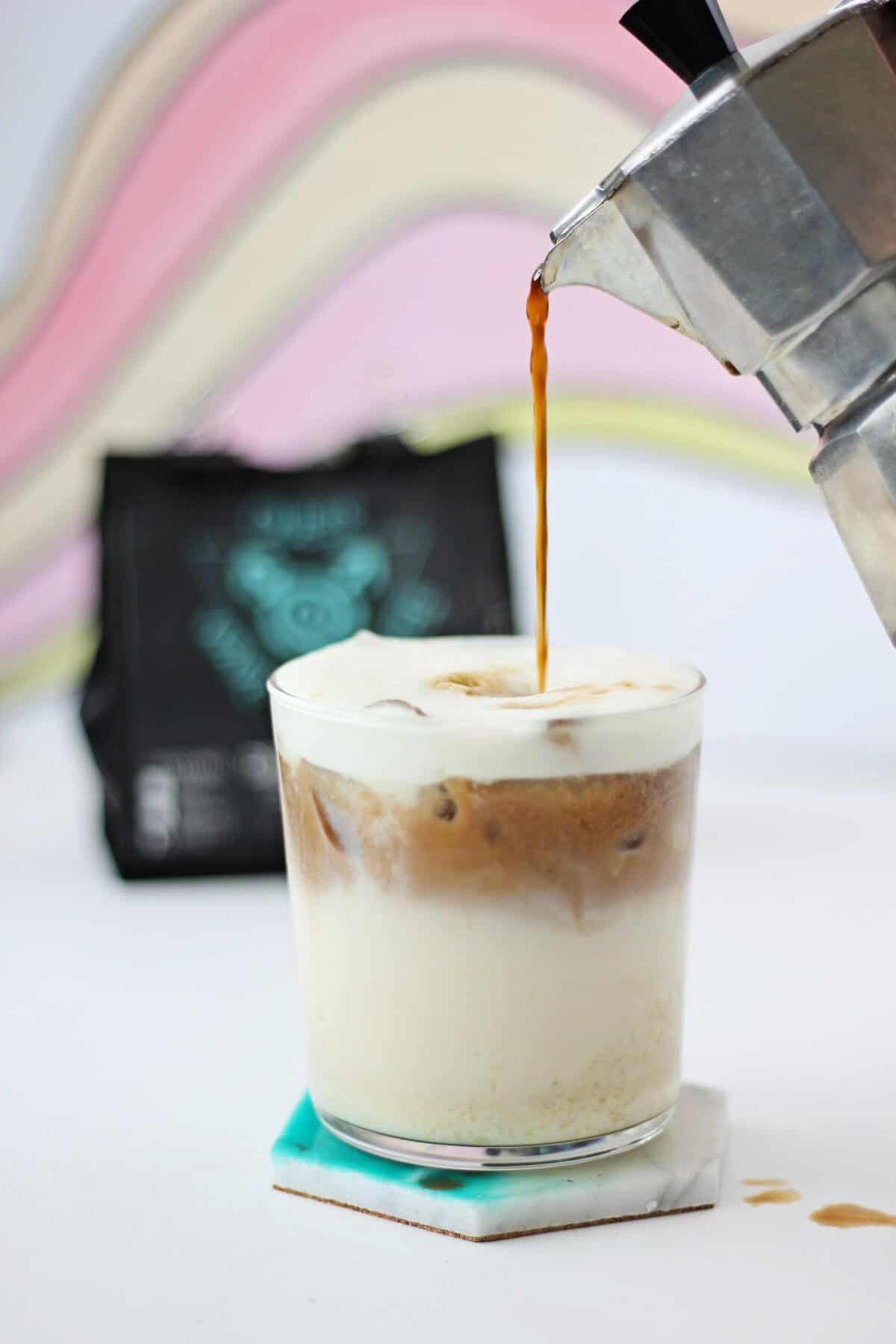 Chestnut Praline Latte
This chestnut praline latte is a little nutty, a little spicy, and a whole lot cozy! It's perfect for wintertime.
Keyword:
caffeine, chestnuts, coffee, egg-free, gluten-free, grain-free, non-alcoholic, nut-free, spices, vegetarian
Ingredients
¼

cup

canned sweetened chestnuts

¾

cup

milk

1

shot

hot espresso

1

teaspoon

brown sugar

1

pinch

salt

1/16

teaspoon

ground cinnamon

1/32

teaspoon

ground cloves

1/32

teaspoon

ground ginger

Ice

optional
Instructions
In a high power blender, combine the chestnuts and half the milk. Blend until the chestnuts are super fine (ideally you won't see any chunks), then stir in the rest of the milk.

Mix the espresso, sugar, salt and spices until the sugar is completely dissolved.

If you're making an iced latte, fill a tall glass half full with ice, then pour in the milk and top off with the espresso. Stir before serving.

If you're making a hot latte, heat the milk (if you used cold milk earlier), then combine with the espresso. Add more milk and/or water to taste if needed.
Recipe Notes
If you don't have a high power blender, you can soften the chestnuts by cooking them more (microwave or stovetop) until they're easily mashed using a fork.