these chickpea curry bowls with carrots and cilantro sauce are hearty and warming, perfect for prepping on the weekend so you can have fall-worthy dinners throughout the week.
how's your weekend? i'm busy sleeping and being a hermit, since i celebrated 2 months with my current company by going to a conference. the kind where you:
get up at 7am and go to bed at 2am
talk to people non-stop the whole time you're awake
pull a meeting out of your butt with 30 minutes of notice
aforementioned meeting ends up being taken by a (surprisingly normal) guy who's been on a reality dating show 3 times
go to another meeting inside a tent propped up on the hotel front lawn and get offered cold brew
receive warm soft pretzels with dijon and chocolate dipped chocolate chip cookies for snack at 2pm
have too many drinks because they're free and exciting and when else is there free beach happy hour?
work travel is by far not the healthiest (see above), so the healthy (or at least healthier, more vegetable heavy) times start now. chickpea curry bowls with carrots and cilantro sauce, here i come. they have chana masala vibes from the chickpeas and all the spicy curry, with the herby, nutty, tangy cashew and cilantro sauce coming in to help mellow out the curry. other nice touches: the charred carrots and toasted coconut! i'd recommend serving this with coconut rice (cook your rice with half coconut milk and half water), but anything goes.
1 year ago: sparkling lemon cherry soda | rooster and rice (and 12 other restaurants i went to in sf)
2 years ago: sunset ombre popsicles | creamy corn and oyster mushroom zucchini pasta
3 years ago: holy shit toast | mediterranean quinoa salad
4 years ago: chocolate chip cupcakes with chocolate chip cookie dough frosting | peanut butter chocolate chip waffles
5 years ago: choco-latte chip cookies | aunty pin's banana bread
Chickpea Curry Bowls with Carrots and Cilantro Sauce
Spiced, curried chickpeas form the base of these chickpea curry bowls with carrots and cilantro sauce, but the vegetables and herby sauce help bring it all together.
Keyword:
carrots, cashews, chickpeas, cilantro, coconut, curry, dairy-free, dinner, egg-free, garam masala, herbs, indian, nuts, rice, thai curry paste, vegetarian
Ingredients
Cilantro Cashew Sauce
1/2

cup

fresh cilantro or parsley

3/4

cup

roasted cashews

1/4

tsp

kosher salt

juice of 2 limes

1

clove

garlic

1-2

tsp

honey or maple syrup
Roasted Carrots
8-10

carrots

peeled and chopped into chunks

1

tsp

garam masala

1/2

tsp

chili powder
Rice and Chickpea Curry
1

cup

basmati rice

cooked

1

onion

 chopped

2

cloves

garlic

minced

2

T

Thai curry paste

1

tsp

garam masala

1/2

tsp

ground cumin

15

oz

canned chickpeas

rinsed

14

oz

tomato puree
Instructions
Cilantro Cashew Sauce
Puree everything with 1/3 cup water until smooth. Season to taste, and adjust the consistency with water and/or oil as you want.
Roasted Carrots
Toss everything with 1 T oil. Roast at 450F for 20-30 minutes, until brown.
Rice and Chickpea Curry
Heat some oil in a skillet over medium heat. Add the onion and garlic; saute for 3-5 minutes. Add the curry paste and spices; saute for 2-3 minutes.

Add the chickpeas and tomato sauce. Simmer for 10-15 minutes, or until the sauce thickens slightly and the chickpeas are warmed through.

Add the rice; stir to combine. Season with salt.
Assembly
Serve with the carrots, avocado, cilantro and cilantro cashew dressing.
Recipe Notes
From Pinch of Yum.
You can use a mix of nuts and seeds instead of only cashews in the sauce.
more rice bowls besides these chickpea curry bowls with carrots and cilantro sauce
summer fruit and tofu coconut forbidden rice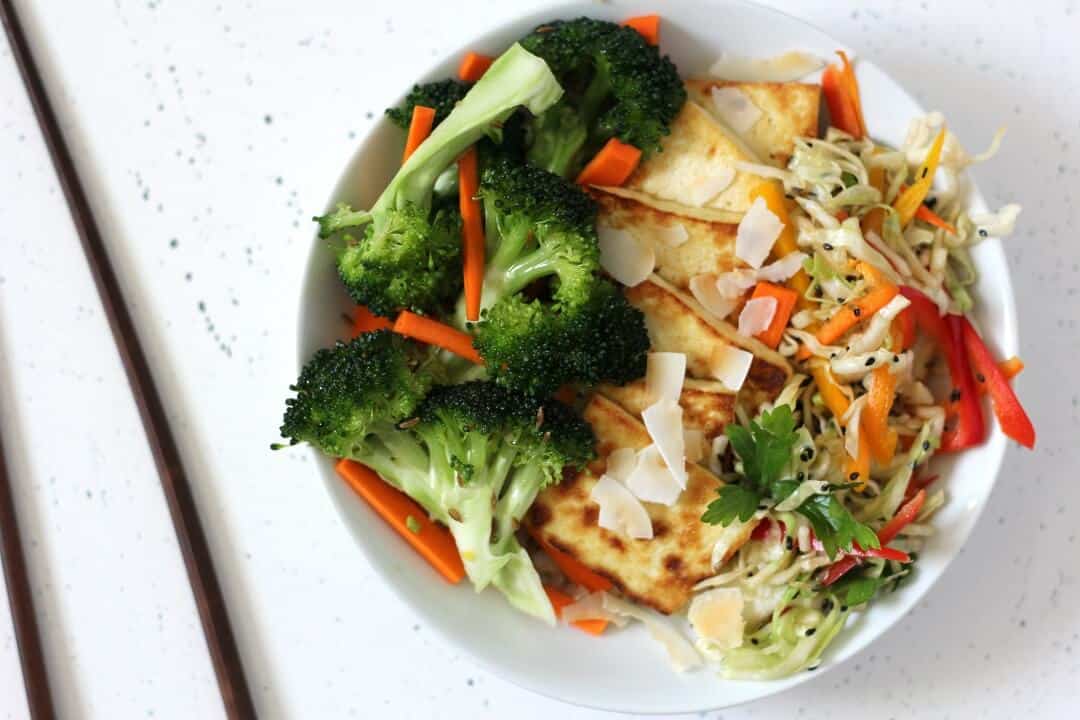 coconut rice bowl with cumin broccoli slaw and quick pickles