happy popsicle week!!! it's been a little over 30 hours since graduation, which is still weird and surreal to think about. so, we're going to distract ourselves by packing for a basic-for-others-but-exciting-for-me trip and with allllll the coconut, blueberry and five spice popsicles with sesame seeds.
instead of coconut, blueberry and five spice popsicles with sesame seeds, i originally wanted to call these popsicles the not iced vovo pops. i was inspired by a drink in la that was inspired by an iced vovo, even though i've had neither the drink nor an iced vovo.
and then the popsicles evolved into somethings that weren't even iced vovos, but blueberry + coconut milk + five spice + sesame popsicles. they're creamy and fruity and nutty and a tiny, tiny bit spice-y in the sense where there's something there and you have no idea what it is.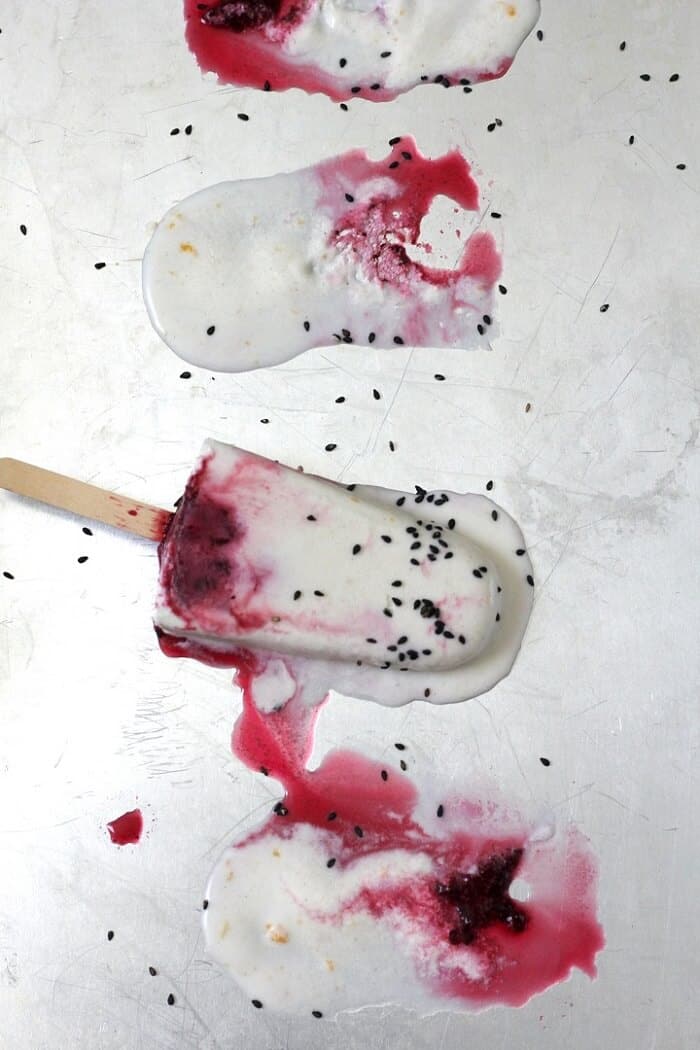 once you're done devouring these, how about some matcha popsicles or creamy red bean pops?
Coconut, Blueberry and Five Spice Popsicles with Sesame Seeds
These coconut, blueberry and five spice popsicles with sesame seeds are creamy, fruity and nutty, with a hint of spice for good measure.
Cuisine:
American, Fusion
Keyword:
blueberries, coconut milk, dairy-free, dessert, egg-free, five spice, gluten-free, grain-free, jam, marmalade, nut-free, popsicle week, popsicles, sesame seeds, vegan, vegetarian
Ingredients
15

ounce can

full-fat coconut milk

¼

teaspoon

five spice powder

1

teaspoon

vanilla extract

2

tablespoons

orange marmalade

1 ½

cups

blueberries

pureed

black sesame seeds
Instructions
Whisk together the coconut milk, five spice, vanilla and marmalade until smooth and homogeneous.

Divide the coconut milk equally between the popsicle molds. Place in the freezer for 10 minutes, then top with the blueberry puree. Freeze for 30 minutes, then insert the popsicle sticks and continue freezing for 4 hours, or until firm.

Run the popsicles under warm water (I like to get a deep cup and fill it with warm water), then pry them gently from the molds. Sprinkle generously with black sesame seeds and serve.