How to Make It
This recipe isn't that difficult, even though it's a little more time-intensive.
First: making the sago. The sago gets boiled for 10-15 minutes until translucent, then it's done!
It's okay if the sago clumps up a bit here, since it will break up again once you stir in the coconut milk.
They're so small that you usually don't have to worry about cooking it all the way through and ending up with a powdery inside like you might with boba (I'm looking at you, white boba from Ranch 99 that takes two plus hours and cooks unevenly!!).
The sago gets drained, then mixed with coconut milk and seasonings. This needs to cool off before you can serve, and while it does, the sago will absorb some of the coconut milk and thicken up until the texture is like a soft pudding.
When you're ready to eat, strawberries get blended into a slushie with some sugar, salt, water and ice.
For assembly, you have a few different options.
You can serve this in bowls or glasses. I like using translucent containers so that you can see all the bright pink strawberry layer and all that creamy coconut sago!
If the sago is really thick, you can put the sago on the bottom and top with the fruit. You can still do this if your sago is on the thinner side, just know that the slush might sink into the sago if the slush is on the thicker side.
It's easier to sip out of a glass if the sago and slush are on the thinner side; otherwise you might want to serve this in a bowl.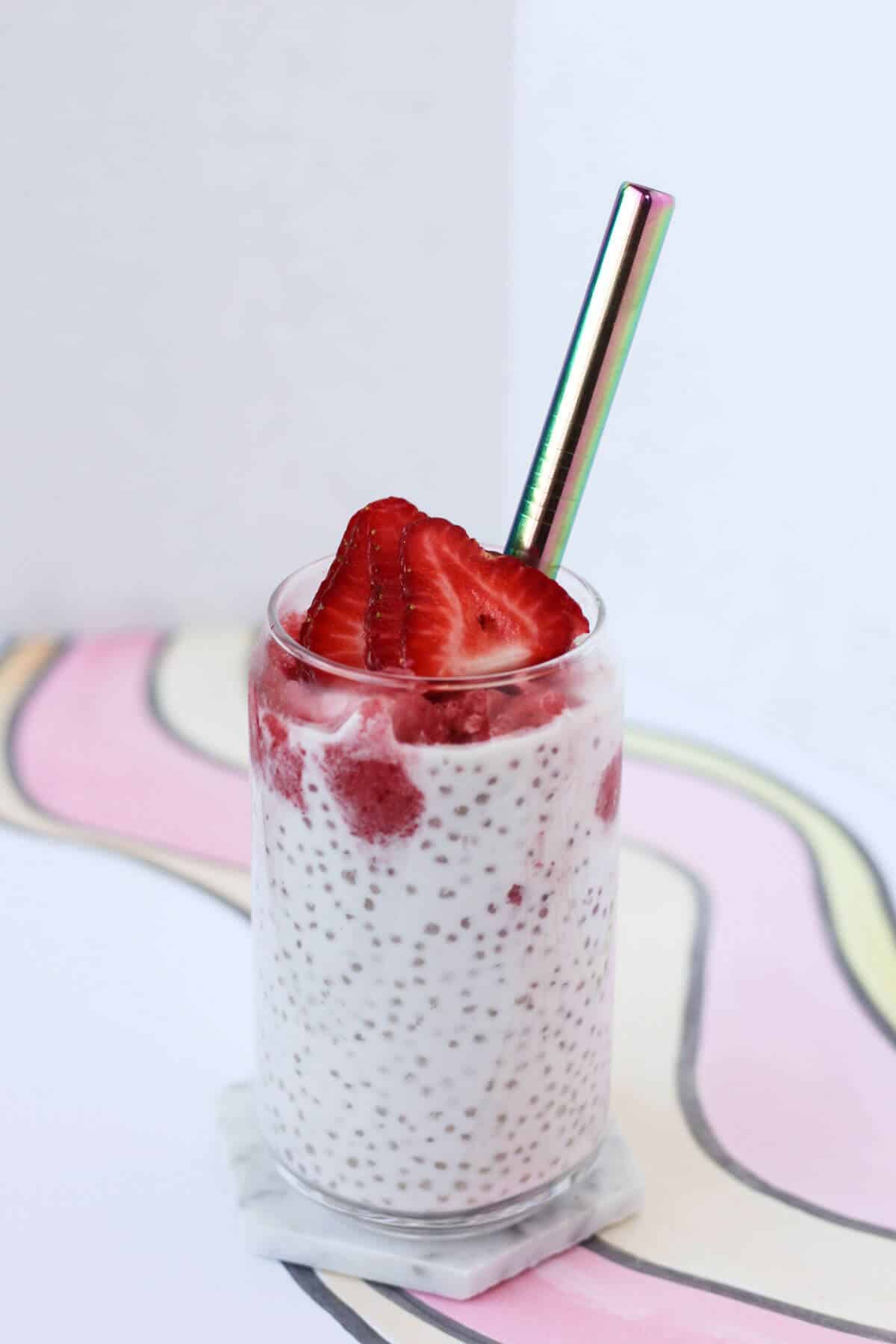 Can you make this ahead of time?
You can definitely make this ahead of time, but the sago texture will be softer, less bouncy and more gummy the longer it hangs out in the fridge. Ideally, the sago should be served the same day you boil it and mix it with the coconut milk, though it can last in the fridge for a few days.

If it's super thick because the sago is a few days old, I like to mix in a little milk or water to thin it out and make it more scoopable again.

You can also make the slush ahead of time – I keep it in the freezer, and defrost in the fridge for a few hours before using.
Variations
I like using frozen fruit in the slush, since this layer needs to be icy anyways. Using frozen fruit also means that you can have summery fruit in your slushes even when the fruit is out of season!
If you're in the peak of summer and have strawberries taking up way too much kitchen space, you can definitely use fresh strawberries instead. Make sure that you add extra ice, and maybe cut back on the sugar if your fruit is already perfect.
If you want to use a different kind of fruit, that's fair game as well! Mango is likely where your brain goes first (or at least, mine does), but anything goes.
Shoutout to Aqua Club in San Bruno, since the variety of fruit they offer over sago (pineapple, honeydew, peach and more!!) is mindblowing.
What is sago?
Sago are mini clear tapioca pearls. You can typically find them at Chinese grocery stores next to the beans and/or boba.
Are sago and tapioca the same?
They're not exactly the same, though they are similar. Both use tapioca starch, which gives these toppings their signature chewy and bouncy textures.

However, sago are a lot smaller than the more common boba you see in pearl milk tea shops, so they cook faster.

Cooked sago ends up translucent, whereas boba tends to be brown from either food coloring and/or the usage of brown sugar in the pearls (see this milk tea ice cream topped with brown sugar boba!).

Sago is also typically not sweetened or mixed with anything before being added to a drink or dessert. Comparatively, boba is typically sweetened with honey or brown sugar to season.
What do you use sago for?
Sago can be used for plenty of Asian desserts and drinks. I've primarily seen it used in Chinese desserts, including mango pomelo sago!
Coconut Sago with Strawberry Slush
This coconut sago has plenty of creamy coconut and chewy tapioca pearls (called sago), and it pairs perfectly with fruit!
Cuisine:
Cantonese, Chinese
Keyword:
coconut milk, dairy-free, egg-free, fruit, gluten-free, no-bake, nut-free, sago, strawberries, tapicoa pearls, vegan, vegetarian
Ingredients
1

cup

sago

¾

teaspoon

kosher salt

1

can

full fat coconut milk

5

tablespoons

granulated sugar

2

cups

water

4

cups

frozen strawberries

slightly defrosted

3

cups

ice
Instructions
Fill a medium pot half full of water and bring to a boil. Add the sago and cook for 10-15 minutes, or until the sago is translucent. Drain off the excess water.

In a medium bowl, mix together the sago, ¼ teaspoon salt, coconut milk, 3 tablespoons sugar and ½ cup water. Let cool until room temperature, then refrigerate until cold.

When you're ready to serve, make the strawberry slush. To a blender, add the remaining ½ teaspoon salt, remaining 2 tablespoons sugar, remaining 1 ½ cups water, strawberries and ice. Blend until the strawberries are broken down (it's okay if there are still a few small nuggets of ice left).

Fill six glasses or bowls each ⅓ full with the coconut sago, then top with the slush. Serve immediately so the slush doesn't melt, and give it a stir before enjoying.