hi there. it's the second week of 2018, so you're probably like, why is this girl still thinking about 2017? welp, that pomegranate ginger beer mint sparkler i shared last week was too good to pass up for nye/the end of the year. without further ado, the delicious not gorgeous review 2017.
fails
the i hate cast iron skillets episode, or that time i tried to make a massive plate-sized blueberry quinoa pancake in a cast iron skillet that 1) wasn't well seasoned, 2) wasn't well oiled and 3) had ridges on the bottom. aside from the pancake's reluctance to leave its pan home in one piece, it tasted chemically, and i realized why most pancakes don't have quinoa in them.
i generally have thanksgiving dessert duties, and thanksgiving 2017 was no different. i went with a hazelnut sweet potato cake, because it felt both festive (sweet potato) and special (hazelnut). alas, someone (not going to name names) forgot to add the sugar, and didn't realize until she was about to pull the cake out of the oven. sigh. the texture and sweetness and flavor were actually pretty good, but it still tasted like some sort of healthy (can confirm that it most certainly was not healthy) muffin, and not a cake. saved it for later munching and made this very very tasty and easy cranberry apple cake from queen ina instead.
you kind of can't tell from this picture, but these mushroom tortellini were a bit of a trial. my friend and i were folding these on a friday night (we're exciting people) while she was trying to get me hooked on black mirror (it didn't work), and squished them together on plates and stuck them in the freezer. bad idea. by the time we woke up from our unintentional naps at 3am, they were stuck to each other and to the plate, so we pried them off using butter knives. her knife slipped and she scraped her forearm, and i laughed at her. next thing i know, my knife has slipped and grazed over my wrist. i didn't realize that area could be so abundant with blood. also: they exploded when we boiled them. WHYYYY. pretty tasty but not worth all this madness.
i tried to do a farro risotto with apple and fennel. definitely stirred it too much, and the whole thing got gluey and too starchy. the flavors were really good though, so i'll have to try that again (someday).
your faves from 2017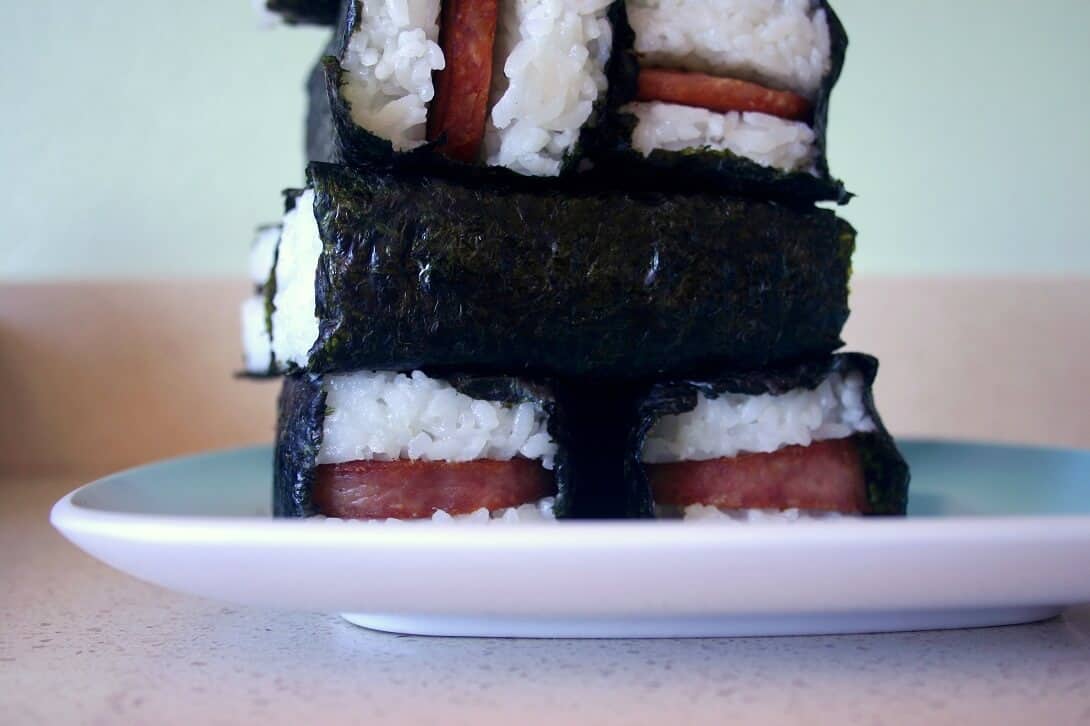 spam musubi isn't exactly new to the blog, but it did get reposted this year with a fresh picture.
a group of bloggers got together for a virtual midsummer potluck in the name of peace, and i brought chinese sticky rice, aka no mai fan, to the table.
i'm happy the summer berries and earl grey cream post did well, because i was (let's be real, still am) obsessed with earl grey tea.
i broke with tradition, and posted milk chocolate chunk scones with strawberry whipped cream for my blogiversary instead of cake. not some random plain scones though, because it was a blogiversary after all.
my contribution to this year's popsicle week were these rosemary no churn ice cream pops! dipped in dark chocolate and chopped almonds for good measure.
my faves from 2017
not a 2017 fave in my mind, since i've been having these garlicky buttermilk mashed potatoes for thanksgiving for many, many years (i'd wager 15+), but new to the blog.
THAT EGG on this herbed feta and mushroom confit crostini! and i'm not even the biggest fan of oozy yolks. but buttery mushrooms and salty, herby feta spread got me feeling some type of way.
my favorite season hands down is summer because of all the produce, so i had to include this summer fruit and tofu coconut forbidden rice as a celebration of all that watermelon and stone fruit and deliciousness.
i could stare at that glossy chocolate glaze on these chocolate hi hat cupcakes with peanut butter buttercream for daysss.
almost didn't put these jasmine cream puffs on the list, but in honor of getting published (even if it's hard for most people to access said publication lol), i figured they deserved a spot (; plus, cream puffs!!
check out 2016's review!