earl grey ice cream recipe
i'm in love with anything earl grey tea flavored (see this iced earl grey matcha latte that i fantasized about for almost 2 years after first trying it, or me pairing it with berries and cream), so an ice cream flavored with earl grey tea? yes, PLEASE. this version has a touch of orange-y grand marnier, which 1) tastes good and 2) helps keep the ice cream nice and smooooooth. it's the perfect scoopable texture straight from the freezer, without melting on the spot.
tea bags vs loose leaf tea
you can use either! in this period of staying at home all day everyday, i only have tea bags, so that's what i used here. as long as it's a tea that you like to drink, you're solid (definitely not a "let's dump in the bad tea!" situation). i like my ice cream to be pretty strong, so i like using twinings or stash double bergamot earl grey tea.
for convenience's sake, tea bags are a little easier to strain out than loose tea leaves. you only have to squeeze out a couple of sachets, rather than a heap of individual leaves, but not a huge deal since you're already straining out any scrambled egg bits.
no churn vs churned ice cream
when i'm making tea flavored ice cream, i prefer using the traditional method of cooking a custard and churning that in an ice cream maker. it's a lot more consistent and forgiving in my experience compared to making a no churn ice cream, which combines whipped cream and sweetened condensed milk, no need for churning.
part of my preference for churned vs no churn earl grey ice cream is because i like doing a hot infusion (heating the milk and tea together) rather than a cold brew method since it's a lot faster. but heat is the enemy when you're whipping cream (it becomes less fluffy and more grainy), so unless you're super careful, your no churn ice cream doesn't turn out well. i had a batch of no churn ice cream made with semi-cold cream separate, with the whipped cream rising to the top and freezing into a chalky, hard mass with fluid boozy sweetened condensed milk below. bleh.
another reason? i find that churned ice cream isn't as fast to melt as no churn. this is important if you want ice cream, not ice cream soup (not gonna lie though, i am that girl who will still slurp up melty ice cream). also important if you're trying to take a picture of your precious ice cream and want a scoop that hasn't started to soften into a puddle before you've even whipped out your camera.
ice cream toppings
honestly, you don't need toppings for this ice cream. it's essentially frozen earl grey milk tea, what else could you want?! in case you decide your ice cream needs a little tlc though, here's a few ideas:
i used vanilla cream filled pirouette cookies in these pictures; they're super light and crispy. any crispy lemon or citrus cookie is also a good move, since it goes well with the orange-y flavor from the earl grey.
more of a mix-in than a topping, stracciatella could be fun! you melt chocolate with some coconut oil, and drizzle it into the custard as it's churning in the ice cream maker.
i love fruity flavors with tea (ahem, strawberry jasmine tea, or how about this jasmine and green tea cake with raspberry jam), so a sweet-tart raspberry or strawberry sauce sounds like it'd be tasty on top.
drizzle with more grand marnier! you don't want to overload the ice cream with alcohol before you freeze it, since alc doesn't freeze, but you can add more after the fact if you're looking for more grand marnier flavor.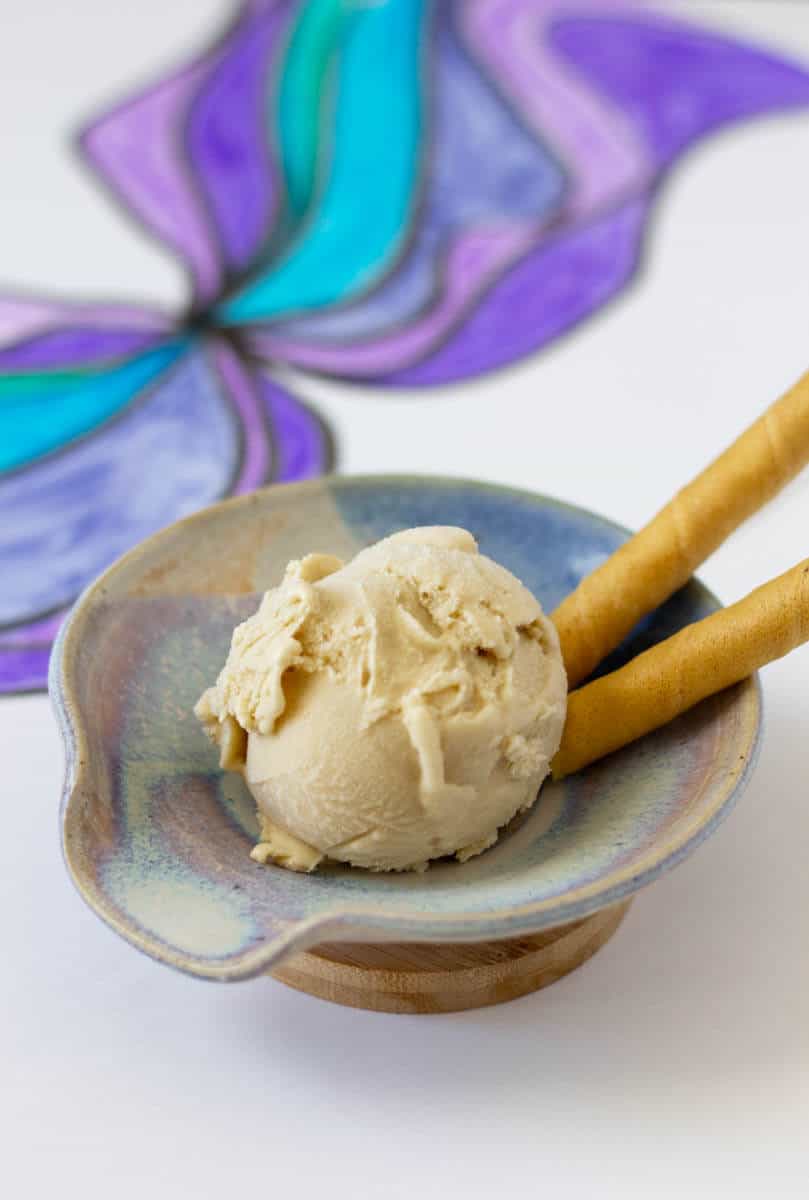 Earl Grey Ice Cream
This earl grey ice cream has plenty of orange-y deliciousness, from steeping earl grey tea in the ice cream to adding a little Grand Marnier.
Keyword:
alcohol, black tea, dessert, earl grey tea, grand marnier, ice cream, nut-free, orange, tea, vegetarian
Ingredients
2

cups

heavy cream

1

cup

whole milk

½

cup

granulated sugar

½

teaspoon

kosher salt

4

earl grey tea bags

4

egg yolks

2

tablespoons

Grand Marnier
Instructions
In a medium pot, simmer the cream, milk, sugar, salt and tea until sugar completely dissolves, about 5 minutes. Remove pot from heat. In a separate bowl, whisk the yolks until they're broken up.

Whisking constantly, slowly whisk about a third of the hot cream into the yolks, then whisk the yolk mixture back into the pot with the cream. Return pot to medium-low heat and gently cook until mixture is thick enough to coat the back of a spoon (about 170F on an instant-read thermometer).

Cool to room temperature. Strain through a fine-mesh sieve into a bowl and discard the tea bags and any scrambled egg bits that get caught in the sieve. Press out any liquid that might be held in the tea bags back into the custard. Stir in the Grand Marnier.

Cover and chill at least 4 hours or overnight. Churn in an ice cream machine according to manufacturers' instructions; it'll look like really thick whipped cream when it's done churning. Transfer to a container (I like to use a long, shallow container because it helps me get better scoops than a pint container), smooth the top and cover. Freeze until solid.
Recipe Notes
Adapted slightly from Melissa Clark.
This can be halved; I like halving it when I only have half a pint of heavy cream left in my fridge, or if my freezer is packed!
The Grand Marnier can be omitted if you want a non-alcoholic ice cream.