this iced earl grey matcha latte is the perfect mix of creamy latte, with plenty of strong earl grey and matcha to cut through the richness.
as a stereotypical taurus, i don't like change. (i'm not hardcore into astrology, and can't keep my sun/moon/stars/rising's straight, but it's a good laugh. also won't deny that i put myself on co-star's  android mailing list).
at the beginning of each quarter during college, even though nothing changed besides what times i went into a lecture hall to maybe pay attention to someone droning on about things i moderately cared about, i felt a sense of melancholy. even now, with my manager leaving less than 90 days since she started and my team shifting to accommodate that, there's this sense of impending doom (occasional dramatic outburst by a taurus, check) as we prep for our busy season.
so in the face of these changes that my brain is over-inflating, i'm in need of some comfort. i had some this weekend, aurally and deliciously, but doesn't hurt to continue on that streak with a hint of nostalgia. san diego was always such a reliable reprieve in college: fun, calming, chill, endlessly entertaining. one such weekend trip ended with a pit-stop to the forum. that was the only time i've gone, and somehow i've been unable to shut up about how good their iced earl grey matcha latte is for the last 2 years.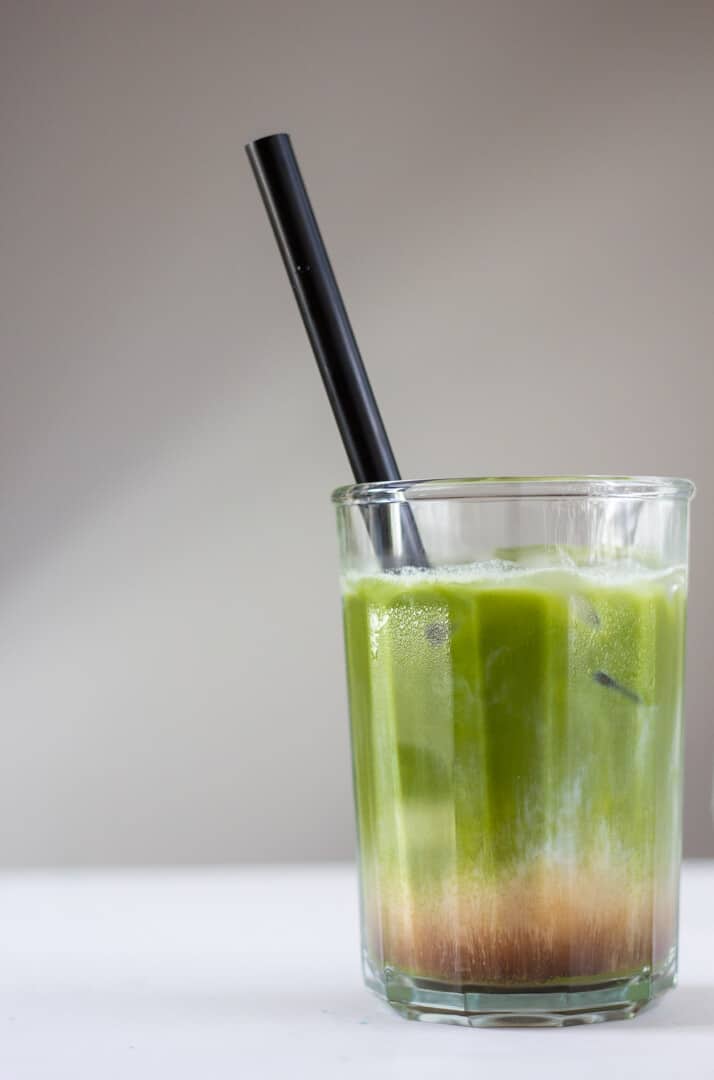 this iced earl grey matcha latte is a mix of a london fog and a matcha latte. the forum's version also has a hint of rose, though this is definitely a background note. if you have a too neglected bottle of rosewater this would be a good time to show it some love (i wouldn't go hunt down a bottle if you don't have it though).
the flavor wasn't difficult to nail down, not like the layering was. something like a strawberry matcha latte is easier to layer since strawberry puree is naturally thicker and more dense than milk and tea. this has 2 kinds of tea and milk, which are a lot more similar in density, so it took a few tries and some research to do it right. i played around with different temperatures and sweetening the earl grey tea until i was happy with the visuals (if you're lazy/impatient/me when i'm not trying to take pics, you can skip all the chilling specifics and live your life).
regardless of how this drink is or is not layered, it's a little creamy, whether you go the cow's milk route or not. if you're not trying to skip dairy, i really do like the flavor of cow's milk and traditional half and half here. the creaminess is balanced with the bitter matcha and the citrus-y earl grey. it's gently sweet, exactly how i like my drinks, though you could saturate (once ap chem always ap chem) the earl grey more since the milk and matcha will dilute it anyways. it's the perfect thing to sip for the lingering remnants of summer.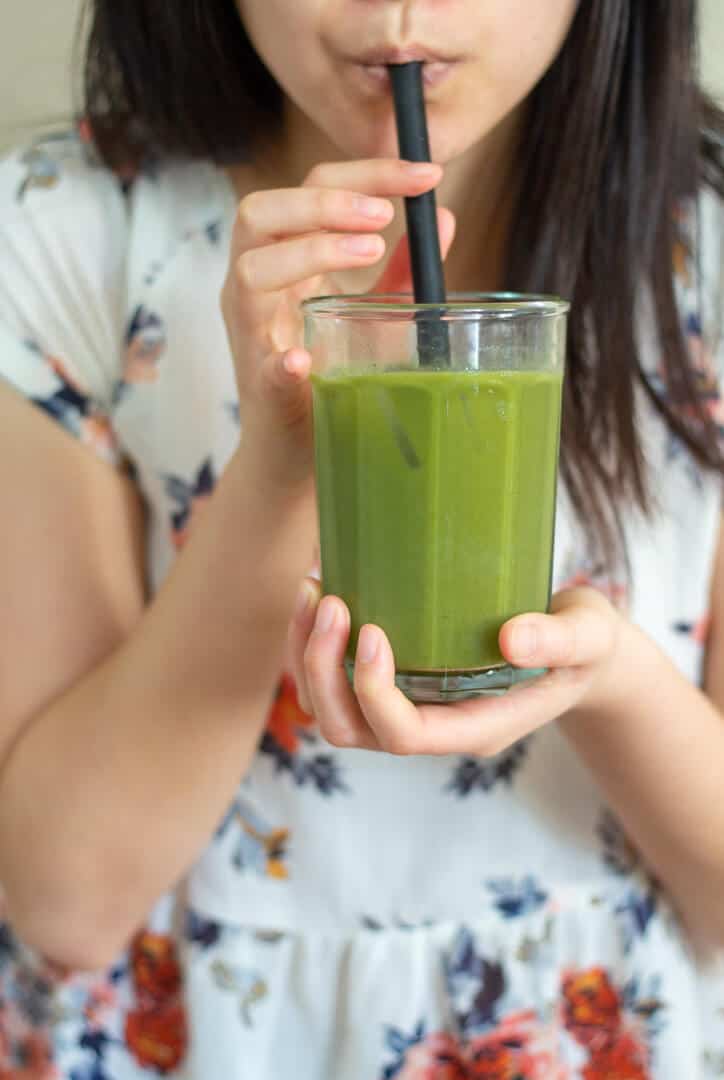 1 year ago: pineapple lime agua fresca | olive pasta with kumquat vinaigrette
2 years ago: nutty mango and napa cabbage slaw | double coconut pancakes with pineapple orange salad
3 years ago: almond-crisped peaches
Iced Earl Grey Matcha Latte
This iced earl grey matcha latte is a swirly, icy drink full of tea (citrus-y black tea and bitter green tea) and a hint of sweet, creaminess.
Cuisine:
Asian, British, Fusion
Keyword:
black tea, dairy-free, earl grey tea, egg-free, gluten-free, grain-free, green tea, matcha, no-bake, no-cook, non-alcoholic, nut-free, summer, tea, vegan, vegetarian
Ingredients
½

cup

hot water

1

earl grey tea bag

or 2 T loose leaf earl grey tea

1 ½

teaspoon

granulated sugar

½

cup

boiling water

2

teaspoon

matcha powder

2

T

half and half

refrigerated

6

T

2% milk

refrigerated

ice

for serving
Instructions
Steep the earl grey tea in the hot water for 30 minutes, then squeeze the tea bag or drain the leaves away. Add the sugar, then mix until dissolved. Freeze the tea for 45 minutes, or until the tea comes to 35°F.

While the earl grey tea is in the freezer, place the matcha in a medium bowl. Add the boiling water gradually while you whisk, making sure to break up any clumps. Set aside.

Once the earl grey tea reaches 35°F, mix the half and half and milk together. Test the temperature; if it is not close to to 52-53°F, microwave in 10 second intervals until it reaches that temperature. The matcha should be close to 70°F; if it is too cool by now, microwave in 10 second intervals until it reaches that temperature.

Add ice to a tall glass. Add the earl grey to the glass. Hold a spoon, with the bowl at a 45° angle facing up, inside the glass. Pour the milk mixture into the spoon, letting it dribble onto the earl grey. Once the milk is inside the glass, repeat this process with the matcha.
Recipe Notes
If you want to make this dairy-free, feel free to sub the half and half for coconut milk, and the 2% milk for soy milk or light coconut milk.
Feel free to add ¼ teaspoon rosewater (you can increase to taste) if you want to add a touch of floralness to your drink. The main flavors will still be the earl grey and matcha.
If you're not concerned about making distinct layers, no need to ensure that the different liquids are at specific temperatures, nor do you need to be careful when pouring the drink into the glass. Dump it all in - you'll get a creamy green color once you mix and it looks like a normal matcha latte!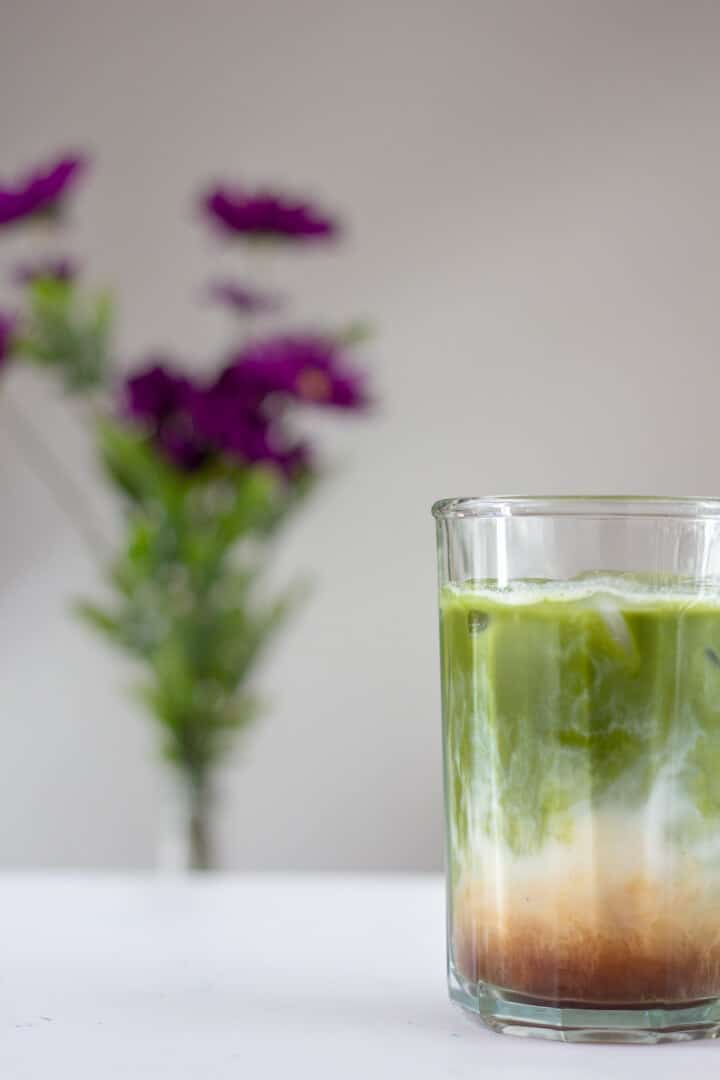 other drinks besides this iced earl grey matcha latte