Chinese Egg Tofu Recipe
This particular egg tofu recipe features pan-fried egg tofu mixed into a Chinese-style mushroom gravy.
This dish starts by pan-frying some rounds of egg tofu before making a quick gravy. This is a brown sauce (great name and description, I know) used for stir fries and seafood over pan-fried noodles, not the kind of gravy you would have with roast turkey or mashed potatoes.
The base of the gravy is what I use for most dishes I make - a combo of onion, garlic and ginger. That gets sauteed until the onion is translucent, and then I add the mushrooms.
Shiitake mushrooms (aka dung gu) are my go to's (like in this shiitake mushroom sushi, or the ones hidden in a pile of miso barley), so I added some here. If you have other mushrooms on hand (cremini, button, portobello, enoki, etc), you can add them too.
Once the mushrooms shrink and get a little caramelized, the rest of the seasoning goes in. I use a mixture of soy sauce, fish sauce and oyster sauce.
The fish sauce helps add more flavor without tasting like plain salt, and I like the slight sweetness from the oyster sauce.
A slurry of cornstarch and water goes in, and once the cornstarch activates, it thickens the sauce into a gravy-like consistency. Once the sauce is at your desired flavor and consistency, the egg tofu goes in and gets warmed through.
This dish is saucy, so I like eating it with rice (like most Chinese food). A sprinkling of chopped green onions on top adds a bit of crunch and freshness to an otherwise soft and monochrome meal.
How do you cook egg tofu?
Because the egg tofu is so soft, I like to pan-fry it on both sides until golden brown. This way, you get a silky soft center with a slightly crispy exterior.
Alternatively, you can also re-heat in soup. This method gets a thumbs up in the fast and easy categories (key for those lazy weekday and weeknight meals), though not so much in the crispiness department.
Because it's so soft, I would recommend being careful with the egg tofu so that it doesn't crumble and break. If you're adding it to soup or to a sauce, add it at the end and stir it in gently.
As someone who does not eat much meat, this is a tasty vegetarian protein option to have on hand that doesn't require much prep.
What does egg tofu taste like?
Egg tofu has a very light egg flavor; it's nothing like eating a pile of scrambled eggs, and is more similar to the mild vibes you get from storebought tofu.
The texture is very similar to pre-made dun daan, or steamed egg.
If you're not familiar with steamed egg custards, you can think of egg tofu as a cousin to soft tofu, rather than a really dry and firm one.
Is egg tofu healthy?
Yes. It's mostly made of eggs and water, so egg tofu is nutritionally very similar to plain eggs (which are healthy in moderation).
One thing to note is that some options use preservatives, so if you're looking to avoid preservatives, it might make sense to cook your own steamed egg. I have zero clue how you would make and keep it in a cylindrical shape, but you could definitely cut your homemade egg tofu into slabs before pan-frying. Let me know how it goes if you try!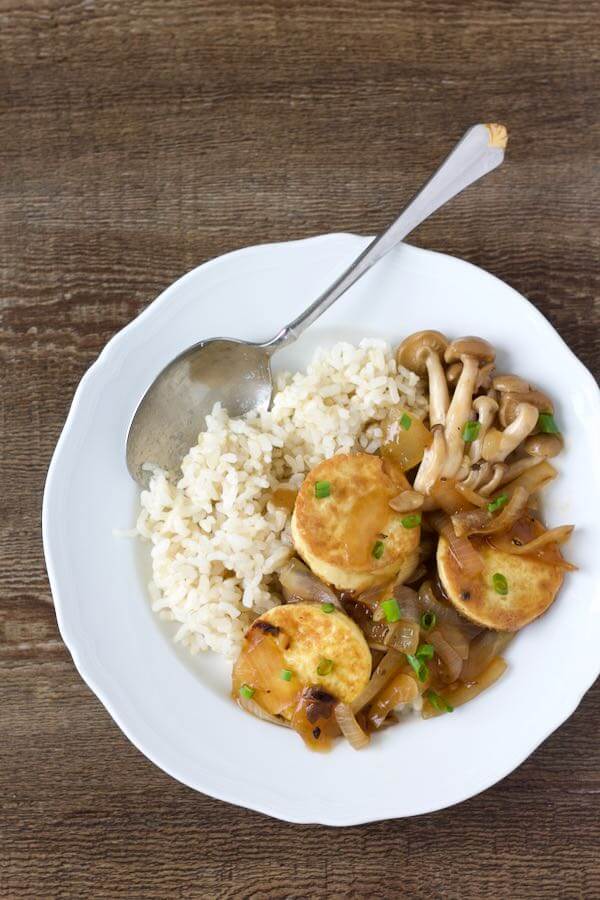 Egg Tofu with Mushroom Gravy
This egg tofu with mushroom gravy dish is cozy and soft, perfect served over rice!
Course:
Dinner, Lunch, Main Course
Keyword:
eggs, mushrooms, nut-free
Ingredients
2

tablespoons

oil

1

roll

egg tofu

sliced

1

tablespoon

ginger

minced

½

onion

chopped

4

shiitake mushrooms

sliced

1

pack

enoki mushrooms

or more shiitake mushrooms

2

cloves

garlic

minced

1

tablespoon

cornstarch

½

cup

water

1

tablespoon

soy sauce

¼

teaspoon

fish sauce

½

tablespoon

oyster sauce

1

cup

cooked brown rice

1

green onion

sliced
Instructions
In a large non-stick skillet, heat 1 tablespoon oil over medium-high heat. Add the egg tofu in a single layer and pan-fry the egg tofu on both sides until golden brown, about 5-10 minutes.

Move the egg tofu to a plate, then heat the other tablespoon of oil in the pan over medium heat. Add the ginger and onion to the skillet and cook, stirring occasionally, until the onion is translucent, about 5-10 minutes.

Add the shiitakes to the pan. Break up the enoki mushrooms into rough chunks with your hands, and add them to the pan as well with the garlic. Cook for 5 minutes, or until the mushrooms look browned, slightly shrunken and dry.

In a small bowl, combine the cornstarch and water until homogenous. There should be no lumps of cornstarch left.

Add the cornstarch and water mixture, as well as the soy sauce, fish sauce and oyster sauce to the onion and mushroom mixture. Toss to coat the onions and mushrooms in the sauce. Let the sauce cook for 5 minutes, or until it's thickened.

Add back the egg tofu and gently toss in the sauce, so as not to break up the egg tofu.

Serve over rice and top with green onions.
Recipe Notes
You can omit the oyster sauce and fish sauce if you want to make this vegetarian, but you might have to add more salt or soy sauce if the dish isn't salty enough.