still need some mashed potatoes for the holidays or a bad day? perhaps something easier than the rest of your meal, but still tasty.
i have something for you. voila, garlicky buttermilk mashed potatoes. they're a little chunky and plenty rustic. i even like them better than the buttery, lush, so caloric you don't want to know, too whippy steakhouse potatoes.
these potatoes show up without fail in november. it wouldn't be the same without them (or jello "salad," for that matter). sometimes my cousins make it, but i like it better when my mom or i make mashed potatoes. they just don't add enough buttermilk or garlic.
we use russet potatoes; generally, mom will try to force my brother into peeling them, but i end up doing it. i don't mind, and the trauma from peeling off part of my thumb while prepping carrots at a cooking class 5+ years ago has long since worn off. if you're lazy or like rusticity, you can scrub the potatoes really well and use them peel and all (though you might want to go with a yellow or red or new potato, since they have thinner skins).
there are no potato mashers or ricers or food mills. nope, my mom uses a hand mixer. that mixer's sole purpose is to make perfect mashed potatoes, especially since the arrival of a stand mixer in the kitchen. it keeps the potatoes light, but doesn't overdo it. i guess you could mash the taters by hand, but i'm not itching for workouts; in fact, my mind is generally in the completely opposite direction when this side dish pops up.
the butter melts gorgeously into the hot potatoes, in big golden pools. though by no means do you need to adorn it with butter; in fact, i usually don't. (but for aesthetic reasons, i did here. and the butter certainly doesn't hurt).
the buttermilk adds a rich tanginess that cuts through the starchiness of the potato, and the garlic adds that perfect bite. keep in mind that the ratios below are an estimate, and i generally go by taste or by how many cloves of garlic i'm willing to chop up.
sure, you could add shredded cheddar cheese and pours of heavy cream, but a steamy bowl of these garlicky buttermilk mashed potatoes is all i need.
if you're looking for something a little less traditional, then maybe a chard and sweet potato casserole or sauteed mushrooms with mashed sweet potatoes would be more your vibe.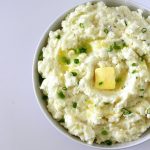 Garlicky Buttermilk Mashed Potatoes for Thanksgiving
These garlicky buttermilk mashed potatoes have some heft, and they're much more homey than the whippy restaurant-style mashed potatoes.
Ingredients
5

lb

Russet potatoes

peeled and cubed

1/2

stick

unsalted butter

room temperature

3

cloves

garlic

minced

1

cup

whole milk

room temperature

1

cup

buttermilk

room temperature
Instructions
Place the potatoes in a large pot, and add water to cover. Add a generous amount of salt.

Boil until the potatoes are fork tender, about 10 minutes. Drain and place the potatoes back in the pot.

Add the butter and garlic. Cover the pot until the butter melts; this also helps the garlic cook through a bit so it's not as raw tasting.

Add 1/2 cup each milk and buttermilk. Mix with an electric hand mixer until the desired consistency is reached, adding more milk and/or buttermilk to thin it out or change the flavor if necessary. Add salt to taste. Serve hot.
Recipe Notes
You can use a big spoon or fork or potato masher if you don't have a hand mixer. Just make sure that the potatoes are very tender, otherwise you'll be working out and that's not what Thanksgiving's about!!