How to Make Grapefruit Juice
You can't have grapefruit green tea without the (surprise!) grapefruit. If you're making a glass for yourself as a quick afternoon break, I'd recommend squeezing by hand. If you're prepping a big batch for you and all your friends and family (hi, can we be friends?), then an electric juicer or a citrus reamer might be the way to go.
I personally love pulp in my juice (plus it feels like a waste to toss it), so I scrape out all the pulp and add it to the juice. If you want a smooth drink, you can forgo adding the pulp in and strain it to make sure no pulp is present in your juice.
And pst, any extra grapefruit juice is delicious when mixed with gin.
How to Make Grapefruit Taste Better
I admittedly like tart and bitter things already (my old job used to cater tacos for lunch sometimes, and I'd suck on the remaining limes at my desk after lunch... plain), but even grapefruit can be a bit much for me. So how do you make it taste better while making sure the tangy, citrusy deliciousness is still front and center? Make it into fruit tea.
The most frequent way I see grapefruit modified is brûléed with sugar, and sweetness is definitely a requirement here. I like using liquid sweeteners in cold drinks like this one, since you don't have to worry as much about the sugar dissolving and staying grainy at the bottom of your otherwise bland beverage. Honey is fickle imo, and clumps up to test you, so I usually go with maple syrup, or agave if you find maple syrup too overpowering.
This grapefruit green tea also relies on the green tea. A healthy 3:1 ratio of tea to juice (plus a generous half glass of ice) helps dilute the grapefruit juice, similar to how lime juice helps pucker up (but not overtake) a margarita.
If you also have a too-big bottle of rosewater that you can't fathom fully using, or like the grapefruit rose tea from Ume but hate the pick up process that involves either passive aggressively waiting for people to move or breaking social distancing, then a few drops of rosewater is tasty.
Also unnecessary but tasty for grapefruit tea? Toppings.
Aloe vera (which is canned in a light syrup/honey and can be found next to the other canned fruit and jellies at Chinese markets) is my go to, though there's never a bad time for boba.
For people who like to make more work for themselves, maybe whip up a batch of almond tofu as a topping!
If you're in the mood for another refreshing green tea drink, how about this hibiscus green tea, or a glass of guava white tea lemonade?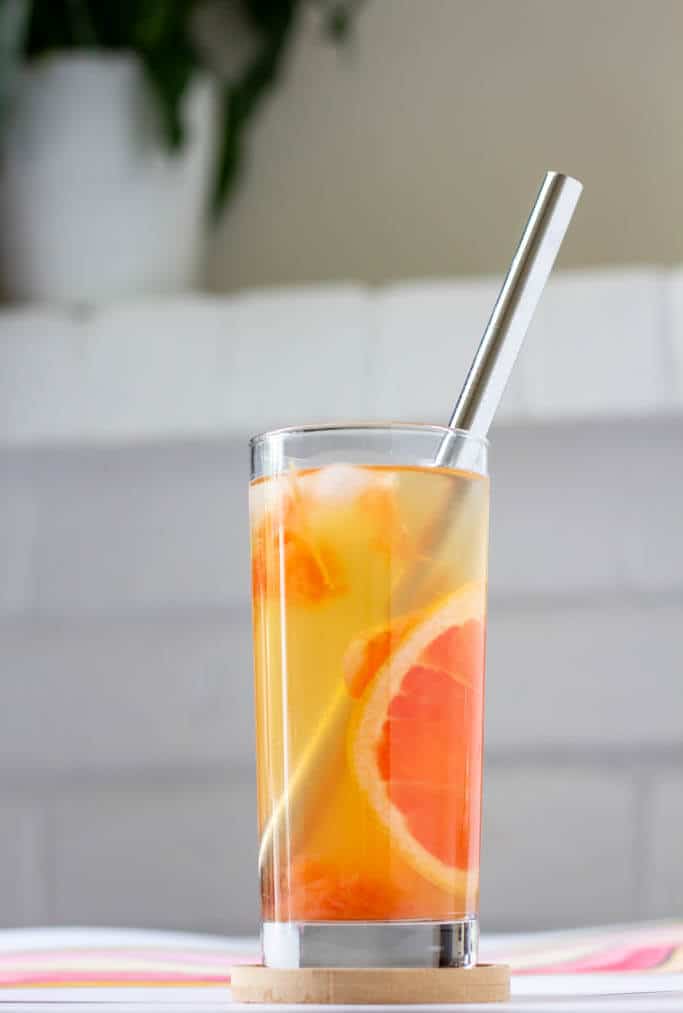 Grapefruit Green Tea
This grapefruit green tea has plenty of pulpy grapefruit juice and green tea, making it a really refreshing drink for summer!
Keyword:
citrus, dairy-free, egg-free, fruit tea, gluten-free, grain-free, grapefruit, green tea, iced tea, non-alcoholic, nut-free, rosewater, tea, vegan, vegetarian
Ingredients
2-3

grapefruit slices

ice

½

cup

grapefruit pulp and juice

about ½ medium grapefruit

pinch

of salt

2

teaspoons

maple syrup

or to taste

1 ½

cups

brewed jasmine tea

cold

⅛

teaspoon

rosewater

or to taste
Instructions
Gently fold the grapefruit slices and stick them to the inside of your glass.

Add a handful of ice to the glass. Add everything, then stir to combine. Adjust with more sweetener or rosewater to taste! Serve cold.