This green Thai tea is a mix of creamy Thai tea and a dose of refreshing matcha!
Ingredients
Thai Tea
The key to Thai tea is using a strong black tea; I like to use Assam tea here.
You could alternatively use a Thai tea mix, though I find that the packages are typically too large for me, since I don't make that much Thai tea at home.
Matcha
This isn't the time to use the cheap bulk bag of matcha that inevitably ends up making powdery, muddy looking tea. Break out the vibrant green matcha that feels like you spent too much, I promise it's worth it!
And if you're not sure how to use the rest of that matcha, how about a vanilla and brown sugar matcha latte, or a matcha macchiato?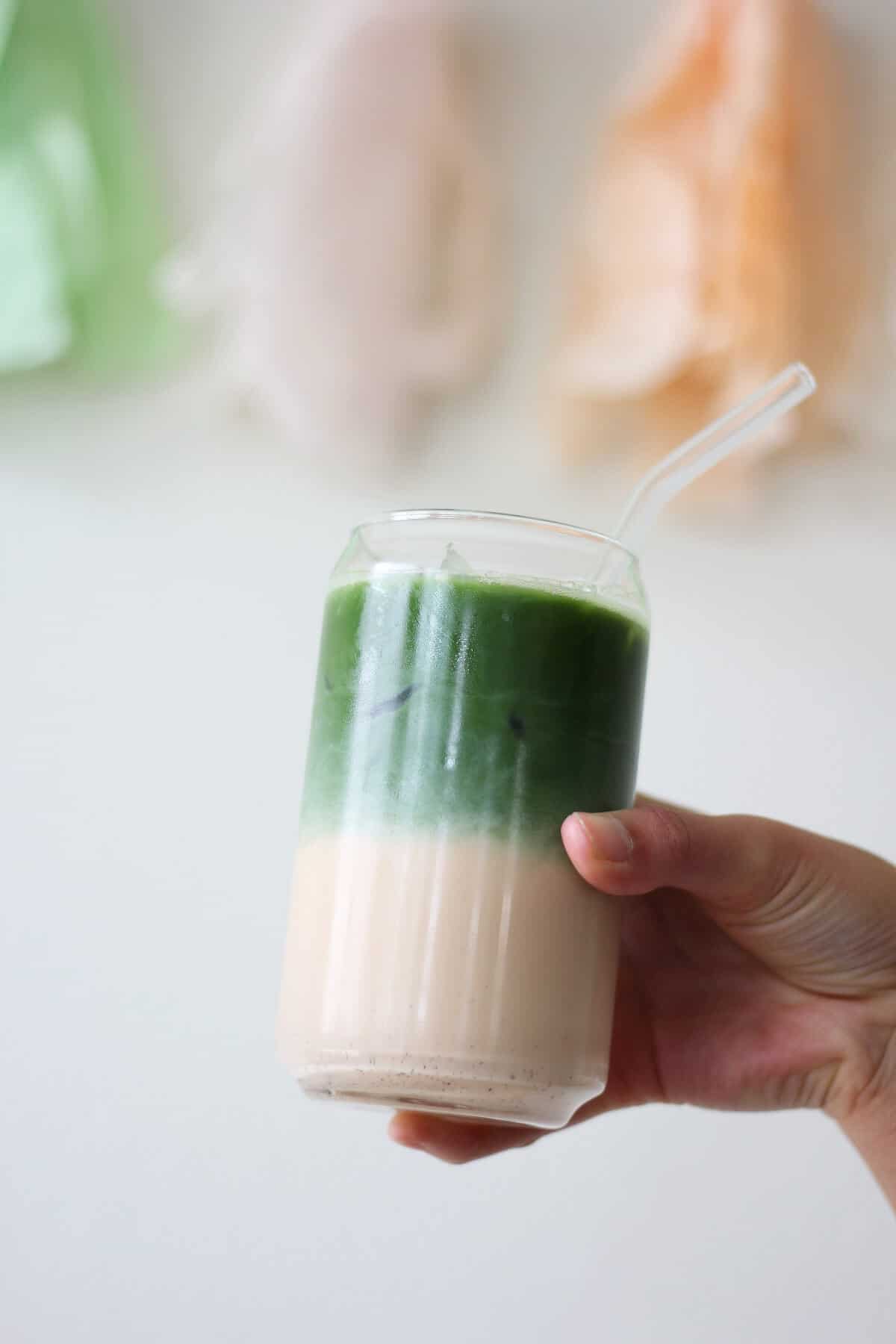 How to Make
The Thai tea needs to steep for a while, so let's start with that.
Toast the spices until they're fragrant, let cool, and then crush them slightly.
Heat up the milk (stovetop or microwave, either is fine), then add the spices and black tea. Steep for 45 minutes, then remove the solids, pressing on them to keep any liquid that comes out.
Stir the sweetened condensed milk and salt into the warm Thai tea, then refrigerate until cold.
Whisk together the matcha and hot water, then set aside.
In your serving glass, add a few handfuls of ice. Pour in the Thai tea, then the matcha (a few tricks below should you want to layer your drink like in these pictures).
Give your green Thai tea a mix before sipping away!
Tips
Toasting Spices
Toasting the spices slightly gives the tea a bit more flavor, especially if the spices have been sitting around for a while and need some waking up.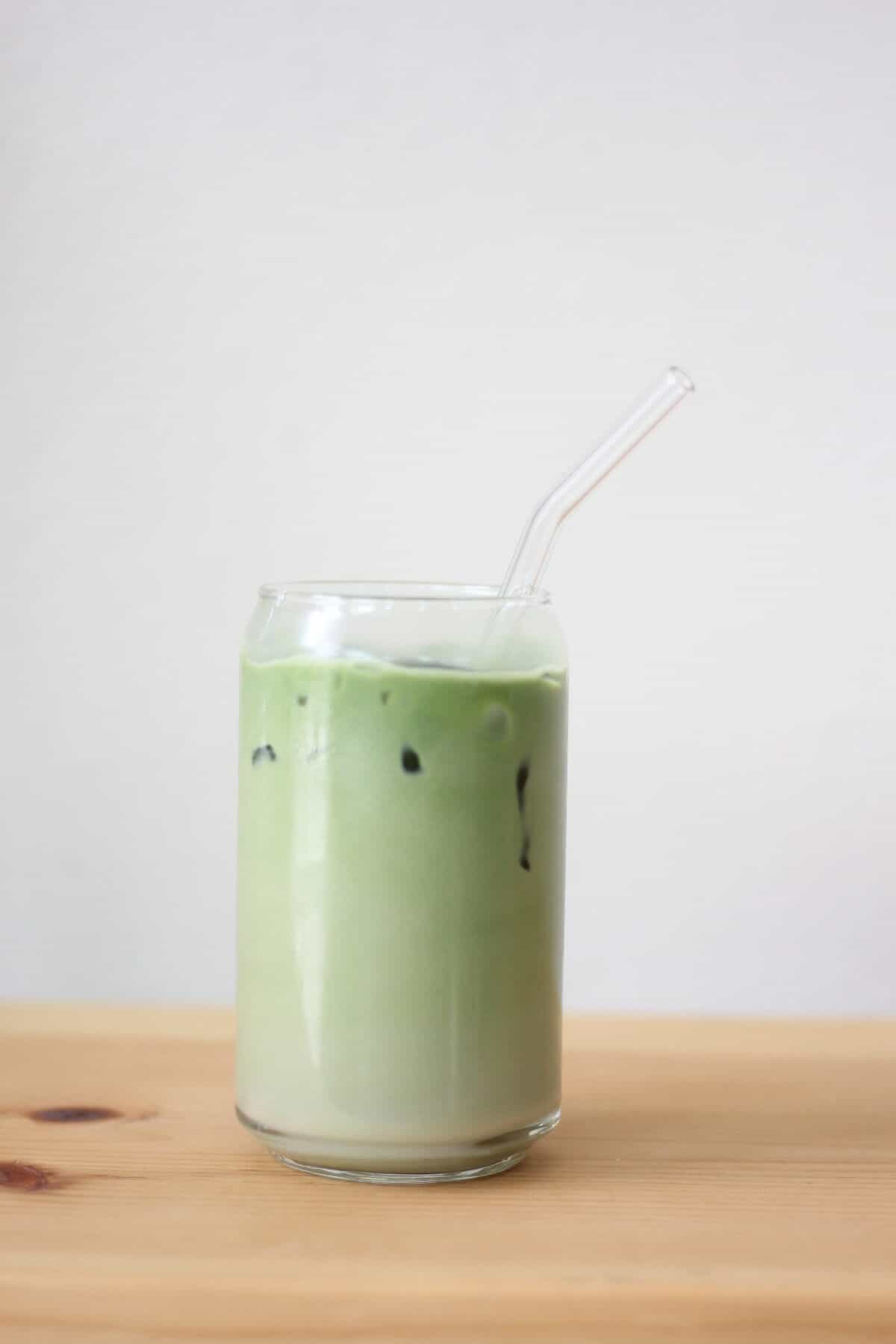 Dissolving Matcha
One of my mom's (and mine, let's be real) pet peeves is powdery matcha. A few things for you to keep in mind:
Use hot water! Matcha doesn't dissolve well if you're using cold water.
Use a whisk (a matcha whisk is preferred, or a metal whisk works in a pinch). Nothing else cuts into those clumps of matcha as well as a whisk does.
You might want to add a ton of matcha; more matcha = stronger matcha flavor, right? That's true, but at a certain point the water hits a saturation point (sorry for the flashbacks to high school chemistry I might have caused), and can't dissolve any more matcha. So if you want to add more matcha than what's included in this recipe, I'd suggest increasing the amount of hot water as well.
Steeping Tea in Milk
I'm sure any reader who has taken a peek at one of the many milk tea recipes on this site (crème brûlée milk tea or red bean milk tea, anyone?) is tired of me saying it, so skip this section if that's you.
For everyone else at the back of the class, I like to make milk tea by steeping the tea in milk and icing it down, rather than steeping the tea in water and adding milk to it later.
It's an idea that I first learned of through Jun and Tonic's brown sugar pearl milk tea a few years ago, and I haven't looked back since.
The resulting milk tea is creamy and strong, and you don't have to choose between a watery milk tea with a strong tea flavor, or a creamy but bland milk tea.
Aesthetics
Orange Thai Tea
The Thai tea should already have orange and brown tones in it when it's done steeping, but if you want to give it a nudge towards that bright orange Thai tea that's more prevalent out in the world, feel free to add a bit of food coloring!
Layered Drink
idk about you, but I'm a sucker for layered drinks (see: this mango matcha latte, or this coconut sago with strawberry slush, or the kind of cocktails I tend to order).
If you want to layer your drink, temperature and the gentleness with which you add the matcha on top are key.
Colder things are denser than warmer, so chilling the Thai tea down and using hot/warm matcha helps keep the Thai tea at the bottom and the matcha on top.
Pouring the matcha into the Thai tea slowly (I like to slowly pour it into a spoon that's positioned with the tip touching one of the inside walls of the cup, and let the matcha dribble from the spoon onto the Thai tea) also helps.
Of course, for those who simply want a delicious drink and could care less about trying to have a clean matcha floater on top, dump and stir away.
Variations
Milk
Whole milk and soy milk are my usual go to's when adding milk to beverages, though you can add another grain/nut/etc milk instead.
Using a milk with some fat (whole milk, light coconut milk, oat milk) is ideal, since it adds creaminess to the end result.
Spices
I like star anise and cloves in my Thai tea. Alternatively, you can substitute for other spices, or even omit the spices altogether.
Sweetener
Thai tea doesn't taste like Thai tea if it doesn't have sweetened condensed milk in it imo, but you can swap it out if you're trying to keep this dairy free or would rather sweeten your drink with something else.
Regardless, I'd recommend adding your sweetener of choice to the hot Thai tea so that it dissolves nicely into the final beverage.
Sencha
I also tested a variation on this drink using sencha (what people typically associate with green tea) instead of matcha. The resulting beverage tasted lighter to me, and the tea flavor was definitely more mild.
It's delicious in a different way than the matcha and Thai tea combo, and tbh cheaper too!
Should you want to use sencha instead of matcha, steep 2 tablespoons sencha in the hot water, let it steep for 15 minutes, then strain out the tea leaves.
Green Thai Tea
This green Thai tea has two kinds of tea: creamy, sweet Thai tea, and slightly bitter, refreshing matcha!
Cuisine:
Asian, Japanese, thai
Keyword:
assam tea, dairy-free, egg-free, gluten-free, grain-free, matcha, nut-free, spices, tea, thai tea, vegan, vegetarian
Ingredients
2

star anise pods

5

cloves

1

cup

milk

2

tablespoons

black tea leaves

1 ½

tablespoons

sweetened condensed milk

1

pinch

kosher salt

¾

cup

hot water

2

teaspoons

matcha

ice
Instructions
In a small, dry skillet over medium-low heat, add the star anise and cloves. Toast for a few minutes, or until the spices are fragrant. Remove from the heat and cool.

Crush the spices coarsely using the a mallet or a rolling pin.

Heat the milk until steaming (I like to do this in the microwave for ease but you can do this on the stovetop). Add the black tea leaves and crushed spices to the hot milk, and let steep for 45 minutes. Remove the solids, pressing on them to release any liquid, then discard the solids. Mix in the sweetened condensed milk and salt until combined. Cool slightly, then transfer to the fridge.

While the Thai tea is chilling, make the matcha. Whisk the matcha into the hot water until smooth and frothy, then set aside.

In your serving glass, add a handful of ice. Add the Thai tea, then the matcha. Give it a stir before enjoying!
Recipe Notes
You can substitute the matcha with sencha if you'd like.