This Grinch mimosa is perfect if you want the taste of a traditional mimosa with a bit of holiday flair!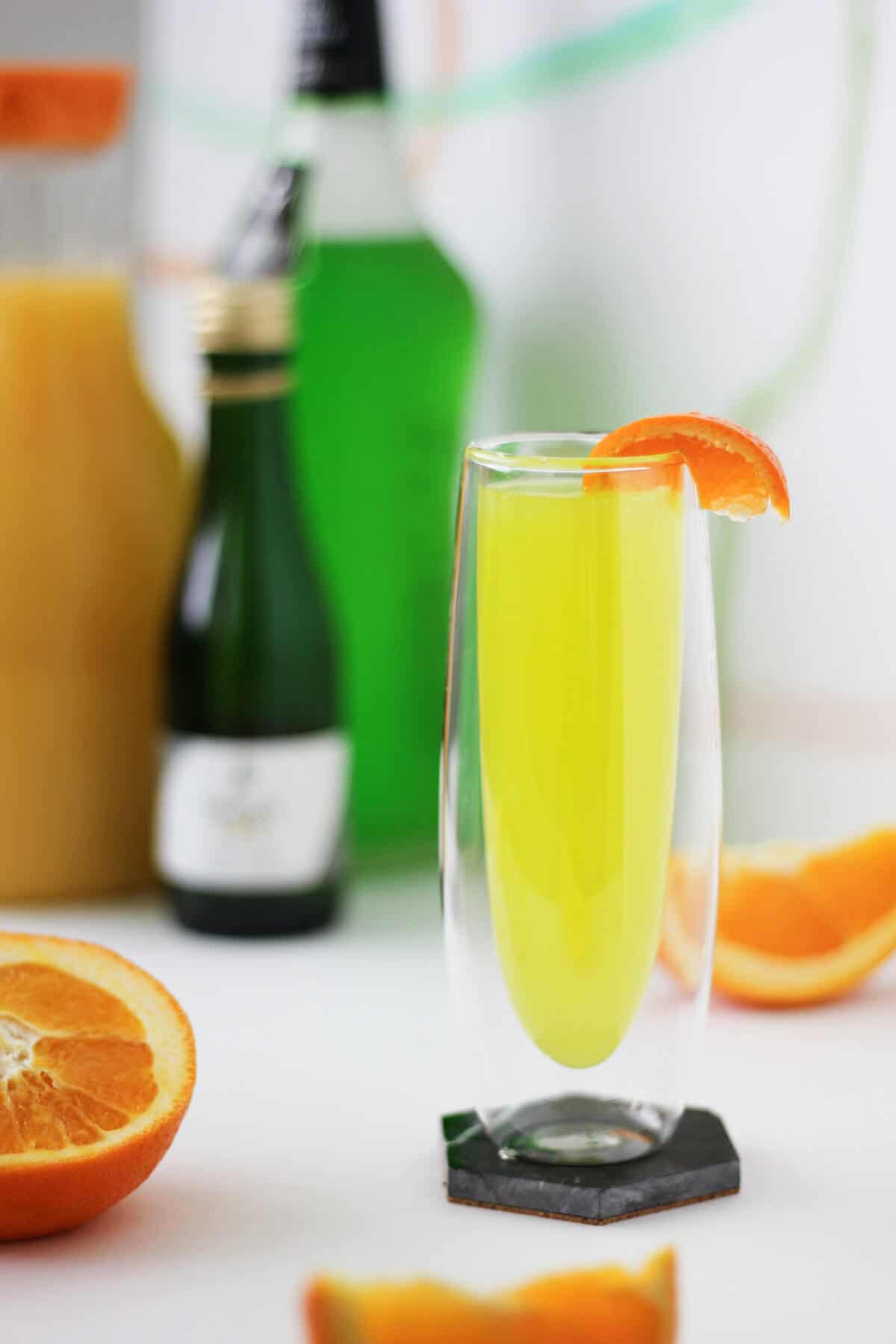 Ingredients
Orange Juice
Feel free to freshly squeeze your juice if you'd like! I probably wouldn't recommend freshly squeezed juice if you're trying to make enough for a crowd unless you have an electric juicer or a really strong sense of dedication.
Then again, the lazy, "what's a budget?" side of me is imagining how tasty this would be with freshly squeezed orange juice from the farmers market.
Blood oranges / blood orange juice would also be tasty, similar to this blood orange vodka drink, though the green might end up a bit more muted.
Melon Liqueur
Midori, the brand I used in this recipe, is a honeydew flavored liqueur. It's mostly here to lend its bright green color to the drink, but it also adds a bit of sweetness and fruity flavor.
You can find it at grocery stores with large alcohol selections (I've had good luck at Safeway), as well as liquor stores.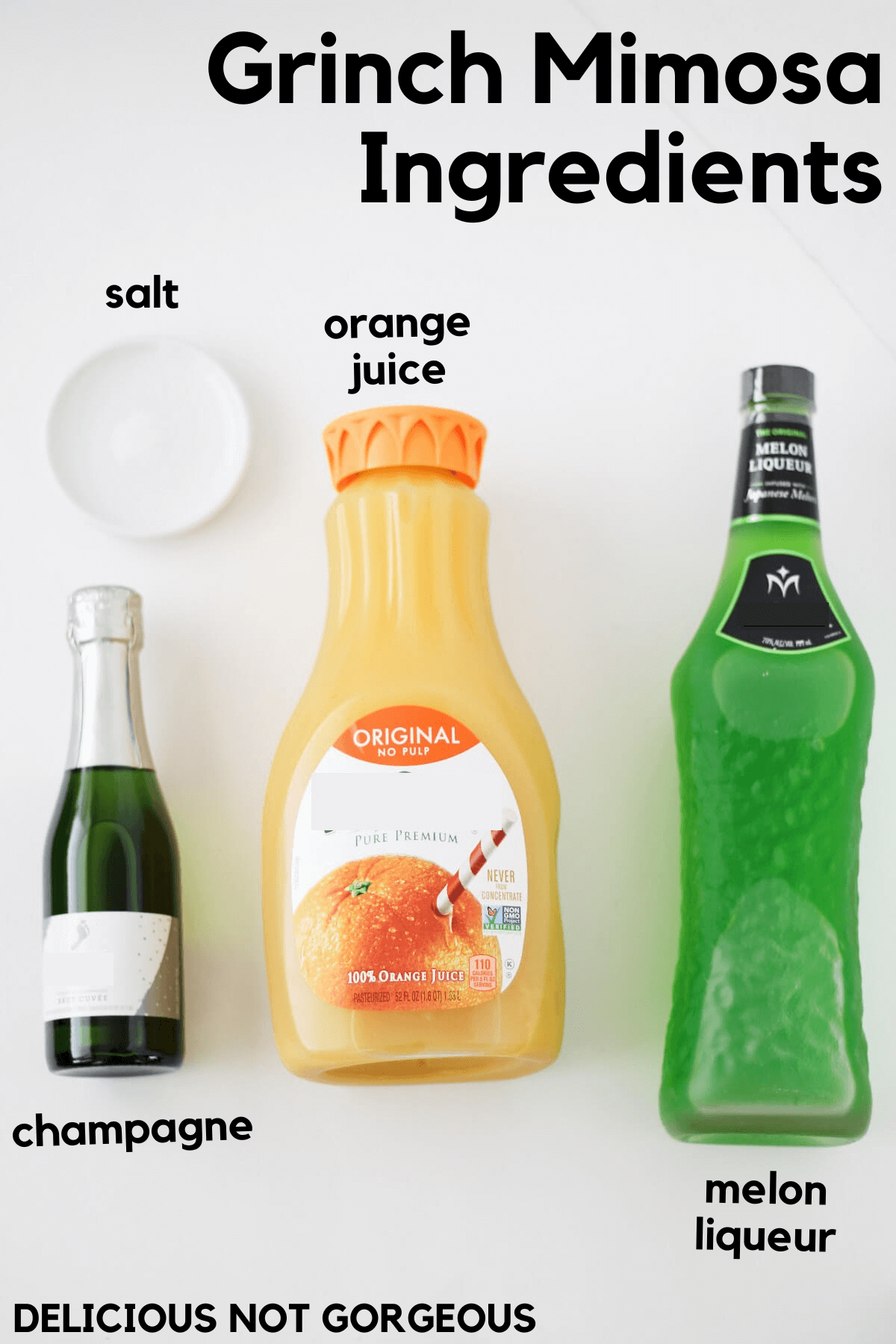 How to Make
Does this even need to be a recipe? Probably not, but here you go anyways.
Mix the orange juice, melon liqueur, champagne and salt together, then serve.
For the mimosa makers out there who don't want to dirty a utensil mixing the mimosa, you can pour the champagne into your glass(es) first, then top off with the salt, orange juice and Midori.
Since the champagne is lighter than the juice and liqueur (all those bubbles), it naturally will float to the top of the mixture without any additional effort on your end!
Tips and Tricks
Mini Champagne Bottles
This isn't a big deal if you're making enough mimosa to serve a crowd, but if you're only making a flute or two's worth, it might make sense to buy smaller bottles of champagne.
This way, the champagne will stay fresh and bubbly and you only open what you can use, rather than letting the rest of the bottle go flat.
Of course, you can always drink the rest of the champagne plain if you've hit your mimosa limit, or use the leftovers in this Hugo spritz in place of the prosecco. You might need to add a bit more sugar than usual in that recipe to compensate for the lack of sweetness in the champagne.
Salt
Not to be a broken record, but similar to food, drinks also need a bit of salt to bring out their flavors. Not necessarily the amount that you'd use to rim a glass of strawberry citrus margarita, just enough to make things pop.
This edict (seriously!) is true no matter if it's a creamy chestnut praline latte or a refreshing guava white tea lemonade.
Substitutions and Variations
Blue Curacao
The more typical Grinch mimosa you see on the interwebs has blue curacao. For personal reasons (that may or may not be connected the lingering memories of AMFs in college…), I don't love the flavor of blue curacao.
That being said, it might be easier for you to find blue curacao in stores, so feel free to substitute that in for the Midori. You also get a brighter green (without diluting the orange juice too much) when you use curacao instead of Midori – if this is a good thing or not depends on your personal preferences.
Sweeter
You have a few different options to increase the sweetness of this drink, should you prefer.
This recipe uses champagne as written, but you can use prosecco instead, which tends to be a bit sweeter.
You can also add a bit of simple syrup (I usually microwave water and sugar together until the sugar is dissolved) in each mimosa. It might be nice to have some on hand if you're making this for a crowd with different tastes, and everyone can adjust as needed to their tastes.
Having Sprite or another mild soda on hand to dilute/sweeten the drinks could also be a good idea.
Hard Liquor
There isn't any hard liquor in most mimosas, and this one isn't an exception. However, if you decide on giving them an extra oomph, you can definitely add a shot of vodka, tequila or whatever liquor you want.
I'd pick something clear or very lightly colored unless you want to mess with the Grinch vibes. Whiskey might turn it into a dirty Grinch drink, which I'm assuming you don't want (unless you do, at which point, do it).
Garnish
I like to garnish this mimosa simply with an orange slice, though you could easily go without any toppings.
I've seen some people do red rims (either with flavored gelatin powder, flavored drink mix, or red sugar), so you can do that too. This would also lend a nice bit of sweetness if the beverage isn't sweet enough for you.
Grinch Mimosa
You won't feel like a Grinch after a glass of this mimosa flavored with a bit of melon liqueur!
Keyword:
champagne, dairy-free, egg-free, melon liqueur, mimosa, nut-free, orange, vegan, vegetarian
Ingredients
½

cup

champagne

chilled

1

pinch

kosher salt

2

tablespoons

melon liqueur

¼

cup

orange juice

chilled
Instructions
In a champagne flute, pour in the champagne, then the salt, and top off with the melon liqueur and juice. It should combine naturally, but give it a stir if you need to before serving!
Recipe Notes
If you can't find melon liqueur (the brand I use is Midori), you can substitute in blue curacao.
Feel free to add hard liquor if you want more of an alcohol forward drink.