This guava white tea lemonade is tangy, fruity and filled with tea flavor, perfect for an afternoon of summer sipping.
How to Make
The first step to this drink is making the tea. Use hot water and a heaping spoonful of tea leaves, and let the tea infuse into the hot water for 10 minutes.
Remove the tea leaves, then stir the sugar and salt into the hot liquid until they dissolve. Set the tea aside to cool down.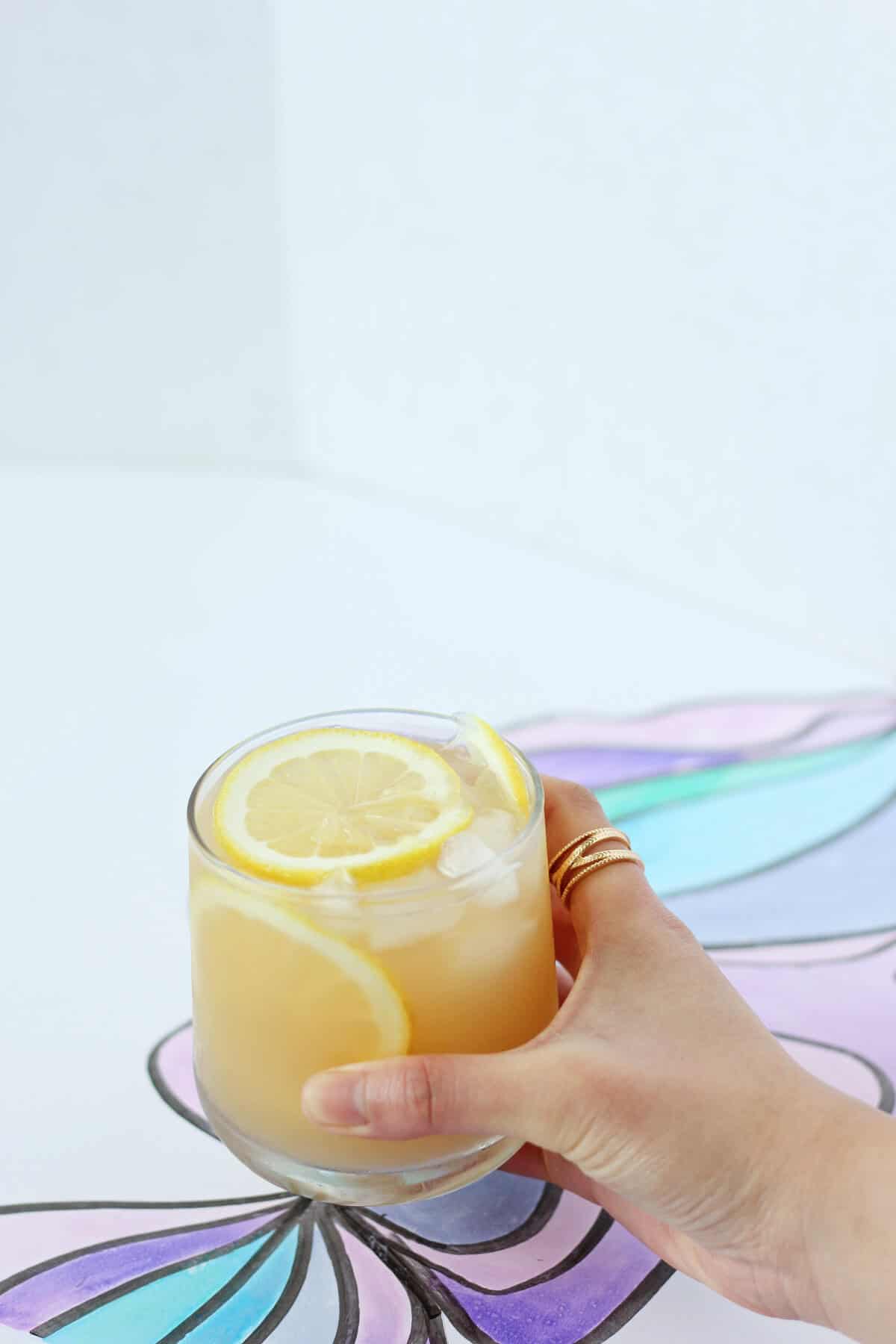 Mix the guava nectar, lemon juice and cooled tea together. Adjust the sweetness and tartness if needed.
Pour over ice and sip away!
Tips
Faster Cooling Time
Maybe you're running out the door and require a drink to keep you going for the rest of your day, and don't have time for the tea to cool completely.
You can make the tea with half a cup of hot water, and then add a heaping half cup of ice to the hot tea to cool it down faster.
Tea Flavor
If you tend to like your tea-based drinks with more tea oomph to them, you can add more tea leaves to the water, or infuse the tea for longer. Just be careful not to let the tea leaves sit in the water too long (30 minutes would be my recommended upper limit), since the tea might end up a little bitter.
Guava Nectar
You should taste your guava nectar first before making this recipe. I tested this recipe with a few different brands which ranged in sweetness and flavor, so the final amounts of the other ingredients varied somewhat with how the juice tasted.
Salt
If you're not familiar with my drink recipes, I like to add salt to everything, no matter if it's mochi milk tea or a sparkling coffee. The salt enhances the other flavors within the beverage, and minimizes the amount of sweetener you have to add, so don't skip it!
Variations
Sweetness
I'd suggest tasting the drink first and then determining what it needs. If you want the beverage sweeter, then try adding more sugar or more guava nectar.
Tea
White tea isn't my favorite kind of tea in this drink, since I find it a little too mellow to stand up to the guava and lemon.
If you're also like me, feel free to sub in any other kind of tea (I'm partial to green tea, whether it's sencha or matcha)!
You could transform this into a guava black tea lemonade and use black tea instead. I personally think the black tea would be a bit smoky and woodsy for the guava and lemon, but you do you.
Or if you're absolutely set on using white tea (the title of this recipe does have "white tea," afterall) and can't find any plain white tea, then Trader Joe's has a pomegranate white tea that you can use. Be warned that the pomegranate does add a bit more tang, so you should increase the amount of sugar/guava juice, and/or cut down on how much lemon juice you add.
Decaf
Hopefully this goes without saying but in case it doesn't – decaf works fine here, should you have a late night craving for something cold and fruity and a little tangy and a little bitter but you also need to sleep that night.
Citrus
The recipe as written is for a lemonade, though other kinds of citrus would be delicious instead! Lime juice to make limeade would be a good choice, and my mouth is literally salivating as I type out the word yuzu.
(And if you're interested in other fruity tea concoctions, how about this grapefruit green tea or this mango matcha?).
Toppings
If you want to add toppings and treat this like a fruit tea from a boba shop, go for it! Lychee jelly, tea jelly, crystal boba and aloe vera all sound delicious.
Or maybe you want to stray from the clean and crisp vibe; how about a scoop of cheese foam on top or a pile of almond tofu cubes?
Alcohol
I haven't tried this with alcohol but I can definitely see this being a tasty cocktail with a shot of tequila, vodka, soju or gin.
Obviously you can take shots of any extra alcohol you have, or you could whip up a quick strawberry soju cocktail or a grapefruit gin drink with the leftover.
Guava White Tea Lemonade
This guava white tea lemonade sounds like a pain to make, but once you have a cup of steeped tea, you're on your way to a fruity, refreshing treat!
Keyword:
caffeine, citrus, dairy-free, egg-free, fruit tea, gluten-free, grain-free, guava, iced tea, lemon, lemonade, non-alcoholic, nut-free, tea, vegan, vegetarian, white tea
Ingredients
1

cup

hot water

1

tablespoon

white tea leaves

1

pinch

kosher salt

½

teaspoon

granulated sugar

1

tablespoon

lemon juice

½

cup

guava nectar

ice
Instructions
Steep the tea in the hot water for 10-15 minutes, then remove the tea leaves.

Stir the salt and sugar into the tea until combined, then let the tea cool completely.

Once the tea is cooled, stir in the lemon juice and guava nectar. Taste the drink and adjust the sugar/guava/lemon if needed.

Fill a tall glass half full with ice, then pour in the guava white tea lemonade. Give it a stir before sipping!
Recipe Notes
Feel free to substitute the white tea with green tea (sencha or matcha would be delicious).
If you don't have much time, you can make the tea with ½ cup hot water, then stir in a heaping ½ cup of ice to cool the tea down quickly.