How to Make It
This hibiscus green tea is one of the easier recipes on the blog. Steep some tea, mix it all together, and you know that you got the best of both worlds.
First, the water needs to come to a boil. It might be tempting to make tea using cold water since this is a cold drink, but unless you're willing to wait around for 12+ hours and go with a cold brew method, you're going to end up with some really bland tea.
A little sugar and salt get mixed into the hot water to make sure they dissolve and you don't end up with powdery crunchy bits of either at the bottom of your cup (no thank you).
If you're thinking, why would you add salt I don't understand, well, I add a pinch of salt to all the drinks I make. It helps the flavor pop, and enhances how strong and slightly sweet the tea is.
Once you've got some hot water, divide it and steep some sencha in some of the water, and the hibiscus in the other portion. The hibiscus is much stronger in both flavor and color, so I'd recommend steeping it for a shorter amount of time compared to the sencha.
Both teas cool slightly, but they don't need to be cold before you assemble the drink, since you serve it over ice. Pour both the sencha and hibiscus into a big glass filled with ice, give it a stir, and sip all summer long.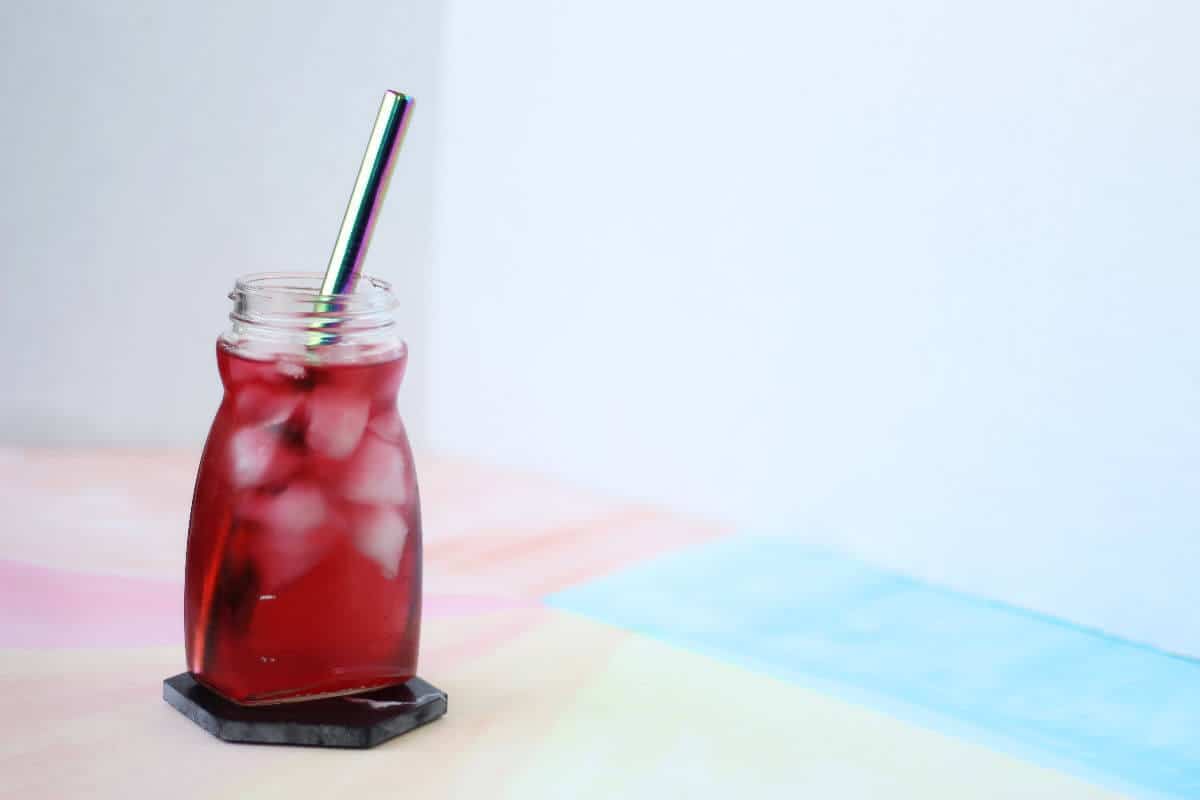 Taste
This beverage is really tart unsweetened, since the hibiscus is so sour. That's why I really recommend sweetening it (I like starting with 1 tablespoon of sugar, and you can increase as needed).
All that hibiscus tea gets mellowed out with some sencha, a Japanese green tea. It's light and slightly sweet, enough to stand up to the hibiscus without being so strong or bitter that it dominates this drink.
If you're looking for something a little less tangy and more on the fruity side, check out this grapefruit green tea recipe! It's one of my favorite items to order at a boba shop, and to sip when it's so hot outside that (for once) I'm not in the mood for milk tea, even if it's hojicha milk tea.
Substitutions
Although I typically use loose leaf tea when I'm home since the quality and flavor tends to be better, you can use tea bags if you only have those! I'd recommend using 1 tea bag each of hibiscus and sencha.
If you don't want to use sencha, you can use another kind of green tea. I wouldn't recommend anything roasted (ie hojicha and genmaicha) or too strong (ie matcha), but any other variety should be fine.
You can use any sweetener besides white sugar. Honey or agave syrup would be my first choices, though you could use anything that's pretty mild in flavor.
Maybe you're in the mood for something a little creamy - try topping this with cream cheese foam!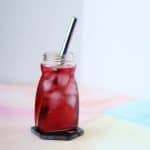 Hibiscus Green Tea
This hibiscus green tea is perfect for your mid-afternoon slump, with the refreshing tartness of hibiscus and a bit of caffeine courtesy of the green tea.
Keyword:
egg-free, gluten-free, green tea, hibiscus, iced tea, non-alcoholic, non-dairy, nut-free, tea, vegan, vegetarian
Ingredients
2

cups

water

1

tablespoon

granulated sugar

or to taste

1

pinch

kosher salt

1

tablespoon

sencha

1

tablespoon

hibiscus

ice
Instructions
Bring 2 cups of water to a boil, then add the sugar and salt. Mix to dissolve.

Divide the 2 cups water into ¾ cup and 1 ¼ cups water in two small heat-proof cups or containers.

Add the sencha to the container with ¾ cup water, and add the hibiscus to the container with 1 ¼ cups water. Let the sencha steep for 20 minutes, and let the hibiscus steep for 10 minutes. Once each tea is done steeping, remove the leaves from each container, and let the tea cool slightly.

Fill a glass half full with ice, then pour over the sencha and hibiscus teas. Give it a stir, then enjoy!