What is hojicha tea?
Hojicha is a roasted green tea from Japan.
What does hojicha taste like?
Toasty and a little bit smoky is what comes to mind first. This definitely does not taste like other, un-roasted green teas.
It's a pretty strong tea, so it works well with milky and creamy things (ie this ice cream, or in a latte!). I also would recommend storing it away from any delicately flavored teas, since its flavor and aroma will likely overpower your other tea and make it taste like hojicha.
Hojicha vs matcha
Both hojicha and matcha are varieties of green tea, but they're pretty different from each other.
Their appearances are strikingly divergent - matcha is a bright green powder, whereas hojicha tends to come in loose leaf form and is a darker brown.
The flavor of hojicha is very toasty, whereas matcha is much crisper and cleaner, almost grassy (in a good way!!).
When both kinds of tea are made, the leaves are steamed and dried. The main differences in color and flavor come from the fact that hojicha gets roasted, whereas matcha does not.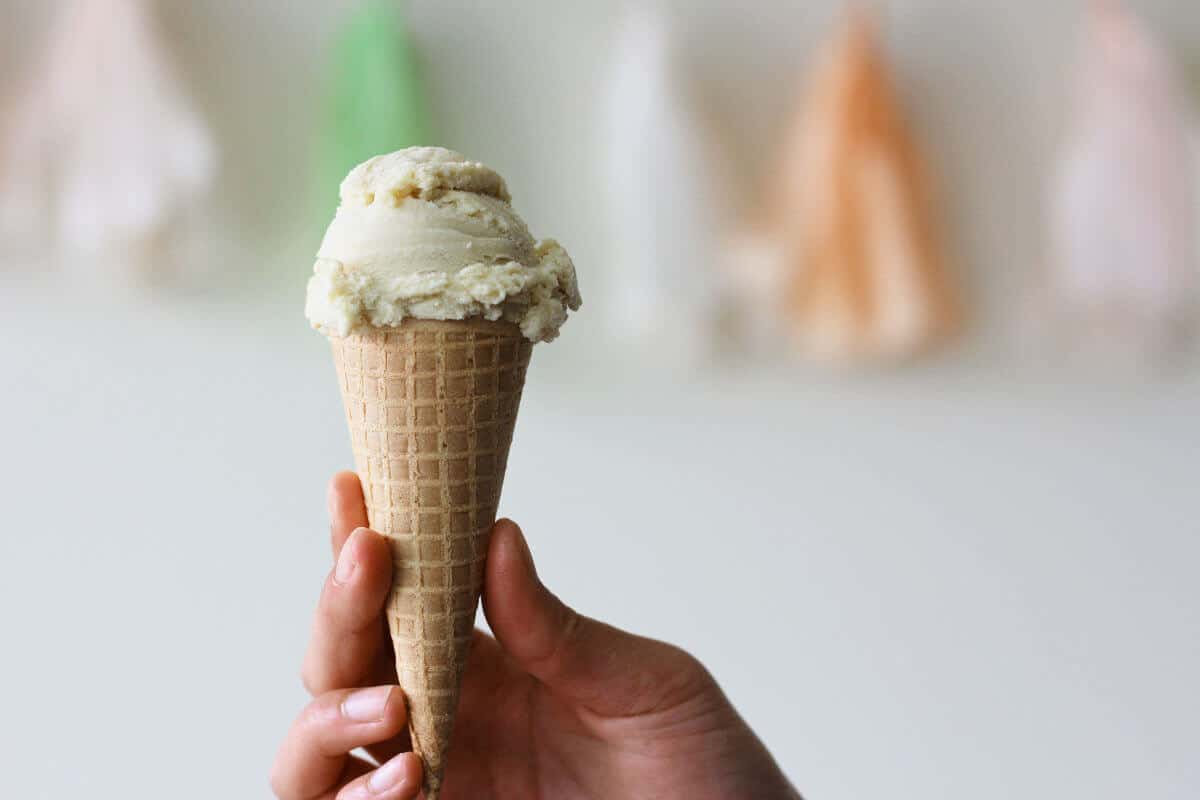 How to Make It
I use my go to ice cream base from Melissa Clark, which is also used in this London fog ice cream and this Earl Grey ice cream, for this hojicha ice cream.
The first stop on your way to homemade ice cream is making a custard base. All the cream and milk gets heated up with the tea and sugar, like you're making the best milk tea.
I tend to use hojicha tea bags instead of loose leaf, since it can be hard to find the latter. I've definitely had the little paper ends catch on fire and add a little bit more smokiness than I wanted to my ice cream, so either cut them off and fish out the tea bags later, or be careful with the ends.
You add a little bit of the creamy sweet tea into some egg yolks to temper them and make sure you don't end up with chunky bits in your ice cream.
Then the custard goes back on the heat until it's thickened enough to coat the back of a spoon or spatula. When you drag a finger across the spoon, the custard shouldn't try to fill in that trail immediately.
You don't have to cook the custard until it's super think. It will thicken more as it cools, and will whip up once you churn it, so don't worry if it doesn't seem like the texture of ice cream yet.
If you're lazy and hate washing your strainer (aka me), then you can skip this. If you're more of a perfectionist or have a dish-washing volunteer on hand, I'd suggest straining the custard to catch any scrambled egg you might have allowed into your custard for the smoothest ice cream possible.
A bit of alcohol gets mixed in before the ice cream base chills. This is mostly for the texture, to prevent the ice cream from forming into a solid block, and you won't be able to taste it in the final ice cream.
The cold custard then churns in an ice cream machine; this step incorporates air into the ice cream, preventing it from being a dense chalky block. After churning, the ice cream will still be really soft, so unless you're desperate or okay with your ice cream this side of soupy, make sure you freeze it again before serving.
Substitutions
Using Non-Dairy Alternatives
I'd caution against trying to make this ice cream with non-dairy alternatives, unless you're sure that they have a similar amount of fat. For example, 1 cup of coconut milk typically has 57g fat, compared to the 87g of fat in 1 cup of heavy cream, so I would not recommend using coconut milk in place of the cream here.
If you don't have any whole milk on hand, you could substitute in a non-dairy milk so long as you are using heavy cream.
Again, the fat of something like soy milk isn't the same as whole milk, so the final ice cream will not be as creamy. The custard is also less forgiving when you're cooking it on the stovetop, so you will need to watch it more closely and stir more frequently.
Alcohol
Any mild flavored alcohol works here, though I'd recommend something with at least 30% alcohol content. Gin and vodka are my go to's, since both are over that threshold and they're plain and clear enough to let the ice cream shine.
You can omit the alcohol if you'd like, though the ice cream may not be as creamy and scoopable straight from the freezer.
Hojicha Ice Cream Taste
This hojicha ice cream is more mild than if you had a plain cup of hot hojicha, what with all that milk and cream. It still has a gently roasted flavor, with a hint of bitterness from the tea.
If you want the tea flavor stronger though, feel free to add more tea bags to the custard mixture when you cook and steep the tea in it.
Serving Suggestions
I felt like ice cream cones on the day that I photographed this recipe, and all I can say is that I vow to use more sugar cones at home from now on.
Any crumbly shortbread cookie would also be delicious (one of my housemates shared her stash of Hawaiian macadamia nut shortbread cookies with the rest of the house, so those have been on my mind).
I'm drooling over the idea of doing an affogato with this ice cream. The traditional espresso + ice cream pairing would work, but for more of a hojicha punch, just a cup of hojicha sounds delicious too.
This ice cream is versatile and could probably be served with any of your favorite ice cream toppings, since mellow with a hint of roasty toastiness.
Hojicha Ice Cream
This ice cream has a subtle roasty tea flavor, making it a fun way to have your tea and eat it too!
Cuisine:
American, Japanese
Keyword:
green tea, hojicha, ice cream, nut-free, tea, vegetarian
Ingredients
4

hojicha tea bags

2

cups

heavy cream

1

cup

whole milk

½

cup

granulated sugar

½

teaspoon

kosher salt

4

large egg yolks

1

tablespoon

vodka or gin
Instructions
In a medium pot, simmer the tea, cream, milk, sugar and salt until the sugar completely dissolves, about 5 minutes. Remove pot from heat. In a separate bowl, whisk the yolks until they're broken up.

Whisking constantly, slowly whisk about a third of the hot cream into the yolks, then whisk the yolk mixture back into the pot with the cream. Return pot to medium-low heat and gently cook until mixture is thick enough to coat the back of a spoon (about 170F on an instant-read thermometer).

Cool to room temperature. Strain through a fine-mesh sieve into a bowl and discard the tea bags and any scrambled egg bits that get caught in the sieve. Press out any liquid that might be held in the tea bags back into the custard. Stir in the vodka.

Cover and chill at least 4 hours or overnight. If the ice cream base separates while it's chilling, mix it back together and you're good to go.

Churn in an ice cream machine according to manufacturers' instructions; it'll look like really thick whipped cream when it's done churning. Transfer to a container (I like to use a long, shallow container because it helps me get better scoops than a pint container), smooth the top and cover. Freeze until solid.
Recipe Notes
Ice cream adapted slightly from Melissa Clark.
You don't need to add the alcohol, but it helps make sure the ice cream has a softer, more creamy texture.