Hurricane popcorn is a snack typically found in Hawai'i. It's full of popcorn, crunchy arare (Japanese rice crackers) and furikake (Japanese seaweed seasoning).
It's crispy, buttery and so addictive that you could polish off a batch by yourself!
Ingredients
The first ingredient you need is popcorn. Popcorn kernels are pretty cheap and easy to pop, so I would recommend popping your own.
Otherwise, if you buy pre-popped popcorn, it can be hard to tell when it was popped, and you might end up with stale popcorn.
Maybe the idea of popping your own corn is too intimidating. Instead, you could also pick up a pack of microwaveable popcorn.
I'd opt for something without butter/margarine or seasoning, since you'll be adding your own later on.
(Not sure what to do with the rest of the popcorn? How about strawberry flavored popcorn?).
The toppings, arare and furikake, might require a trip to a Japanese or Chinese supermarket.
Arare are Japanese rice crackers made with glutinous rice flour. Instead of being chewy like butter mochi or tōng yùhn, which also use glutinous rice flour, these crackers are super hard and crunchy.
You might be able to find mochi rice nuggets at Trader Joe's near the other crackers and chips (not sure if all stores carry them), but they would be a good substitute for anyone without other options for rice crackers.
Furikake is a dry seasoning mix typically sprinkled onto rice, whether it be plain, in Spam musubi, or on top of onigiri. Furikake at its most basic has roasted and finely shredded seaweed mixed with sesame seeds.
Some versions include everything from ume (salted plum) to dried salmon to egg yolk. My usual go to has bonito (dried fish) flakes, which add a savory saltiness that I love.
You can find furikake in Japanese, Korean and Chinese grocery stores near the seasonings and/or the dried seaweed section. You might also have luck finding it at other grocery stores, depending on how well stocked they are.
In case you need a starting point, here are the products I typically use.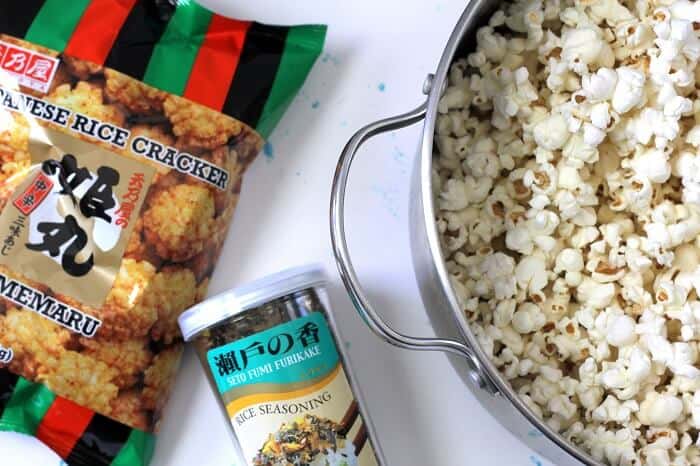 Substitutes
I live in an Asian grocery store bubble, and definitely take the availability of Asian groceries and ingredients for granted. So, in case you live in a different kind of environment and can't get these ingredients shipped to you, here are some alternative ingredients if you can't get your hands on the right things.
Furikake
If you really had to, you could make your own furikake (this step would make the recipe take considerably longer, so I might suggest waiting until you can get your hands on a bottle before making this).
I'd start with unseasoned nori (dried and roasted seaweed) and shred that with a pair of kitchen scissors or a sharp knife into small rectangles. Mix with sesame seeds and a bit of salt, and you have DIY furikake!
Arare
If you can't find arare, another kind of crunchy and salty cracker could work. They tend to be on the hard side (in a good way!), so anything similar to that would be a good substitute.
My favorite kind of arare to use in hurricane popcorn are glossy and flavored with soy sauce and a little sugar.
For anyone using a cracker without those vibes, you could add a little soy sauce and sugar along with the butter into your popcorn. Speaking of which, that makes me think of furikake chex mix, another family favorite snack that depends on furikake for its flavor.
How to Make
First step: pop some popcorn.
I typically use a hot air popper, which is nice because it's a lot less likely to burn the popcorn, and you don't need to add any oil to prevent it from sticking to the pot.
The one I have is a pretty simple model, where you dump the kernels into a chamber, turn on the machine, and have a bowl below the spout to catch the popcorn. No watching is necessary.
That being said, you could use any pot you have on hand. A nonstick pot is nice because you don't need to add any oil, but you could also add a tablespoon or so of oil to the pot before you pop the corn if it's not nonstick.
If you use a pot, I would recommend shaking the pan around frequently and keeping an eye (and nose) out to make sure the popcorn does not burn.
Another tip: usually the popcorn will stop making popping noises when all the bits that are going to pop have popped. There will inevitably be a few pieces that are too stubborn to emerge from their hard shells, so it's fine if that happens.
A few leftover popcorn kernels is more worth it than 100% popped but semi-burnt kernels.
Once the popcorn is done, the rest of the recipe is basically assembly.
Mix together the popcorn and arare together in a big bowl. Drizzle some melted butter over and toss to coat.
Sprinkle the furikake and some salt on top a little at a time, tossing as you stir to make sure the furikake doesn't clump together on only part of the popcorn. This is easiest with a friend or someone to help you, although you can definitely do it alone with a bit of coordination and patience.
Storage
Since the water in the butter makes the popcorn and arare a little soggy if you let it sit too long, I wouldn't recommend making this too far in advance.
Popping the popcorn is the longest step of this recipe, so you can pop it up to a day in advance and store it in an airtight container so it doesn't get stale. On the day of, mix in everything else.
Hurricane Popcorn
Hurricane popcorn, or seasoned popcorn with shredded seaweed bits and rice crackers, is the perfect savory popcorn to munch on when you're tired of the usual butter and salt.
Cuisine:
Fusion, Hawaiian, Japanese
Keyword:
arare, butter, crackers, egg-free, furikake, hawaiian, japanese, nut-free, popcorn, rice crackers, seaweed, sesame seeds, vegetarian
Ingredients
½

cup

popcorn kernels

4

ounces

arare

½

stick

unsalted butter

melted

¼

cup

furikake

¼

teaspoon

kosher salt
Instructions
Pop the popcorn. I like using an air popper because you can set it and forget it. You can also use a (very) non-stick pot. Add the kernels, cover the pot and let them pop over medium heat until the popping subsides.

Add the arare to the popcorn, drizzle the butter on top and sprinkle the furikake and salt over everything. Cover the pot and shake until the popcorn and arare are well-coated. Serve immediately.
Recipe Notes
Serve this immediately. The popcorn and ararake start to get soggy pretty quickly. I don't recommend serving this more than a few hours after you mix it- you can try to re-toast it (ie in a low oven), but it's not the same as when you mix it right away.
If your furikake isn't salty, add more salt to compensate.