hurricane popcorn is a hawaiian popcorn snack, full of crunchy arare (japanese rice crackers) and furikake (japanese seaweed seasoning). it's crunchy and crispy and buttery and nutty and so addictive that you could polish off a batch by yourself!
i'm normally not a movie person; i tend towards youtube videos (hi, dance videos) like the millennial i am. given the pair of 10 hour flights that dotted my last few weeks though, i've somehow squeezed a solid handful into my brain. some, like thor: ragnarok and the maze runner: death cure, were entirely forgettable, and others like love, simon were ridiculously good. and in case you haven't heard my spiel yet: go see love, simon. especially if you like a side of tears and heart mush with your movies.
i had croissants and whippy ice cream and ginger ale while i was watching these things, which i was perfectly happy with. but i feel like some people have strong feelings about movie theater popcorn. sure, it's buttery and salty and crunchy, but my ideal popcorn involves less fake butter flavors, less salt (let's not dehydrate our tongues before the movie even starts, which then inevitably leads to chugging water which leads to emergency bathroom breaks during pivotal points of the movie) and less probability of soggy popcorn/more crunch. so if i have to have popcorn while watching a movie, i vote for hurricane popcorn.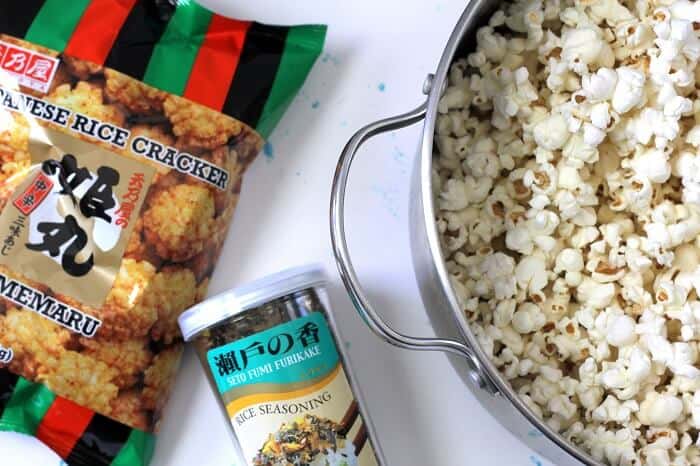 hurricane popcorn, you ask? it's a hawaiian and japanese inspired popcorn idea, with plenty of crunchy arare, or japanese seasoned rice crackers, and furikake, a japanese rice condiment with shredded seaweed and sesame seeds. i also love adding furikake to chex mix and spam musubi! there's furikakes with salted plum and salmon and all sorts of things- this one has egg yolk, but i usually go for ones with bonito, or dried fish flakes (i'm not describing this well ack). i took a picture of the brands that i use them if you need a starting point.
Hurricane Popcorn
Hurricane popcorn, or seasoned popcorn with shredded seaweed bits and rice crackers, is the perfect savory popcorn to munch on when you're tired of the usual butter and salt.
Cuisine:
Fusion, Hawaiian, Japanese
Keyword:
arare, butter, crackers, egg-free, furikake, hawaiian, japanese, nut-free, popcorn, rice crackers, seaweed, sesame seeds, vegetarian
Ingredients
1/2

cup

popcorn kernels

4

ounces

arare

1/2

stick

unsalted butter

melted

1/4

cup

furikake

1/4

teaspoon

kosher salt
Instructions
Pop the popcorn. I like using an air popper because you can set it and forget it. You can also use a (very) non-stick pot. Add the kernels, cover the pot and let them pop over medium heat until the popping subsides.

Add the arare to the popcorn, drizzle the butter on top and sprinkle the furikake and salt over everything. Cover the pot and shake until the popcorn and arare are well-coated. Serve immediately.
Recipe Notes
Serve this immediately. The popcorn and ararake start to get soggy pretty quickly. I don't recommend serving this more than a few hours after you mix it- you can try to re-toast it (ie in a low oven), but it's not the same as when you mix it right away.
If your furikake isn't salty, add more salt to compensate.