people express themselves in different ways. (duh, heather, ofc). some do it with carefully selected outfits, but that's not me. i'd happily live in t-shirts, dependent on what activity i'm in (i used to have a ton of buddhist youth group shirts, and then school shirts, and now everything is branded with my old internship's logo), and yoga pants. some people express themselves through music, and while i'm more interested in music than clothes, i still don't express myself that way. but food? THAT'S ME. i'm the kind of person who wants to infuse tea into everything and think of new cake combos (hello there, jasmine green tea cake with raspberry jam), and that's my type of creativity.
i've had this idea lingering for 2 years on my too-long idea list. on a rare day when a few friends and i decided to bake (i typically go out with friends and bake alone), one of them suggested something with jasmine and matcha. fate was saying that this jasmine green tea cake with raspberry jam was ready to come to life.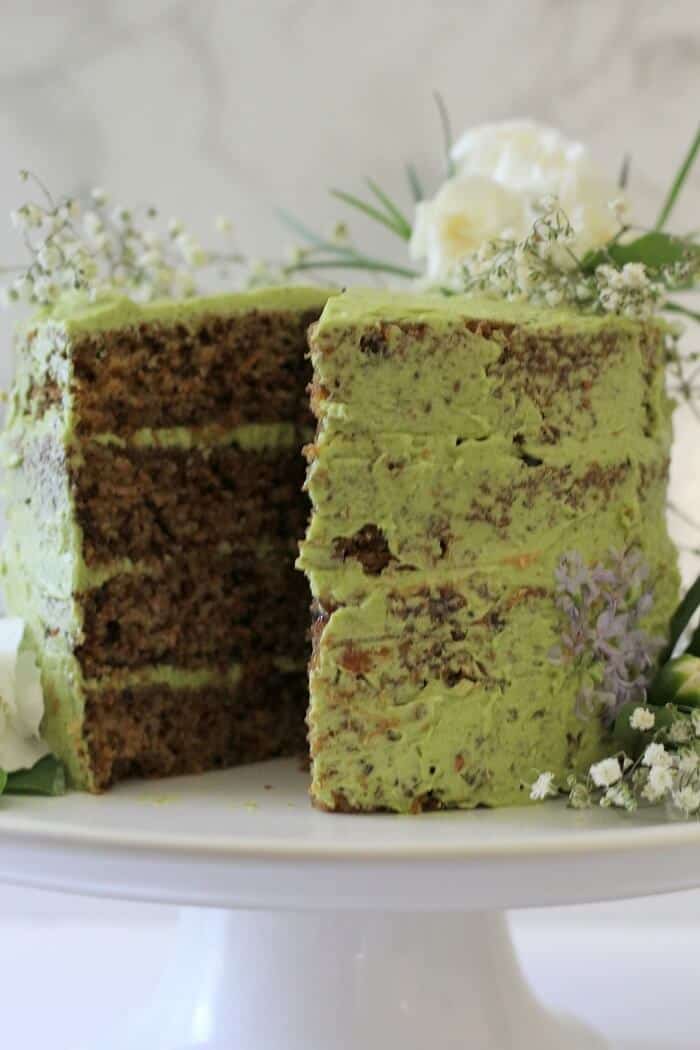 the cake itself is on the denser side (i can't stand those super fluffy cakes from chinese bakeries, so heftier western style cakes are much more my jam), and pretty jasmine-y when eaten / munched on / devoured / etc solo. combined with whippy, creamy matcha swiss meringue buttercream and fruity raspberry jam, this jasmine green tea cake with raspberry jam is everything i want in a birthday cake. (did i mention it's my birthday this week? i'm keeping it pretty lowkey though, since i've been a little too good about keeping up with my goal to go somewhere new every weekend of this quarter). i'd recommend using a jam that's on the tarter side or that has less sugar, because the cake + buttercream are sweet enough. and even if you follow that suggestion, this is the kind of cake that you cut slivers of and eat with plenty of icy milk or strong tea.
let's move onto decorations. i'm more of a rustic baker, and intensive food styling is best left to my more artsy friends. so it wasn't my idea to decorate this cake with rosemary, baby's breath, carnation, and random leaves (sourced from a tree in my backyard), and they get allllll the credit for making this cake look so good (: and in a do as i say, not as i do manner, you might want to check to see if the foliage you're using is suitable for touching your cake. i have no idea what kind of leaves are on this cake, but my grandma picks them all the time for tea anyways.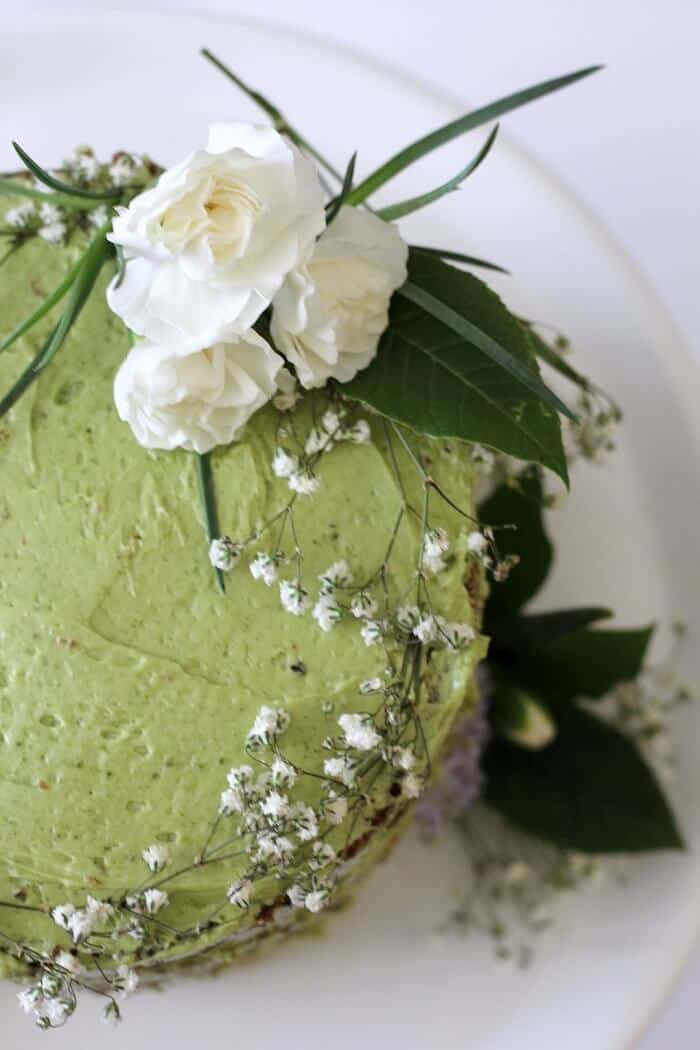 1 year ago: socal february 2017: theme parks and swirled ice cream | strawberry lemonade cake with fresh mint buttercream
2 years ago: orange-scented almond olive oil muffins | coconut cake with strawberry compote and pink swiss meringue buttercream
3 years ago: apricot almond amaretto pound cake | big mug coffee roaster, santa clara
4 years ago: thomas keller's chocolate chip cookies | chicken dijon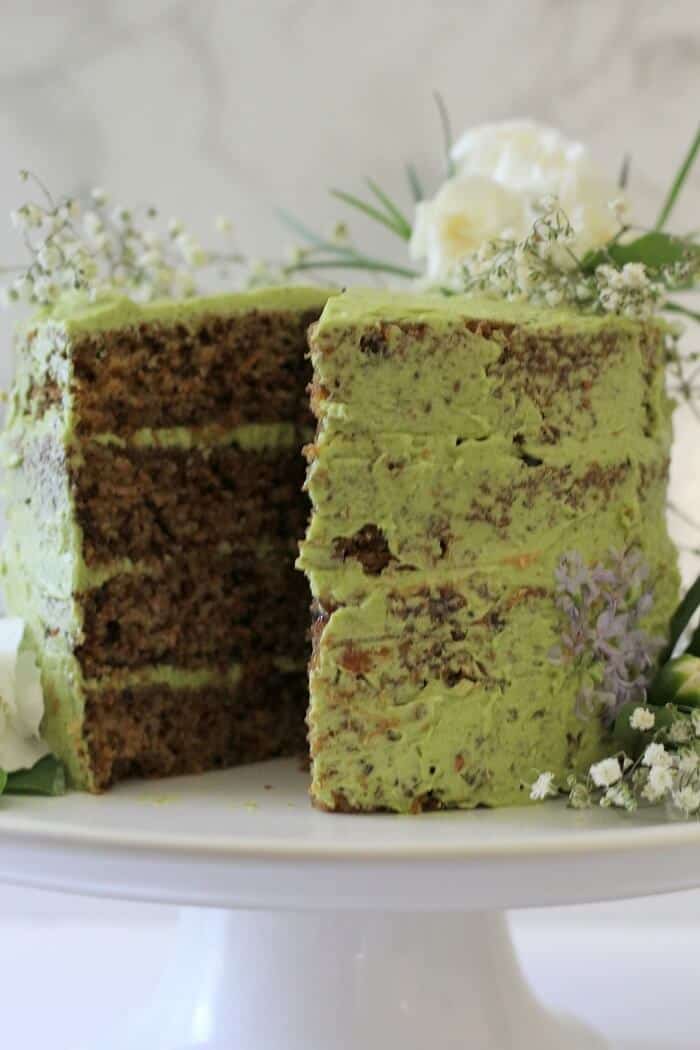 Jasmine Green Tea Cake with Raspberry Jam
This jasmine green tea cake with raspberry jam combines both jasmine and green teas, and layers it with fruity, sweet/tart raspberry jam.
Keyword:
buttercream, cake, dessert, dried fruit, green tea, jam, jasmine tea, layer cake, raspberry, swiss meringue buttercream, tea, vegetarian
Ingredients
Jasmine Cake
1 1/4

cups

granulated sugar

2 1/2

cups

all-purpose flour

2

tablespoons

ground jasmine tea

about 2 heaping tablespoons tea leaves, ground

1 1/2

teaspoons

baking soda

1 1/2

teaspoons

baking powder

1 1/2

teaspoons

kosher salt

2

large eggs

room temperature

1

cup

buttermilk

room temperature

1/2

cup

canola oil

1 1/2

tablespoons

vanilla extract

1/2

teaspoon

almond extract

3/4

cup

boiling water
Matcha Swiss Meringue Buttercream
2

large egg whites

1/2

cup

+ 2 tablespoons granulated sugar

1 1/2

sticks

unsalted butter

room temperature, cut into tablespoons

1/2

teaspoon

vanilla extract

2

teaspoons

matcha
Assembly
6

tablespoons

raspberry jam
Instructions
Jasmine Cake
In a large bowl, mix all the dry ingredients. In a medium bowl, mix all the wet ingredients except for the water. Whisk the wet ingredients into the dry ingredients, then stir in the water. It will be very thin. Pour into two greased and parchment lined 6.5" round cake pans (22 oz per pan if you want to be that way) and bake at 350F until a toothpick inserted into the center comes out clean, about 50 minutes.
Matcha Swiss Meringue Buttercream
In the heatproof bowl set over a pan of simmering water, combine egg whites and sugar. Cook, whisking constantly, until sugar has dissolved and mixture is warm to the touch.

Attach the bowl to the mixer fitted with the whisk attachment. Beat until it holds stiff (but not dry) peaks, fluffy and cooled.

Switch to the paddle attachment. Add butter several tablespoons at a time, beating well after each addition. Beat in the vanilla and matcha until smooth.
Assembly
Using a long serrated knife, split each cake in half cross-wise.

Place a dollop of buttercream in the middle of your serving plate or cake stand, and press one cake layer into it. Spread 2 tablespoons jam on top, then cover it with buttercream. Repeat this layering processing, ending with your last cake layer on top, bottom side facing up.

Scrape all of the buttercream on top of your cake, and using an off-set spatula, gently shove and smooth the buttercream to the edge of the cake and down the sides. Run your spatula or a bench scraper around the edges of the cake to smooth it out.

Decorate as much as you want. There's baby's breath, rosemary, carnations and some leaves on this cake pictured here, but anything goes!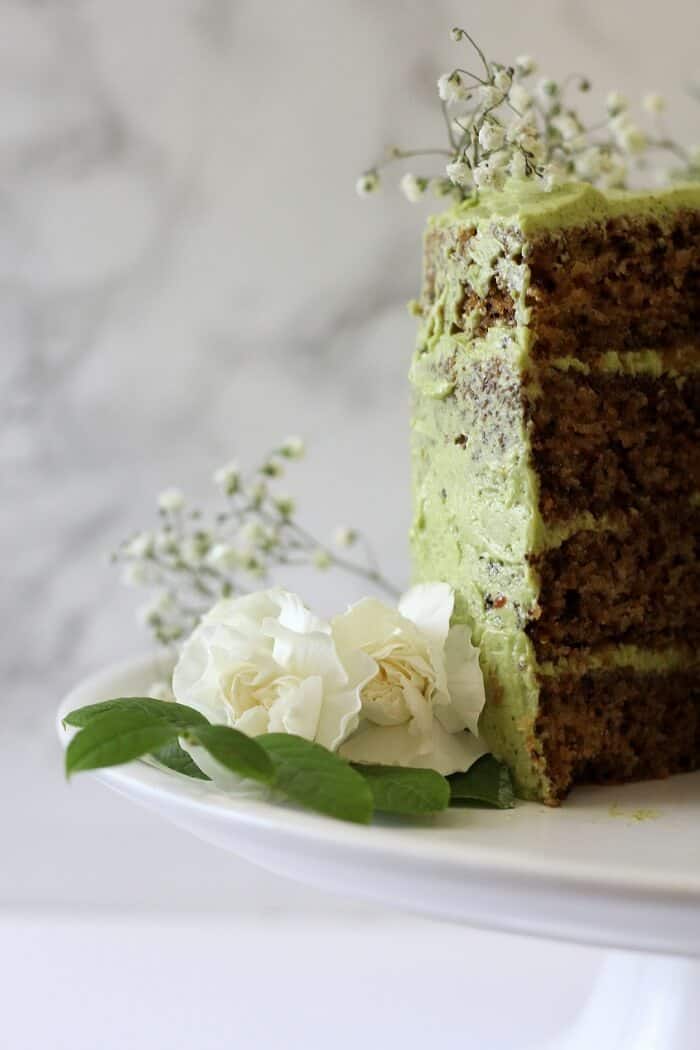 more cake
caramelized white chocolate cupcakes with strawberry buttercream