This jasmine tea cake is flavored with jasmine tea, then sandwiched with creamy matcha buttercream and tangy raspberry jam.
How to Make
Jasmine Cake
Since this cake uses oil instead of butter, it's a pretty quick cake. Bye bye, creaming method!
Mix the dry ingredients, then separately combine the wet ingredients (save for the hot water). Marry the dry and wet ingredients, add the hot water, pour into pans and bake.
Voila, cakes!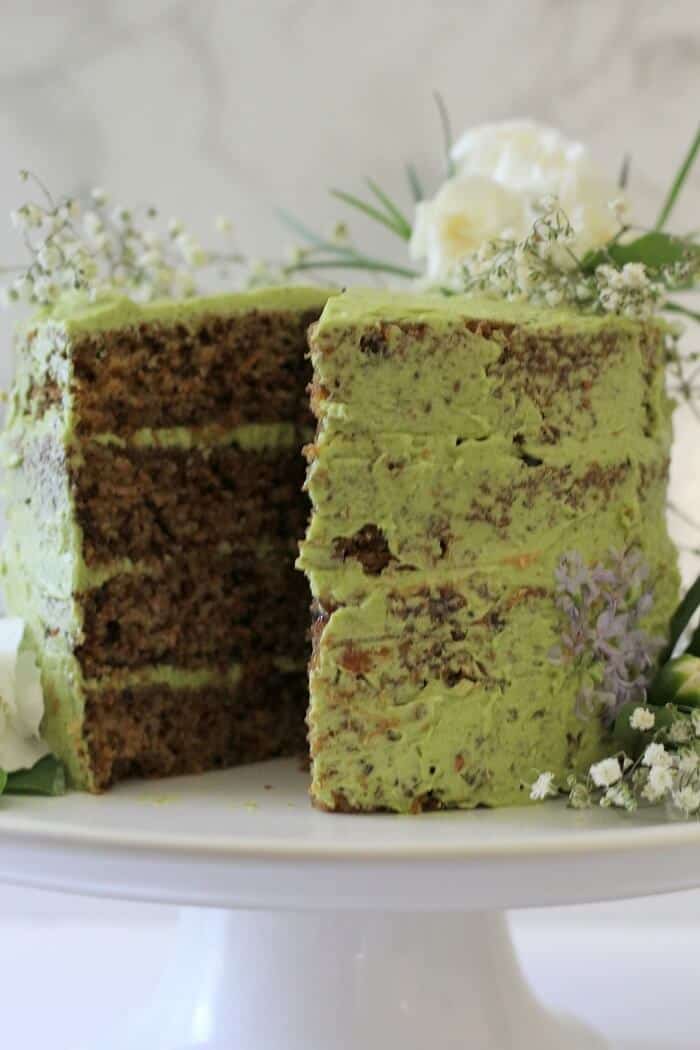 Swiss Meringue Buttercream
This cake is sandwiched and coated in matcha flavored Swiss meringue buttercream.
If you're not familiar with Swiss meringue buttercream, it features a meringue whipped with plenty of butter, making for a frosting that ends up being rich and light at the same time.
This is my favorite kind of frosting, as evidenced by my decision to add it to this lychee rose cake, and this strawberry lemonade cake, and this masala chai cake (I could go on and on..).
A quick word of warning: I would highly recommend using a stand mixer for this recipe. You can make do with a hand mixer (although with my old three speed hand mixer, this buttercream took 30-60 minutes to whip), but I absolutely would not make this by hand.
It starts by gently warming up some egg whites and sugar over simmering water. Emphasis on the gently, since you're trying to dissolve the sugar and warm the egg whites enough to whip, not end up with sweet egg white scramble.
The sugar and egg whites then get whipped until thick and billowy, and turn from the yellow-y clear color when raw into a very opaque white. The meringue will also have stiff peaks, meaning that it should stand up on its own without flopping over when you lift the mixer from the egg whites.
Then it's time to add a generous amount of butter. Don't fret though, as it's not like you'll be eating all that butter in 1 sitting.
The softened butter gets added a few pieces at a time, until it incorporates into the meringue and you can't see any chunks, before adding more butter.
This is the stage that typically gives me the most grief, especially since the buttercream starts to look curdled. However, this is also a situation where more actually is more, so keep mixing until the buttercream starts to come together again.
Add some salt and the matcha, mix until combined, and the matcha Swiss meringue buttercream is ready to use!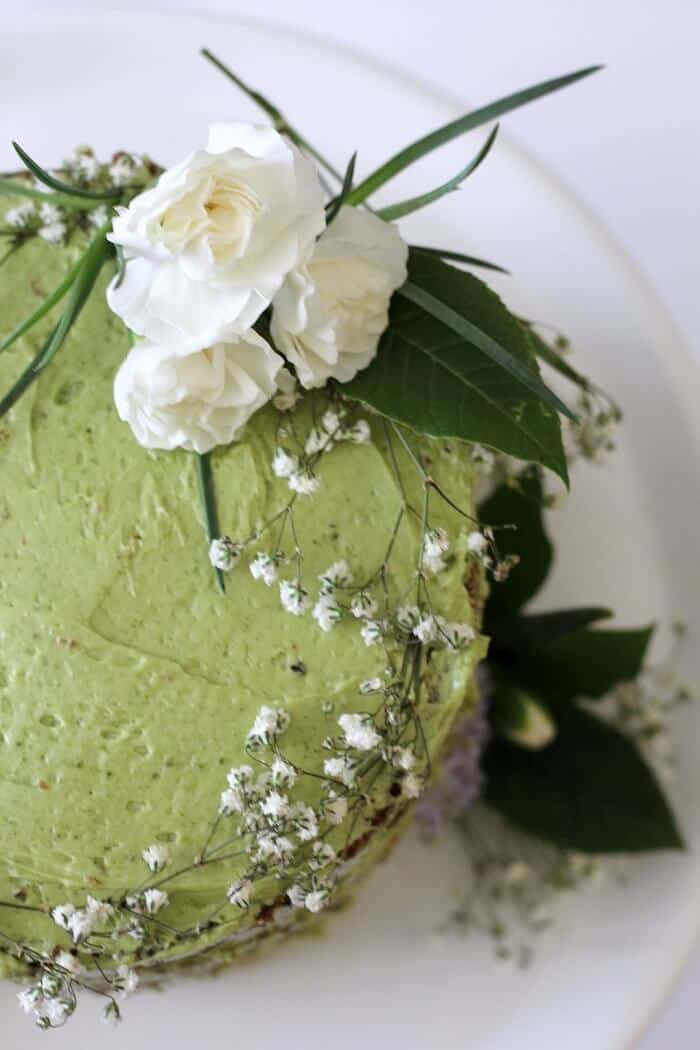 Decoration
I'll walk you through how the photographed cake was decorated, and then I'll give you some other ideas if you're feeling a different vibe.
The (cooled) cakes were leveled off with a serrated knife so that any slight dome in the center of the cakes were removed to ensure that when you stack the cakes later on, they rest evenly on each other.
Then, the cakes get split in half cross wise, so you have four thinner layers of cake.
Spoon a dollop of buttercream onto your serving plate or a cake stand, then add one cake layer on top of that buttercream. The buttercream helps keep the cake in place as you work on it.
Then, smear a layer of buttercream on top of the cake. Ideally, you'd frost the cake with an offset spatula, since that helps spread the frosting without your knuckles dragging through it.
This layer of buttercream can be pretty thin, since this is mostly to help glue down the crumbs. Spread on a little jam, then add more buttercream to trap the jam inside.
Place another layer of cake on top, press it down gently to make sure it sticks, then repeat the process of adding frosting, cake and jam two more times.
When your last layer of cake is in place, scrape the rest of the buttercream on top of the cake. Use your offset spatula to gently push the buttercream towards the edge of the cake and down the sides of the cake.
I went for a more rustic look on this cake, and added a very thin layer of buttercream so that the inside cake peeked out a little. The finishing touch were some fresh flowers – make sure that anything you use is pesticide free and food safe!
If you don't want to deal with the fuss of making a layered cake, you can always half the recipe and make a one layer cake.
Leave the cake as is (no leveling or halving the cake required). Spread the jam, then the buttercream on top, and you'll end up with something similar to the look of this persimmon cake (albeit Swiss meringue buttercream is much stiffer and won't drip like the cream cheese icing on this cake).
For anyone who wants more frosting with their cake, you can always do 1.5x or 2x the amount of buttercream, and add more in between the layers as well on the outside of the cake.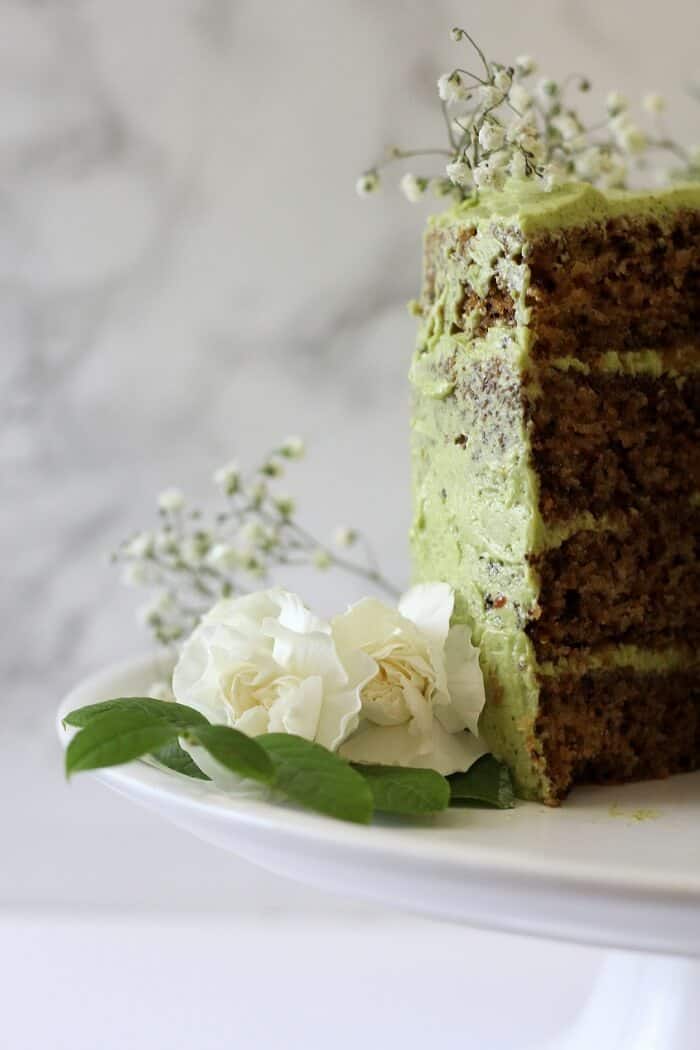 Tips
Substitutions
Matcha
For anyone unfamiliar with matcha, you might be tempted to swap out the matcha for ground up green tea leaves. Same thing, right?
Hard no.
Matcha is higher quality and has this bright green color that you just can't get with another kind of green tea, so I really recommend scouring for matcha.
If you're concerned that you get stuck with a bunch of leftover matcha, might I suggest a matcha chai latte, or matcha popsicles? And if neither of those strike your fancy, don't fret; you can take a peek at this roundup of other delicious matcha desserts!
Alternatively, you can also use a teaspoon or so of vanilla extract in place of the matcha if you don't want to use matcha.
Jam
I love the texture and tartness that raspberry jam contributes to this cake. That being said, another kind of jam (I'm thinking strawberry jam or orange marmalade) would work well, too.
Because the cake is already sweet enough, I'd recommend a jam that is more on the sweet/tart or slightly bitter side to help cut through some of that sugar.
Make Ahead
This is a somewhat involved recipe, so feel free to break this recipe up between multiple days. I usually like to bake the cakes on day 1, then make the buttercream and assemble the cake on day 2.
If you do this, you can leave the cakes in the baking pans at room temperature and cover them until the next day.
The buttercream can also be made the day before you assemble the cake; that being said, if you refrigerate the buttercream overnight, you'll have to gently re-warm and re-whip it before using, and I'm not about making my life harder.
Storage
The cake can be stored at room temperature for up to a day, and refrigerated for up to 3-5 days.
If you slice into the cake, I recommend putting the leftovers in an airtight container, or pressing wax paper to the cut sides of the cake. This prevents the parts of the cake that aren't slathered in buttercream from drying out.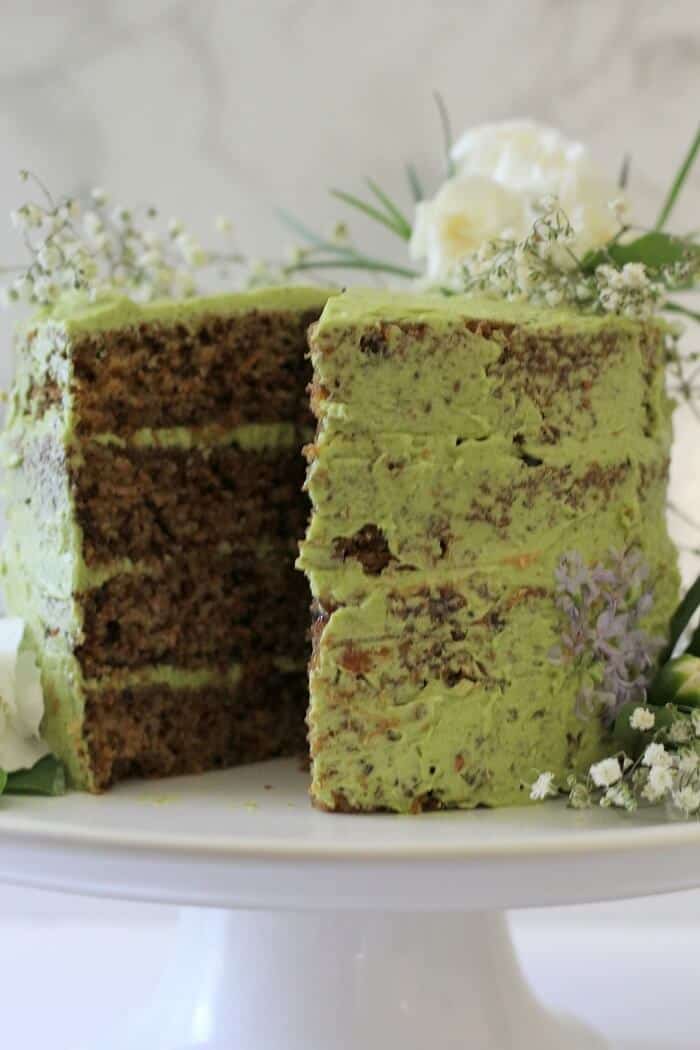 Jasmine Green Tea Cake with Raspberry Jam
This jasmine green tea cake with raspberry jam combines both jasmine and green teas, and layers it with fruity, sweet/tart raspberry jam.
Keyword:
buttercream, cake, dessert, dried fruit, green tea, jam, jasmine tea, layer cake, raspberry, swiss meringue buttercream, tea, vegetarian
Ingredients
Jasmine Cake
1 ¼

cups

granulated sugar

2 ½

cups

all-purpose flour

2

tablespoons

ground jasmine tea

about 2 heaping tablespoons tea leaves, ground

1 ½

teaspoons

baking soda

1 ½

teaspoons

baking powder

1 ½

teaspoons

kosher salt

2

large eggs

room temperature

1

cup

buttermilk

room temperature

½

cup

canola oil

1 ½

tablespoons

vanilla extract

½

teaspoon

almond extract

¾

cup

boiling water
Matcha Swiss Meringue Buttercream
2

large egg whites

½

cup

+ 2 tablespoons granulated sugar

1 ½

sticks

unsalted butter

room temperature, cut into tablespoons

½

teaspoon

vanilla extract

2

teaspoons

matcha
Assembly
6

tablespoons

raspberry jam
Instructions
Jasmine Cake
In a large bowl, mix all the dry ingredients. In a medium bowl, mix all the wet ingredients except for the water. Whisk the wet ingredients into the dry ingredients, then stir in the water. It will be very thin. Pour into two greased and parchment lined 6.5" round cake pans (22 oz per pan if you want to be that way) and bake at 350F until a toothpick inserted into the center comes out clean, about 50 minutes.
Matcha Swiss Meringue Buttercream
In the heatproof bowl set over a pan of simmering water, combine egg whites and sugar. Cook, whisking constantly, until sugar has dissolved and mixture is warm to the touch.

Attach the bowl to the mixer fitted with the whisk attachment. Beat until it holds stiff (but not dry) peaks, fluffy and cooled.

Switch to the paddle attachment. Add butter several tablespoons at a time, beating well after each addition. Beat in the vanilla and matcha until smooth.
Assembly
Using a long serrated knife, split each cake in half cross-wise.

Place a dollop of buttercream in the middle of your serving plate or cake stand, and press one cake layer into it. Spread 2 tablespoons jam on top, then cover it with buttercream. Repeat this layering processing, ending with your last cake layer on top, bottom side facing up.

Scrape all of the buttercream on top of your cake, and using an off-set spatula, gently shove and smooth the buttercream to the edge of the cake and down the sides. Run your spatula or a bench scraper around the edges of the cake to smooth it out.

Decorate as much as you want. There's baby's breath, rosemary, carnations and some leaves on this cake pictured here, but anything goes!