This lemon ginger cucumber water is easy and refreshing, perfect for quenching your thirst any time of day!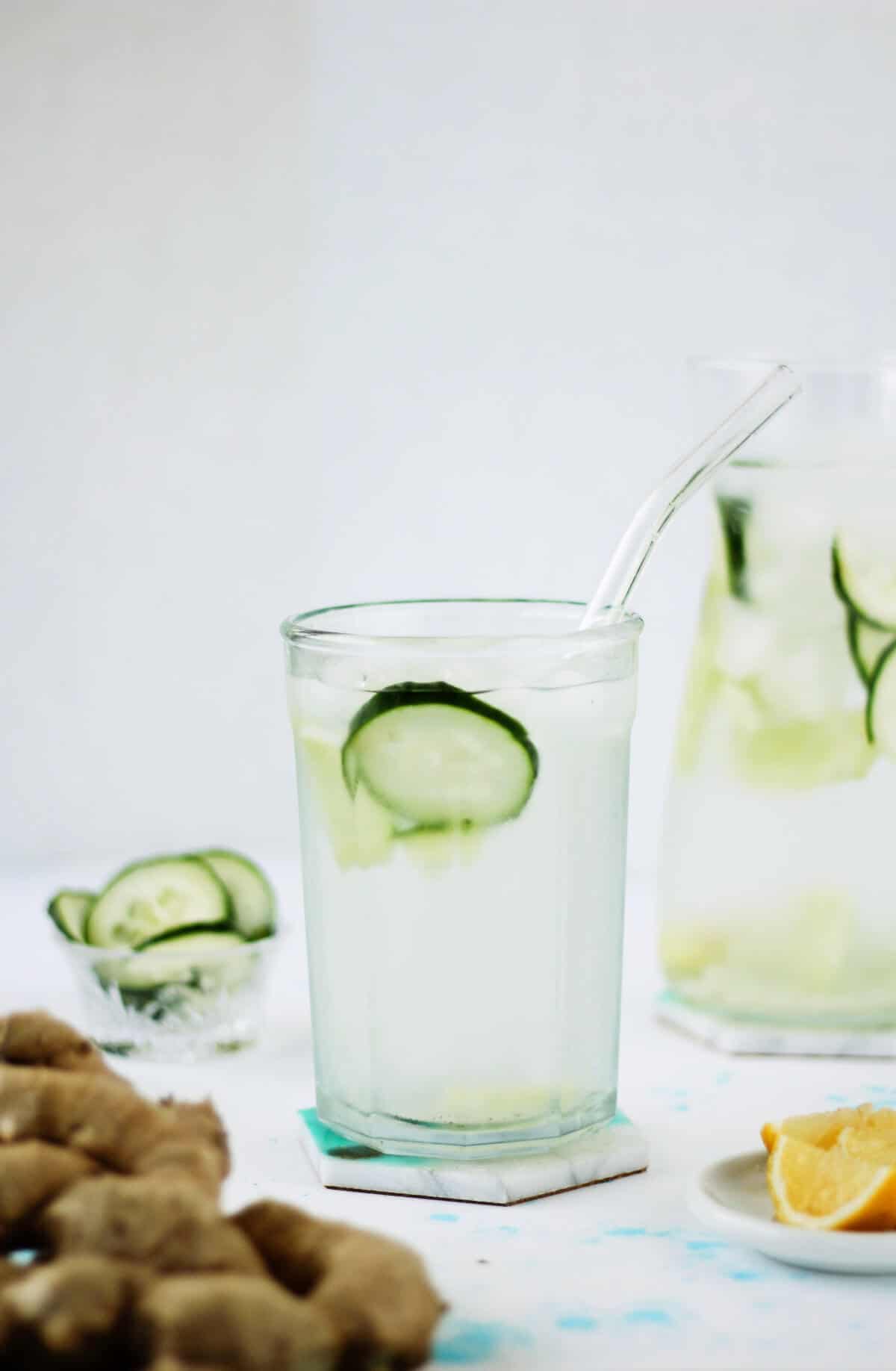 Ingredients
Cucumbers
Any kind of cucumber works here. Cucumbers that would destroy a salad (ie this Korean inspired cucumber salad), wrap or sandwich with extra liquid are totally fine, since the water only gets more… water-y.
I know some people aren't a fan of a ton of cucumber seeds and/or cucumbers with big seeds, so you can either 1) pick a cucumber that doesn't have that, or 2) strain the water so you don't eat them.
How to Make
Honestly, this is more of a guide than a strict recipe, but I'll walk you through what I like to do.
First, slice some of the cucumber for adding to the water at the end. This is mostly for aesthetics, so feel free to skip this step if you'd like.
Peel the rest of the cucumber, then quarter and add to a large carafe or jug that you plan to mix and/or store the water in.
Using a cocktail muddler or the handle of a wooden spoon, smash the cucumber to release some of the flavor.
Peel the ginger, then use the flat side of the knife to smash the ginger on your cutting board. Add the ginger to the container with the smashed cucumber.
Add the water and lemon juice, as well as the cucumber slices and ice (if using). Give it a stir, then hydrate all week long!
Storage
This water keeps well in the fridge for up to a few days. If you notice that the water is taking on too much flavor from the cucumber or ginger for your liking, remove any solids.
Tips
Muddling
I like to muddle the cucumber and ginger a little to help coax their flavors out and infuse into the water faster (I'm impatient, what can I say).
Because cucumbers are so watery, I like to smash them in the pitcher to minimize their mesiness. On the other hand, ginger is pretty tough, so using the side of a knife and smashing that on a cutting board is much easier.
If you're planning on letting this sit for a while before drinking or if you prefer your water to be very mild, it's not necessary to take these steps.
Avoiding Bitterness
The biggest issue I have with flavored water is when you leave the ingredients in the water for too long, and the water gets unpleasantly bitter.
That's why I like to use lemon juice, and not lemon slices with their pith. This is especially true if I'm not planning to drink all of the water within the next hour.
I'd also recommend tasting a slice of cucumber before adding it into the water. If the skin is really bitter, then you might want to peel all of the cucumber or omit the slices for garnish.
Straining
You can definitely strain the water to remove the cucumber pulp. I don't mind the bit of texture when I'm drinking this, but if you're a no pulp orange juice girlie, then you're going to want to pass this through a sieve.
Substitutions and Variations
Ginger
The ginger is there for a hint of spice and flavor, not to aggressively make you pant for relief (this isn't a ginger shot, tyvm).
That being said, should you want more of the ginger essence to show up, you can add more ginger to taste. You can also chop the ginger so that there's more surface area exposed to infuse into the water.
Citrus
While I personally like the flavor of lemon in this water, any other citrus is fine to use instead or in addition to the lemon. Lime would be an easy substitution, though I'd be a little cautious about adding too much since I find lime to be a bit bitter.
Orange would also be tasty, though the resulting water will be a bit sweeter than what the original recipe tastes like.
I'm a sucker for anything yuzu, grapefruit or pomelo, so any of those fruits would be delicious as well.
Fruit
This recipe yields water that is very cucumber forward, but if you want something that's a little bit sweeter, you can definitely add some fruit!
Any sort of sweet/tart berry seems like a natural addition to me, or any other kind of fruit you think makes sense. I'm wholeheartedly into the strawberry and ginger combo as evidenced by this soju cocktail, so that might be a good place to start.
Herbs
Feel free to add fresh herbs, especially herbs that are a little more delicate (ie basil or mint). They infuse more readily than something hearty like rosemary.
One thing to note is if you add herbs, the water likely won't keep as long without the herbs wilting, so make a smaller batch or drink up fast.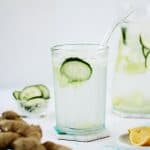 Lemon Ginger Cucumber Water
This water tastes extra refreshing with plenty of cucumber, and a hint of lemon and ginger as well!
Keyword:
cucumber, dairy-free, egg-free, ginger, gluten-free, grain-free, lemon, nut-free, vegan, vegetarian, water
Ingredients
½

medium cucumber

1"

knob

ginger

peeled

4

cups

water

¼

medium lemon

juiced

Ice
Instructions
Cut a few slices of cucumber for garnish, and set aside.

Peel the rest of the cucumber, then quarter and place in a pitcher or other container where you plan to store your water.

Using a cocktail muddler or the handle end of a wooden spoon, smash the cucumber until broken down.

Using the flat side of a knife (with the sharp edge pointing away from you), smash the ginger.

Add the ginger, cucumber slices and ice to the pitcher, then add the water and the juice from the lemon. Give it a stir. Let infuse to taste before serving!
Recipe Notes
Can be stored for up to a few days in the fridge.
Feel free to add herbs, fruit and/or other citrus if you like!