a few highlights from my london 2018 trip! this is a 2 part series- i'll post the paris part once i edit the pictures.
food
the railway: first dinner in london! i can't remember what my dad got but i'd bet my stand mixer that it was fish and chips. update: i've gotten confirmation that it was schnitzel, so i would have lost my stand mixer. mom got butternut squash hummus (i'm not one of those people who is against unusual things in my hummus but now that i know, please get your squash out of my hummus) and fried calamari. i had a tabbouleh salad with fresh plums and halloumi. dang i liked this. also i have become the person who goes to europe to rave about salad instead of pastries. sigh.
borough market for lunch. we didn't wander much before committing to the food we ended up eating for lunch, which was such a mistake. there was so much to eat (oh my there was a massive wok filled with paella and mom and i were so sad we didn't get to try this), and i couldn't even happily sample after lunch because i was so full. sniff. anyways, i got a so-so dosa, which i felt could have been crispier, but i loved all the toppings. my family swapped around the dosa, along with some ethiopian food and a scotch egg with sweet potato fries. there was also a really sad, really thin smoothie. there was a cooking demo happening while we were eating, and that was exciting. even more exciting because they gave out samples!!! what a great place. 10/10 would go back.
one of my mom's must-do's was harrod's, which i mistakenly thought was a big clothing store. there are clothes, but the real excitement is the food. there's a deli section and produce and pastries and chocolate and coffee, so of course we came away with a raspberry custard croissant.
ottolenghi: i made everyone stop by here, and we ended up getting a few containers of vegetables: one with yogurty eggplant and the other with sweet potatoes topped with corn, green onions and pickled red onions. maybe not revolutionary, though the sweet potatoes were addictive enough for me to hunt for ottolenghi's recipe for it.
camden lock market: food-wise, borough market was more exciting, but this market is gorgeous. there's locks near the market, which just isn't a thing at all the california food halls i've explored in. the vietnamese vermicelli bowl i had was pretty meh (the sauce overpowered everything); luckily the pizza and (not pictured) pesto pasta were tasty and redeemed our experience.
dishoom: yesssssssssssssss. go. here. it's a+. if dishoom is any indication of how good indian food is in london, we should have had more indian food and less bangers and mash. we had a super flavorful biryani, a creamy chicken korma like dish, as much raita as i could spoon into my mouth, a cold chickpea salad that was really nice against all the hot creamy spicy stuff, fluffy naan, daal that was pretty flavorful given the fact that it's essentially a mess of lentils, lamb kabobs and all these chutneys. i was so full after this, not in the least due to my finishing off the bowl of raita like it was soup and not a condiment.
duck & waffle: last meal! i had a tomato and strawberry salad (kind of bland but whatever), and a duck doughnut. loved the orange vibe going on, the duck was super tender and presentation was bomb (a doughnut that when you split it open reveals all that shredded duck treasure hidden inside), even if the doughnut itself was on the tough side. the duck and waffle, as well as the slider, were delicious, though.
sights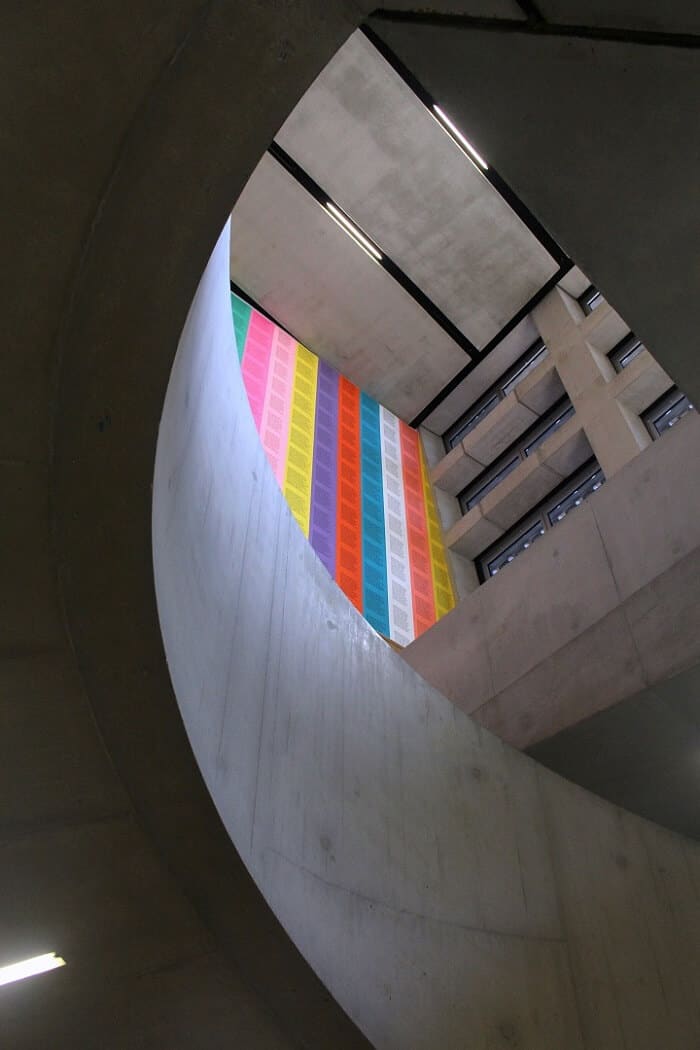 tate modern: this may have been my favorite museum. which is funny because my brother napped through most of it on a random couch, and because it was a random (but free and air conditioned) stop before phantom of the opera. there were so many interesting exhibits- there was a yayoi kusama piece which was cool bc i haven't seen his la art yet, there was a stack of bricks that gave me the best giggles i've had in a while, henri matisse's snail, and a terrifying pinocchio-like creature that was shackled and dragged around a room. good museum, yo.
london walking tour: tried to keep an open mind but the audio guide got to be a bit much at times, hence my occasional break from rick steves with ella mai (she's from london so it's relevant enough). whoops. though i do have to give it credit for taking us to the twinings tea shop, where they had free samples!!! bottomless arnold palmers, please.
musicals
phantom: i've known and liked the songs (masqueradeeeeeee paper faces on parade) for a while, and yet didn't know that much about the story. welp, thank you london for educating me about how creepy this story is. i read the synopsis for the sequel for love never dies, and dang, i've never read a musical plot that i'd hate to see more.
les mis was fantastic. best musical of the three (all i have to say for school of rock is that i accidentally napped through 30 min of it) we saw in london. i've seen it before so i know the story and the music but these people were such great singers. i literally shivered when eponine sang. it might have been the a/c, but let's go with how good her voice was.
1 year ago: milk chocolate chunk scones with strawberry whipped cream | nutty mango and napa cabbage slaw
2 years ago: vaguely thai zucchini salad | texas 2016
3 years ago: caramelized nectarine cake | vietnamese spring rolls
4 years ago: eggplant with chickpeas, feta and spicy tomato sauce | banana muffins with cream cheese frosting
5 years ago: happy corn day | ode to olives
more adventures