What is London fog ice cream?
London fog ice cream is flavored like London fog lattes – milk with Earl grey tea and lavender.
What does it taste like?
Earl grey tea is black tea infused with Bergamot oranges; it's a really strong tea, from the roast-y dark bitterness of the tea to the citrusy oranges. Lavender can also be a pretty overpowering flavor, so the combination works well in a creamy and mellow ice cream base.
The cooked custard might taste a little perfume-y, but once it's churned and frozen, the flavor will settle. While there is a little alcohol in this ice cream, you can't taste it, and it's more for texture than flavor.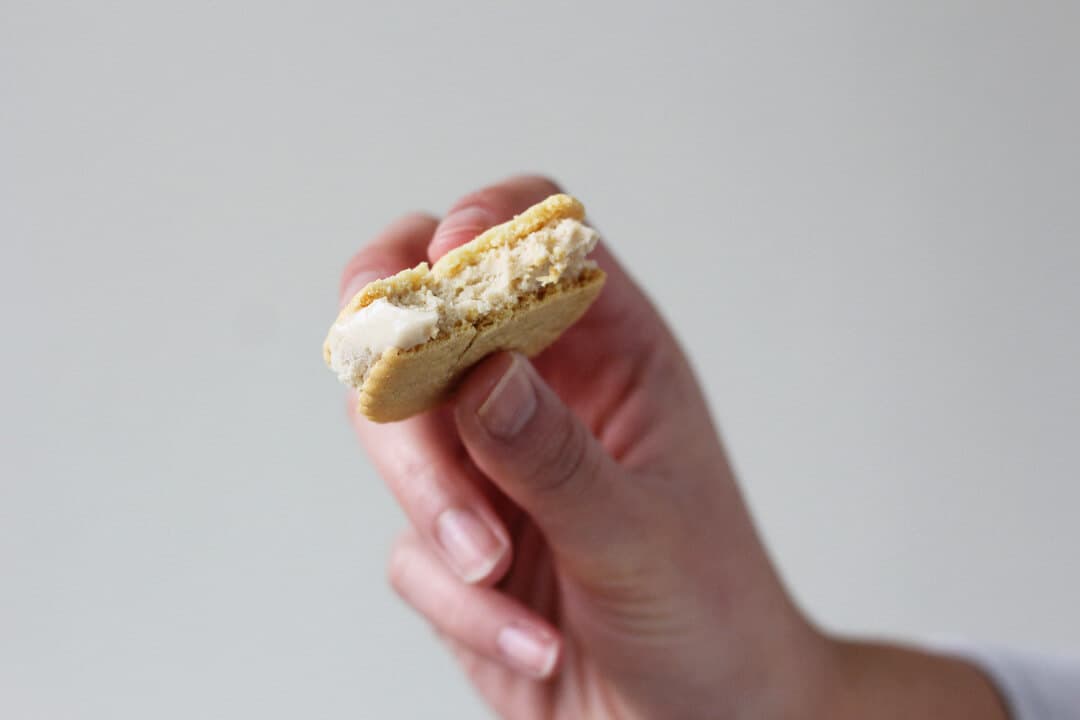 How to Make London Fog Ice Cream
This recipe is very similar to the Yakult ice cream and hojicha ice cream recipes I have. The base is the same, and the only things I tweaked were the flavorings and the amount of alcohol.
It starts by making a custard on the stove, and infusing it with dried lavender and Earl grey tea leaves.
If you've never cooked custard over direct heat, this can be a little nerve wracking. You don't want to curdle it and make scrambled egg ice cream, while also trying to avoid serving uncooked eggs to your grandma.
I'd recommend using low heat and scraping the bottom and the sides of the pot frequently (or even constantly, if that will help ease your mind). You'll know the custard is done cooking when it coats the back of your spatula, and when you drag a finger across the spatula, it leaves a trail and doesn't try to fill in the trail immediately.
A tablespoon (aka a shot in a different context) of alcohol gets mixed in. I used gin here, but vodka or Grand Marnier sound good, too, from off the top of my head.
The ice cream base needs to chill before spending time in an ice cream machine, which whips air into the ice cream. Churning (along with some alcohol, which has a very high freezing point) makes sure that the ice cream doesn't freeze into a solid, icy block and that it's creamy and tasty.
Yes, that alcohol freezing point fact is one of the few pieces of information I retained from two years of intensive high school chemistry classes and a quarter of a food science class in college.
Anyways, the ice cream is really soft post-churning, so unless you're a fan of almost soupy ice cream or soft serve, you need to freeze it for a few more hours (or overnight) before you can eat it.
How to Serve
You could eat this London fog ice cream plain, and that's fine. Or you could go big (not sure about you, but I need all the dopamine I can get during this never-ending pandemic).
I was in a mood for ice cream sandwiches when I shot these pictures, so I ended up using crunchy lemon cookies. Matcha (especially because I love the earl grey and matcha flavor combo together) or coffee (when I can't decide if I want iced coffee or milk tea, yuenyeung is always the move) cookies could also be good.
A float of some sort, with matcha or earl grey or coffee would be delicious, and a fun way to combine your after dinner sipping with your dessert.
I haven't tried it with this ice cream, but orange flavored Smirnoff Ice ice cream floats are one of my nostalgic favorites. Using seltzer with a glug of Grand Marnier instead of the bright orange packaged alcoholic soda sounds like a classier, less sweet version.
London Fog Ice Cream
This London fog ice cream is inspired by the tea latte, with Earl grey tea and lavender!
Keyword:
black tea, citrus, earl grey tea, ice cream, lavender, nut-free, orange, tea, vegetarian
Ingredients
3

Earl Grey tea bags

1

teaspoon

dried lavender

2

cups

heavy cream

1

cup

whole milk

½

cup

granulated sugar

½

teaspoon

kosher salt

4

large egg yolks

1

tablespoon

gin
Instructions
In a medium pot, simmer the tea, lavender, cream, milk, sugar and salt until the sugar completely dissolves, about 5 minutes. Remove pot from heat. In a separate bowl, whisk the yolks until they're broken up.

Whisking constantly, slowly whisk about a third of the hot cream into the yolks, then whisk the yolk mixture back into the pot with the cream. Return pot to medium-low heat and gently cook until mixture is thick enough to coat the back of a spoon (about 170F on an instant-read thermometer).

Cool to room temperature. Strain through a fine-mesh sieve into a bowl and discard the tea bags and any scrambled egg bits that get caught in the sieve. Press out any liquid that might be held in the tea bags back into the custard. Stir in the gin.

Cover and chill at least 4 hours or overnight. If the ice cream base separates while it's chilling, mix it back together and you're good to go.

Churn in an ice cream machine according to manufacturers' instructions; it'll look like really thick whipped cream when it's done churning. Transfer to a container (I like to use a long, shallow container because it helps me get better scoops than a pint container), smooth the top and cover. Freeze until solid.
Recipe Notes
Ice cream adapted slightly from Melissa Clark.
You don't need to add the alcohol, but it helps make sure the ice cream has a softer, more creamy texture.