Loquat Drink Recipe
This loquat lemonade is perfect if you have too many loquats, and you're tired of eating them plain. Before we get into the recipe, what if you've never heard of a loquat?
What Is a Loquat?
A loquat is a small oblong fruit native to China, usually with yellow-orange skin and fruit. There's a thin layer of fruit (flesh or meat is probably a better descriptor here, though both are mildly offputting if I think about it too long) around 1-2 deep brown seeds that look like chestnuts.
They oxidize quickly once peeled or opened, so I'd recommend sprinkling them with a little bit of lemon juice if you're concerned about them browning or not eating immediately.
This is not a language blog by any means, though the pronunciation of this fruit sparked a debate with my friend. In English, it's [low kwaat], where the second word rhymes with squat. In Cantonese, I've always pronounced it as [lòuh gwāt] (which Wikipedia has confirmed), though my friend's mom (who is a very reputable source and can speak Cantonese 34859x more fluently than I) pronounces it as [pèi pàa gwó]. Let me know what you call it!
How to Pick Loquats
Look for loquats that are yellow-orange (like a light mango shade), without any green. They should have some give when you press them slightly, but they shouldn't be mushy or rock hard.
Can You Freeze Loquats?
Yes, you can! I'd recommend cleaning, peeling and removing the seeds before freezing the fruit in a single layer (then you can transfer to a container). This is really helpful when you have the motivation (or can recruit/coerce a friendly crew) to mow through a big batch of loquats at once, and can use them whenever you want later. Or if you're in the mood for loquat lemonade in the middle of winter!
They also keep surprising well in the fridge. My grandma gave me a huge bag a few months ago, and they're perfectly fine.
What Does Loquat Taste Like?
A little honeyed; that's why I like to sweeten this lemonade with honey. It bumps up the honey flavor, and helps tame all that lemon.
Loquats are also a little floral. Loquats are really mild, and almost reminds me of the intensity of a fresh grape (nothing like a strawberry or passionfruit, which could definitely dominate any drink you add them to). Because they're so mild, this loquat lemonade is a "more is more" situation, and the more loquat you add, the stronger the loquat flavor will be.
The texture is soft and really juicy, similar to other stone fruit. I'd compare a loquat to an apricot with slightly firmer, smoother fruit (sometimes apricots taste a little grainy to me, while loquats don't have that at all).
You can eat the skin; perfectly safe, but your preference. If you're the kind of person who likes texture in your drinks (fresh cherries in your soda, pulp in your grapefruit green tea), then you might want to add the skin. I personally don't think the skin adds anything besides a polarizing leathery quality, so I'd remove it.
This resulting loquat lemonade is the icy, fruity drink you've been craving all summer. There's the gentle sweetness of the loquat, with enough tanginess to keep it refreshing.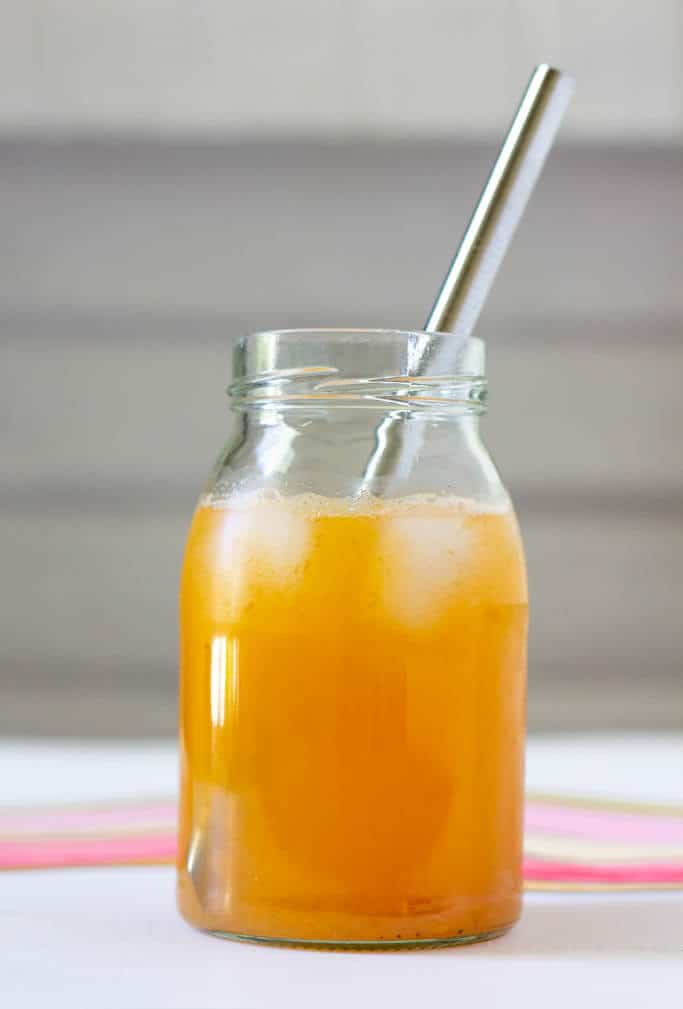 Loquat Lemonade
This lemonade is flavored with loquats! It's a little floral, a little honeyed, and a lot refreshing.
Cuisine:
American, Chinese
Keyword:
citrus, dairy-free, egg-free, fruit, gluten-free, grain-free, lemon, loquat, non-alcoholic, nut-free, vegan, vegetarian
Ingredients
2

tablespoons

lemon juice

or to taste

2

cups

water

15-20

loquats

1

tablespoon

honey

or to taste

Pinch

salt

Ice

for serving
Instructions
Place the lemon juice and water in a blender. Peel the loquats (if you'd like, though I would recommend doing so) and discard the seeds. Place the fruit in the blender after peeling each. Add the honey and salt.

Blend until smooth. Add ice to 2 tall glasses, and fill the rest of the glass with lemonade.
Recipe Notes
This can be made to taste! If you have a lot of loquats, you can add more. Add lemon juice, honey, water and salt to taste after blending the lemonade if it needs tweaking.