This mango pomelo sago is a fairly easy Chinese dessert to make, unlike some of the astounding pandemic bakes I've been seeing (Kinako chiffon roll cakes filled with red bean, whipped cream and mochi??? Strawberry genmaicha cream puffs?? Feed me please).
You boil some chewy, bouncy sago and stir them into a mango coconut smoothie, then you're sipping and spooning up slushy (I like using frozen mango because it's easier and cheaper than fresh, but also keeps the sago nice and cold) sago for hours.
You may be wondering what the difference between mango sago and mango pomelo sago is; the former is the most popular and well known. The latter has chunks of pomelo stirred in.
I really like the bitter tanginess of the citrus, since mango sago can be a little too sweet and creamy for me plain. You can also use grapefruit instead of pomelo, since grapefruit can be easier to find.
And between you and me, I definitely get those days when you don't want to make sago at home, and you want to go out and have someone else deal with it. i-Tea (s/o to my best friend from college for telling me about mango sago and i-Tea) and Ume are my favorites in the Bay Area when I'm in the mood for sago.
What is Sago?
Sago are these dried mini white pearls that become clear when they cook. They're chewy, like mochi or boba.
Where to Buy Sago
You can buy sago at Chinese grocery stores, near the boba. It might also be near the beans and other flours/starches.
If you're not sure how to use the rest of the bag of sago, how about this coconut sago with strawberry slush?
How to Cook Sago
Making the dry sago is similar to cooking boba; you bring a pot of water to a simmer, pour in the sago, and cook until translucent. If you're not sure, you can also taste one; it shouldn't be powdery or dry, and should be chewy.
How to Store Mango Pomelo Sago
Depends! I like mine pretty cold and a little slushy, so I like to keep mine in the freezer, and then defrosting in the fridge or at room temperature before I'm going to serve. The fridge also works though.
Because cooked sago can get gummy and degrade over time, I wouldn't recommend making this far in advance. If you really want to, you can make everything but the sago, keep it in the fridge or freezer, and cook/stir in the sago within 4 hours of when you want to serve.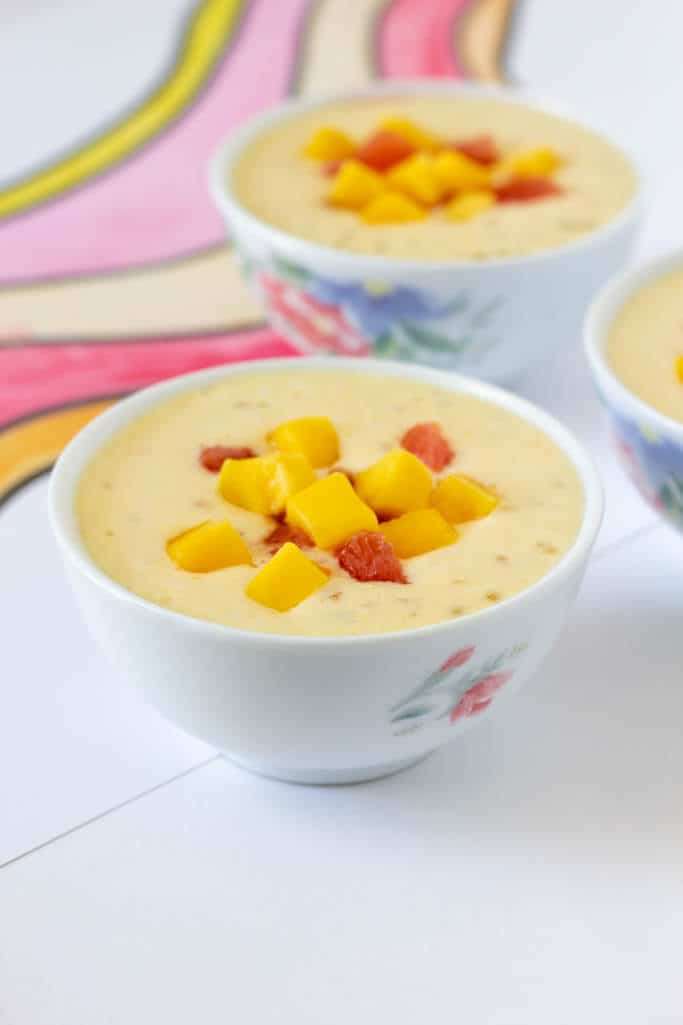 Mango Pomelo Sago
Why stop at a creamy mango smoothie when you could add chewy sago pearls and chunks of silky mango and tangy pomelo?
Cuisine:
Asian, Cantonese, Chinese
Keyword:
citrus, coconut milk, dairy-free, dried fruit, egg-free, grapefruit, mango, mango juice, nut-free, pomelo, sago, vegan, vegetarian
Ingredients
1

pound

frozen mango chunks

½

cup

sago

14

ounces

full fat coconut milk

room temperature

1 ½

cup

mango juice

cold

½

teaspoon

kosher salt

Maple syrup

to taste

1

grapefruit or pomelo

peeled and cut into bite-sized pieces
Instructions
Set aside a big handful of frozen mango chunks at room temperature, and let defrost. Chop into bite-sized pieces. Keep the rest of the mango frozen.

Fill a medium pot half full with water. Place on the stove over medium heat and bring to a simmer. Add the sago, and stir to make sure they don't stick. Simmer until the sago is mostly translucent (they're pretty small, so it usually takes 20 minutes tops). Drain the sago, then let cool slightly. Don't worry if they clump up.

To a blender, add the frozen mango, coconut milk, mango juice and salt to the blender as well. Blend on high until smooth, and add maple syrup to taste.

Stir the defrosted mango, pomelo/grapefruit and sago into the mango coconut milk mixture, breaking up any sago if it was clumped up. Serve within 4 hours.