I'm a big fan of alcohol and ice cream - maybe you could tell from this strawberry margarita ice cream float, or this McFlurry with Kahlua and Oreos. So it's probably not a surprise for you to see this Melona soju cocktail either.
It's a creamy and sweet, lightly alcoholic beverage perfect for when I'm craving the taste of Miniboss' Thunderdome (and now live too far to pop over to order one).
Ingredients
This is a pretty easy cocktail, as there is no need for any specialty equipment or technique. The hardest part is probably tracking down the melon popsicles and soju, but I typically have good luck at Korean, Japanese and Chinese grocery stores.
American grocery stores may carry these ingredients, depending on where you live. In the Bay Area, there are definitely a handful of Safeway's that stock soju and Melona, though I know that is likely not the case in Safeway's not located in places heavily populated by Asians.
(If you do live near Asian grocery stores, I would recommend you buy from them, since they typically sell soju and Melona for cheaper than American grocery stores).
Have leftover soju and not sure what to do with it? Maybe this strawberry soju cocktail with basil and ginger will spark your interest, or this Yakult and soju combo.
For anyone unable to find Melona, you could also substitute in a creamsicle, which also has fruity and creamy vibes!
How to Make
Onto the actual recipe: this Melona soju is a stirred cocktail, rather than a shaken cocktail. The alcohol is pretty diluted due to the following reasons, so I don't think it really needs to be shaken:
There's only one shot of soju, which is on the light end for drinks
It's served over ice
The drink is topped off with lemon lime soda
That said, I like my drinks on the less alcoholic side (and I'm a lightweight), so the air whipped in and the additional melted ice that comes from shaking a drink works for me. In place of a cocktail shaker, I've used old jam jars to shake drinks, which works well if you feel like going that route.
If you do decide to shake your drink, you could cut up the popsicle so it mixes more evenly into the liquid, or you could shake the liquids separately and top with the popsicle.
Anyways, if you're going to stir this cocktail together, you'll need to start with a medium sized glass. Fill the glass about half full with ice, nestle in the whole popsicle, and you're already halfway done.
Then, add the soju. I know I said this drink only has one shot, though you can go for more if you *need.*
Top off the drink with a little lemon lime soda and a squeeze of lime, and you're ready to serve!
The popsicle will melt into the drink slowly; this works well for the aesthetic, but it definitely tastes better when the popsicle mixes with the soju, soda and lime. You can cut off bits of the popsicles to make it melt faster if you'd like.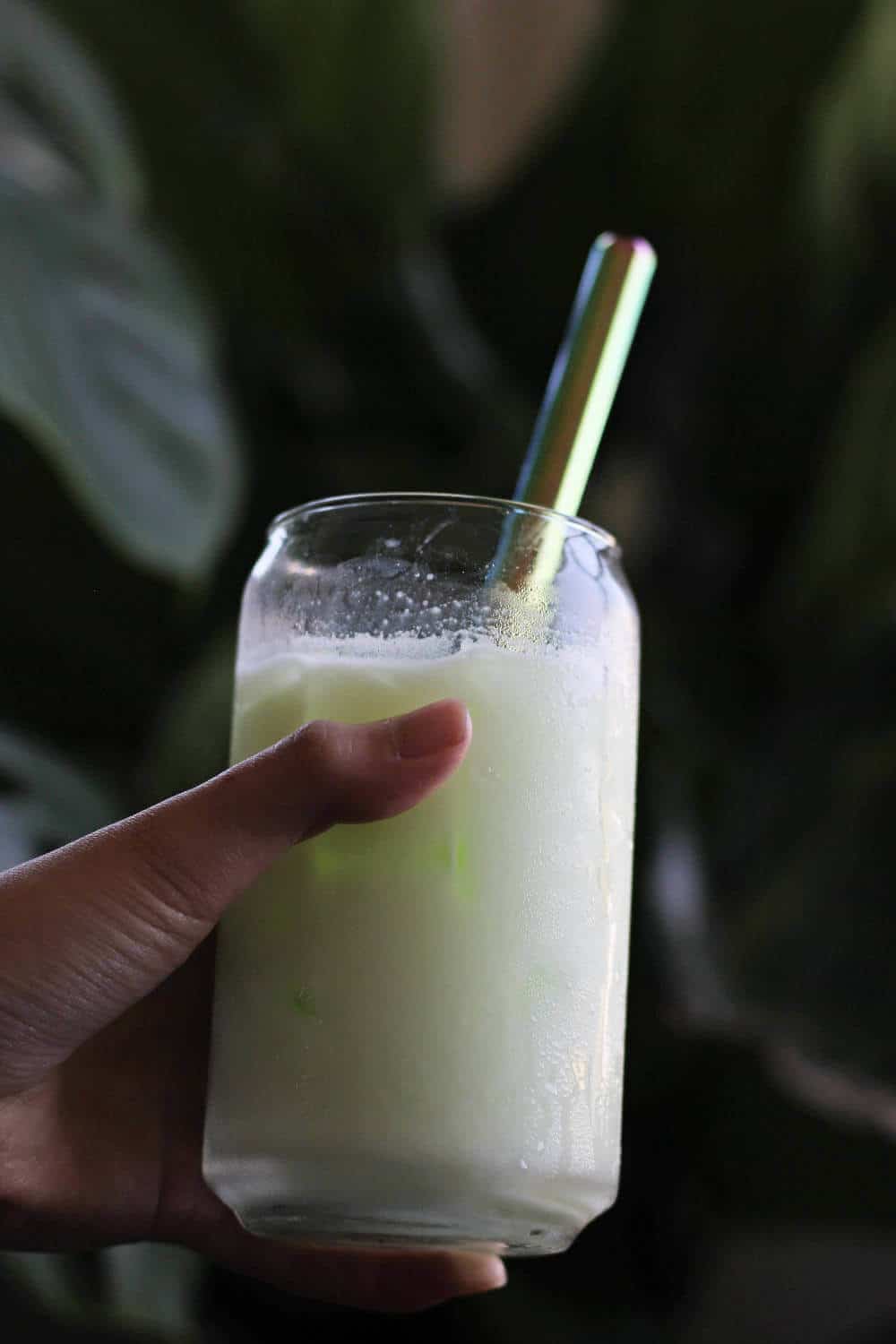 Substitutions and Variations
If you want to add more soju: of course! Your drink will be lighter on the Melona, which you probably knew already.
Chances are, if you're on this post in the first place, you probably like your drinks on the sweeter side.
If you don't want to use lemon lime soda though, soda water, tonic or champagne could all be good options if you want to keep the sweetness on the conservative side (one of the few times I will ever use that descriptor).
Along that same line, you can use unsweetened or sweetened and flavored soju. I like using plain here, though grapefruit soju sounds like it could be really tasty since there's already citrus-y vibes.
I've also seen a version of this cocktail with Midori (melon liqueur) and egg white, all shaken up like a Midori sour, which sounds delicious.
Despite the brand name of the popsicles being Melona, they also offer other non-melon flavors including strawberry, banana, coconut and mango! Strawberry and mango sound the best to me, but I'm sure any of these versions would be tasty in this drink.
And if you're in the mood for another honeydew-y drink, how about this Grinch mimosa with melon liqueur?
Melona Soju
This sweet and tart cocktail is flavored with a honeydew ice cream popsicle and topped off with a splash of soda.
Cuisine:
American, Korean
Keyword:
alcohol, egg-free, honeydew, melon, nut-free, soda, soju, vegetarian
Ingredients
ice

1

Melona bar

1

shot

soju

or 3 tablespoons

½

cup

lemon lime soda

1

pinch

kosher salt

1

wedge

lime
Instructions
Fill a medium glass half full with ice. Add the Melona bar, and nestle it into the ice. Add the soju, soda and salt, then squeeze the lime wedge over the drink (you can discard or add the used lime wedge, doesn't matter).

Give the drink a stir, then serve! If you get impatient waiting for the Melona to melt, you can chip away at the Melona.
Recipe Notes
I'd recommend using unsweetened, unflavored soju, since the Melona will provide plenty of both without adding another artificial fruit flavor.