Mochi Cookie Recipe
These cookies have been a long time coming. I devour mochi whenever I see it and I always have to have cookies on hand (how am I supposed to drink tea with nothing?), so I hopped on the bandwagon as soon as I saw a mochi cookie recipe pop up.
The basic gist is that the cookie is stuffed with chewy mochi on the inside. I made a few tweaks to make them more my speed, though.
I decreased the amount of ratio of brown sugar to white sugar, since the original recipe from Pepper (which is no longer showing on their site) was a little too caramel-y for me. Delicious, but overpowering if your mochi filling is flavored with something that doesn't go well with caramel or brown sugar.
I also increased the flour slightly so the rate of the cookie and mochi spreading would be more even (rather than the mochi staying lumpy while the cookie got too thin and crispy on the edges). Chilling the cookie dough while the mochi microwaves helps, too.
Assembling these cookies is very similar to making yaki manju, or any dumpling, really. You roll the dough into a ball in your palms, flatten it out, then wrap it around a ball of the filling.
The cookies bake until they're golden brown, and they will seem too soft when you pull them from the oven. This is the perfect time to add sprinkles on top, so that they stick to the cookie but don't melt or bleed.
How to Flavor Mochi Cookies
You can flavor these cookies with anything, in the mochi or in the cookie dough. For these, I wanted a pretty pink middle to go with Valentine's Day, so I added freeze-dried strawberry powder to the mochi.
The original recipe from Pepper (which is no longer showing on their site) that I adapted this recipe from has cocoa powder in the cookies, and I bet that would be delicious. On more of an Asian note, adding ground black sesame seeds, matcha powder or ground hojicha are my next go to's.
Maybe even a matcha cookie with a strawberry mochi center a la this strawberry matcha latte? Send me some if you make that flavor combo, please!!
How do they taste?
Delicious. You get the chewy, stretchy mochi in the middle and the crispy cookie edges. Because the mochi is in the middle, you don't get as much of the normal chewy cookie texture.
This cookie is pretty brown sugar-y, so that's the first flavor you get, with a hint of strawberry after.
How to Store Mochi Cookies
It doesn't matter if it's steamed mochi or baked into a cookie, anything with glutinous rice flour doesn't keep that well. Same goes for these cookies.
I'd recommend making these for a party or if you have plenty of willing taste testers near you that can partake in the cookie consuming on the same day. But I get that this isn't necessarily possible (especially if you're trying to be safe during the pandemic).
The key is to keep them cold, so don't try to leave these out overnight. If they aren't getting eaten on the same day, you should put them in the fridge or the freezer.
What happens if you leave them out at room temperature for too long? The mochi gets really tough and dry, while the cookie soaks up all the moisture and you can't pick them up.
I highkey recommend you store them in the freezer, even if you're eating them within a day or two. This keeps the cookie as close to when you first baked them.
If you plan on eating them within two or three days, then you can store the cookies in the fridge. The middles get kind of sticky, so stacking them with parchment paper in between (which feels wasteful) or keeping them in a single layer (who has that kind of space for all these cookies?) works best.
You can revive the refrigerated or frozen cookies by popping them into an oven (I prefer a toaster oven, though you could use a conventional oven if you're doing a bunch of cookies at once). The timing depends on if they're refrigerated or frozen, but you should reheat them at 350F regardless of how cold they are.
If they're refrigerated, bake them for 3 minutes; if they're frozen, bake them for 5 minutes. This is the perfect amount of heat and time to make sure the mochi softens and the cookie crisps.
The cookies will be soft right after they're in the oven, so let them cool down to warm or room temperature before you try to move or eat them.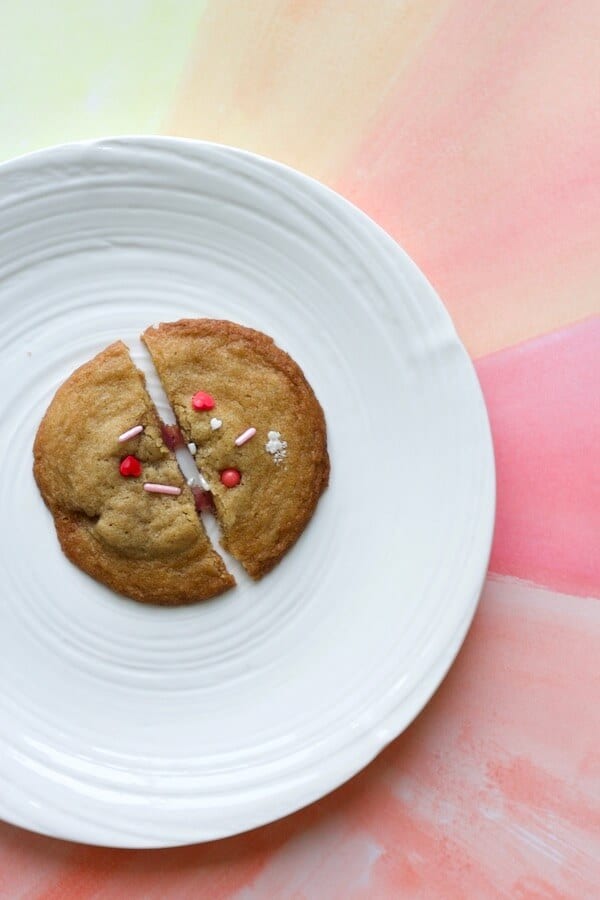 Strawberry Mochi Cookies
These strawberry mochi cookies combine a crispy cookie with a chewy strawberry flavored mochi filling!
Cuisine:
American, Japanese
Keyword:
cookies, glutinous rice flour, mochi, nut-free, strawberries, vegetarian
Ingredients
Cookie Dough
⅓

cup

+ 1 tablespoon granulated sugar

½

cup

brown sugar

1

stick

unsalted butter

melted

1

large egg

room temperature

1 ½

cups

all-purpose flour

½

teaspoon

kosher salt

½

teaspoon

baking soda

Sprinkles

if desired
Strawberry Mochi
2 ½

tablespoons

freeze dried strawberry powder

½

cup

glutinous rice flour

2 ½

tablespoons

cornstarch

¼

teaspoon

kosher salt

1

tablespoon

granulated sugar

½

cup

+ 2 tablespoons milk

Food coloring

if desired

1

tablespoon

unsalted butter

room temperature
Instructions
Cookie Dough
Make the cookie dough first so it can chill while you make the mochi later.

In a medium bowl, mix both sugars and the butter until the mixtures comes together and becomes lighter in color. This takes some muscle, so you can use a hand mixer or stand mixer if you can't or don't want to mix by hand.

Add the egg, and mix until combined.

Add the flour, salt and baking soda. Mix until combined. Refrigerate for an hour.
Strawberry Mochi
After your cookie dough has chilled for 30 minutes, start on the mochi. Mix the first 6 ingredients together, and add food coloring to reach your desired color if you'd like (I added 6 drops of red food coloring).

Cover the bowl with a microwavable lid or plastic wrap, and microwave for 30 seconds at a time, for about 2 minutes total. Stir each time you check on the mochi. It'll be done when it's thick and no longer liquid-y. Don't worry if it's not cooking evenly or looks a little lumpy.

Mix in the butter until the mochi is smooth. Cool until slightly warm or room temperature.
Assembly
Portion both the cookie dough and the mochi into 20 pieces each. For each piece of cookie dough, roll into a ball, then flatten into a circle with your palms. Place a piece of mochi in the middle, and fold the cookie dough over and around the mochi to make sure the mochi is sealed inside. You should not see any mochi peeking out. Roll the stuffed cookie into a ball if it's gotten misshapen. Repeat with the remaining dough and mochi.

Place the cookies in the refrigerator. Preheat the oven to 350F.

Prepare 2 baking sheets by placing a silicone baking mat or parchment paper on the sheet. When the oven is ready, space out 6 cookies on each baking sheet (keeping the other dough balls you're not baking yet in the fridge). Bake for 12 minutes.

The cookies will be puffed in the middle and pretty soft – this is fine. They'll flatten and firm up as they cool. If you're using sprinkles, press them into the cookies while they're still warm and soft. Let cool on the baking sheet for a few minutes before transferring to a wire cooling rack.

Let the baking sheets cool until you can handle them without oven mitts, and bake off the rest of the cookies.
Storage
If you're not eating all of the cookies on the day of baking, either refrigerate or freeze the cookies. Do not leave at room temperature overnight.

I recommend freezing them, even if you'll be eating them within a few days, since this is the best way to preserve the cookies to as close as fresh baked. You can stack them and freeze. They're best eaten within a month.

If you plan to eat the cookies within 2 or 3 days, you can refrigerate them, but the mochi will get sticky in the middle, so either separate any layers of cookies with parchment paper or keep the cookies in a single layer.
Re-heating
You need to re-heat the cookies after refrigerating or freezing them. Pop them in an oven (I like using the toaster oven for this) at 350F for 3-5 minutes (3 minutes if you refrigerated them, 5 minutes if you froze them). Let cool slightly before eating.
Recipe Notes
Adapted from Pepper.
This post was created to help fundraise for children's cancer research through Cookies for Kids' Cancer (C4KC). If you don't end up donating to C4KC but have the means to do so, I implore you to find another cause that you feel strongly about. The way that the pandemic has shed light on racial, social and structural inequities for me has strengthened my resolve to re-distribute my wealth and advocate for the world I want to see. Other orgs I've been supporting include the Navajo Water Project, which delivers clean water to Navajo families without running water, and The Loveland Foundation, which funds therapy for Black women and girls.