This oolong milk tea has the perfect balance of creaminess and strong tea flavor!
How to Make
Start by heating up the milk until steaming. Doesn't have to be boiling!
Stir in the granulated sugar and salt to make sure that they dissolve into the hot milk.
Add the oolong tea, and let the tea steep into the milk for about 30 minutes. You should see the milk start to take on a pale brown color.
After the tea has finished steeping, remove and discard the tea leaves, pressing on the solids to extract any milk trapped in them.
Let the milk tea cool completely.
Meanwhile, bring a pot of water to a boil, then add the boba and cook according to the package instructions. The boba is done when the exterior is shiny and slightly translucent (not matte like its uncooked form).
If you're not sure, cut the boba open: powdery on the inside = needs cook longer. You can taste it, and if it's too hard or powdery, that's also a sign that the boba needs a little longer in the water.
Drain the water off from the boba, then stir in the honey until the honey is melted into a syrup.
(You might be wondering why I don't run the boba under cold water – I don't think it's necessary, since the boba will get chilled soon enough by all that ice in your drink, and it'll bounce back to its chewy form).
In a glass, spoon the boba and any syrup into the bottom. Add a few handfuls of ice, then pour in the milk tea.
Drop in a boba straw, give it a stir to distribute some of that honeyed syrup and sip away!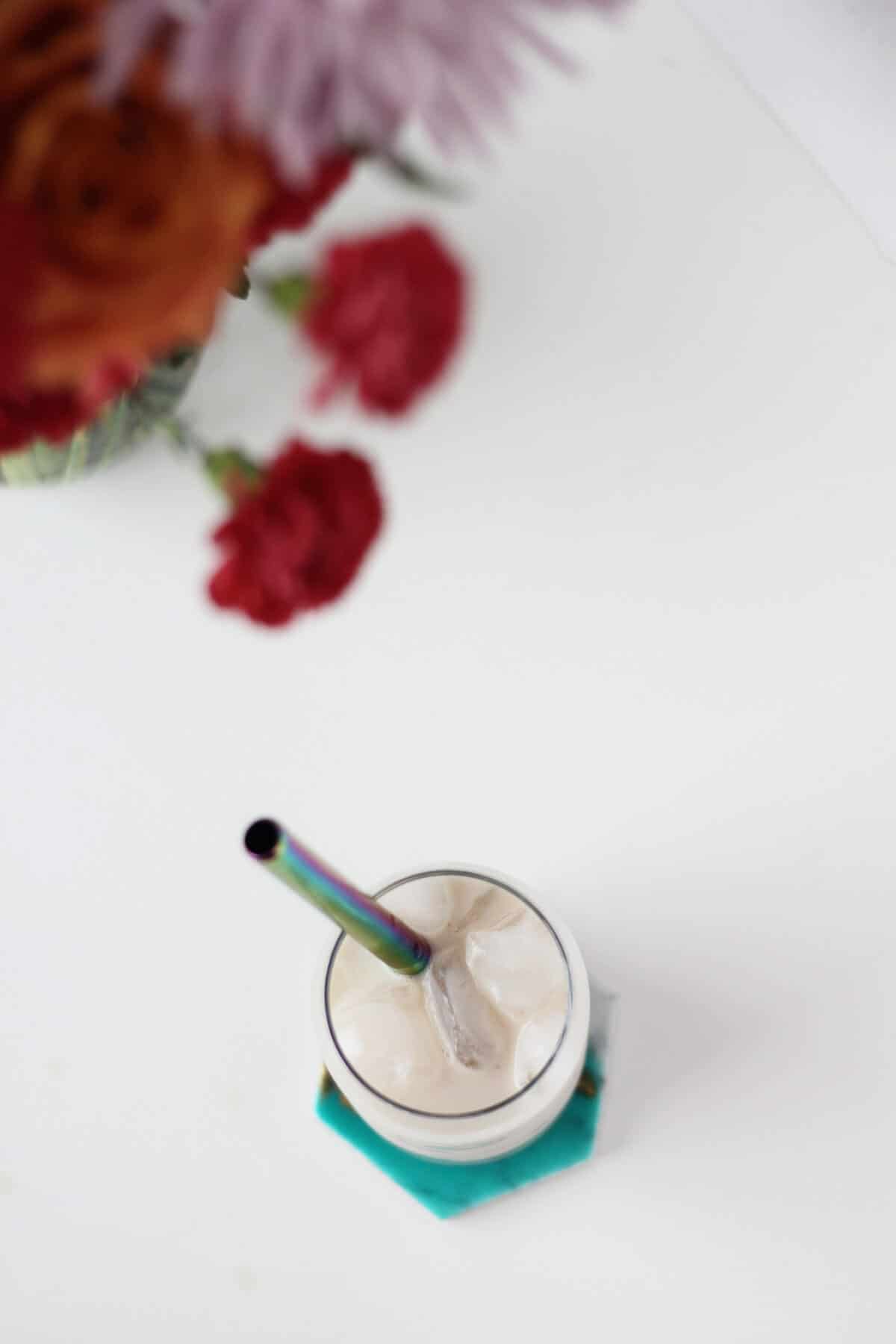 Tips
No Water
Long ago (okay, summer of 2020), I'd be able to achieve the kind of creaminess that shop-made milk tea had, but at the expense of a strong tea flavor. Or vice versa.
The single thing that changed my homemade milk tea game was steeping the tea in milk, rather than steeping it in water and then adding milk or creamer at the end.
I'd be remiss if I didn't shoutout Jun and Tonic, since his recipe was the first place I'd heard about doing such a thing.
Oh, and some of my family is still very hesitant about this method, even after I've cajoled them into trying batches I've made like this. Isn't that too creamy and that's just so much milk and blah blah.
So why did I drink two whole glasses of milk every day as a kid??
Ignoring my mild saltiness over the past, I promise that the milk tea gets diluted enough with all that ice to mellow out the creaminess. This isn't the time to pull out your no ice tendencies.
And yes, it's a lot of milk, but if you make it with water, you're gonna be disappointed and want to go out for boba anyways.
Salt
Salt is a must in anything I make, from drinks to dinner to baked goods. It helps emphasize the other flavors, and I swear that you don't have to add as much sugar when there's a little bit of salt.
Variations and Substitutions
You're probably here because you're craving oolong milk tea, not a coffee and tea hybrid, but just in case you're feeling a little open minded right now, maybe you should check out this coffee milk tea (aka yūn yēung in Cantonese).
Okay okay, onto some ideas if you need and/or want to make adjustments without making it into a whole other concoction.
Tea
This milk tea recipe is set up to use loose leaf tea. If you don't want to use loose leaf, or can only find oolong tea bags, feel free to use those instead.
Use one to two tea bags, depending on how strong you typically like your tea.
Also, if you'd like to change the strength of your tea, there are two main levers you can pull:
Amount of tea
Time of steeping
I'd start by adjusting the amount of tea leaves or tea bags first, since if you steep the tea for too long, it can get a little bitter.
Milk
Any milk goes here! I typically have soy milk on hand, so that's what I used here, though I'm usually a whole milk person if that's an option when I go to boba shops.
I'm not a huge fan of oat milk since I don't find it as creamy as people hype it to be (I'm also not lactose intolerant, so there's that), but it can be a great alternative if you're trying to stay away from dairy or soy.
Sweetener – H3
The recipe as written uses granulated sugar (aka white sugar) to sweeten the tea, and honey to sweeten the boba.
That being said, you can stray away from that if you'd like.
I usually reach for brown sugar to melt into the boba, but when I was developing this recipe and shooting these pictures, I had a bottle of the most fragrant, floral honey from a family friend, and I couldn't not use it.
I'd recommend using a flavorful sweetener for the boba, since it's fairly bland alone. Aside from brown sugar or honey, the usuals, the idea of maple syrup in the boba has been lingering in my mind recently (let me know if you try that!).
Toppings
Boba is my go to topping for this milk tea, but maybe you're feeling a little decadent (I'm typing this up on a lazy Friday, so I can relate). In that case, using a generous scoop of crème brûlée pudding might be in your future, and maybe even a shower of toffee bits to garnish as well.
Along that same vibe, for more creaminess, spooning a fluffy layer of cheese foam or red bean whipped cream on top of the milk tea is fun too.
Or maybe you need a little more caffeine in your life to push through the rest of the day: little coffee flavored jelly cubes are fun additions.
Or or or you might only have the ingredients for mochi on hand but no boba or tapicoa starch - in that case, how about making a batch of drinkable mochi?
Of course, should you not want any toppings, you can omit the boba and forgo adding anything extra.
Oolong Milk Tea
This oolong milk tea has the perfect balance of creaminess and strong tea flavor!
Cuisine:
Asian, Chinese, Taiwanese
Keyword:
black tea, boba, egg-free, gluten-free, milk tea, non-alcoholic, nut-free, oolong, vegetarian
Ingredients
1

cup

milk

½

tablespoon

granulated sugar

1

pinch

salt

1

tablespoon

oolong tea leaves

¼

cup

raw boba

½

tablespoon

honey

ice
Instructions
Heat the milk until steaming (I prefer using the microwave, but the stove is fine too).

Stir in the sugar and salt until dissolved, then add the tea. Let the tea steep for 30 minutes.

Remove the tea leaves, pressing on them to release any trapped milk, then discard the tea leaves.

Let the milk tea cool completely.

Meanwhile, bring a pot of water to a boil. Add the boba and cook according to the package instructions. The boba is done when it's translucent and a little shiny; it shouldn't be powdery or hard when bitten into.

Drain the water from the boba, and stir the honey into the hot boba.

In your serving glass, spoon in the boba, add a few handfuls of ice and pour in the milk tea.
Recipe Notes
Any milk works (whole milk and soy milk are my favorites, but anything is fine).
Feel free to use maple syrup or brown sugar in place of the honey.