raw mushrooms are gross. they're reminiscent of cotton and dry and flavorless and i don't want any part of it. what about mushrooms seared until they're shriveled into wrinkly, prune-esque versions of themselves? sign me up. great description of seared mushrooms, i know. i want them still, especially since i've accepted my grandma status and love prunes. how about this: their flavor concentrates, they darken and turn golden a la the best toasted marshmallow out there, and instead of falling apart into bland, pasty crumbles like they did in their past lives, they become tender and hearty and dare i say meaty. SIGN ME UP.
they also become the stars in this seared mushroom salad. this jumble of produce, croutons and prosciutto is an amalgamation of all the textures i crave when i have salad (admittedly, i usually don't during fall and winter). there's crispy (and garlicky!) bread, crunchy toasty nuts and slightly chewy mushrooms accompanied by the smooth slide of salty prosciutto, all atop tender lettuce and plenty of basil, oregano and green onions for that fresh crispness associated with raw veggies. if i'm eating salad when all i want is korean bbq and cozy pasta and soup, then it better be this one.
1 year ago: Candied Espresso Walnuts
2 years ago: Zha Jiang Mian
3 years ago: On Toast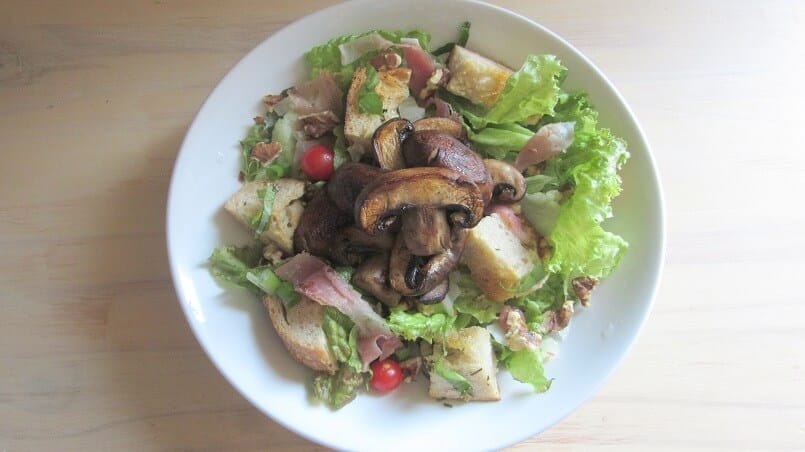 Seared Mushroom Salad
This seared mushroom salad uses one of my favorite salad tricks: mixing raw and cooked vegetables. The homemade croutons and silky prosciutto don't hurt, either.
Course:
Dinner, Lunch, Salad
Keyword:
croutons, mushrooms, nuts, prosciutto
Ingredients
2

cups

cubed sourdough bread

2

teaspoons

minced fresh rosemary

4

tablespoons

canola oil

2

cloves

garlic

minced

¼

cup

pine nuts

toasted (or walnuts or almonds)

1

pound

chopped mixed mushrooms

ie button, portobello, chanterelles, morels, shiitake, hedgehogs, porcini, etc

¼

pound

thinly sliced prosciutto

cut into thin 1" long strips (optional)

1

onion

¼ minced and the rest chopped

¼

cup

sherry or red wine vinegar

2

green onions

minced

leaves

from 2 sprigs oregano or ½ teaspoon dried oregano

5 to 6

cups

mixed salad greens

½

cup

loosely packed basil

 chopped
Instructions
Make the croutons: Place the bread on a baking sheet. Bake at 350F until golden, about 8 to 10 minutes. Toss with rosemary, 2 tablespoons oil and garlic.

Place the minced onion, vinegar and extra virgin olive oil in a small jar. Cover and shake to emulsify. Add the green onion and oregano; shake.

Toss the greens and basil in a large bowl.

Heat 2 tablespoons oil in a large skillet over medium-high heat until almost smoking. Add the mushrooms and remaining onions. Cook, stirring occasionally, until the mushrooms are golden, 5 minutes. Add the vinaigrette, stir well and remove from heat. Immediately add to the greens and toss once. Add the nuts, prosciutto and croutons; toss vigorously. Divide among plates. Serve this seared mushroom salad immediately.
Recipe Notes
Adapted slightly from Jonathan Waxman's A Great American Cook.
I also added cherry tomatoes but not necessary, especially if it's winter and there are no good cherry tomatoes to be had.