This soju cocktail is easy and delicious! It doesn't require any special equipment even if the ingredients might take a little bit of searching to find.
Ingredients
Soju
You can't have a soju cocktail without soju! So let's start there.
The soju is a little fizzy and pretty smooth, making it's a nice base to start with for a beverage meant for easy sipping.
Because the final drink has a few other flavors involved, there's no need to get a really expensive bottle. The ubiquitous Jinro green bottles you can find at a Korean supermarket will do just fine here.
I personally like using the original (aka plain) flavor, since the others are sweetened and artificially flavored, which you don't need when you plan on adding other ingredients to your drink.
The flavored ones can be tasty without any accompaniments, so definitely give those a try if your preferences align with sweety/fruity and you haven't already tasted them.
In case you end up with leftover soju and you pick up some melon ice cream bars and/or Yakult when you're at the Korean grocery store, how about this Melona soju or yogurt soju? Both are deliciously decadent and creamy.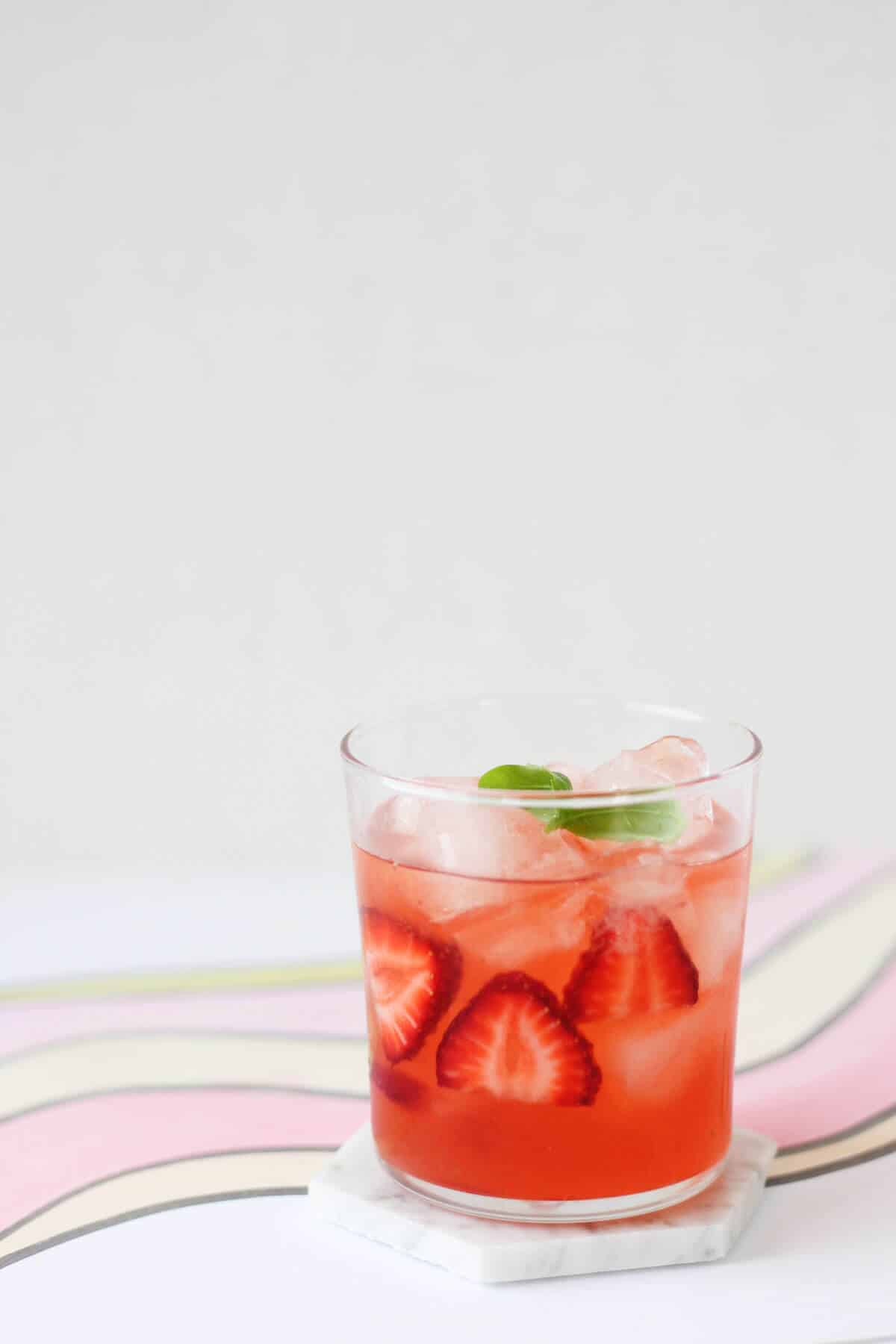 Strawberries
Fresh or frozen strawberries work well for this occasion.
If you're using fresh fruit, I'd recommend either ugly or slightly overripe strawberries. Ugly because they get mashed up and you won't be able to tell, slightly overripe because they mash down easier.
If you're using frozen berries, make sure to defrost them so that they can thoroughly mix into the drink.
It's nice to have a handful of fresh, ruby red strawberries on hand to garnish with. Maybe you're whipping up this drink in the middle of winter for a hit of serotonin though, and that's fine too.
Basil
I opted for fresh basil since it's summertime as of this publish date and my roommate has a basil plant. Mint or tarragon could also be good options!
I wouldn't recommend using dried herbs, since you would have to sacrifice either flavor or texture:
If you strain out the dried herbs, you would get a smooth drink but probably wouldn't taste much of them since they wouldn't have time to infuse into the liquid
If you don't strain out the dried herbs, the flavor might come out when you bite into a piece, but then you have a hard dried herb in your mouth…
Ginger
All this cocktail requires from the ginger department is a bit of peeling and a quick chop.
Don't be concerned if you're thinking that this beverage might end up spicy from the raw ginger (it won't!).
For the first round of recipe testing, I cooked a ginger simple syrup with some crushed ginger, sugar and water and let that sit overnight in the fridge. While this made me feel fancy, the ginger mellowed out too much through the process to show up in the final drink.
(The leftover was delicious when added to my smoothies, though).
And if you have more ginger than you know what to do with, how about making this lemon cucumber ginger infused water?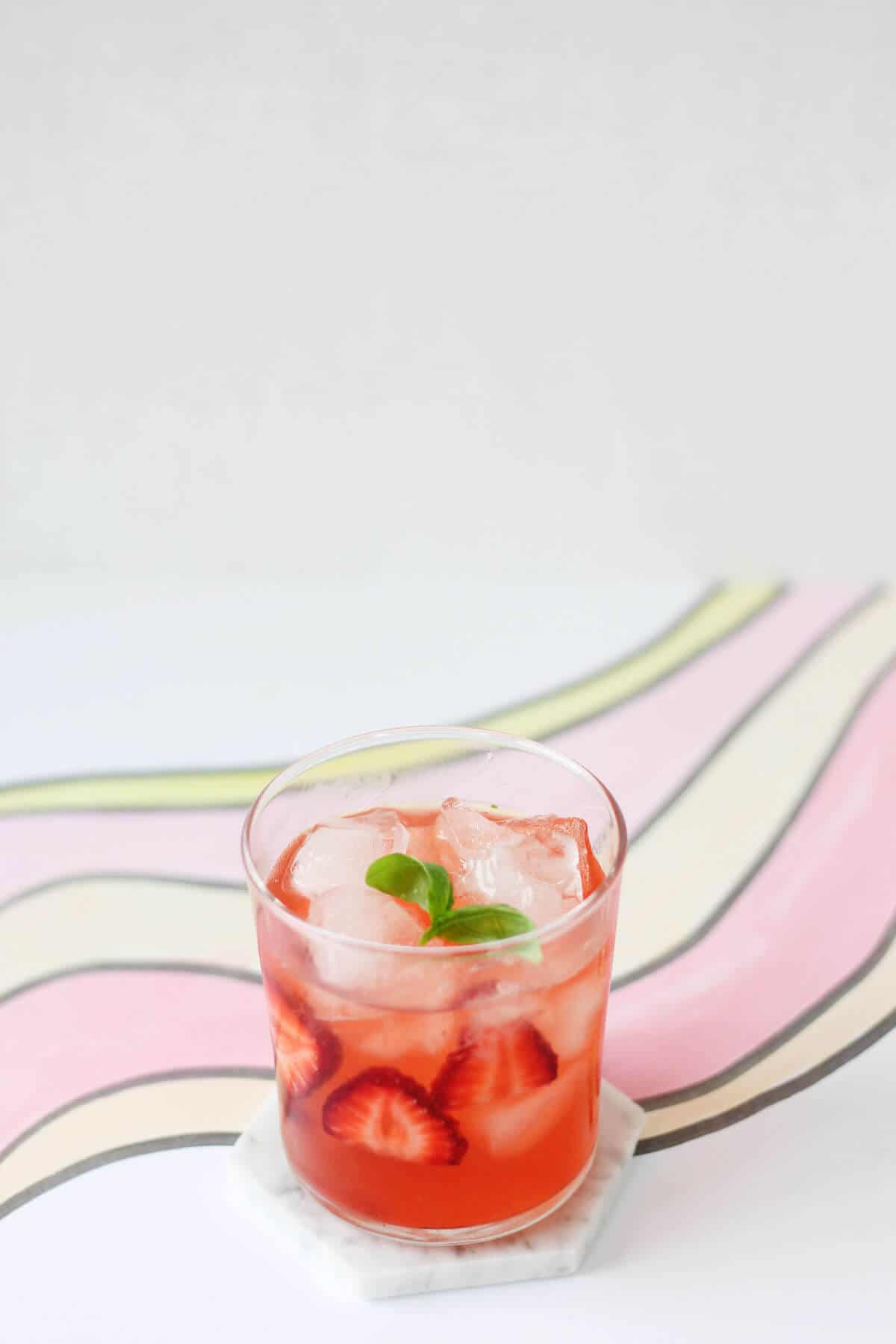 Equipment
For anyone in possession of a jigger, a cocktail muddler and a cocktail shaker, great! Use those.
Maybe you don't have the space (or cares) to have those items, and that's fine too.
The jigger makes it easier to measure ingredients. However, for people without jiggers, I've included standard tablespoon measurements as well.
As for the cocktail muddler: any wide wooden kitchen item with a handle will suffice. Think the bottom of a wooden spoon, or the end of a rolling pin.
My personal go to cocktail shaker is an old jam jar, though any jar with a lid that does not spill when you shake or tip it over works (please test first with water and shake over the sink, I'd hate for you to have to clean strawberry guts out of your kitchen).
A strainer is also great to have (I'm sure no one wants to fish ginger threads out of their teeth), unless you can finagle holding the lid of your jar such that only liquid escapes when you pour.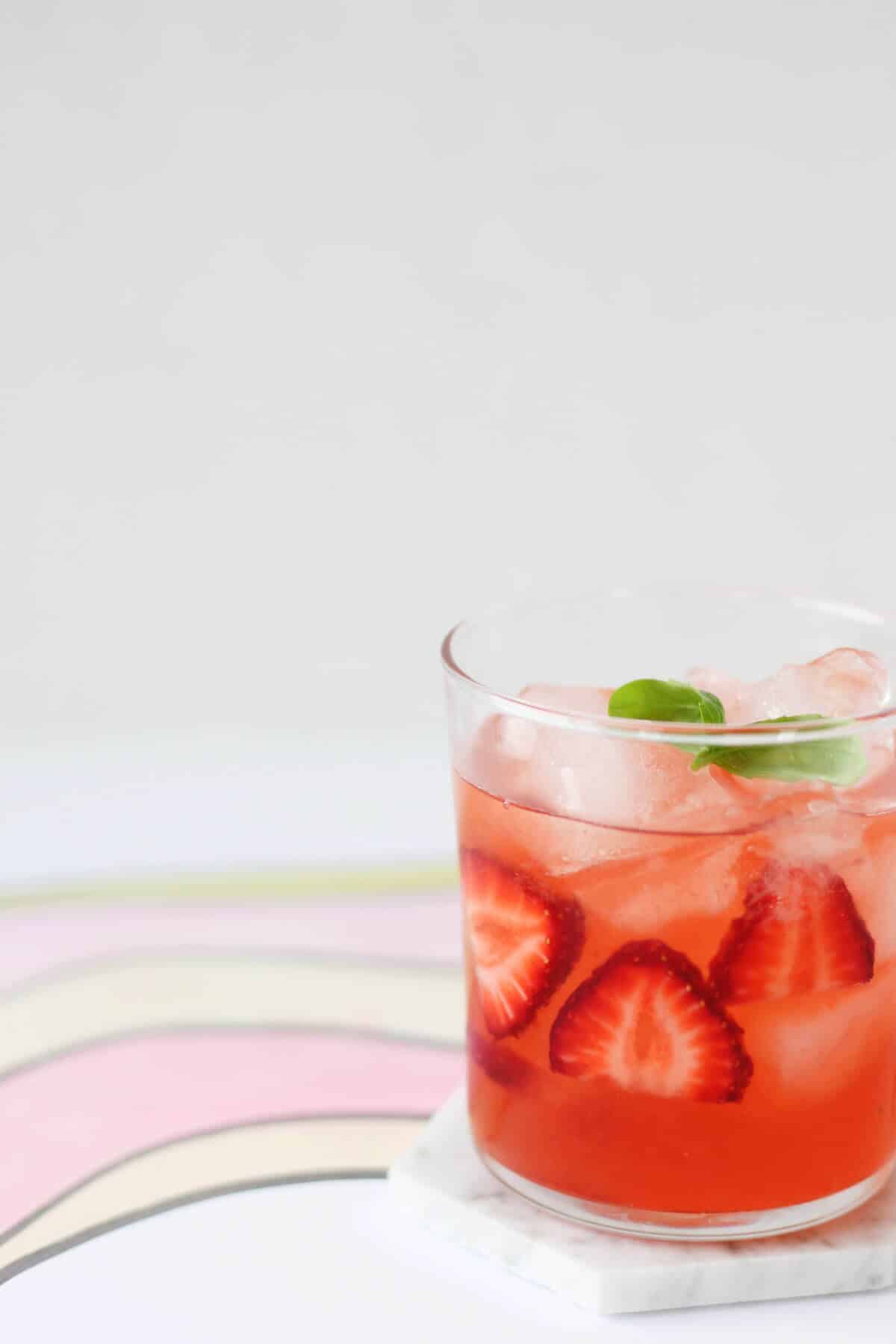 How to Make It
Start with the aromatics, then move onto the alcohol.
The beverage will get strained before serving, so keep that in mind.
First, peel and roughly chop the ginger. I usually opt for peeling my ginger, but if you have a traumatic peeling past, you can instead wash and scrub down the ginger very well with a brush and leave the peel on.
Smash the ginger with the side of a knife, then roughly chop. Both of these steps help release the ginger aroma and oils, which will let them mingle with the rest of the drink later on.
Add the ginger, chopped strawberries, salt and sugar to your cocktail shaker or jar. Muddle everything until fragrant and you can't distinguish any individual strawberry bits.
Muddling releases the flavors of the ingredients, and helps them better mix into the drink. Think about it this way: strawberry puree combines in a liquid much more cohesively than a whole strawberry.
This step also also dissolves the sugar so that you don't have to rely on a simple syrup, and your sugar disappears neatly without leaving a crunchy residue.
The act of muddling is a twisting, smooshing, smearing motion, so no need to bang your muddler around in your cocktail shaker or jar.
Then, add the basil and gently muddle until you can smell all of its herbiness. Since basil leans towards the delicate side, there's no need to overdo it like you would if you were employing something like rosemary or a woody herb.
Add the soju, as well as a few big scoops of ice. The ice should be straight from the freezer and not in broken down chunks, since these chips can melt too fast.
I prefer my cocktails on the lighter side, so I add some water at this stage, or you can omit if you want more of a punch.
Then, shake until the outside of your shaker is cold.
I don't have a signature shaking style, but bartenders do, especially since they're seasoned pros and they end up serving more alcohol that I ever will. It makes sense now, though it kind of blew my mind when I first read that they had to adjust how they shake for the ingredients and ice they're using, or the body that they have.
Once your beverage is cold, add more ice to your serving glass, then strain in the liquid. Garnish with a sliced strawberry and a sprig of basil, and you're ready to sip.
And in case you want another sippable summery beverage, how about this Hugo spritz?
Strawberry Soju Cocktail with Basil and Ginger
This cocktail is light, refreshing and fruity, perfect for summer sipping!
Keyword:
alcohol, basil, berries, egg-free, fruit, ginger, gluten-free, no-bake, no-cook, nut-free, soju, strawberries, vegan, vegetarian
Ingredients
1

inch knob

ginger

peeled and roughly chopped

4

small/medium strawberries

hulled and sliced

1

pinch

salt

1

teaspoon

granulated sugar

4-5

basil leaves

plus a sprig for serving

2

ounces

soju

or ¼ cup

1

ounce

water

or 2 tablespoons; optional

ice

for shaking and serving
Instructions
Place the ginger, 3 of the strawberries (reserve 1 for serving), salt and sugar in a cocktail shaker or jam jar, then muddle until the ginger is fragrant and the strawberries are mashed.

Add the basil leaves (reserve the sprig for later) and gently muddle just until the basil is fragrant.

Add the soju, water if using and a few big scoops of ice. Cover the cocktail shaker or jar with the lid, and shake until the outside of the container is cold.

Fill your serving glass half full with ice, then strain the drink into the cup.

Garnish with the remaining strawberry and the basil sprig, then serve.
Recipe Notes
You can use frozen strawberries, so long as you defrost them before you start making the drink.
The water is optional (I like a lighter drink, so I add it).
Make sure you use big chunks of ice. If it's too small or fine, it will melt too quickly into the drink.