How to Make Spam Musubi with Egg
I'm betting that if you're here, you probably already know what Spam musubi is, but in case you don't: it's pressed Spam sushi. I like my Spam pan-fried until crispy and slicked back with a smear of teriyaki sauce before it goes into the musubi.
This version takes the original, and adds a layer or two of fluffy rolled eggs. You could add some bacon (haven't made this at home before, though I can vouch for this combo after eating one during college), for even stronger breakfast vibes.
Maybe you're thinking, why would I add eggs when plain Spam musubi is so good already?
Spam and egg musubi is prettier with that sunny pop of yellow, so it's much more aesthetic (kidding... sort of). And it's probably healthier since you can cut the Spam thinner and add some eggs, which are a lot less questionable than bright pink mystery meat.
So how do you make Spam musubi with egg? I have pictures for how to assemble in the recipe card down below, as well as in depth explanations in the older Spam musubi post and this one.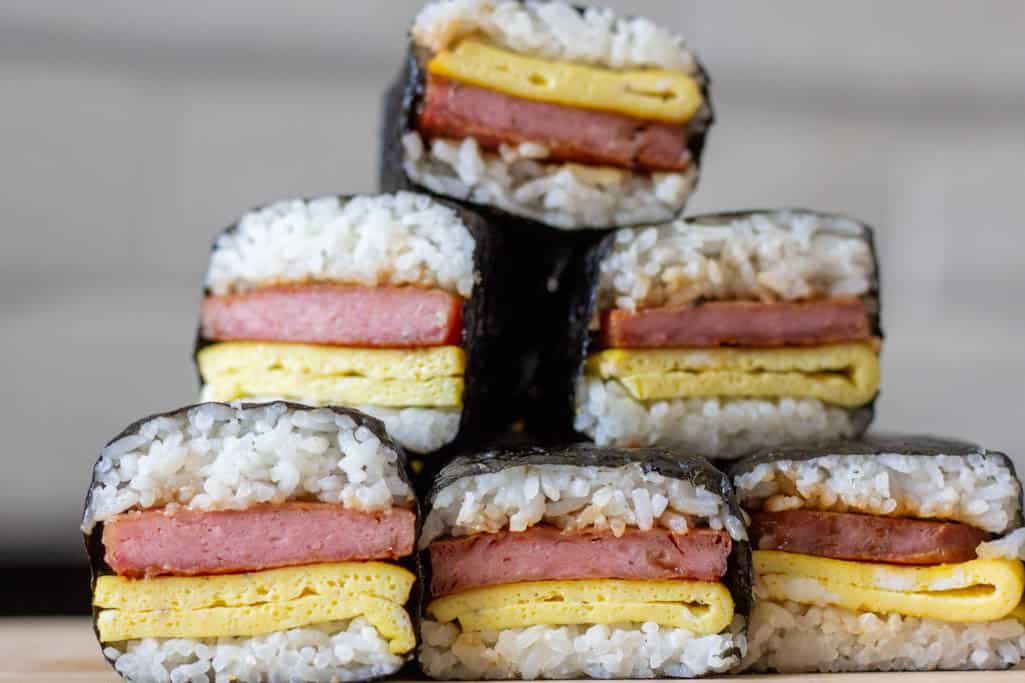 I do want to describe how to make the egg though. There's a few different ways you can do this:
I cooked mine in a too wide round non-stick pan without stirring or touching the eggs until the top was set, then cut into strips that fit into my mold (and stacked/folded a few strips, because my eggs were so thin). It's easy enough, though I'd use this as a last resort and recommend going one of the below routes instead.
If you have a rectangular tamagoyaki pan, then I'd recommend using that and trying to roll the egg onto itself so it cooks up really fluffy and you don't have to stack/fold thin, separate pieces of egg.
Another option I've been seeing float around is cutting out the bottom of a Spam can, greasing it, and using it as a mold to cook your egg(s) in. I am lowkey terrified of cutting myself so I won't be trying this any time soon. I do think if you're looking for a runny yolk, this could be a good way to have the egg contained in the right shape you're looking for and be able to be more gentle with how you're cooking the egg.
And if you bought too much Spam, how about using the rest to make Spam pasta salad, or Spam kimbap?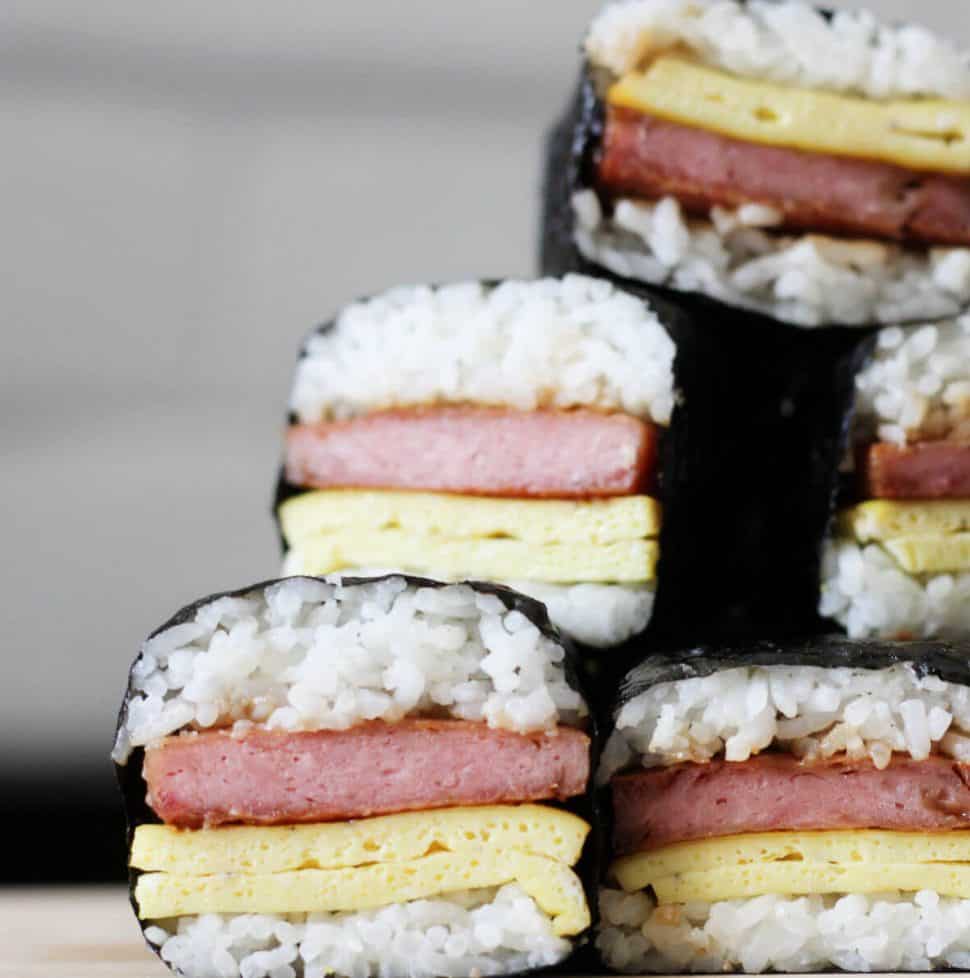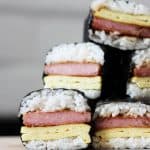 Spam Musubi with Egg
This Spam musubi with egg has salty Spam, fluffy eggs and plenty of rice to hold it together. Perfect for lunch or a big snack!
Cuisine:
Hawaiian, Japanese
Keyword:
musubi, nut-free, rice, scrambled eggs, spam, sushi, teriyaki
Ingredients
3

cups

raw rice

1 1/2

tablespoons

granulated sugar

2

tablespoons

soy sauce

6

large eggs

1

can

Spam

cut into 10 slices

5

sheets

seaweed
Instructions
Cook the rice, and keep warm.

Mix the sugar and soy sauce together until the sugar dissolves.

Crack the eggs into a medium bowl; add a spoonful of the teriyaki sauce and a few grinds of black pepper. Whisk until homogenous (there shouldn't be any egg white bits visible).

Spray a non-stick pan with oil, or rub it with an oil-soaked paper towel. Place the pan over medium-low heat, and add the eggs. Cover, and let cook for 5 minutes, or until the top is set. Slide the eggs out onto a cutting board, and let cool. Cut into rectangles that can fit the size of your musubi mold.

Line a large plate with paper towels.

In the non-stick pan over medium high heat, add the Spam in one layer. Cook until crispy on both sides, about 5-7 minutes per side. Move the Spam onto the paper towel lined plate to drain off any excess oil. Return the pan to medium-low heat, and add the remaining teriyaki. Cook just until it starts to thicken, then add back the Spam and mix to coat the Spam in sauce.

Set a sheet of seaweed shiny side down on a cutting board. Place your Spam musubi mold on top, making sure the edge of the mold meets up with the edge of the seaweed.

Have a small bowl of water ready: you can dip your hands in if rice starts to stick to them. Scoop some rice (I like to make about a 1/2" thick layer) into your mold. Press the mold's plank on top of the rice to gently smoosh the rice down a bit. You want the grains to just stick together, not make rice mush.

Place Spam on top of the rice; use as many slices (1-2) will fit in one layer in your mold. I like to drizzle some of the teriyaki from the pan (from when you caramelized the Spam) over the Spam. You could also sprinkle some furikake over, but I like to use the normal ones (so no umeboshi, aka pickled plum, or salmon here unless you're daring). Top the Spam with egg.

Make another layer of rice on top of the Spam. Place the plank on top and smoosh down a bit. Hold on to the edge of the mold and bring it up past the rice/Spam/rice stack while the plank is still on top. Remove the plank.

Wrap the seaweed tightly around your rice and Spam stack. Use a bit of water to seal the edges of the seaweed. Let the musubi rest seam side down.

Once all the musubis have been made, cut them using a sawing motion (preferably using a chefs knife). It's easier to cut them when the seaweed is soft (let sit 10 minutes after assembly). I like to cut into portions that have half a slice of Spam per roll.

Wrap in plastic wrap tightly and place in an airtight container. Serve on the same day if possible, or store in a cool place (not the fridge, but something like a garage in the Bay Area during the winter).
Recipe Video