This Spam musubi with egg is a variation on Spam musubi, but with a layer of fluffy rolled eggs!
I'm betting that if you're here, you probably already know what Spam musubi is. In case you don't - think pressed Spam sushi.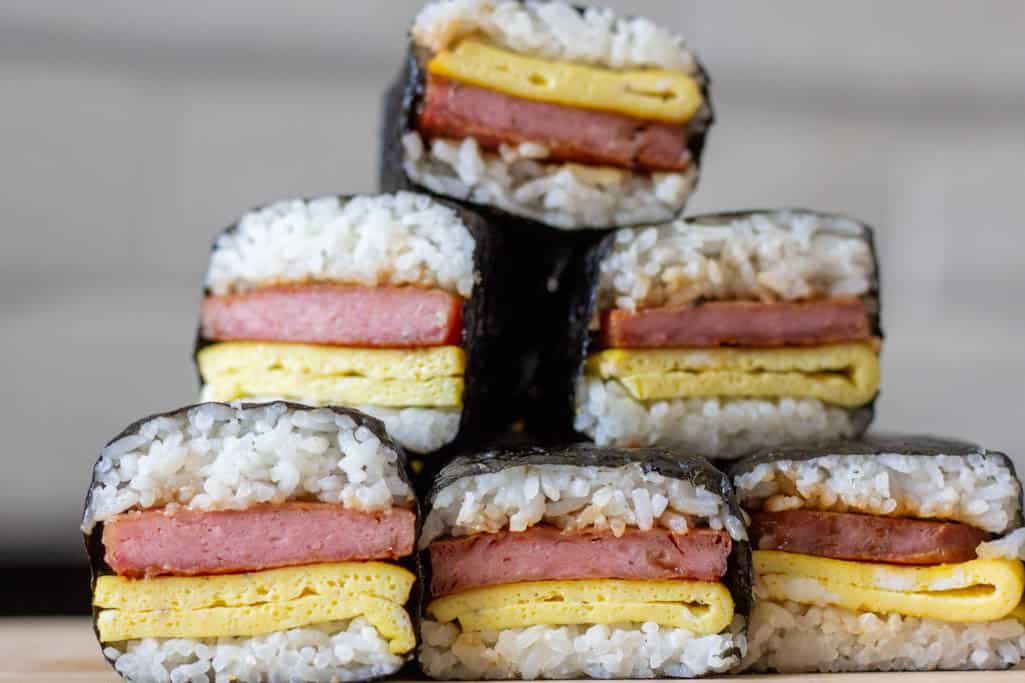 Ingredients
Spam
I highly recommend using low sodium or light (you can't taste the difference between light and regular, I promise) Spam. It's really salty as is, and if you're adding teriyaki sauce along with any other toppings, it's a lot.
Did you buy too much Spam? Good thing I have recipes for Spam pasta salad and Spam kimbap on this blog.
Rice
As a stubborn child, I would insist on white rice in this recipe. As a slightly less stubborn adult, I still think this is best made with white rice.
However, I've used a mix of white and brown rice in a pinch, and can confirm this works. I wouldn't recommend using all brown rice, though.
Brown rice isn't as fluffy, and you'd definitely miss that texture while eating the musubi. White rice is also softer and easier to mush, which helps act as glue during the assembly process.
Seaweed
Now for the packaging to make sure the Spam, egg and rice all hold together.
This is the time to use the big, paper-sized sheets of nori (roasted seaweed), not the little ones that look like an index card or a stick of gum. These smaller pieces won't be big enough to wrap around all the fillings.
Equipment
The main equipment you'll need for this recipe is a Spam musubi mold. It has two parts: a long rectangular piece that only has walls (no top or bottom) and a plank.
They can be found online, or at Asian grocery stores/mini marts (think Daiso) for pretty cheap.
Now, you don't *need* a Spam musubi mold. I've seen people use a Spam can as a mold (with the bottom cut out; my clumsy self is a little apprehensive of that sharp, exposed metal though), or even free-handing it.
The resulting musubi may take a bit longer to assemble, and they won't look as uniform or crisp, but forgoing a Spam musubi-specific mold might make sense for you if you don't make them enough or are very low on kitchen space.
How to Make
First things first: start cooking the rice. If you like more rice in your musubi, or if you're newer to making musubi, you may want to err on the side of more rice. You can always keep the leftovers for fried rice or general meal prep!
Then, cut the Spam into 10 even slices. Place them in an empty non-stick pan on the stove over medium heat in a single layer, and pan-fry both sides until crispy and golden brown.
While the Spam cooks, stir together the soy sauce and sugar until the sugar is dissolved. Set aside.
When the Spam is done, transfer the Spam to a paper towel lined plate and let any excess oil drip off.
If there's leftover oil from the Spam in the pan, drain off most of it, until you're left with only a slight slick. Place the pan back on medium-low heat.
Beat the eggs, then add a bit of pepper and some of the teriyaki sauce. Pour into the pan, and cover with a lid.
Quick tangent on the eggs:
The circular skillet I was using for the batch I made in these pictures is a bit too big, making the egg too thin. That's why there are a few layers of egg, but you might have only a single layer of egg in the musubi if your pan isn't as wide.
If you have a rectangular tamagoyaki pan, then I'd recommend using that and trying to roll the egg onto itself so it cooks up really fluffy and you don't have to stack/fold thin, separate pieces of egg.
Another option I've been seeing floating around is cutting out the bottom of a Spam can, greasing it, and using it as a mold to cook your egg(s) in. I am again lowkey terrified of cutting myself so I won't be trying this hack any time soon. I do think if you're looking for a runny yolk, this could be a good way to have the egg contained in the right shape you're looking for and be able to be more gentle with how you're cooking the egg.
Shifting gears back, cook until the top of the eggs are set, then slide them out on a cutting board. Let cool slightly, then cut into rectangles similar in width to the Spam.
Place the pan back over medium-low heat, then add the teriyaki sauce and Spam. Cook just until the sauce starts to thicken and coat the Spam, then remove the pan from the heat.
Now, prep your assembly station.
Gather a cutting board to assemble the musubi on top of, along with the Spam musubi mold and your pack of seaweed. A little bowl of water is optional, though good to have on hand.
Make sure that the rice, eggs and Spam are also close by.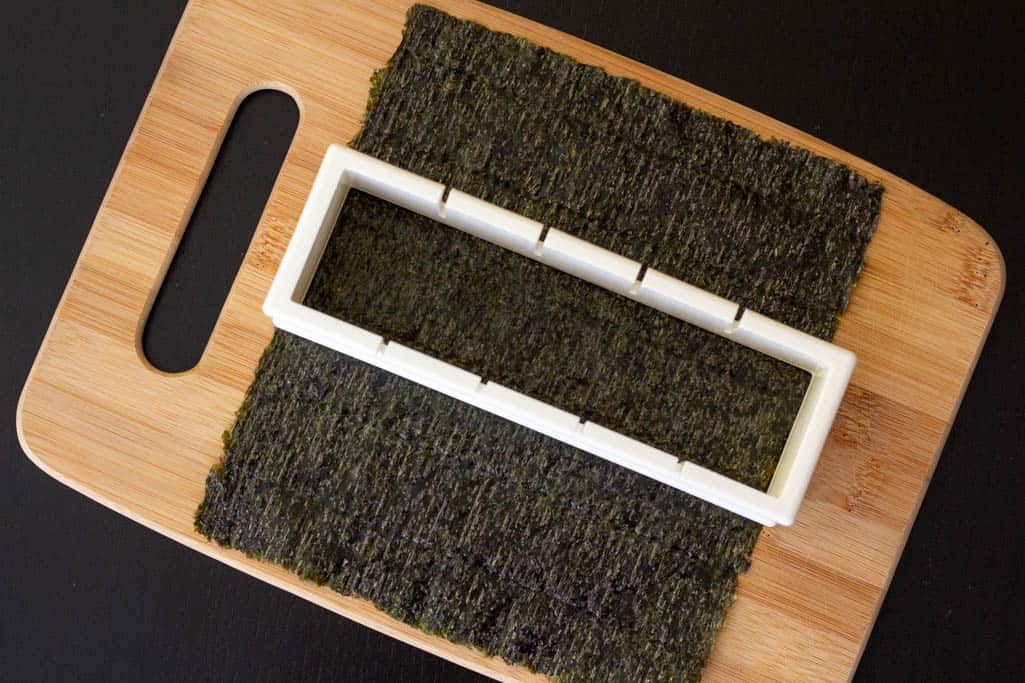 Lay one piece of seaweed onto the cutting board, then arrange the mold on top of the seaweed. Make sure that the short ends of the mold line up with the seaweed edges.
Scoop some rice into the mold (I aim to end up with about half an inch of rice per layer), then press down gently with the plank from the mold. You want the rice to stick together, but you don't want it to be one solid, mushed mess.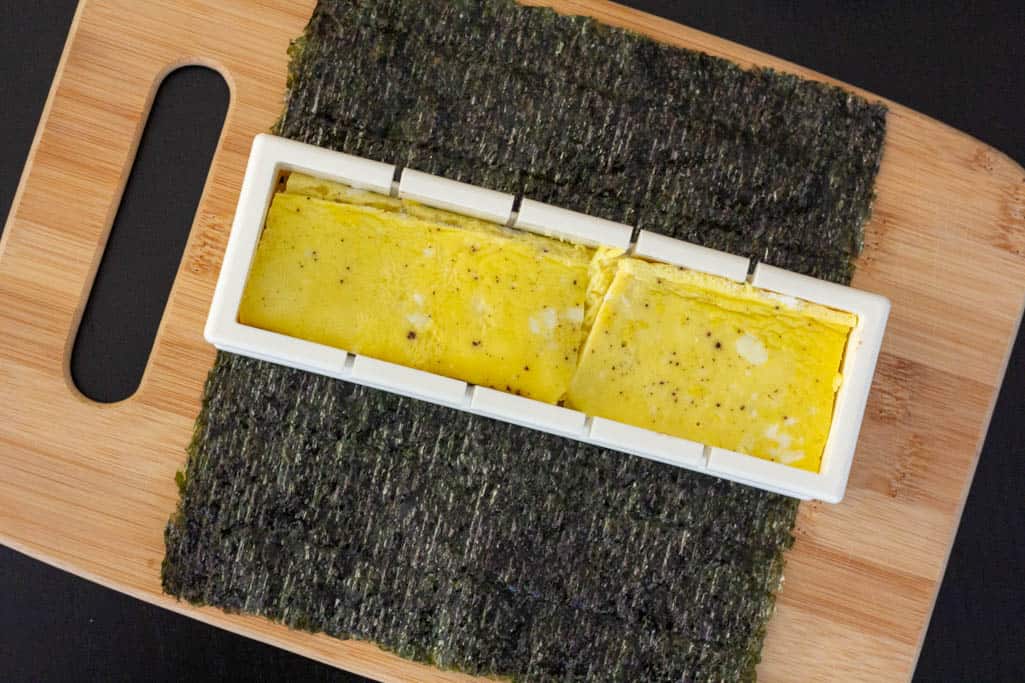 Drizzle a little teriyaki sauce over the rice, then drape 1-2 pieces of Spam on top, followed by the egg.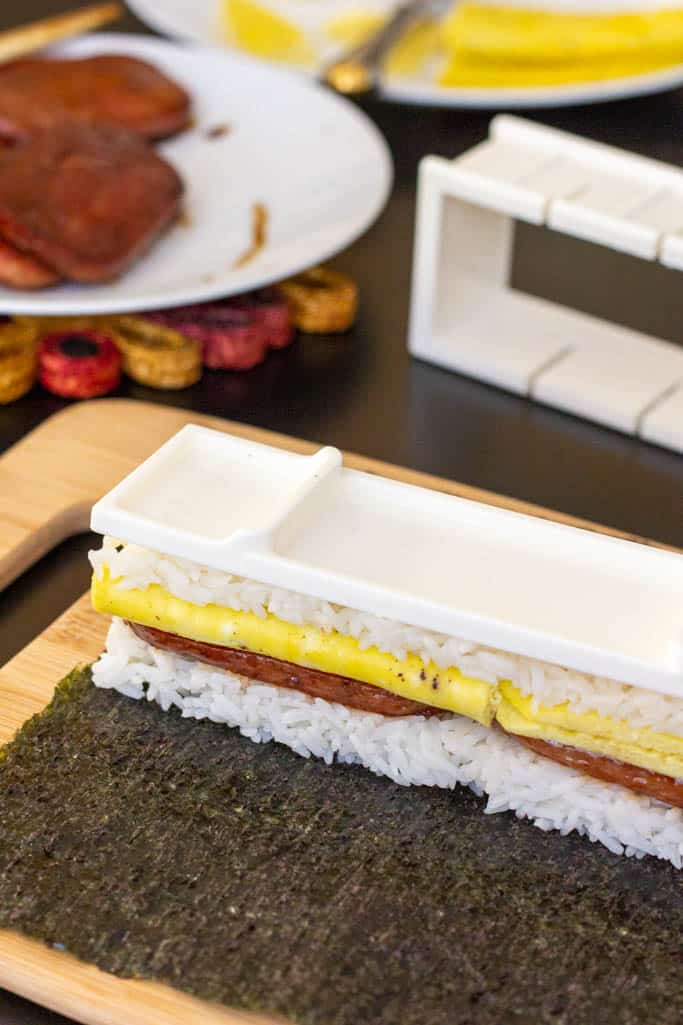 Make another layer of rice, and gently press again with the plank. Instead of removing the plank this time, bring the rectangular piece up and off of the stack of ingredients.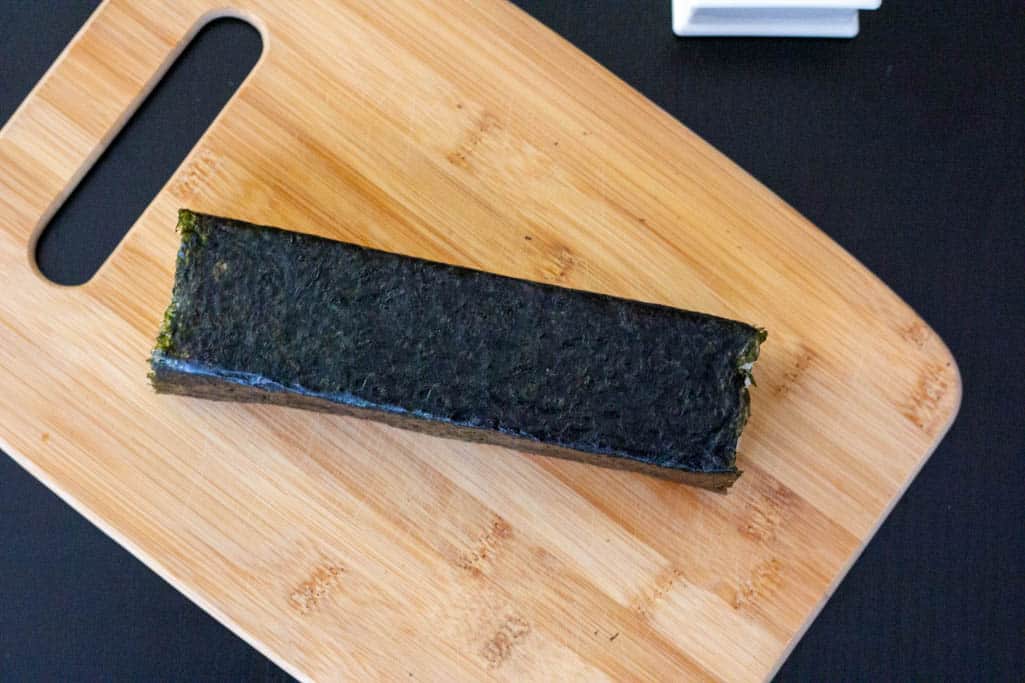 Wrap the seaweed tightly around the rice, Spam and egg stack. Use a few grains of rice and/or some water to seal the seaweed to itself, then let the musubi rest seam side down.
This helps moisten the edges of the seaweed so that it sticks better and keeps the musubi intact.
Repeat with the remaining seaweed, Spam, sauce, eggs and rice. You might have leftover ingredients, and you can either save for another recipe or have yourself a snack.
Then, with a sharp chef's knife, slice the Spam musubi into halves or quarters. Use a sawing motion, and feel free to dip the knife in a cup of water if you're noticing that things are getting sticky.
Wrap the Spam musubi in plastic wrap and/or place in an airtight container before serving later that day!
Tips
Shiny Side of the Seaweed
This is more for aesthetics than anything else*, though if you remember, it's nice to place the seaweed shiny side against your cutting board. This way, the shiny side is on the outside of your musubi when you go to eat it!
*Though isn't this whole recipe? Otherwise, you'd be eating a bowl of rice with Spam and eggs on top, with some nori on the side. Anyways.
Pan-Fried Spam
This is crucial. Spam straight from the can is gloppy and unpleasant, so it needs to be pan-fried until golden and crispy on the outside.
If you have a few extra minutes, and it's a small enough batch, definitely take the time to wait for both sides to turn nice and dark. It gets tedious when you're making thousands of Spam musubi (s/o to all the youth groups and other orgs that sell these for fundraisers), so I understand if you have to take some shortcuts at that scale.
Hot Rice
Having hot rice is key. The steam helps seal the musubi at the end, and you don't need any water to make sure the seaweed holds everything in place.
Substitutions/Variations
This recipe is super versatile, so feel free to add anything you like! There aren't many ideas that would be bad, since Spam musubi goes well with a bunch of toppings and seasonings.
Teriyaki Sauce
I can't be bothered to make a fancy teriyaki sauce, so this version is white sugar and soy sauce. You could add mirin (cooking wine) or a little rice wine vinegar if you'd like, though.
Some recipes out there use oyster sauce in their teriyaki sauce, but this Spam musubi does not have oyster sauce. It's a pretty strong flavor, and I don't think it's necessary here.
Seasonings
My first thought is furikake or sesame seeds, which are easy enough to sprinkle onto the rice while you're layering the musubi.
Another option is drizzling some toasted sesame oil over the rice, or brush the outside with a bit, similar to how kimbap is finished.
Toppings
You could add some bacon (haven't made this variation at home before, though I can vouch for this combo after eating one during college), for even stronger breakfast vibes.
Cheese or avocado could be tasty too. I'm personally not a fan of cheese in rice + seaweed situations (one of my schoolmate's parents would add American cheese into her kimbap, which was never my favorite), but ignore my bias if that sounds good to you.
As for the avocado – this would make the most sense if you're planning on serving the musubi ASAP, since the avocado will brown if you're leaving a tray on a counter at a party. You could add a bit of lemon or acid to prevent browning, though that might throw people off who aren't expecting a side of tang with their snack.
Make Ahead
This recipe can be a bit intensive to make from start to finish in the morning before sending a few off with your loved ones to lunch. So, here are a few tips in case you want to start the night before.
Make the rice in a rice cooker. Ideally you'd set a timer to have the rice cook while you sleep so it's done when you wake up.
For anyone with a simpler rice cooker without a scheduling feature, you can cook the rice right before you go to bed, and leave it in the rice cooker overnight. Not the most food-safe, but this makes sure that the rice is still nice and soft when you go to make the musubi.
You can also make the rice beforehand, keep it in the fridge, and then microwave the rice when you're ready to fold. This isn't ideal, since the rice is a bit harder and less sticky than fresh, so I would only suggest doing this if you don't have any other options.
You can also prep the Spam and eggs up to a few days in advance. Store the Spam in the teriyaki sauce, then re-heat both the Spam/sauce and eggs before assembling.
Storage
Spam musubi aren't the easiest to store overnight or for multiple days, since the rice gets hard and the seaweed gets soggy. Re-heating old Spam musubi isn't ideal, because the seaweed becomes even limper, even if the rice gets revived.
Therefore, I highly recommend that you make this Spam musubi with egg as close to when you're serving them as possible (especially since the egg makes this version less shelf-stable than the non-egg variation).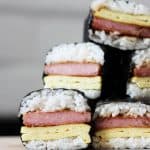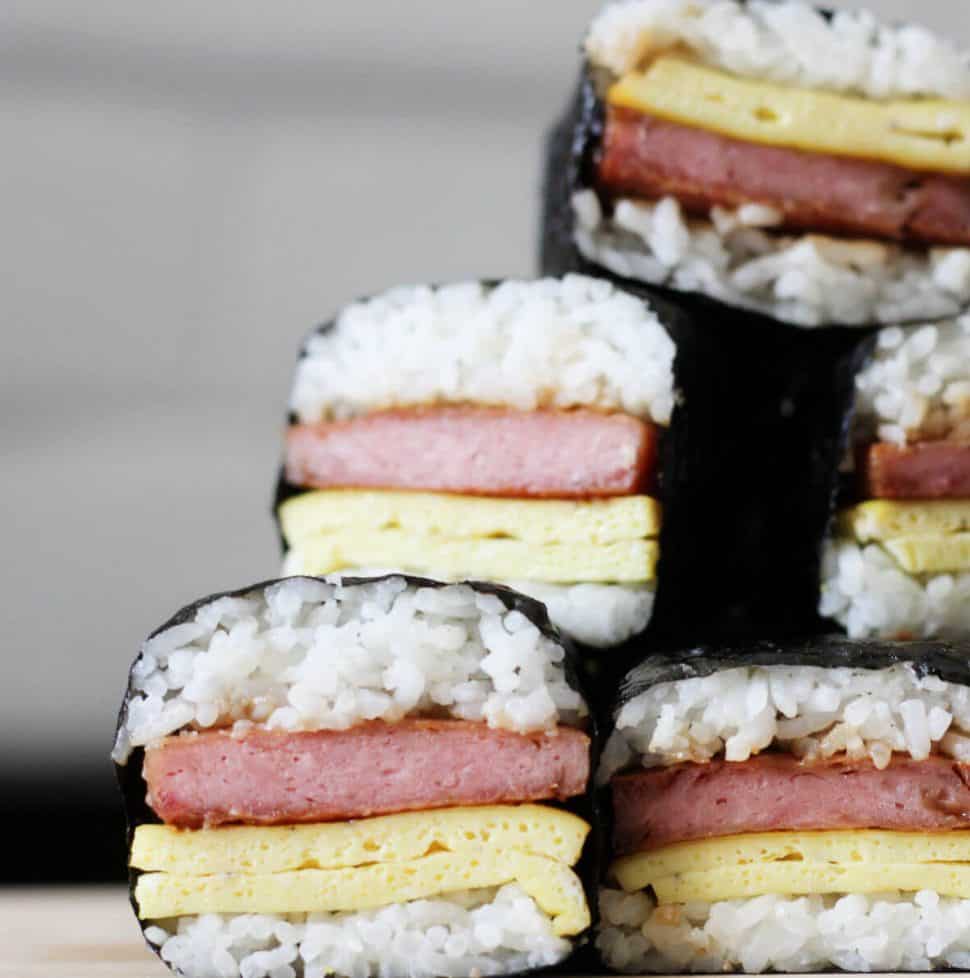 Spam Musubi with Egg
This Spam musubi with egg has salty Spam, fluffy eggs and plenty of rice to hold it together. Perfect for lunch or a big snack!
Cuisine:
Hawaiian, Japanese
Keyword:
musubi, nut-free, rice, scrambled eggs, spam, sushi, teriyaki
Ingredients
3

cups

raw rice

1 ½

tablespoons

granulated sugar

2

tablespoons

soy sauce

6

large eggs

1

can

Spam

cut into 10 slices

5

sheets

seaweed
Instructions
Cook the rice, and keep warm.

Mix the sugar and soy sauce together until the sugar dissolves.

Crack the eggs into a medium bowl; add a spoonful of the teriyaki sauce and a few grinds of black pepper. Whisk until homogenous (there shouldn't be any egg white bits visible).

Spray a non-stick pan with oil, or rub it with an oil-soaked paper towel. Place the pan over medium-low heat, and add the eggs. Cover, and let cook for 5 minutes, or until the top is set. Slide the eggs out onto a cutting board, and let cool. Cut into rectangles that can fit the size of your musubi mold.

Line a large plate with paper towels.

In the non-stick pan over medium high heat, add the Spam in one layer. Cook until crispy on both sides, about 5-7 minutes per side. Move the Spam onto the paper towel lined plate to drain off any excess oil. Return the pan to medium-low heat, and add the remaining teriyaki. Cook just until it starts to thicken, then add back the Spam and mix to coat the Spam in sauce.

Set a sheet of seaweed shiny side down on a cutting board. Place your Spam musubi mold on top, making sure the edge of the mold meets up with the edge of the seaweed.

Have a small bowl of water ready: you can dip your hands in if rice starts to stick to them. Scoop some rice (I like to make about a ½" thick layer) into your mold. Press the mold's plank on top of the rice to gently smoosh the rice down a bit. You want the grains to just stick together, not make rice mush.

Place Spam on top of the rice; use as many slices (1-2) will fit in one layer in your mold. I like to drizzle some of the teriyaki from the pan (from when you caramelized the Spam) over the Spam. You could also sprinkle some furikake over, but I like to use the normal ones (so no umeboshi, aka pickled plum, or salmon here unless you're daring). Top the Spam with egg.

Make another layer of rice on top of the Spam. Place the plank on top and smoosh down a bit. Hold on to the edge of the mold and bring it up past the rice/Spam/rice stack while the plank is still on top. Remove the plank.

Wrap the seaweed tightly around your rice and Spam stack. Use a bit of water to seal the edges of the seaweed. Let the musubi rest seam side down.

Once all the musubis have been made, cut them using a sawing motion (preferably using a chefs knife). It's easier to cut them when the seaweed is soft (let sit 10 minutes after assembly). I like to cut into portions that have half a slice of Spam per roll.

Wrap in plastic wrap tightly and place in an airtight container. Serve on the same day if possible, or store in a cool place (not the fridge, but something like a garage in the Bay Area during the winter).
Recipe Video
Recipe Notes
If you don't have a Spam musubi mold, you can carefully cut out the bottom of the Spam can and use that. Alternatively, you can try to free-hand this, though your musubi won't be as neat or uniform (still delicious though!).