This sparkling apple cider cocktail is flavored with a little bit of rosemary and vanilla, for a fun wintery cocktail!
Ingredients
Rosemary
This might seem a little unusual for you depending on how adventurous you are with your beverages. I'm that person ordering sparkling coffee scented with rosemary and orange at the coffee shop, so it was only a matter of time before I added it to a cocktail.
Speaking of sparkling coffee, this almond flavored version is a delicious pick me up.
Anyways, I like the woodsy vibes that the rosemary brings, and keeps the drink from tasting like boozy sparkling apple cider.
Plus, did I mention how big the rosemary bush is at my parent's house?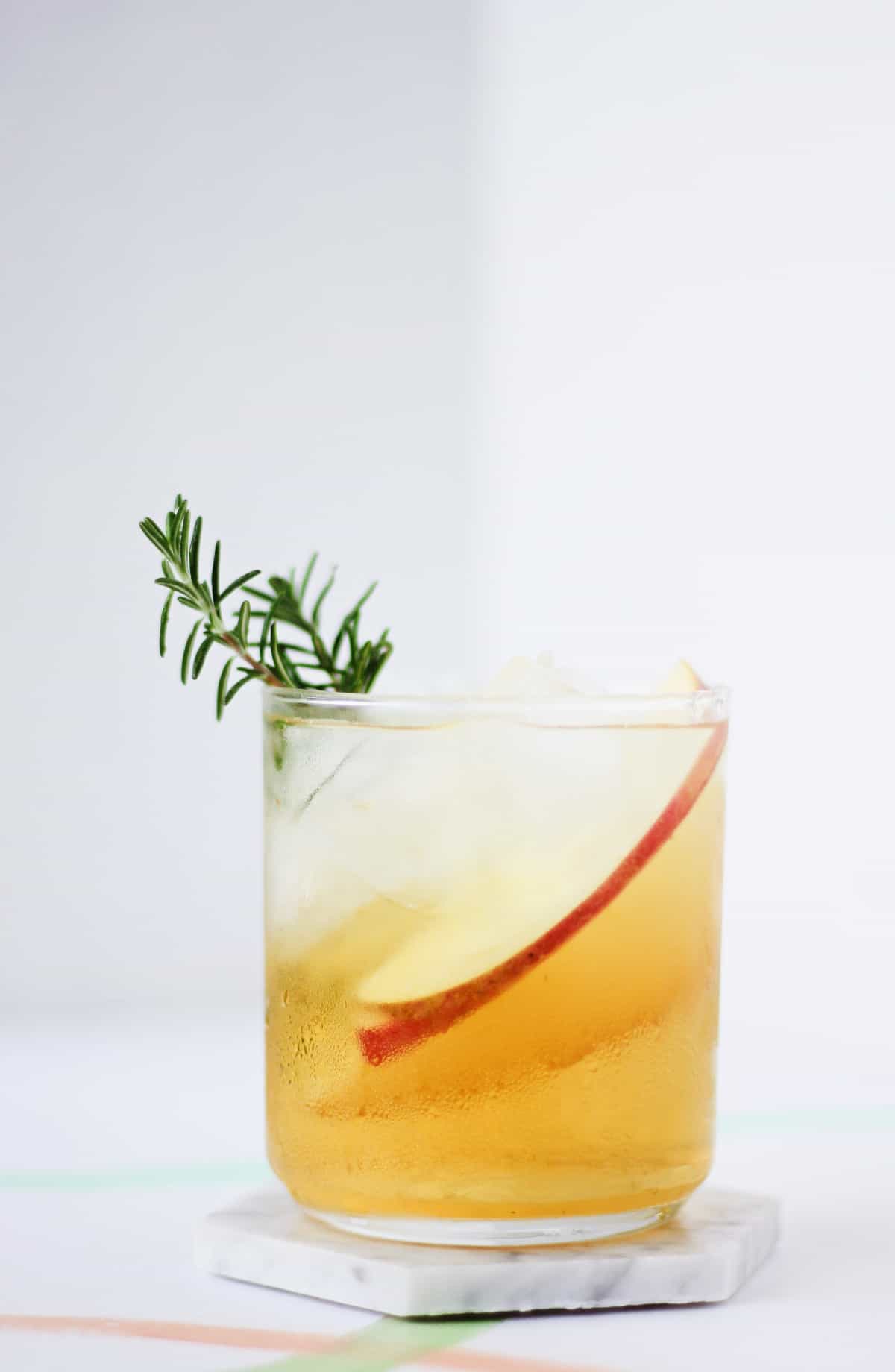 Vodka
Vodka is an easy choice for me here, since its fairly neutral flavor lets everything else shine. That being said, other options are down below in the substitutions section.
Water
The water might seem like a bad move – who wants a diluted cocktail? However, I've found that adding a bit of water to shaken drinks smooths out any sharp edges of the liquor.
If I wanted that, I would just take a shot instead.
Vanilla
The vanilla helps round out the flavors. It almost adds a sweet vibe, since we're so used to vanilla in baked goods and sweets, without any extra sugar.
Salt
At this point, I add a pinch of salt into any beverage I'm making, whether it be wintermelon milk tea or melon ice cream and soju cocktails.
A bit of salt bring out the other flavors, similar to how you would use it to season your cooking or make your baked goods pop.
Sparkling Apple Cider
In case you've never had it, sparkling apple cider is basically fizzy apple juice. All of the sugar in this drink comes from the sparkling apple cider, so there's no need to make a simple syrup or muddle a sugar cube.
The bubbly texture also makes the drink feel super festive for the holidays!
Equipment
There's no need for a whole bar set to make this drink. Obviously you can use it if you do have it, but not necessary.
If you don't have a cocktail shaker, then a jam jar with a tight fitting lid works. If you don't have a muddler, the bottom of a wooden spoon or the flat handle of a rolling pin does the job.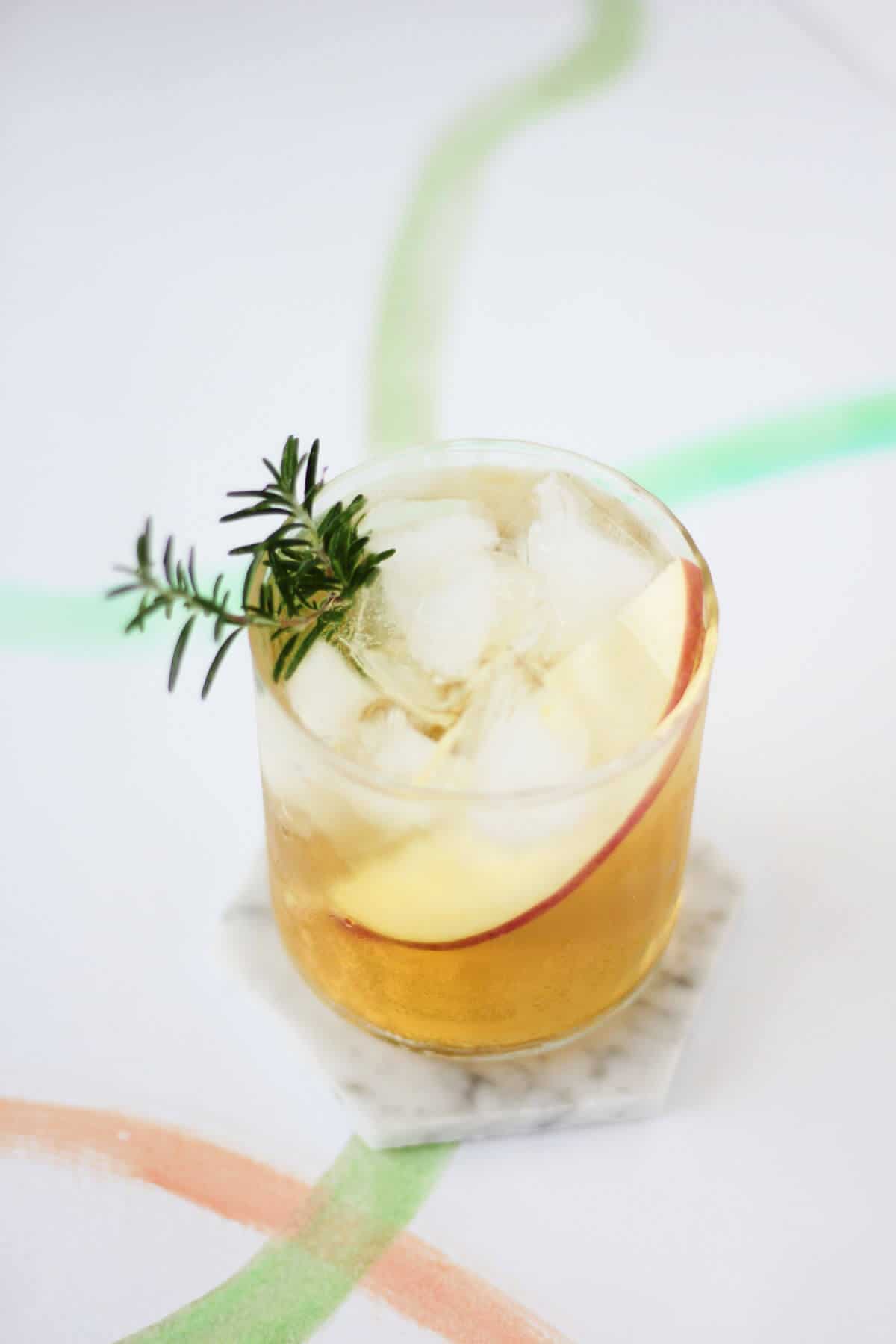 How to Make
First order of business: muddle the rosemary. Add the rosemary sprigs to whichever container you're using to make your cocktail in, and use your muddler to smush down the rosemary.
It's a pretty hearty herb, so don't be afraid to use a little more aggression than you would with a more fragile, delicate herb (ie basil or mint).
Make sure to muddle the rosemary until the scent is almost overwhelming. The rosemary gets strained out before the drink is served, so the flavor won't be as pronounced as it smells.
Pour the vodka, water, vanilla and salt into the muddled rosemary.
If you have a little extra time, you can and let the vodka and rosemary hang out together to let the rosemary infuse into the alcohol. Sometimes you need a cocktail now though, and should that be your situation, skip this step.
A scoop or two of ice goes into the cocktail canister. It's important to use big ice cubes here so that they don't melt down too much or too quickly while you're shaking the cocktail.
Pop on the lid, and shake until the outside of the container is cold. This is important for adding air into the drink, which makes the drink taste lighter and smoother.
I'm not a pro bartender, so go look up some bartending videos if you need shake style ideas and tips.
Add fresh ice to a tall glass (you want it to be fresh ice that hasn't already been broken down by the shaking, which will melt into the final beverage too quickly). Strain the drink into the glass.
Top off with sparkling apple cider, then garnish with a sprig of rosemary and a few slices of apple. This topping doesn't affect the drink's flavor whatsoever, though you do get a little post-drink apple snack.
Give it a good stir before sipping away.
Variations
Substitutions
I get it if adding rosemary is a little too out there for you; you can always omit it from the drink if you want to. Highly recommend trying it with, though!
Alternatively, subbing out the rosemary for some thyme sounds like it would be a tasty move, if that's more enticing to you.
I probably wouldn't try to replace the rosemary with basil. For anyone who would rather have a basil beverage, might I suggest this strawberry and ginger soju cocktail?
This recipe is written to use sparkling apple cider, the kind that comes in a glass bottle, not the other apple cider, which is like an unfiltered apple juice. That being said, if you want a little more texture in your drink or you can't find sparkling apple cider, you can use a mix of sparkling water and apple juice or apple cider instead.
This cocktail veers more towards the sweeter side of drinks. For anyone who tends to prefer less sweet drinks, you could cut the sparkling apple cider with some hard cider.
Vodka isn't everyone's liquor of choice (honestly, it's not mine either), so feel free to swap for another alcohol. Gin sounds delicious, especially since the floral notes from the juniper berries would go nicely with the hint of rosemary.
Maybe you're a dark liquor kind of person – try this drink with whiskey instead! (This isn't me though, and I can't say I finished my drink when I tested out a whiskey version).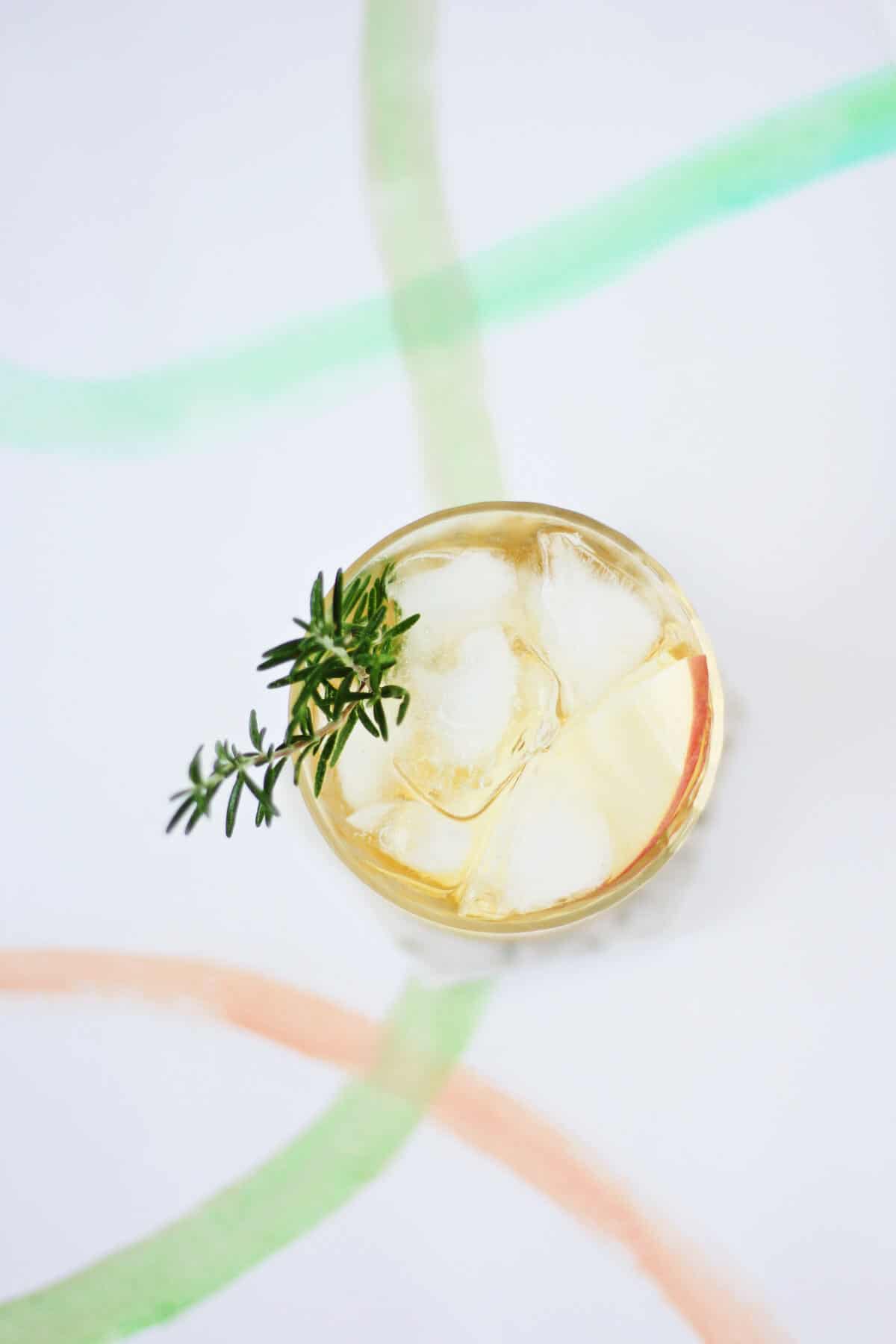 Sparkling Apple Cider Cocktail
This sparkling apple cider cocktail is gently fizzy and a little sweet from the apple cider, with a hint of vanilla and rosemary!
Keyword:
alcohol, apple cider, dairy-free, egg-free, gluten-free, grain-free, nut-free, rosemary, vanilla, vegan, vegetarian, vodka
Ingredients
2

sprigs

rosemary

2

ounces

vodka

or 4 tablespoons

1

tablespoon

water

1/16

teaspoon

vanilla

or a few drops but be careful bc vanilla can be really strong

ice

1

pinch

salt

½

cup

sparkling apple cider

sliced apple and rosemary sprig for garnish

optional
Instructions
In a cocktail shaker, add the rosemary and muddle until very fragrant (almost overwhelmingly so).

Add the vodka, water, vanilla and salt. If you have extra time, let it infuse with the rosemary for up to an hour.

Add a few scoops of ice, cover the shaker, and shake until the outside of the canister is cold.

In a tall glass, add a scoop of fresh ice. Strain the drink into the glass, then top off with the sparkling apple cider.

Arrange a few apple slices and a rosemary sprig on top if using. Stir before enjoying.
Recipe Notes
If you don't have a cocktail shaker, you can use a glass jam jar with a tight fitting lid. If you don't have a cocktail muddler, use the bottom of a wooden spoon.
Feel free to use gin or whiskey in place of the vodka.