if you've been around here for a bit, you know that i like to celebrate with cake. see some of my faves here: thai tea vietnamese coffee cake, matcha cake with strawberry swiss meringue buttercream, banana cake with banana nutella swirl buttercream. so what are we celebrating? someone's 21st is this week! it won't be a night of drunken revelry, since 1) i have class all day, 2) not a huge fan of alcohol (tbh would rather just have tea or juice or something; this also doesn't apply to kahlua or amaretto, which are delicious in baked goods) and 3) i'd rather have sugar. plus, there's a sneaking suspicion that on the spectrum of asian glow-up, i lean more towards my mom's a sip (kidding, but only a little) and done side. and in general, i'm not a go big or go home kind of person for my birthday, as evidenced by my unsure plans (which might shape up to be dinner out and/or baking at my apartment).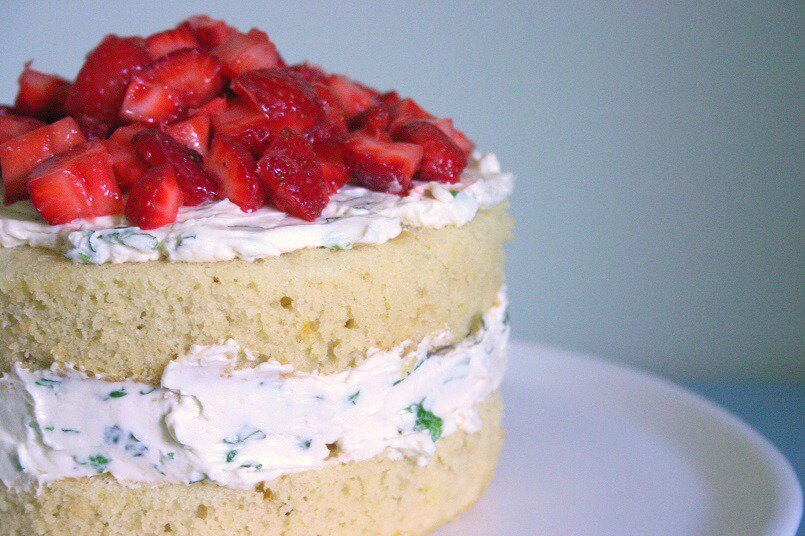 anyways: strawberry lemonade cake with fresh mint buttercream. i won't be having this particular cake on my birthday, though you can rest easy at night (because i know you were extremely considered) knowing that i will be having some sort of sugar on that day. it was inspired by my bias against plain water, since it's boring (i still don't understand how the raindrop cakes blew up, at least from a taste perspective). drinking flavored water makes it much more interesting, and i've taken my favorite things (strawberries, lemon, mint) to put in water and turned that combo into a cake.
the cake itself is a tightly crumbed, gently lemon scented number. it's delicious for sure, and goes well with the slightly herbaceous, refreshingly minty buttercream, but the real stars are the strawberries. this isn't the place for sad (oof, random tangent, but have you seen logan? that was an almost constant stream of unnecessary violence and depression, and my friend started laughing when she heard me sniffling) strawberries that you want to get rid of; wait for those summery crimson berries. macerating them helps bring out more sweet juiciness, and there's a smear of strawberry jam to add a touch more flavor, but starting with berries you'd want to eat straight up helps a lot.
if you are making cake ahead of time, then i recommend clothing it in buttercream or ganache or something. if it's naked like this, the cake dries out super quickly. if you are THAT into naked cakes and have to make it ahead of time, covering the exposed cake with wax paper is the way to go. i tear a piece off and press it against the cake, using the buttercream to secure it. easy peasy! i also like storing leftover cake this way (in the fridge, please; i had some questionable broccoli last week and was happy that my body didn't flinch, but why push it?).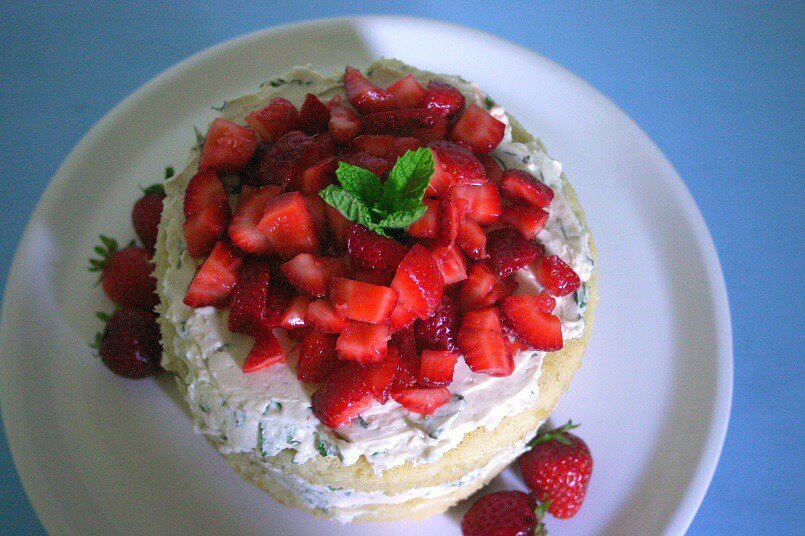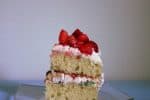 Strawberry Lemonade Cake with Fresh Mint Buttercream
This strawberry lemonade cake with fresh mint buttercream is summery and fresh.
Ingredients
Lemon Cake
1 ½

cups

all-purpose flour

½

tablespoon

baking powder

½

teaspoon

kosher salt

½

cup

whole milk

room temperature

1

teaspoon

vanilla extract

6

tablespoons

unsalted butter

room temperature

⅔

cup

granulated sugar

2

large eggs

room temperature

1

teaspoon

finely grated lemon zest
Fresh Mint Swiss Meringue Buttercream
2

large egg whites

½

cup

+ 2 tablespoons granulated sugar

1 ½

sticks

unsalted butter

room temperature, cut into tablespoons

½

teaspoon

vanilla extract

¼

cup

finely chopped mint leaves
Assembly
½

pint

fresh strawberries

hulled and diced

½

teaspoon

finely grated lemon zest

1

tablespoon

granulated sugar

¼

cup

strawberry preserves

mint, fresh strawberries, lemon zest

for decorating
Instructions
Lemon Cake
In a bowl, mix the dry ingredients. In a cup, mix the milk and vanilla.

Beat the butter until light and creamy. Add the sugar and beat until fluffy. Beat in the eggs, one at a time. Beat in the dry ingredients in 3 batches, alternating with the milk mixture. Fold in the lemon zest.

Scrape the batter into two greased and lined 6" round cake pans. Bake at 350F for 20-25 minutes, until springy. Cool for 15 minutes, then run a knife around the edges and invert onto a rack. Peel off the paper, turn the cakes upright and cool completely.
Fresh Mint Buttercream
In a heatproof bowl set over a pan of simmering water, combine the egg whites and sugar. Cook, whisking constantly, until sugar has dissolved and mixture is warm to the touch.

Attach the bowl to the mixer fitted with the whisk attachment. Beat until it holds stiff (but not dry) peaks, and is fluffy and cooled.

Switch to the paddle attachment. Add butter 1 tablespoon at a time, beating well after each addition. Beat in vanilla. Fold in the mint until combined.
Assembly
Mix the strawberries, lemon zest, sugar and a pinch of salt. Let macerate for at least 30 minutes, or until the berries become juicy.

Level the tops of the cakes with a serrated knife. Place a dab of buttercream in the center of a cake stand/serving plate, then place one cake layer over the buttercream and press it down to help the cake stick to the buttercream and the plate.

Spread a thin layer of preserves on the cake; this helps keep the cake moist while adding a bit of flavor. Spread on ⅔ of the buttercream.

Add the other layer, bottom up so that you have a flat top. Press down slightly to get rid of some of the gaps in between the layers (if you still have gaps, you can spackle on some buttercream in the cracks). Add the rest of the buttercream to the top of the cake, then pile on the macerated strawberries. Decorate with more berries and mint.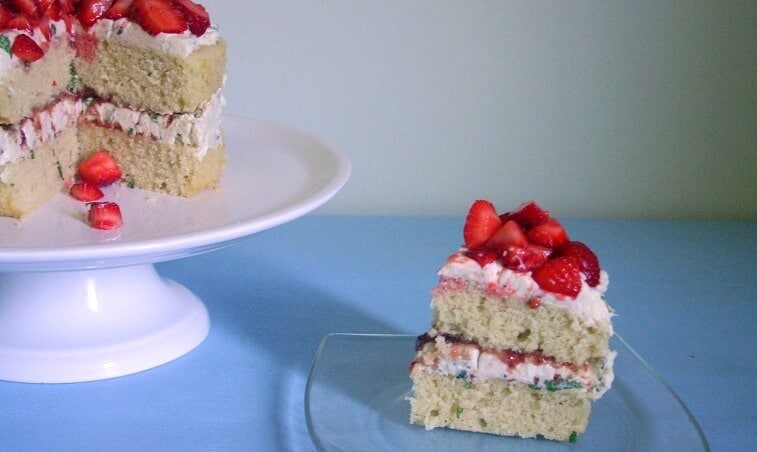 more cakes featuring strawberries