This strawberry milk tea, made with green tea, is creamy and fruity, cold and refreshing. It's perfect no matter what season it is, especially when you use frozen strawberries!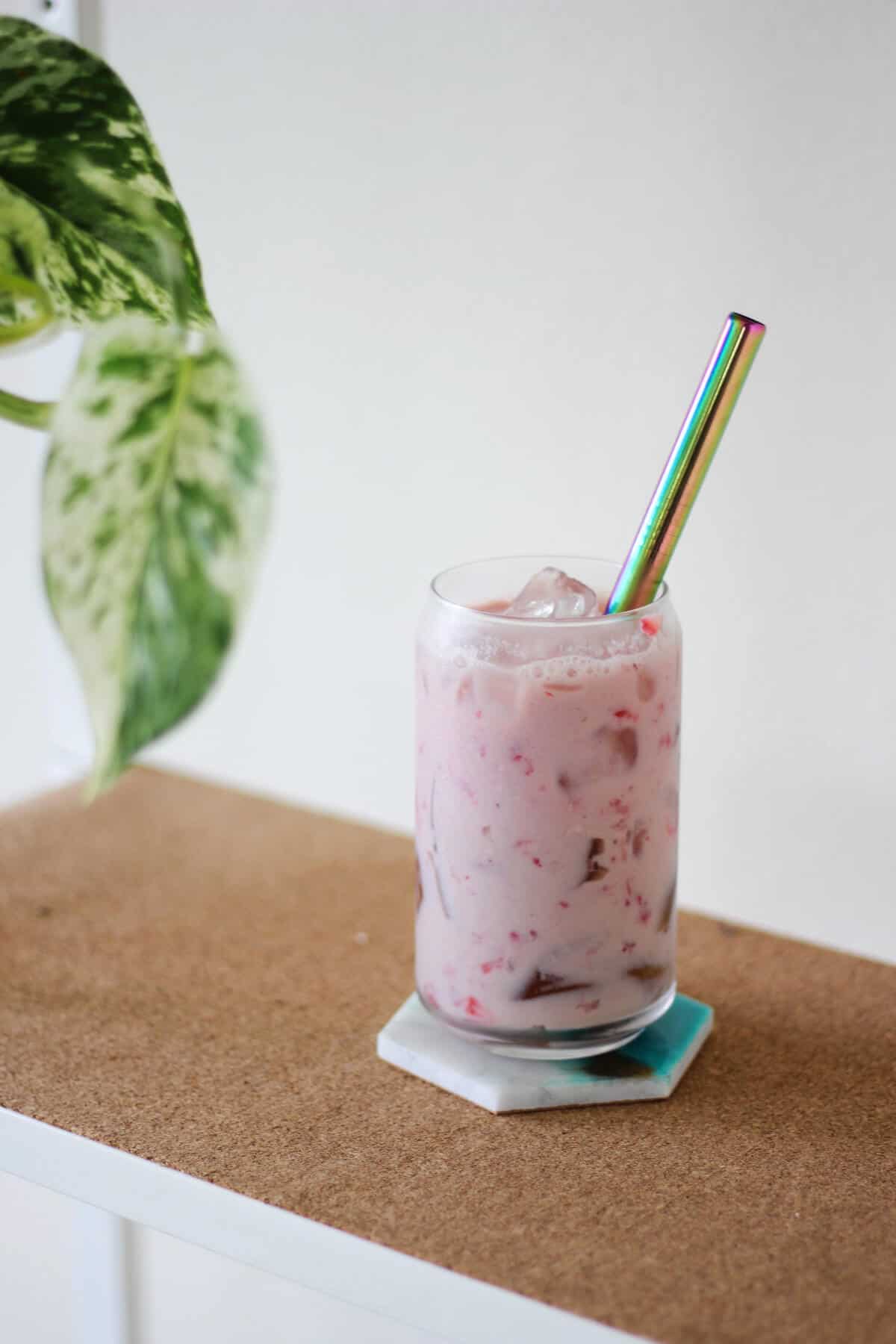 Ingredients
Strawberries
While you can definitely use fresh strawberries in this beverage, I'm writing this post on the cusp of autumn, and good strawberries are definitely harder and more expensive to come by.
So my recommendation (unless you have a ton of fresh strawberries you don't know what to do with) is to use frozen, which are cheaper and available year round. As a bonus, it keeps your milk tea colder!
Tea
I like using a lighter, brighter tea here (think green or jasmine tea), though you can use something darker and roastier if you'd like (ie assam or oolong tea).
I have a separate recipe for strawberry matcha milk tea, so you can check that out as well.
How to Make
Start by making the milk tea: heat up the milk (I'm lazy, so this recipe only uses a microwave, though you can easily do everything on the stovetop) until steaming. Add the tea leaves, then let them steep.
Once the milk tea is at your desired strength, remove the tea leaves, then stir salt and sugar into the warm milk tea.
Then, blend the strawberries into a puree. If your blender is elderly like mine, you can help it out by mashing the strawberries by hand to get them started, and/or add some of the milk tea to encourage blending.
In a tall serving glass, spoon in your toppings and some ice. Pour in the strawberry puree, then top with the milk. Give it a stir before enjoying!
Tips
Milk for Steeping
Back when I was a homemade milk tea newb, I used to steep my tea in water, then add milk or creamer to the tea afterwards, and wonder why the milk tea was so watery.
But no more – I learned about a trick from Jun and Tonic, where he steeps the tea straight in milk. The resulting milk tea is strong and creamy, no watery-ness in sight.
Salt
Any drink on this site has salt, no matter if it's a tea based drink, like this matcha Thai tea combo, or made with coffee, like this oat milk pumpkin spice latte.
Similar to cooking, salt brings out the flavor of the other ingredients involved in a recipe.
Taste
This strawberry milk tea is full of fresh strawberry flavor, with a hint of decadence and bitterness from the creamy tea. Don't expect the kind of fakeness you taste when sipping on storebought strawberry milk!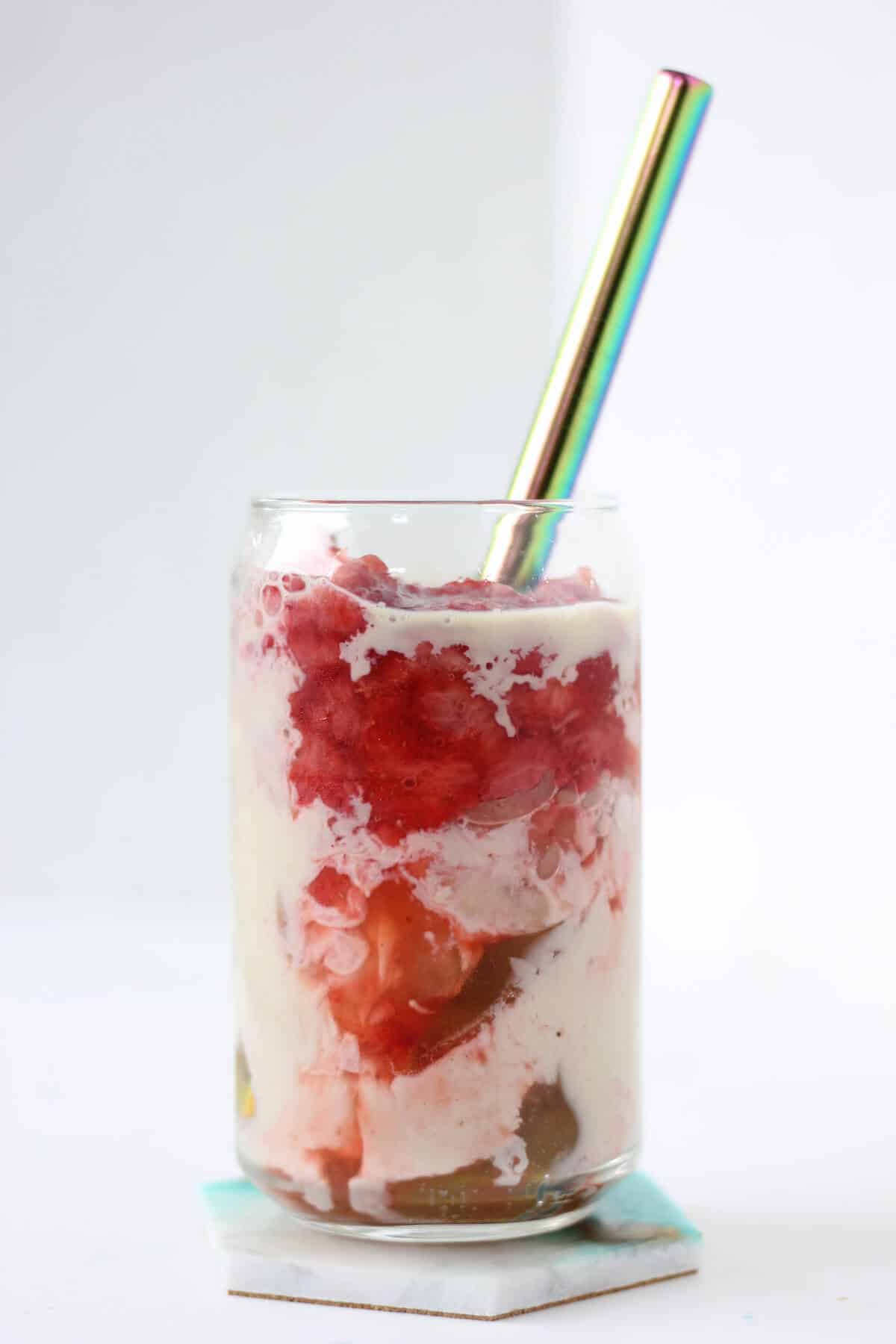 Substitutions and Variations
Milk
I like using whole milk for the creaminess.
However, you can use another kind of milk depending on what you like and what you have on hand. Soy milk and oat milk are my go to alternatives if I don't have whole milk available, though they both vary wildly per brand, so I recommend picking one that's creamy.
Coconut milk would also be great (you might need to dilute it with water if it's too thick). I am personally biased against almond milk and rice milk, but feel free to use either should one of those be your favorite.
Sugar
I like using granulated sugar (white sugar) in this recipe to let the strawberry and green tea flavors come through. Anything else with a fairly mild flavor (think agave nectar, honey) would be tasty too!
I don't suggest anything too intense (I don't think you would do this, but molasses is not my first, third or even tenth choice here), since it might overpower the rest of the drink.
Caffeine
This recipe does have caffeine in it, due to the tea. If you want less caffeine, or no caffeine, you can use a tea with less caffeine content or a decaf tea.
(Decaf teas don't taste as strong or fresh as caffeinated tea, but I also understand the need to have milk tea at night, so do what you must).
Alternatively, if you're not in the mood for tea at all, you can omit and make strawberry milk instead.
Toppings
I used jasmine tea jelly in this drink, which is currently one of my favorite toppings for milk tea and fruit tea. The general recipe I made can be found in this post for lychee jelly with coconut custard.
Almond tofu is another good option should you want something with the same bounciness as jasmine tea jelly.
Of course, boba is a natural topping idea, so you can use that instead or in addition to the jasmine tea jelly.
If you're craving something really decadent though, might I suggest adorning your drink with a scoop of crème brûlée, or perhaps a dollop of cheese foam for a strawberry cheesecake milk tea vibe?
You could also add sweetened cooked red beans, or even a scoop of cooked and mashed taro for a strawberry taro milk tea.
Storage
You can definitely make a batch of strawberry milk tea in bulk, and save it all for yourself to savor throughout the week (or share, too).
Don't add ice, since you'll want to add fresh ice right before serving instead of letting the ice melt and water down the milk tea prematurely while it sits in the fridge.
As for toppings – most of the ideas I listed above can be made ahead and stored in the fridge too, save for the boba. I'd recommend cooking the boba as close to serving time as possible, but there is an option to save leftover boba.
I've been able to restore boba up to a few days old by microwaving it, though the texture isn't quite as soft and chewy as it is right after you cook it.
Strawberry Milk Tea
This strawberry milk tea is fruity and creamy, which might sound questionable at first, but instead ends up being both refreshing and decadent at the same time.
Keyword:
egg-free, fruit, milk tea, non-alcoholic, nut-free, strawberries, vegetarian
Ingredients
1

cup

milk

2

tablespoons

green tea leaves

1

tablespoon

granulated sugar

1

pinch

kosher salt

1

cup

frozen strawberries

defrosted

ice and toppings

for serving
Instructions
Heat up the milk until steaming.

Steep the tea leaves in the hot milk for 30 minutes, then strain. Add the sugar and salt to the warm milk tea and stir until dissolved. Refrigerate until cold.

Blend the strawberries until desired texture is reached (or just mash with a fork).

In a cup, add the ice and any toppings you would like. Add the strawberry puree, then pour in the milk tea. Stir before serving.
Recipe Notes
I used jasmine tea jelly as the topping for the batch that is photographed here; I used this recipe (deliciousnotgorgeous.com/lychee-dessert/) for lychee jelly, substituting the lychee juice for sugar.
Nutrition info does not include toppings.