it's that time of the year when i make pink cookies. last year i did raspberry strawberry cookies, this year strawberry sandwich cookies.
it's hard for me to comprehend how i, as 1 person, can make meaningful impact on the communities and initiatives i care about. this is especially true in the current political climate, where my 1 vote will only go so far. sure, i can say i voted in what i believe in, yet there's still a sense of dissatisfaction for my performance marketing brain used to seeing the direct impact of my actions. so i'm excited to contribute to this year's cookies for kids' cancer valentine's day fundraiser, hosted by julie of the little kitchen, where i can directly quantify the difference i'm making. come thru if you can!
these strawberry sandwich cookies are inspired by the shiroi koibito, specifically these strawberry ones from japan. the combo of light, crispy langues de chat (french butter cookies) and creamy strawberry filling is so addictive, i could unwrap and eat them all day long. these aren't quite as light as the storebought ones (and i'm not sure if it's achievable, because storebought cookies have a crispness that homemade ones typically don't), but they're still delicious.
they're perfect with a cup of tea (all i drink these days is genmaicha, the japanese green tea with toasted brown rice) or coffee. they're also perfect for any valentine's day celebration, especially if you're doing a ps i love you watch party.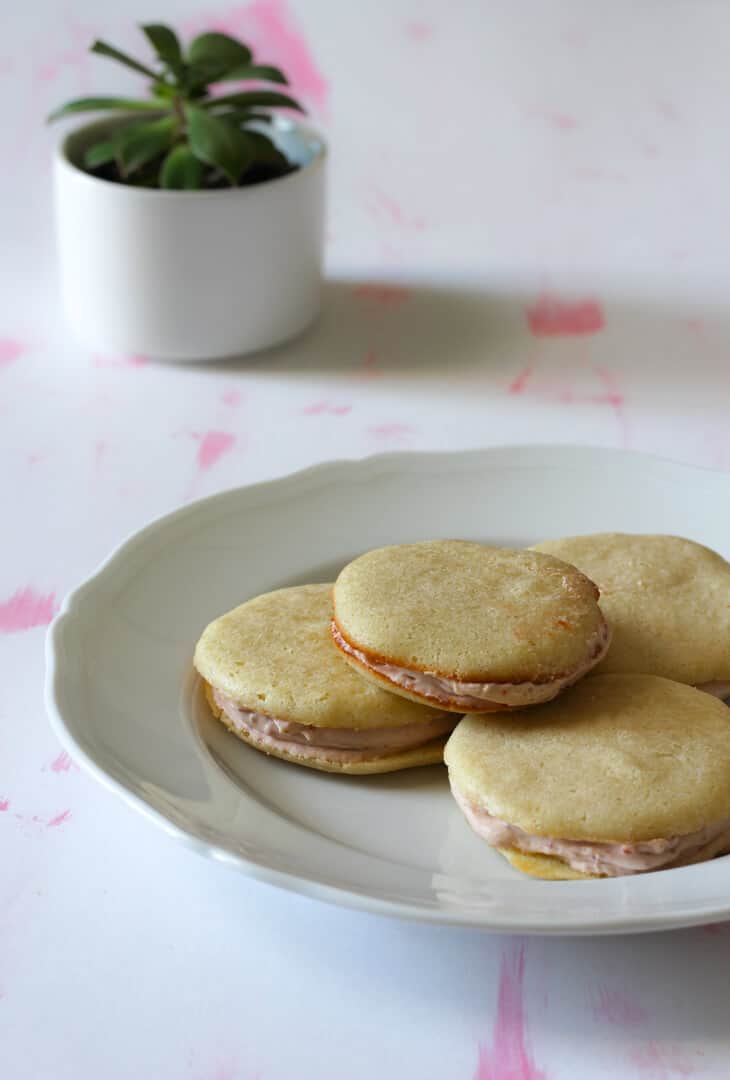 Strawberry Sandwich Cookies
These strawberry sandwich cookies feature buttery, crispy cookies and creamy strawberry filling.
Cuisine:
French, Fusion, Japanese
Keyword:
butter cookies, cookies, freeze-dried fruits, fruit, nut-free, sandwich cookies, strawberry, vegetarian, whipped cream
Ingredients
French Butter Cookies
100

g

unsalted butter

room temperature

60

g

granulated sugar

1

egg

room temperature

½

teaspoons

vanilla extract

100

grams

all-purpose flour

sifted
Strawberry Cream Filling
¼

cup

freeze-dried strawberries

2

tablespoons

granulated sugar

1

cup

heavy whipping cream

cold
Instructions
French Butter Cookies
In a medium bowl, cream the butter until light and fluffy. Add the sugar, and mix until lightened in color and no longer grainy looking. Add the egg and vanilla, and mix until incorporated. Add the flour and mix just until combined.

Fill a small bowl half full with water and keep ready.

Drop spoonfuls (about 2 tsp) of batter onto a nonstick baking sheet, spacing them about 2" apart from the other spoonfuls. Dip your finger into the water, and use to spread each spoonful into a flat circle about 2" in diameter. Make a slight divot in the center. The dough is pretty sticky, so don't be afraid to keep wetting your finger.

Bake at 350F for 7-8 minutes. Let the cookies cool slightly on the baking sheet, then transfer to a wire cooling rack to cool completely.

Match the cookies up by size, so each has a friend. Dollop a spoonful on the flat side of one cookie, and smoosh its friend on top, flat side down into the filling, until the filling almost starts to spill out. The cookies will start to soften once they're sandwiched, so wait until the last moment before filling.
Strawberry Cream Filling
In a food processor, grind the fruit and sugar until powdery and fine. If you notice some clumps that refuse to pulverize, strain or pick out those pieces. Add the cream and stir with a fork to ensure that there are no dry pockets of powder, then pulse until thick and creamy like Greek yogurt, less than 2 minutes. The time will vary depending on your machine, so watch carefully to stop it before you make butter (though there are worse things than strawberry butter). Use immediately or refrigerate up to 1 week.
Recipe Notes
Cookies from ochikeron, strawberry cream filling from Stella Parks via Serious Eats.
If you don't have a nonstick baking sheet, very lightly grease a baking sheet. If it's too greased, the cookies will slide around and bake into each other, so make sure there's no more than a very light film on the baking sheet.
more cookies besides these strawberry sandwich cookies