This strawberry and Yakult drink is fruity and creamy with a hint of tea, perfect for a tasty summer treat!
Ingredients
Frozen strawberries and Yakult, a Japanese (not Korean!) yogurt drink form the base of this concoction. Which I suppose is sort of a smoothie, since there's blended fruit and some liquid.
Anyways, there's also some tea to help cut the richness and sweetness of the berries.
How to Make
First, brew some tea. This is the longest part of the whole recipe, and you want to give it a chance to cool a bit.
Then, combine the tea, strawberries, Yakult and salt in a blender. Blend until you reach your desired consistency (you can blend until smooth, or leave it a bit chunky).
Pour into a glass filled with ice and serve!
Tips
Frozen Strawberries
Using frozen strawberries means that your beverage is cold without adding ice and diluting the drink down.
Not to mention that 1) frozen strawberries are so much cheaper than fresh, and 2) they're available all year round so no need to wait for summer to whip this up!
Salt
Always use salt in your drinks. Definitely not a new opinion from me, but if you haven't heard before this, adding a bit of salt helps bring out the flavors and you don't have to add quite as much sugar.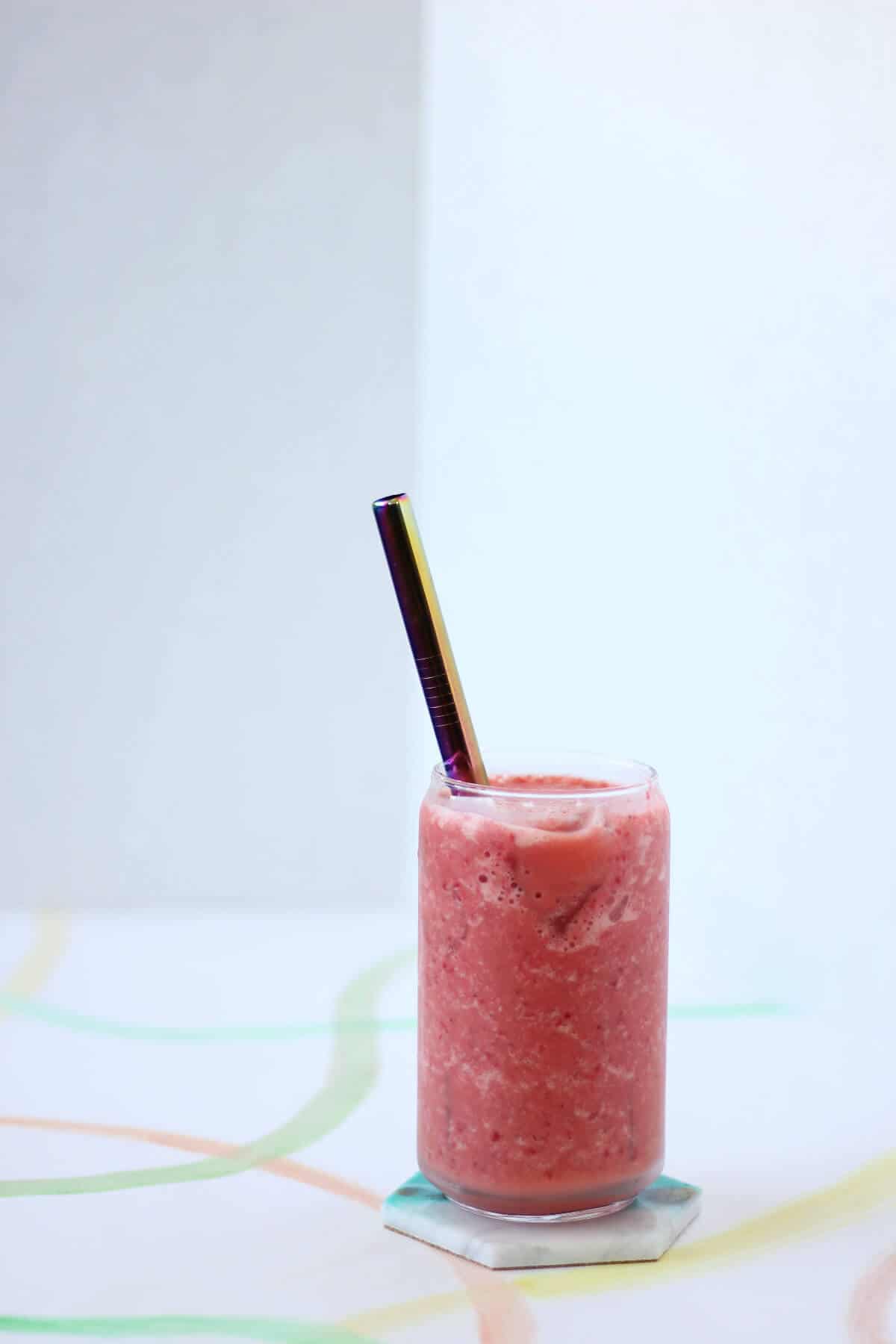 Variations
Tea
Strawberry is a light, bright flavor to me (unlike pumpkin, roasted apples or something more evocative of fall/winter), so I'd stick to a tea that fits that profile too if you're looking to switch the tea in the recipe.
White and green tea come to mind, or in complete disregard to those notes above, earl grey tea (orange and strawberry sound pretty great to me, okay?).
Alcohol
Feel free to spike this drink. Soju seems like the most natural pairing to me (I like strawberries and soju together, as well as soju and Yakult, so why not all three together?).
I can imagine this with some vodka, though I have reservations about other clear liquors (gin and tequila both sound like they have different vibes than strawberry and Yakult, but maybe that's me being closed minded).
Toppings
I didn't include any toppings when I was making the batch seen in these pictures. That being said, you definitely can, and should if you want to!
Boba is always a good idea.
If you have a little more time and energy to make a topping, might I suggest cubes of almond tofu, a helping of drinkable mochi, or perhaps a few scoops of jasmine tea flavored jelly (omit the custard from the linked recipe)?
For anyone who really wants to gild the lily and lean into the creaminess, you could top this beverage with a cap of cheese foam, or drop in a generous amount of custard.
Or to swing to the other end of the spectrum, you could top off the drink with some sparkling water or sprite for something lighter.
Storage
You can make this recipe a few days ahead and keep it in the fridge. I'd keep it separate from the ice, (which will water down the drink) and add it right before serving.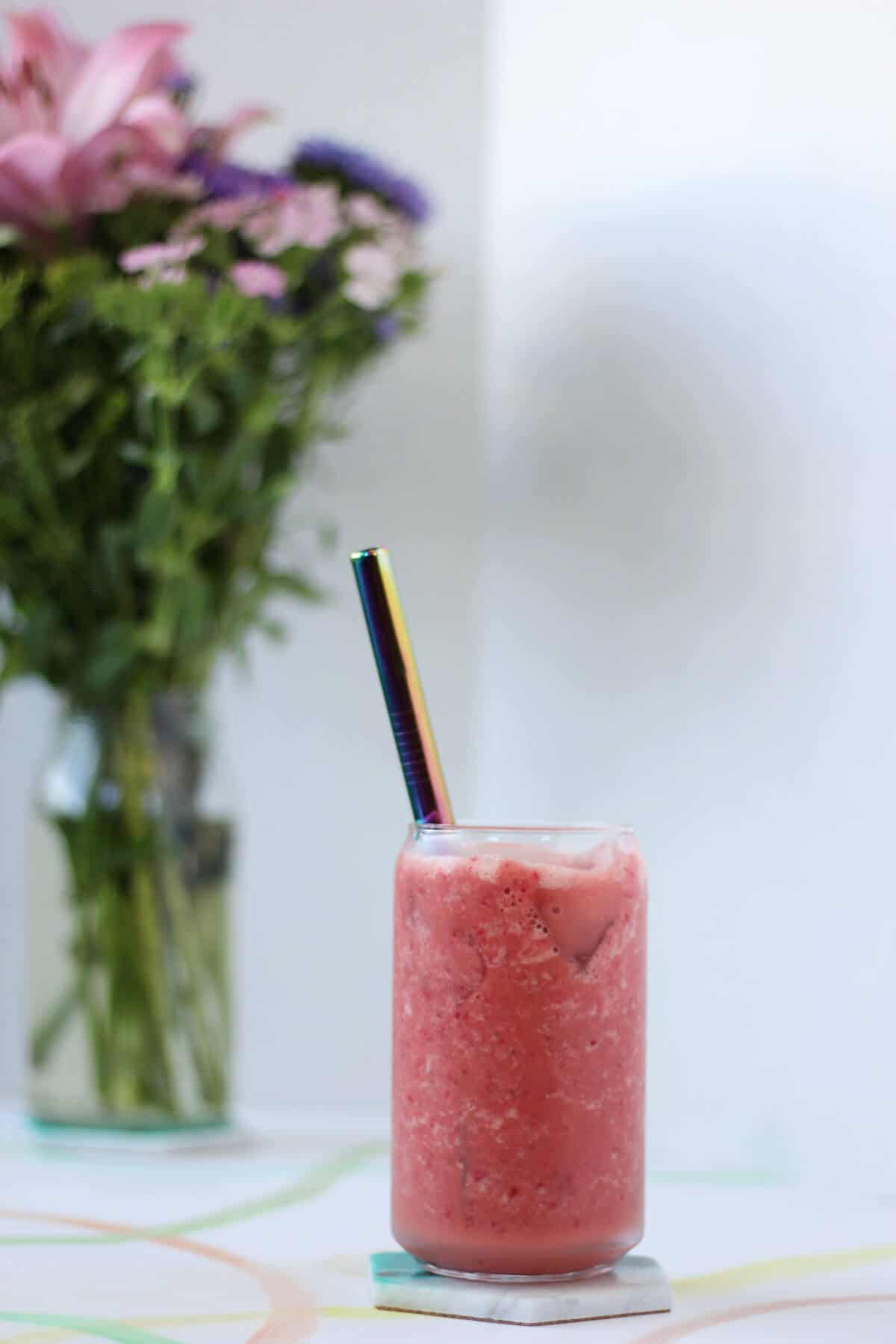 Strawberry Yakult
This drink is a cold, slushy blend of sweet-tart strawberries, refreshing tea and creamy Yakult.
Keyword:
dairy-free, egg-free, gluten-free, grain-free, green tea, no-bake, no-cook, nut-free, strawberries, tea, yakult
Ingredients
1

tablespoon

green tea leaves

½

cup

hot water

1

cup

frozen strawberries

⅔

cup

Yakult

or 5.4 ounces, or 2 little bottles

1

pinch

kosher salt

ice
Instructions
Steep the tea leaves in the hot water for 15 minutes, then strain out the tea leaves. Let cool slightly.

In a blender, combine the tea, strawberries, Yakult and salt. Blend until desired consistency is reached.

Fill your serving glass half full with ice. Pour in the drink and serve!
Recipe Notes
You can use fresh strawberries instead, so long as you add ice into the blend to give the drink some thickness (and chill it down).