i'm late to the party. sarah kieffer's chocolate chip cookies blew up mid 2017, and alison roman's chocolate chip shortbread were everywhere last winter. the recipe for tara o'brady's chocolate chip cookies got published in 2015, and i'm talking about them 3 years later. so i'll probably make those other cookies in a few years, and then wax on about them then. i look forward to it.
i used to be solidly loyal to the chocolate chip cookies from joanne chang and flour bakery. they revolutionized my ccc game, and i think chopping the chocolate + chilling the dough overnight makes such a huge difference. but they weren't the chewy/crispy texture queens i wanted them to be, and came out cake-y no matter how much i tried to tinker with them.
these chocolate chip cookies incorporate those takeaways from joanne chang, albeit with that elusive texture. but as much as i like these and the fact that i don't have to get the butter to room temp, who knows what else is out there in ccc land?! may there forever be chocolate chip cookie experimentation.
do you want to hear about the struggles when i first made these? (the sadistic part of you is like yessss). the spring on my beloved cookie scoop finally bailed after countless amounts of cookie dough, and it's no longer in commission despite an attempt to shove it back in with pliers. not a huge deal, even though cookie scoops make baking cookies 39042x faster. i tried to distract myself from that casualty by playing around with my artificial lights, but the lighting was super harsh and washed out the colors, so i gave up. ack.
and YET. in spite of these semi-unrelated trials, tara o'brady's chocolate chunk cookies are good. good no matter if you decide that 1 1/2 T or 3 T sized cookies are your jam. the mouthfeel, super chewy and slightly crispy, is a+ when the cookies are cooled (but also i won't judge if you devour allll the warm cookies). and they're gorgeous in that rumply, golden brown, big pools of chocolate kind of way. so gorgeous that the cover pic on this post has been my laptop screensaver since i took the pic.
1 year ago: bacon mushroom saute with japanese sweet potato mash | spring break 2017: portland
2 years ago: chocolate babka french toast with caramelized banana creme anglaise | creamy strawberry avocado yogurt popsicles
3 years ago: i hope she's happy: a tortilla speaks out | banana-chocolate-coffee muffins
Tara O'Brady's Chocolate Chunk Cookies
Tara O'Brady's chocolate chunk cookies are the chewy in the middle, crispy on the edges chocolate chunk cookies that you've been dreaming of.
Keyword:
chocolate chip cookies, chocolate chunk cookies, cookies, dessert, nut-free, seven spoons, tara o'brady, vegetarian
Ingredients
2

sticks

unsalted butter

3 1/4

cups

all purpose flour

1 1/4

tsp

baking powder

1

tsp

baking soda

1 1/2

tsp

kosher salt

1 1/2

cups

light brown sugar

firmly packed

1/2

cup

granulated sugar

2

large eggs

2

tsp

vanilla extract

12

oz

semisweet and/or bittersweet chocolate

chopped

flaky salt

to finish
Instructions
Melt the butter in a large saucepan over the lowest heat possible, stirring occasionally. Make sure that the butter does not sizzle or bubble. Cool slightly.

In a bowl, whisk together the dry ingredients.

Whisk the sugars into the butter (it might not come together all the way, and that's fine). Add the eggs, one at a time, whisking until just combined. Stir in the vanilla. Stir in the dry ingredients until barely blended. Stir in the chocolate until all of the ingredients are just combined. Refrigerate the dough overnight if you have time (highly recommended!).

Roll the dough into balls, about 3 T each, and arrange them on 2 parchment lined baking sheets, leaving 3" between each cookie.

Sprinkle each cookie with sea salt and bake at 360F until the tops are cracked and lightly golden, 10-12 minutes, rotating the pan halfway through. Cool on the pan for 2 minutes, the move to a wire rack to cool completely.
Recipe Notes
From Tara O'Brady's Seven Spoons.
I like using a combination of milk and dark chocolate so that you get caramelly and bitter notes, but your choice!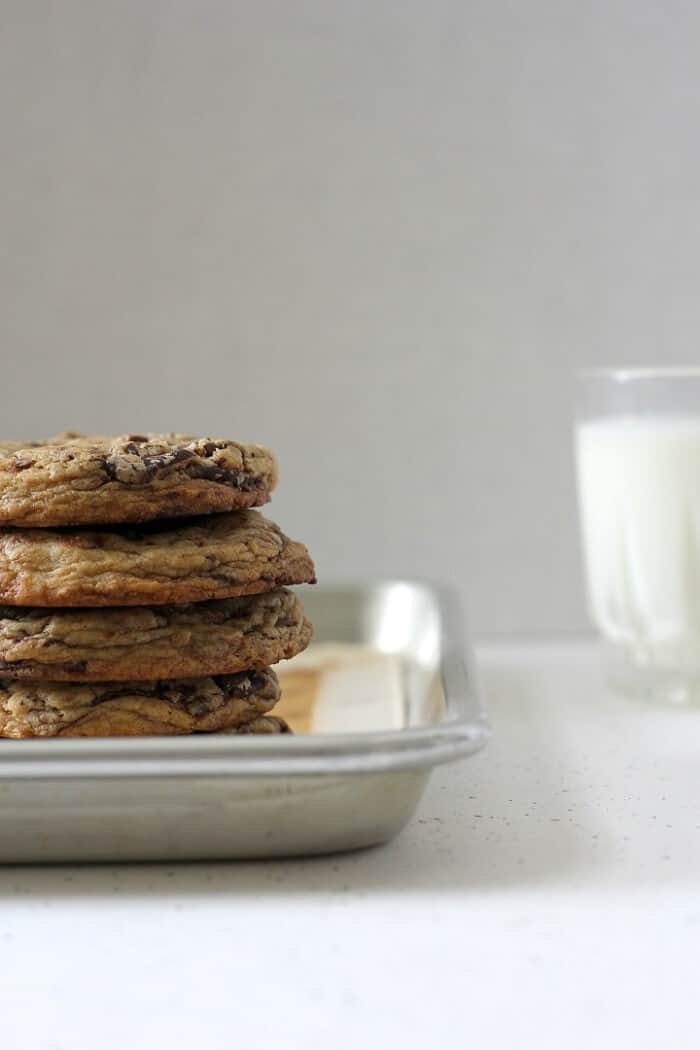 more cookies