it's been 3ish years since i started this thing. wau. it started out as a free journal for myself on blogger. i'd started making bits and notes about recipes i tried, and figured that it would take very little effort to transfer the text from google docs to blogger. i told no one i was doing this; it was casual, a what-the-heck-let's-go-for-it project. i started devoting more time to it during my freshman year of college, when i was bored and restless and stayed in my dorm way too much. at the end of that year, i eventually began to tell people about it. and now, at the 3 year mark, i'm finally unveiling my new site (getting this site up was a pain in the butt, but that's another story for later). bye blogger, i won't miss you.
this coming year of blogging, i want to focus on not comparing myself to others. my stats are fairly low considering that i've been at this for 3 years, but my 3 years isn't equal to someone else's. i was intentionally low-key about it and didn't think about seo/social media/pictures/etc for a while because i wanted to keep it a secret (plus, the blog was literally copy and paste from gdocs, nothing more), and my most recent quarter of school was spent (trying) to focus on my studies instead of bloggy things. i didn't give dng all the tlc in the world. that's fine with me, but i'm still working on remembering that you get what you put in, and remembering that for me, there are other things more important than blogging (ie sleep, procrastinating, lots of eating out, etc). here's to happiness and being my best baker/procrastinator/introvert/self instead of trying to be the best blogger.
enough reflection, let's get to the food. i brought thai tea vietnamese coffee cake to the party. over this past winter break, i had a drink that blended jasmine tea and vietnamese coffee together, and was starstrukk. even though i found out that tea and coffee combined isn't anything new (see: yuanyang).
the cake is a big punchy coffee number. a bit of sweetened condensed milk gets spread onto it, keeping it moist for dayssss (if you can keep your hands to yourself and off of the cake for that long, then you're too cool for this cake) and driving home that vietnamese coffee, and not just any old coffee, flavor. the buttercream adds a hint more sweetness and a certain je ne sais quoi with the cloves and star anise. with all that going on, it's hard to imagine that you would need more for a thai tea and vietnamese coffee cake. but if you sprinkle on a couple of roasted coffee beans and drizzle with more liquid gold (read: sweetened condensed milk), it's unbelievable. the coffee beans are intensely flavorful ofc, but they also add a crunchy note that goes so nicely with the soft/creamy textures. and more sweetened condensed milk never hurt anybody.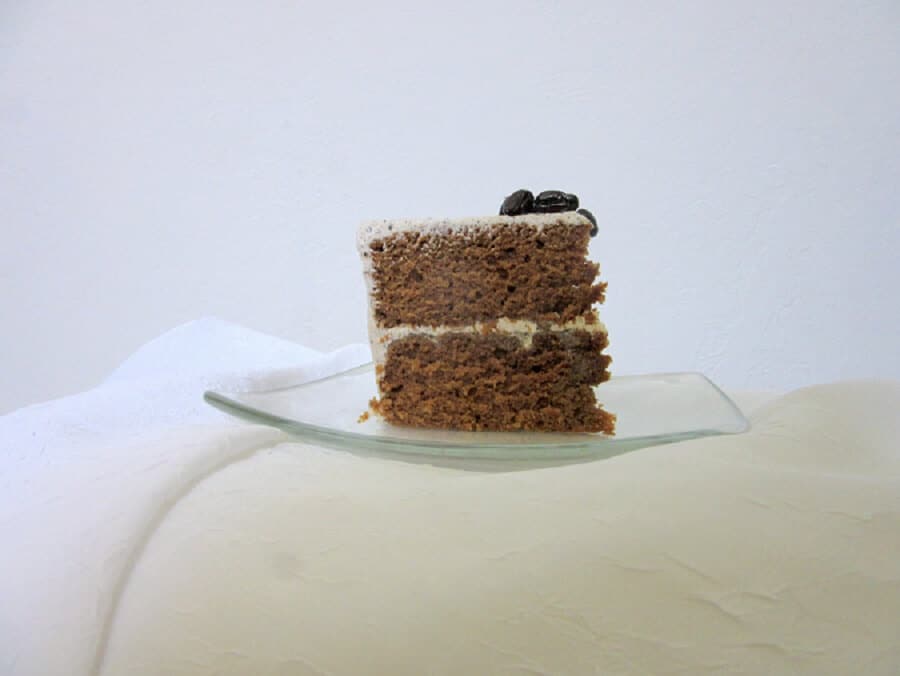 Thai Tea Vietnamese Coffee Cake
This Thai tea Vietnamese coffee cake features the flavors of Thai tea (black tea and spices flavored buttercream) and Vietnamese coffee (moist, coffee flavored cake and sweetened condensed milk drizzle).
Cuisine:
American, thai, Vietnamese
Keyword:
assam tea, black tea, buttercream, cake, cloves, coffee, layer cake, nut-free, star anise, sweetened condensed milk, swiss meringue buttercream, thai tea, vegeatarian, vietnamese coffee
Ingredients
Vietnamese Coffee Cake
½

cup

hot brewed coffee

1 ½

tablespoons

instant espresso powder

1 ½

cups

all-purpose flour

1 ¼

teaspoons

baking powder

¼

teaspoon

kosher salt

1

stick

unsalted butter

room temperature

¾

cup

granulated sugar

½

teaspoon

vanilla extract

2

large eggs

room temperature
Thai Tea Buttercream
2

large egg whites

½

cup

+ 2 tablespoons granulated sugar

1 ½

sticks

unsalted butter

room temperature, cut into tablespoons

½

teaspoon

vanilla extract

1 ½

teaspoons

ground Assam black tea

¼

teaspoon

ground star anise

¼

teaspoon

ground cloves
Assembly
¼

cup

sweetened condensed milk

plus extra for serving

roasted coffee beans
Instructions
Vietnamese Coffee Cake
Combine the brewed coffee and espresso. Cool.

Sift the flour, baking powder, and salt together in a bowl. Beat the butter until smooth, then add the sugar. Beat until very light in color and texture. Beat in the yolks, 1 at a time, then the vanilla. Mix until combined.

Add the flour mixture in three additions, alternating with the cooled coffee in two additions, beginning and ending with the flour mixture. Beat until smooth after each addition.

Beat the egg whites in a bowl until soft peaks form. Using a spatula, stir ¼ of the egg whites into the batter, then fold in the remaining whites. Scrape into two greased and floured (or grease the pans and use parchment paper to line the bottom) 6" round cake pans. Smooth the tops.

Bake at 350F until a toothpick inserted into the center of the cake comes out with moist crumbs, 20 to 25 minutes.

Cool in the pans for 10 minutes. Invert and unmold the cake onto a wire rack, then cool completely.
Thai Tea Buttercream
In the heatproof bowl set over a pan of simmering water, combine egg whites and sugar. Cook, whisking constantly, until sugar has dissolved and mixture is warm to the touch.

Attach the bowl to the mixer fitted with the whisk attachment. Beat until it holds stiff (but not dry) peaks, fluffy and cooled.

Switch to the paddle attachment. Add butter several tablespoons at a time, beating well after each addition. Beat in the vanilla, tea and spices until smooth.
Assembly
Level the tops of the cakes with a long, serrated knife. Place a dab of buttercream in the center of a cake stand/serving plate, then place one cake layer over the buttercream and press it down to help the cake stick to the buttercream and the plate. Poke holes all over the top of the cake so that the sweetened condensed milk can soak into it a bit.

Spread a thin layer of the sweetened condensed milk onto the cake, leaving a bit of a border around the edge of the cake so the sweetened condensed milk doesn't ooze out. Spread a thin layer of the buttercream (I like to keep this layer thin so that I ensure I have plenty to ice the outside of the cake) on top of the sweetened condensed milk. Add the other cake, bottom up, so that you have a flat top. Poke holes in this cake as well, and spread on the rest of the sweetened condensed milk. Crumb coat the cake with the Thai tea buttercream, and refrigerate the cake for 10-15 minutes so that the buttercream can set up.

Add the rest of the buttercream and use it to frost the cake more thickly. Sprinkle the top with coffee beans. You can serve wedges with more sweetened condensed milk drizzled over the top.
Recipe Notes
Vietnamese coffee cake from Sarabeth Levine's Sarahbeth's Bakery. Thai tea buttercream adapted from Martha Stewart.
You can double everything: just bake the cakes in three 8" round cake pans. Or if you are the kind of person who goes starry-eyed over the sound of frosting shots, then make double the amount buttercream I used (double the buttercream, keep the cake the same).