This ube milkshake recipe is really easy: 4 ingredients and 5 minutes max (an actual 5 minutes, not a trick you into making this only to realize 1 hour in that you're only 30% done with the recipe kind of 5 minutes). The assembly, aka dumping coconut milk, ube ice cream and crushed ice into a blender, and accompanying smoothie button push is easier than making packaged ramen. The resulting lilac-hued ube milkshake is creamy and decadent (my roommate and I definitely had sugar hangovers afterwards, so stick to no less than 3 servings per 1 batch), sippable only through a straw.
I will preface with this forewarner: the road to a thick milkshake requires a fairly strong blender, especially with the crushed ice involved. I wouldn't recommend using an immersion blender or single serving blender here, unless you like the smell of motors burning out.
This recipe is versatile, depending on what kind of ube you can find. Can only find fresh or frozen ube? Cook it down and blend it with milk and cream or ice cream, like the majority of recipes seem to do. Only ube halaya with no ube ice cream in sight? You can use that with milk/cream or vanilla ice cream or even make your own (don't use the ginger or rosewater in this ice cream recipe, and it should work for this milkshake). Kozan Tea House in Ontario, California, whose ube snow this ube milkshake is based off of, uses ube jam + vanilla ice cream, so you'll be in good company.
Where to Buy Ube Halaya and Ube Ice Cream
This was the hardest part of the recipe for me, trying to buy ube halaya (ube cooked down into a jam and sweetened). I checked two Chinese grocery stores, one of which didn't have it at all, and the other didn't let me in since I tried to enter with 30 minutes until closing (when I went again, they had the label on the shelf for ube jam, but only jars of pickled vegetables in its place...). The only sure bets are Filipino markets, and crossing your fingers at any other Asian grocery store that you try. It's usually next to the canned and jarred fruit, rather than an American market where the jams are all grouped together. Once you do find it, you can make this ube latte too!
As for ube ice cream - I've never seen it anywhere besides Filipino grocery stores, so you are probably out of luck unless there's one near you.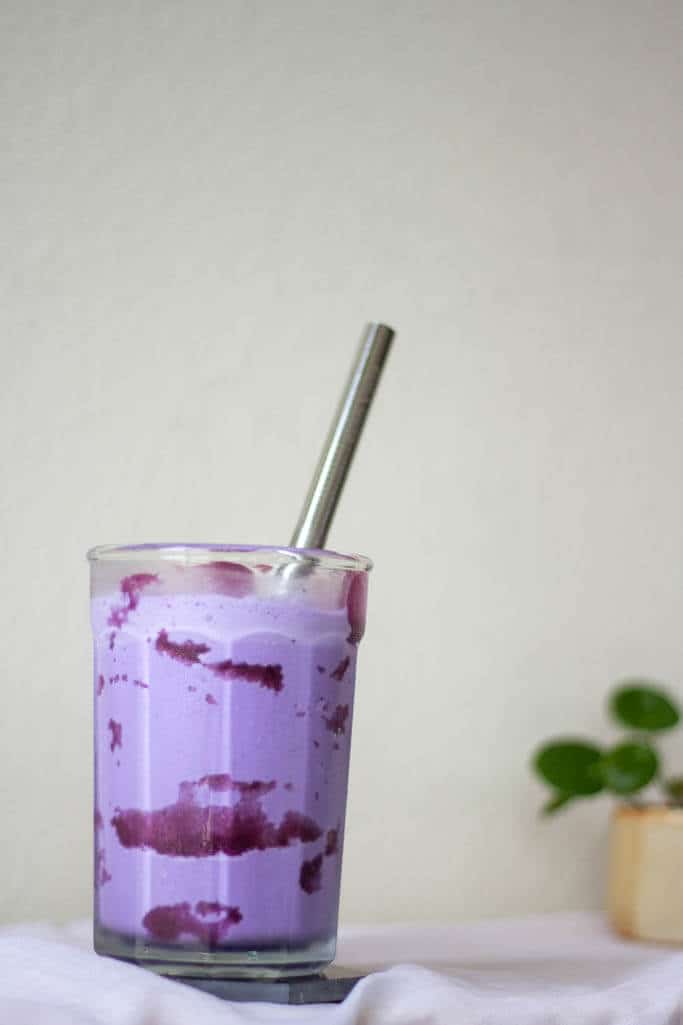 Ube Milkshake
This ube milkshake is so decadent, it's the kind of dessert that you go for when you want to feel like you've had a meal of sugar.
Cuisine:
American, Filipino
Keyword:
coconut milk, egg-free, ice cream, milkshake, no-bake, no-cook, nut-free, ube, vegetarian
Ingredients
2 ½

cups

ube ice cream

¾

cup

crushed ice

1

cup

coconut milk

3

tablespoons

ube jam
Instructions
In a tall blender (would not recommend using an immersion or a single serving blender here), blend the ube ice cream, ice and coconut milk until homogenous. If it's too watery, I'd recommend adding more crushed ice and blending again, or freezing the milkshake until the milkshake along the sides of the blender canister get a little icy and slushy.

In three tall glasses, smear 1 T ube jam in each along the walls of the cup (using a spoon is easiest). Divide the milkshake between the cups and enjoy!
Recipe Notes
If you can't find ube ice cream, you can use vanilla ice cream instead and add some of the jam to the milkshake itself. I'd start with ¼ cup, and add more until you reach your desired flavor and color (though it likely won't be as purple as the milkshake pictured here).