These wife cakes, also known as lou5 po4 beng2 in Cantonese, are made of flaky pastry and chewy wintermelon filling! These gently sweet treats are typically served around Lunar New Year, but of course they're delicious all year round.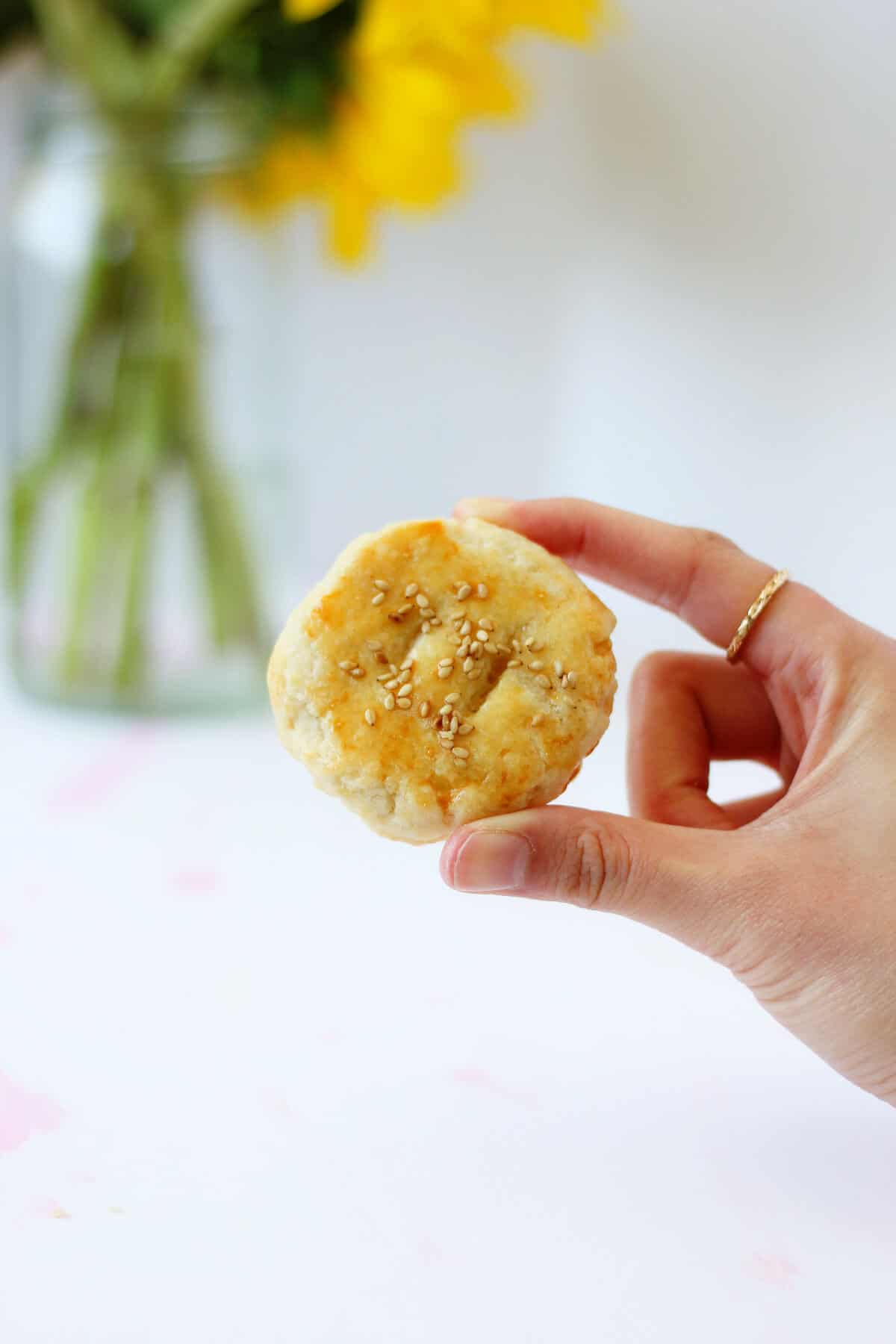 Ingredients
Candied Wintermelon
You can't have wife cakes without candied wintermelon (trust me, I've tried using fresh wintermelon, and it's way too wet and soft to give you a solid pastry).
The most frustrating part of this recipe imo is finding candied wintermelon. It's easier to buy pre-made wife cakes at bakeries, I swear.
This surprised me, but candied wintermelon is a seasonal ingredient. It doesn't matter if you're going to traditional Chinese medicine and herbal shops in the heart of SF Chinatown and attempting to use your laap6 sap3 (trash) Cantonese to find some (yes, this is speaking from personal experience).
So, here's what I recommend when trying to search for the elusive candied wintermelon:
Go to small Chinese mom and pop or medicine store around December or January to look for candied wintermelon. You should be able to find it near the dried goods, and you should probably buy a few bags in case you're planning on making a lot.
Alternatively, you can buy it online – this is how I got candied wintermelon for testing this recipe. I was able to find this in the middle of the summer online, you might want to go this route if it's not Lunar New Year season.
There are recipes online for candying your own wintermelon. Aside from the fact that this is a very long process (cooking the fresh wintermelon, then candying it, then drying it out), I had a hard time dehydrating the wintermelon enough.
This was probably compounded by my lack of a dehydrator, the humidity of the town I live in, and my impatience, so if your calm self lives in a dry place with a dehydrator, this could be a viable option for you.
Glutinous Rice Flour
Another key for wife cakes is glutinous rice flour, which gives the filling its signature chew.
Make sure that you're using glutinous rice flour (aka sweet rice flour or mochiko) and not plain rice flour. The latter won't give you the same texture.
You can easily find this at most Asian supermarkets.
How to Make
I should preface that this recipe is not strictly traditional. Typically, two doughs (one water, one oil) are made, then coiled and pressed and folded together to get super long and flaky layers.
After the candied wintermelon sourcing debacle, I couldn't bring myself to go through that. Instead, I used the pastry from my aunty's yaki manju recipe, and filled it with the traditional candied wintermelon mixture.
Okay, let's get into the recipe.
Start by mixing together the wintermelon filling. Chop the candied wintermelon as finely as possible, then add in toasted glutinous rice flour, salt, sesame seeds, oil and water until a thick paste forms. Set aside while you work on the pastry.
Combine the dry ingredients for the pastry (flour, sugar and salt) together, then mix in oil and ice water until a dough forms. It'll seem too oily, but that's okay, it's what gives the final baked good its flaky decadence.
Knead (or smush a la fraisage) the dough a bit to make sure it sticks together. This step also gives you a flakier end pastry!
Don't worry if there are white streaks in the dough – they'll go away when you bake the wife cakes.
Divide the dough into 24 even portions. Working with one piece at a time, roll into a ball, then flatten in the palm of your hand.
Scoop a little bit of the wintermelon filling in the center, then wrap the pastry around the filling until the filling is completely sealed in the dough.
There might be some cracking in the dough, and that's totally fine. Seal up the cracks as best as you can with extra dough, or by pinching the edges together, then move on. The filling won't leak during baking, I promise.
Place on a baking sheet (it's fine if you place the cakes with minimal space between them, since they don't spread much in the oven), then repeat with the rest of the dough and filling.
This part isn't necessary for the flavor or texture of the cake, but for the traditional appearance, you can flatten the pastries with the bottom of a cup or the palm of your hand until they resemble hamburger patties. Then, cut two slits into the top using a sharp paring knife.
Brush the tops with a mixture of egg yolk and water for some shine, then sprinkle sesame seeds on top.
Bake at 375F for 25-30 minutes, or until golden brown!
Storage
So long as you're eating all of the cakes within a few days, it's fine to leave them at room temperature.
If you want to keep them for longer, I suggest freezing them in an airtight container for up to a few months, then letting them defrost at room temperature.
Tips
Toasted Glutinous Rice Flour
If you're familiar with making other recipes featuring glutinous rice flour (think lo6 mai5 ci4, nin4 gou1, tong1 juyn4, etc), then the toasting step for the rice flour might seem a little out of left field.
That's because it's not necessary in the other recipes. The glutinous rice flour here is cooked, but without much liquid (unliked the steamed or boiled recipes I linked previously), so it needs a bit of a nudge to lose its raw taste.
You might be tempted to toast the flour to a golden brown; color = flavor, right? In this case, I would discourage you from doing this, since it can lead to the final pastries tasting a little burnt.
Ice Water
While the pastry dough here doesn't evolve into pie crust, some of the same principles apply here, especially around using ice water.
The ice water helps prevent the flour from absorbing as much of the water (compared to if you used warm/warmer water), which minimizes gluten development and yields a flakier pastry. The more you know!
Substitutions and Variations
Vegan
To make this vegan, omit the egg wash! The top won't be as glossy, but I promise they'll still taste delicious.
Dried Pineapple
Despite the tips I provided above, there's a chance that you're somehow left without candied wintermelon. I haven't tried it personally, but What to Cook Today has had success with dried pineapple, so that could be a good option!
Flavorings
When I was doing research on what other people use in their lou5 po4 beng2 recipes, I saw that some people seasoned theirs with five spice powder. Your decision if you want to use a touch in your filling, but I would say 1) don't use it unless you already know you love the flavor of it, and 2) make sure to add a teeeensy tiny bit since it can get very overpowering quickly.
I tested another batch with a few drops of almond extract in the filling, and that was really tasty!
Wife Cakes
These flaky on the outside, chewy on the inside cakes are filled with candied wintermelon! They're delicious served with a steaming mug of tea.
Cuisine:
Cantonese, Chinese
Keyword:
dairy-free, nut-free, pastry, vegetarian, wintermelon
Ingredients
Filling
½

cup

+ 2 tablespoons glutinous rice flour

1 ¼

cups

candied wintermelon

very finely chopped

2

tablespoons

sesame seeds

⅓

cup

+ ½ tablespoon water

2

teaspoons

canola oil

¼

teaspoon

kosher salt
Pastry
2 ½

cups

all-purpose flour

2

tablespoons

granulated sugar

½

teaspoon

kosher salt

1

cup

canola oil

5

tablespoons

ice water
Assembly
1

large egg yolk

beaten with 1 teaspoon water

Sesame seeds

for sprinkling on top
Instructions
Filling
Toast the glutinous rice flour in an oven (conventional or toaster is fine) at 350F for 8 minutes (it won't get golden; this is to get rid of the raw taste). Let cool slightly.

Combine all of the filling ingredients in a bowl and mix until sticky and a paste like mixture forms. Set aside.
Pastry
Combine the flour, sugar and salt until completely combined. Add the oil and ice water, then mix until a dough forms. Mix/knead/press the dough for another minute to make sure that the dough develops a little more gluten to hold together later. Don't worry if there are white streaks in the dough.
Assembly
Divide the dough into 20 equal portions, and do the same with the filling.

Working with one piece of dough at a time, roll the dough into a ball, then flatten it using your palms. Place a portion of the filling in the center, then wrap the dough around the filling until the filling is completely sealed inside the dough.

Don't worry if there are a few cracks here and there; patch them up as best you can, then keep going. The filling won't seep out during baking, I promise.

Place the cake on a parchment lined baking sheet, then repeat with the rest of the dough and filling.

You can place the cakes pretty close together, since they don't spread much.

Press the cakes down slightly with your palm, then use a sharp knife to cut two slits in the top of the cake. Brush with the egg wash and sprinkle with sesame seeds.

Bake the cakes at 375F for 25-30 minutes, or until lightly golden. Let cool before eating.
Recipe Notes
You can find candied wintermelon at traditional Chinese medicine and herbal shops, or at little mom and pop Chinese grocery stores. Keep in mind that it's a seasonal ingredient typically only sold around Lunar New Year time (plus or minus a month), so you can alternatively try looking online or candying your own wintermelon if you can't find any pre-made candied wintermelon.
Store them at room temperature for up to a couple days, or in the freezer for up to a couple of months.