Wintermelon milk tea is milk tea made with wintermelon, a soft and mild gourd typically found in Chinese, Indian and other Asian cooking.
Taste
It's grainy and pulpy in a way that's kind of reminiscent of the sweet, cooked red bean in red bean milk tea, albeit not quite as grainy.
The drink has a hint of jasmine flavor with a good dose of wintermelon.
The wintermelon is sweet and a little vegetal. It's super comforting particularly for anyone familiar with brothy Asian soups with plenty of sweet (in an Asian way, not in a straight sugar way) vegetables.
Ingredients
Wintermelon
You can't have wintermelon milk tea without wintermelon.
Wintermelon can typically be found in chunks at a Chinese grocery store (you might have luck at other Asian grocery stores, especially Indian ones, but more of a toss up). Since wintermelons are massive, most of the time it's easier to find a chunk and not a whole one.
This is exactly what you want, because there's only so much milk tea and maybe wintermelon soup (dung1 gwaa1 tong1 is probably my favorite Cantonese soup) that a person can actually enjoy eating in a short time span.
The outside of a wintermelon is really hard, and can sometimes be spikey, so you'll want to peel the gourd before using.
The inside of a wintermelon is super soft and almost spongey. It has seeds in the middle, so you can either use a spoon or your fingers to pluck that out and compost.
As a final note, I doubt most shops stock fresh wintermelon to make milk tea with, so they probably pour in a syrup or a powder. Due to the difference in ingredients used, this version will likely taste different from what you are used to, and maybe more wintermelon-y (in my research, I could never really taste much wintermelon flavor in storebought drinks).
How to Make
To make wintermelon tea, start with the jasmine milk tea first. Heat up the milk until it's steaming, then plop in the tea and let it steep for 30 minutes.
Once the tea is done steeping, discard the tea leaves and stir in some sugar and salt. I typically mix a little salt into any beverage I make, since it helps bring out the flavors and I don't have to add as much sugar.
Then, prep the wintermelon. Peel the skin and remove the seeds, and send both to your compost bin.
Cut the wintermelon into small chunks. The pieces don't have to be pretty, so long as they are similar in size to each other to encourage even cooking.
Bring a pot of water to a boil, and add the wintermelon. Cook the wintermelon for 5-10 minutes, or until very tender when pierced with a fork.
The wintermelon will also look a little translucent in the center with an edge of light green, like the picture below.
Don't worry if the water isn't boiling the whole time that the gourd is cooking; the wintermelon is pretty soft when raw to begin with, so it doesn't take long to cook.
Save some of the cooking liquid, and drain off the rest.
Mix in a little sugar and salt into the wintermelon. It doesn't hurt to season each component of this beverage, especially since the wintermelon can be a little on the mild side.
Transfer the wintermelon to a blender or food processor, and blend until pureed. It won't be completely smooth, and it might look a little watery, similar to a very pale applesauce.
If your blender isn't powerful enough to break up the wintermelon chunks, feel free to add some of the saved cooking liquid to get the machine going. You'll need to cook the wintermelon more later anyways, so the extra water won't end up in the drink.
No blender? You can mash the wintermelon by hand, so long as you know that the puree (and drink) will be on the chunkier side.
Pour the wintermelon puree back into the pot that you used to boil it, and heat it slowly until the puree is less watery.
The only goal you're trying to accomplish is getting rid of some of the water, and there's no need to try to caramelize or brown anything. Make sure to scrape the pot frequently and cook the puree over low heat to avoid burning or scorching.
Assuming you didn't add any extra water, you're aiming to end up with about 1 ½ cups puree (more for anyone who had to use more liquid). If you're not sure, you can pour the puree into a cup to check your progress.
Also, this is just a beverage, not a baking recipe dependent on a specific amount of water or liquid. Don't stress (helpful, I know) should there be a little more or less than 1 ½ cups.
This step might seem like a waste of time and potentially another dish to clean, but it really makes sure that you can taste the wintermelon in the final drink, rather than it hiding behind the jasmine milk tea.
I made a few test variations without reducing the wintermelon puree, and the flavor was definitely more watery and washed out tasting.
Set the cooked wintermelon puree aside, and boil up a batch of boba.
Depending on the boba's package instructions, it might make sense for you to start cooking this first. My go to is WuFuYuan 5 minute boba, which is both chewy and fast.
Drain the boba, stir in a little sugar and salt, then you're ready to assemble.
Spoon the boba into tall glasses, and fill the glasses half full with ice.
Combine the wintermelon and jasmine milk tea, then pour over the ice. Give it a good stir before sipping!
Variations
In case you're not a fan of pulp in your OJ or grainy vibes in your hung4 dau6 tong1 (sweet red bean soup), you can pass the wintermelon puree through a fine mesh strainer to make it smoother. Texture in drinks is a good thing in my book, so I've omitted this step in the written recipe.
Tea
I prefer using jasmine tea or a mild green tea here. Wintermelon to me tastes almost like a faded version of a zucchini, so nothing too roasty allows the wintermelon to shine.
I use loose leaf tea in this recipe. However, tea bags work fine too, and you can substitute in 2-3 tea bags in place of the 2 tablespoons of loose leaf tea.
Sweetener
My go to sweeteners for this beverage are granulated (white) sugar and brown sugar. I love the hint of caramel that the brown sugar contributes, and I always have both on hand, so these are easy choices for me.
You could fry the brown sugar a la brown sugar pearl milk, rather than mixing the brown sugar straight into the boba. However, the star of wintermelon milk tea is the wintermelon, so I wouldn't cook the brown sugar until dark and bitter, which could distract from the mild squash taste.
Rock sugar is the most traditional pick, and you could melt that in a little water before combining with the wintermelon and jasmine milk tea.
Honey, maple syrup, agave nectar or any other sweetening agent you enjoy + have on hand works.
Milk
For the 1-2 punch of convenience and flavor/texture preference, I usually end up making milk tea with soy milk, and this recipe isn't any exception.
Any milk, dairy or non-dairy, is fine here.
Toppings
Aloe, grass jelly, pudding, anything goes!
I probably wouldn't add anything fruity.
The thought of popping boba in wintermelon milk tea makes me shudder a bit; that said, I don't like the idea of popping boba in anything, so you do you if this combo is everything you ever wanted.
And of course, you can always increase or decrease the amount of boba in each serving, too.
Tips
The main breakthrough for making wintermelon milk tea is concentrating the wintermelon puree to get rid of excess water and strengthening the wintermelon flavor. I promise the end product is worth the extra time!
The other big revelation that I had in leveling up my milk tea and boba game at home was making milk tea with only milk, and no water. No more creamy looking yet watery tasting milk tea here!
Storage / Make Ahead
You can make the milk tea ahead of time. You can cook the wintermelon or make the jasmine milk tea up to a week before you would like to drink it, and store in the fridge.
I would not recommend making the boba ahead of time, since it can and will get really hard. That being said, if you have leftover boba, you can keep it in the fridge overnight and microwave gently with a little water until it's soft again.
The texture isn't quite the same as fresh boba though, so this is a good way to make sure you don't waste boba, rather than a way to save time.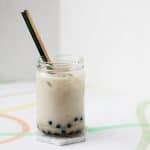 Wintermelon Milk Tea
This drink has plenty of creamy jasmine milk tea, with a hint of sweet wintermelon flavor.
Keyword:
boba, dairy-free, egg-free, jasmine tea, milk tea, non-alcoholic, nut-free, tea, vegan, vegetarian, wintermelon
Ingredients
1 ¾

cups

milk

2

tablespoons

jasmine tea leaves

1

tablespoon

granulated sugar

3

pinches

kosher salt

2

cups

peeled and cubed wintermelon

½

cup

boba

2

tablespoons

brown sugar

Ice
Instructions
Heat the milk until steaming, either over the stove or in the microwave. Add the jasmine tea leaves, then let steep for 30 minutes. Remove the tea leaves, and stir in half of the granulated sugar and 1 pinch of the salt. Set the jasmine milk tea aside.

Fill a medium pot half full with water, and bring to a boil. Add the wintermelon and cook for 5-10 minutes, or until the wintermelon is very tender when pierced with a fork. It should also look almost translucent in the center. Save ⅓ cup of the wintermelon cooking liquid, then drain the wintermelon. Stir the rest of the granulated sugar, as well as a pinch of salt, into the wintermelon.

Blend the wintermelon until pureed (it should look like pale applesauce). If your blender needs some help, add a little bit of the cooking liquid. Don't worry about how much you add, since you'll be cooking off the water later on anyways.

Transfer the wintermelon puree back to the pot you boiled it in, then place over low heat for 15-20 minutes. The goal of this step is to get rid of the extra moisture and concentrate the puree, not get it caramelized or brown, so make sure you scrape the pot frequently.

You'll know it's done when it loses its watery layer on top. If you're not sure, you can pour it into a measuring cup, and it should be about 1 ½ cups of puree when it's done (more if you had to add water to blend the wintermelon). Doesn't have to be exactly this amount of puree, but around that ballpark. Let the puree cool slightly.

Cook the boba according to the package instructions (depending on how long it takes to cook, it might make sense to cook the boba first). Once the boba is chewy and no longer has a hard, powdery inside, drain it. Mix the boba with the last pinch of salt, as well as the brown sugar.

Mix together the wintermelon puree and jasmine milk tea.

Divide the boba and any leftover brown sugar between two glasses, then add a few handfuls of ice to each glass. Pour in the wintermelon tea, and give them a stir before enjoying.
Recipe Notes
The wintermelon milk tea can be made ahead and stored in the fridge for up to a week, but the boba should be made on the day of. You can store any leftover boba (separate from the milk tea) in the fridge for up to 1-2 days, and microwave the next day until soft again.