before college, i wasn't much of a pudding person. perhaps it's because my mom isn't into them (so we didn't have them around) or because whenever i did have pudding it would be paired with mushy, oxidized bananas.
but when i got to college, the dessert table was filled with cupcakes, cookies and pudding. the cupcakes could be good (there was an amazing poppy seed one with a very light whipped cream and strawberry frosting) but they could also be the stereotypical chocolate cupcakes you get at the grocery store with the dry, not very chocolate-y cake and the hard, cloying vanilla icing. when they had those types of cupcakes and/or yet another overbaked cookie, i reached for a pudding parfait. i was partial to the chocolate/peanut butter one, with an albeit dry chocolate cake stacked with creamy peanut butter pudding and whipped cream, and the pumpkin one, with pumpkin pudding, spiced graham cracker crumbs and a dollop of whipped cream.
these deconstructed pumpkin pie puddings sounded like the last parfait i described, and i couldn't help but bookmark it in a fit of nostalgia.
deb perelman (of smitten kitchen fame) details two methods for making the puddings: one where you whip everything together, and another where you blend the pumpkin and seasonings, cook that down, and then stir in the animal products.
i chose the first, and despite her warnings that the more intensive method pays off with an even more silky pudding, the lazy method still bakes up into something rich and smooth.
plain, it's tasty, and there's the tang from the sour cream to balance out the decadence of the pudding. the graham crackers are crucial here, since there's otherwise no different texture to break up the expanse of squash and cream. gingersnaps could work too, but it depends on how spice-y you like your dessert.
of course you're still in the mood for other pumpkin goodies, so how about waffles topped with spiced pumpkin butter or a pumpkin galette with apples and almonds?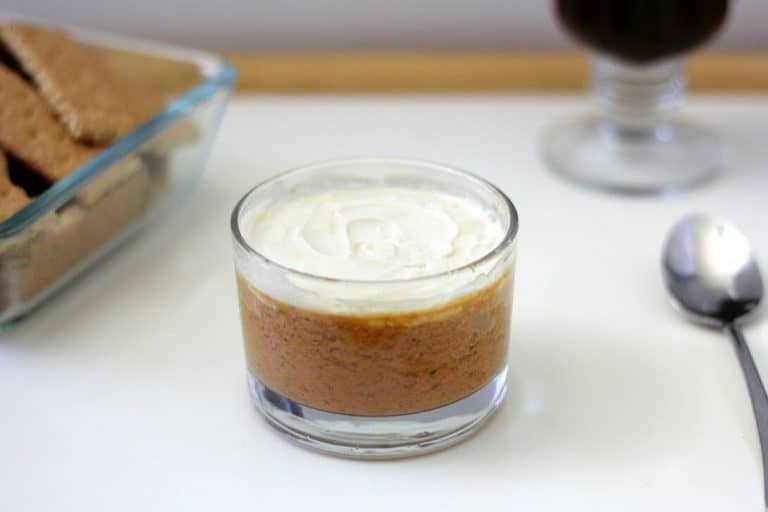 Deconstructed Pumpkin Pie Puddings
These deconstructed pumpkin pie puddings are a fun way to have your pumpkin pie, in non-pie form!
Ingredients
Puddings
1 ¾

cups

pumpkin puree

½

cup

granulated sugar

1

teaspoon

ground cinnamon

½

teaspoon

kosher salt

½

teaspoon

ground ginger

¼

teaspoon

ground cloves

1

cup

whole milk

½

cup

heavy cream

2

large eggs

lightly beaten

gingersnaps or graham crackers

for serving
Sour Cream Topping
1

cup

sour cream

1

tablespoon

granulated sugar

¼

teaspoon

vanilla extract
Instructions
In a medium bowl, whisk all of the pudding ingredients.

Divide between seven to eight ovenproof 6-ounce ramekins on a baking sheet. Bake at 350F for 35 to 40 minutes, until puddings barely jiggle and a knife comes out clean. Cool completely.

Combine the topping ingredients in a small bowl, then spread 2 tablespoons topping onto each pudding. Chill until ready to serve. Serve with gingersnaps or graham crackers.
Recipe Notes
From Smitten Kitchen.
You can use ramekins of a different size, but be prepared to change the baking time.
You can bake the sour cream topping for a few minutes, but I think it's creamier and tastier when left unbaked.