This blood orange vodka cocktail is refreshing and light, perfect if you're not in the mood for a creamy, decadent drink.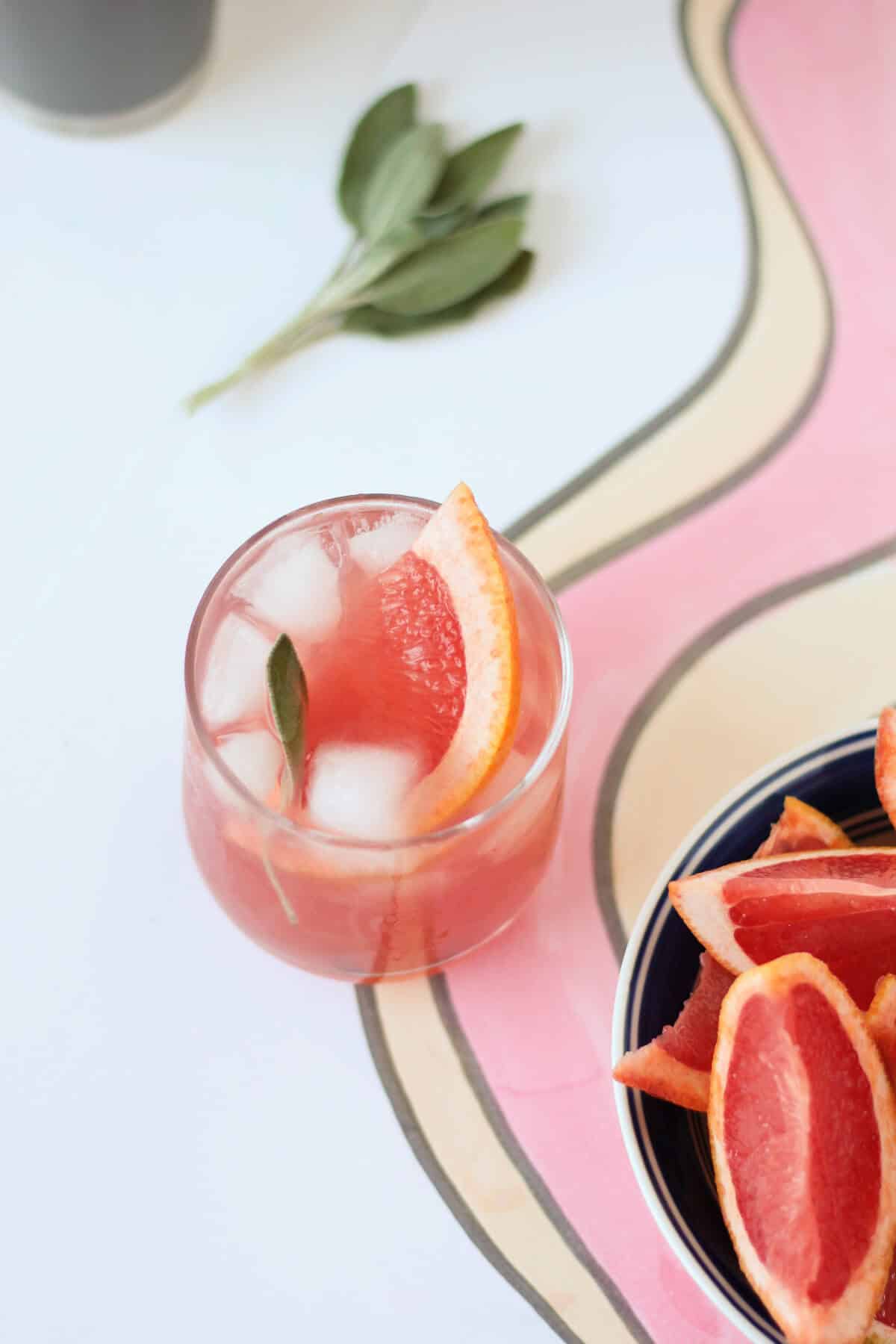 Ingredients
Blood Oranges
As the name implies, the main flavor of this beverage comes from blood oranges.
Blood oranges have a hint more red that "bleeds" into the segments, rather than the more usual bright orange flesh of a navel orange.
They're also tarter than navel oranges, so you'll need to keep that in mind and be ready to sweeten the drink a little more than you'd think.
Blood orange season starts in December, so you'll hopefully be able to find them at farmers markets and grocery stores (not only the fancy/expensive ones, check with your local shops and the chains) around this time of year!
Sage
I wanted a winter-y herb to pair with the blood oranges, and I haven't made a drink with sage before, so ta da!
Do make sure you're using fresh sage, and not dried. The flavor of dried sage is more intense and not quite ideal in a bright, clean tasting drink, so fresh is the way to go here.
How to Make
Start by making a quick simple syrup by combining sugar and water into a microwave proof container, then microwave until the sugar is dissolved.
(This is a very loose syrup, so don't worry if yours is looking watery).
Set the syrup aside to cool slightly while you prep the other ingredients.
Peel (using a vegetable peeler or a paring knife) a few strips of zest off the orange. Try to minimize the amount of white pith that you grab, since this can make the drink bitter.
Juice the oranges. You can strain out the pulp for a super smooth drink, or leave it in.
Now, let's put it all together.
In a cocktail shaker or a jar with a lid, add the sage, orange peel and a pinch of salt. Use a cocktail muddler or the handle of a wooden spoon to muddle (aka gently mush and press) the ingredients until fragrant.
Add the orange juice, vodka and a few scoops of ice, then pop the top onto your jar/shaker and shake away until the outside of the container is nice and cold.
Prep your serving glass with fresh ice, then strain in the drink. Top off with sparkling water, as well as a sage leaf and a slice of orange if you'd like.
Give it a stir before sipping away!
Tips
Salt
Salt is a necessity in any drink, blah blah I've already mentioned this many (too many? You tell me) times before in my recipes.
In this case, it also acts as an abrasive for the orange peel and sage, and helps coax their oils and flavors out.
Simple Syrup
Using simple syrup (rather than adding straight sugar into the drink) ensures that 1) the drink is evenly sweetened throughout and 2) there isn't any gritty sugar lingering in the liquid.
Sometimes, you can muddle the sugar in with the aromatics (in this case, the orange peel and sage), but since I like this drink with a bit more sugar than other cocktails (given the tartness of the blood oranges), the sugar doesn't fully dissolve this way.
Substitutions and Variations
Oranges
Blood oranges can be a pain to find, and it was much harder than I expected when I was on the hunt for some to develop this recipe.
So, feel free to use another kind of orange (though you may need to cut back on the simple syrup a bit, as well as add a squeeze of lemon or lime) instead. You won't get that gorgeous pink/orange hue, but it will still be delicious, I promise.
Soda or Juice
Another option – you can forgo the fresh squeezed blood orange juice and opt for pre-squeezed juice or blood orange soda. I can't say I've seen blood orange juice ever, so take that with a grain of salt.
Blood orange soda should be easier to find (I saw some at one small city Target, which feels like a good sign), and you don't need to add additional simple syrup or sparkling water to top off. Easy peasy orange squeezy!
One thing to note is that if you're making enough for a crowd, then hand squeezing all that juice by yourself is not fun. Juice or soda can definitely help cut down on the time and energy you spend.
Cranberry Juice
Feel free to add a splash of cranberry juice for even more of a sweet/tart flavor!
Cranberry juice is really vibrant though, so be prepared for the color of the blood orange to become more muted if you add too much cranberry juice.
Alcohol
Yes, this is a recipe for a blood orange vodka cocktail, but you can easily use something else instead.
Tequila or gin makes the most sense to me (a little biased since those are my go to spirits).
Herbs
I was aiming for a winter-y vibe here, hence the sage. Rosemary (like in this apple cider cocktail!) or thyme would also fit that bill.
I'd wager that basil (like in this strawberry basil soju beverage) or mint could be other good, no brainer substitutions, albeit less seasonal.
Of course, you can always omit the herbs altogether.
Blood Orange Vodka Cocktail
This blood orange vodka cocktail is bright in color and flavor, perfect for a pop of sunshine during winter!
Keyword:
blood oranges, citrus, cocktail, dairy-free, egg-free, nut-free, orange, sage, sparkling water, vegan, vegetarian, vodka
Ingredients
1

tablespoon

water

½

tablespoon

granulated sugar

1-2

3" long

peels from 1 blood orange

2

sage leaves

1

pinch

kosher salt

1

shot

vodka

⅓

cup

blood orange juice

ice

½

cup

sparkling water

1

sage leaf and 1 blood orange slice

for garnish
Instructions
Combine the sugar and water, then microwave for 20-30 seconds, or until the sugar is dissolved (might need to stir it a bit).

In a cocktail shaker, muddle the thyme and orange peel with the salt until fragrant. Add the vodka, simple syrup, blood orange juice, and enough ice to fill the container half full. Shake until the outside of the shaker is cold.

Fill your serving glass half full with fresh ice, and nestle the blood orange slice in. Strain the drink over the ice, then top with sparkling water and the sage leaf. Stir before sipping!
Recipe Notes
Feel free to use another kind of orange if you can't find the blood oranges, or sub in storebought blood orange juice/soda. You likely won't need the simple syrup if you use juice/soda, so hold off on adding the syrup til the end and you can taste if you even need it.
You can use another fresh herb instead of the sage (rosemary or thyme, or even basil or mint), or omit altogether.