This yogurt soju combines Yakult (a sweet fizzy yogurt drink) with soju, a Korean alcohol made with rice. It's a little sweet and creamy, with a bite from the soju at the end!
Ingredients
The main ingredients for this cocktail are Yakult and soju.
Yakult
Yakult originated in Japan, even though anecdotally and in popular culture it's more typically associated with Korean culture. You can find Yakult (which is a specific brand, like Kleenex vs tissues) and other yogurt drinks at most Korean supermarkets.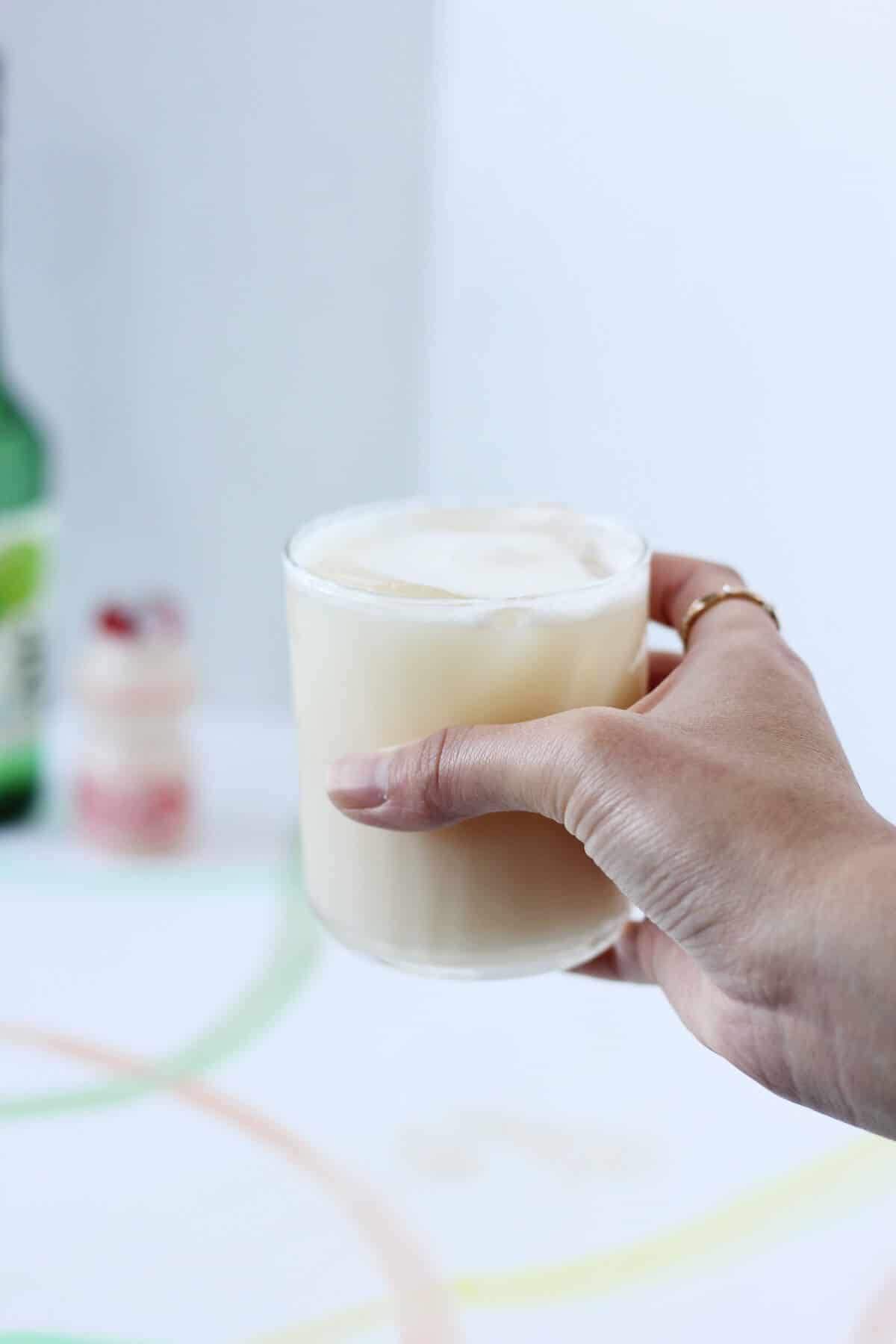 They'll typically be near the other drinks, in either the fridge or the freezer.
You can drink any leftovers straight, but if you get bored of that, how about whipping up a batch of Yakult flavored ice cream, or strawberry Yakult?
Soju
Soju is a Korean alcohol made from rice. Its alcohol content can range from 15% to 50%, though I typically stick to Jinro's original, fresh or 24 sojus, which are 17-24% alcohol per volume.
You can find soju at Korean markets, and on occasion other Asian grocery stores as well (think Chinese or Japanese grocery stores especially).
Since the soju gets mixed with Yakult, you don't need a really nice, expensive soju.
Assuming you don't take shots with any leftover soju (no judgement here though, we're all working on improving our coping mechanisms l o l), you can use it for a strawberry ginger soju cocktail, soju lemonade, or this melon soju drink!
How to Make
Place some ice in a cocktail shaker or an old (clean) jam jar with a lid, then add the Yakult, soju and a pinch of salt. Shake until the outside of the container feels cold.
Give the combo a taste, and add more soju or yogurt drink if desired (shake again if you add more).
Add fresh ice to your serving glass, then strain in the yogurt soju. Top off with sparkling water, give it a stir, and serve!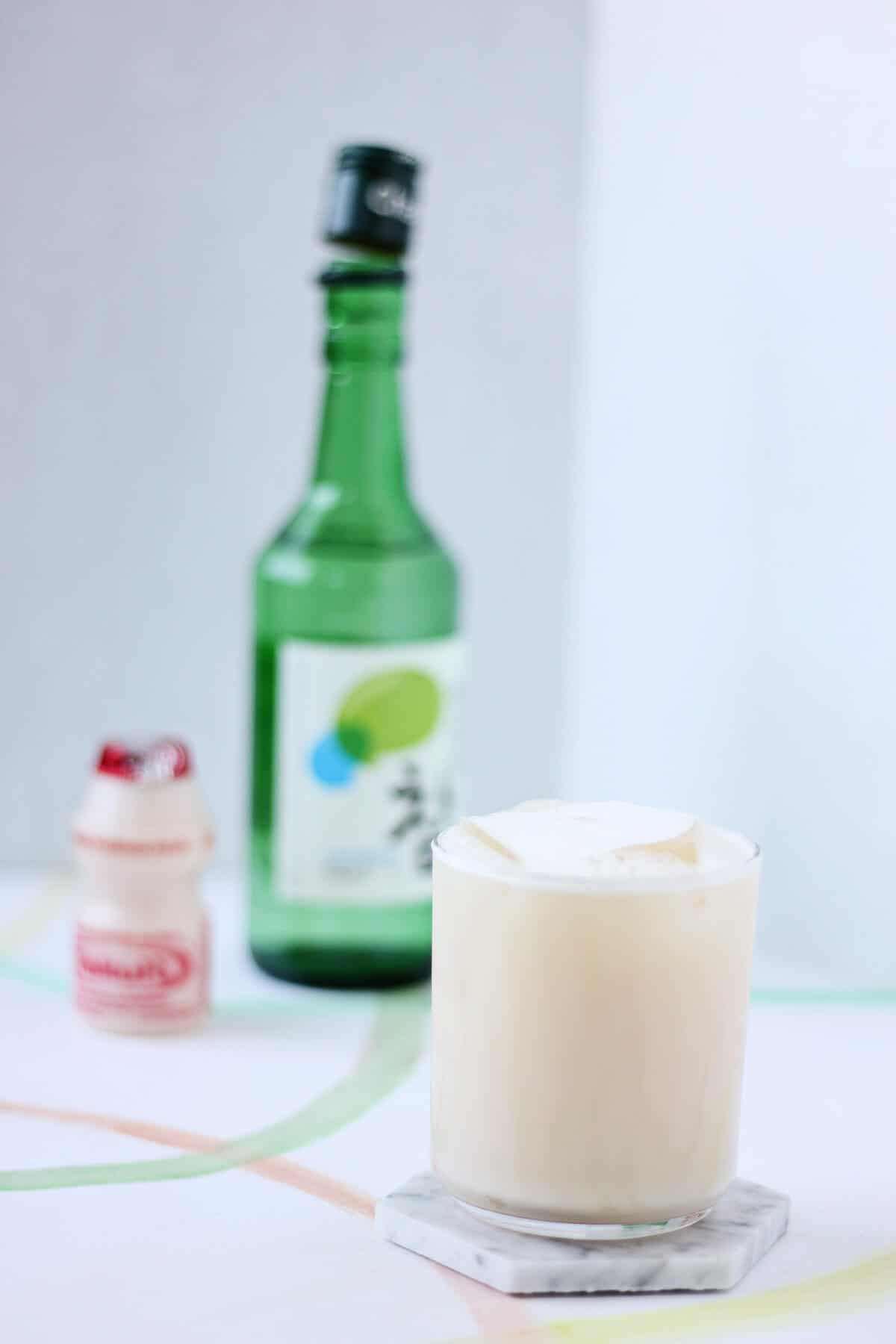 Tips
Salt
I add salt to any drink I make. It emphasizes all the other flavors, and I find that I don't need to add as much sugar either, which is nice.
Sparkling Water
I tend to like my drinks on the more refreshing side, and the sparkling water helps lighten all that creamy yogurt and intense soju.
You could use lemon lime soda or ginger ale in place of the sparkling water, though I think the drink is sweet enough without more added sugar.
You can also omit the sparkling water.
Make Ahead
I have enough faith in your drink making abilities (even without knowing you personally) that you can make a last minute yogurt soju.
But if you really want to, you can mix the Yakult, soju and salt together and store this in the fridge. Then pour into glasses with ice and top off when you're ready to serve.
Variations
This isn't the kind of drink that really needs a recipe, but in case you are newer or more anxious when making drinks at home, this might be a nice little guideline or starting point for you.
And if you like a boozier drink, or something that is more like Yakult with a whisper of alcohol, you can definitely re-adjust the quantities of each to better fit your personal tastes.
Soju
This recipe is written to use unflavored, unsweetened soju.
That being said, you can definitely use a flavored soju instead. I personally think the drink is sweet enough with the Yakult, so keep that in mind if you're not using plain soju.
Flavors
Feel free to play around with the flavors.
Maybe you're feeling like a twist of lime, or a spoonful of strawberry puree, or a drop of almond extract or even a little cup of matcha; go for it! And then let me know how it goes in the comments (:
Yogurt Soju
This yogurt soju is a little sweet and creamy from the Yakult (a sweet yogurt drink), and it's balanced out with a bit of bitter soju.
Cuisine:
Asian, Japanese, Korean
Keyword:
alcohol, egg-free, gluten-free, nut-free, soju, yakult, yogurt
Ingredients
⅓

cup

Yakult

4

tablespoons

soju

(or 2 ounces)

1

pinch

kosher salt

ice

⅓

cup

sparkling water
Instructions
In a cocktail shaker or an old jam jar with a lid, combine the Yakult, soju, salt and a handful of ice. Shake until the outside of the container is cold.

Taste the yogurt soju and add more Yakult or soju as needed.

Place a handful of fresh ice in your serving glass, then strain the yogurt soju into the cup. Top off with sparkling water, give it a stir, and serve.
Recipe Notes
I like to use plain soju and sparkling water, but feel free to use flavored soju and/or ginger ale or lemon lime soda instead.