when i was in elementary school, my mom went on a detoxing low sugar, no nightshade diet at the recommendation of her acupuncturist. for the most part, the rest of us weren't affected- we still had pizza and dried apricots and chinese fried eggplant and plenty of chocolate. what i do remember is the miso barley pilaf with mushrooms she used to make for breakfast, with carrots and shiitakes and onions and greens and sesame oil. she eventually stopped making it, because it was a lot easier to make a pot of barley or buckwheat and stir in a plop of yogurt and defrosted blueberries and be done with it. i wasn't a fan of the grains/yogurt concoction, since the yogurt was too sour and the barley showcased all its imperfections, and much preferred the savory version. i think she's made it once or twice in the past decade or so, and it was time for me to make this miso barley pilaf with mushrooms.
this barley pilaf with mushrooms has a bunch of grains, but also tons of veggies. i love the sweetness of these fork-tender carrots, the bitter freshness of the arugula, the caramel-y onions, the salty chew of the sauteed shiitake mushrooms. the overall flavoring is super cozy to me, full of these foundational-to-me asian pantry items always on hand. things like miso, garlic, ginger, soy sauce and sesame oil that provide depth and are only a reach into my fridge away. they round out and season the whole shebang, making this bowl of food something i'd happily spoon up from now until march.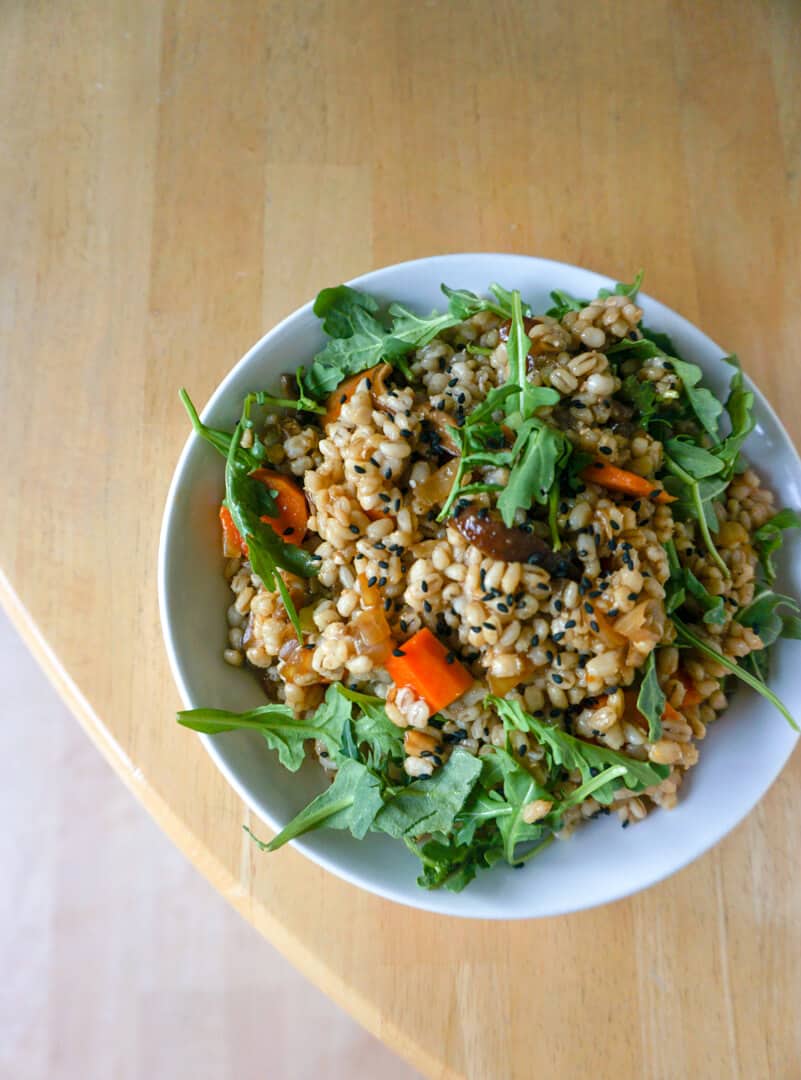 Miso Barley Pilaf with Mushrooms
This miso barley pilaf with mushrooms has plenty of carrots, arugula, and tasty root vegetables for the perfect autumn lunch.
Course:
Dinner, Lunch, Main Course, Side Dish
Keyword:
arugula, barley, carrots, garlic, ginger, grains, green onions, miso, mushrooms, sesame oil, vegetables
Ingredients
4

carrots

peeled and sliced into coins

1

onion

chopped

4

garlic cloves

minced

2"

knob

ginger

peeled and minced

8

ounces

shiitake mushrooms

sliced

¼

cup

soy sauce

1

tablespoon

sesame oil

2

tablespoons

miso

1 ½

cup

pearl barley

1

cup

packed arugula
Instructions
In a large pot over medium-low heat, heat some oil. Add the carrots, onion, garlic and ginger. Season with salt. Saute for 15-20 minutes, stirring occasionally, or until the carrots are fork-tender. Move to a bowl and reserve.

In a large pot over medium heat, heat some oil. Add the shiitake mushrooms and a pinch of salt, then cook for 10-15 minutes, stirring occasionally, until any released liquid has evaporated and the mushrooms are darker. Add the soy sauce and toss the mushrooms until coated, and cook until the soy sauce looks slightly thickened, 1-2 minutes. Add the sesame oil, toss to coat, then move the mushrooms to the same bowl as the carrots.

In the same pot, mix the miso with a splash of the water until broken up, then stir in 4 ½ cups water and the barley. Place the pot over medium heat, and cook for 20-25 minutes, or until the barley is tender and chewy. Add all of the cooked vegetables and arugula, then mix until combined. Serve warm.
other tasty barley lunches besides this miso barley pilaf with mushrooms