boba is a way of life. i was going to mention its relevance in asian american bubbles, but even lufkin, texas, with its 1.37% asian population and positioning in east texas 2ish hours away from the nearest big city (houston), has a boba shop. (also, if you're wondering how i landed on lufkin, i looked for random places on google map and then researched if they had boba).
anyways, boba refers to the chewy black tapioca pearls that act as one of the toppings for sweetened milky tea, though i've heard it used to reference the whole drink. while i don't crave pearl milk tea / pmt / boba / bubble tea like my friend b, who would happily have an iv of pmt installed into her arm, i still end up ordering and enjoying something when i tag along for pmt adventures.
case in point: a recent trip to boba guys, where i had a strawberry jasmine tea fresca. sweet strawberry + jazzy jasmine tea = happy heather. (jazzy??? bear with me for the sake of alliterations).
voila, bubbly strawberry jasmine tea, since carbonation makes things even more exciting. or how about this sparkling coffee if you want something a little more caffeinated?
it's dangerously downable. even my mom, who likes her tea on the light side, aka a used tea bag dipped in hot water for a few seconds, thought this was refreshing.
(in another refreshing way to use jasmine tea, albeit a savory one, how about this ochazuke?).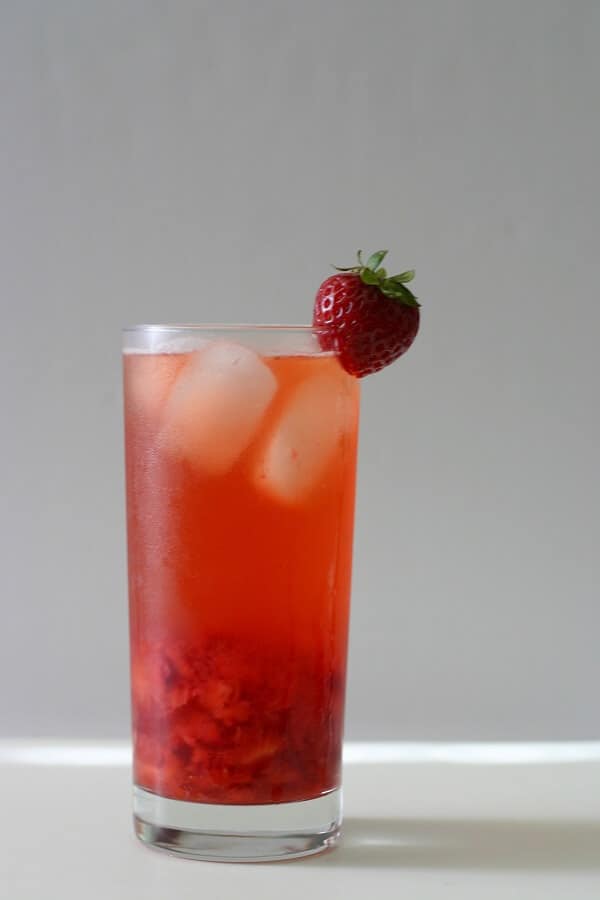 Bubbly Strawberry Jasmine Tea
This bubbly strawberry jasmine tea is gently sweetened so that it lets the strawberries and tea shine.
Ingredients
¾

cup

boiling water

1

T

jasmine green tea leaves

5

medium strawberries

diced

1

T

granulated sugar

ice and/or chopped frozen strawberries

sparkling water

chilled

maple syrup or agave

to sweeten
Instructions
Let the tea steep in the boiling water for 5-10 minutes. I think 7 is perfect, but adjust accordingly depending on your tastes. Refrigerate until cold.

Combine the strawberries and sugar, then let sit until juicy, at least 15 minutes. You can puree the strawberries if you want less texture or a more fruity tea, or if you're lazy, don't. It's delicious either way.

In a tall glass, add the ice and/or frozen strawberries, sugared strawberries (if you opted to not puree them, I'd recommend smashing them a bit with a spoon) and cold tea. Top off with the sparkling water. Stir in maple syrup to sweeten, and enjoy!
Recipe Notes
If you want more strawberry flavor, you can add more fresh strawberries, ground freeze-dried strawberries, strawberry jam, etc. Go as strawberry crazy as you want (:
Any liquid sweetener works if you don't have or want to use maple syrup or agave. I like adding it at the end instead of with the hot tea, since it's easier to account for the strawberries' sweetness when you add it at the end.