there's a weird duality to maintain when you're asian american (or, let's be real, the mixture of any cultures). it's serving no mai fan alongside the jello salad and turkey during the holidays. it's knowing what soondubu is, and harboring a soft spot for peanut butter. so in that same vein, i'm bringing you two homemade food gift ideas perfect for giving to co-workers and friends and family and whoever else you deem worthy of delicious food this multi-cultural holiday season. part one: cherry almond croquant.
a croquant is a french cookie, and this cherry almond croquant is studded with plenty of crunchy almonds and dried cherries. it's super crunchy so i think of it almost as a candy instead of a cookie.
the almonds give off an almond extract/marzipan-esque flavor, even though neither of them are in here.
and so long as your honey isn't a pain in the butt (ie it's not crystallized and you're not lazy enough to melt it in the microwave), this recipe is a breeze.
if you're looking for more treats to give away during the holidays, might i suggest red bean filled yaki manju, or maybe some strawberry sugar cookies?
this post is shorter and later than usual because someone had the really great luck of getting sick the sunday of finals week!! she napped for 90% of her day and tried to study in her delirious state for the other 10%. and ofc didn't have her post done. sigh.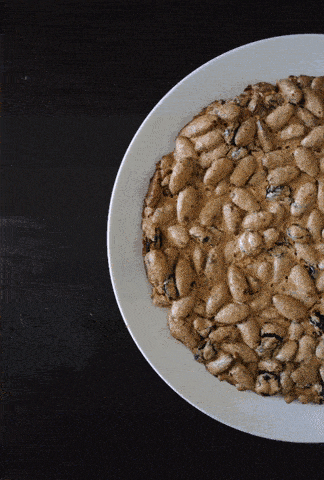 Cherry Almond Croquant
This cherry almond croquant is an easy to make homemade holiday gift that doubles deliciously as dessert.
Ingredients
½

cup

granulated sugar

1

large egg white

2

tablespoons

honey

1

tablespoon

all-purpose flour

2

cups

raw almonds

skin on is fine, roughly chopped

½

cup

dried cherries

roughly chopped
Instructions
In a large bowl, combine the sugar, egg, honey and flour. Whisk until combined and frothy. Add the nuts and cherries. Stir (switch to a spatula or a spoon, unless you want to struggle around with a whisk) until they are coated. Pour into a lined and well greased 9" round cake pan. Bake at 350F until golden, about 30 minutes. Cool in pan for at least 1 hour before cutting (I recommend using a pretty hefty, big knife) and serving.
Recipe Notes
From Carrie Vasios Mullens via Serious Eats.
I think raw almonds taste like cardboard, so I like using dry roasted ones here (and they don't get burnt or too toasty or anything).
Dried cranberries work in place of the dried cherries, or any dried fruit that's a bit tart.