grilled artichokes are so tasty that they barely need a squeeze of lemon on top, but this soy garlic mayo doesn't hurt!
this not being in school thing is more strange than i thought it would be. for the first time in forever (or 17 years), there's no autopilot of mandatory classes and homework and grades. i'm not hurtling towards a huge goal of getting into college and landing a job. sure, there's guidelines and best practices and career paths at work, but this environment and these goals are so much more fluid. i've never have to rely on myself so much to reach for variety and challenge, since these were served up on a platter so tidily before.
even in my free time, i'm craving new experiences.
i ended up grilling for the first time a few weeks ago, yielding some smoky artichokes with plenty of creamy soy garlic mayo.
i was cocky and naive, thinking they'd be equally as glorious as (yet much cheaper than) the grilled artichokes i had at the dorian. did you know, however, that unless you're trying to make crispy artichoke leather, you have to boil them before you grill them? 🤦
the second time was a lot smoother, though the soy garlic mayo was great both times. i'm sure no one's surprised that mayo is made even tastier with a dash of soy sauce, and a little chopped garlic.
and if you want another easy little mayo-based dip, how about this kimchi mayo?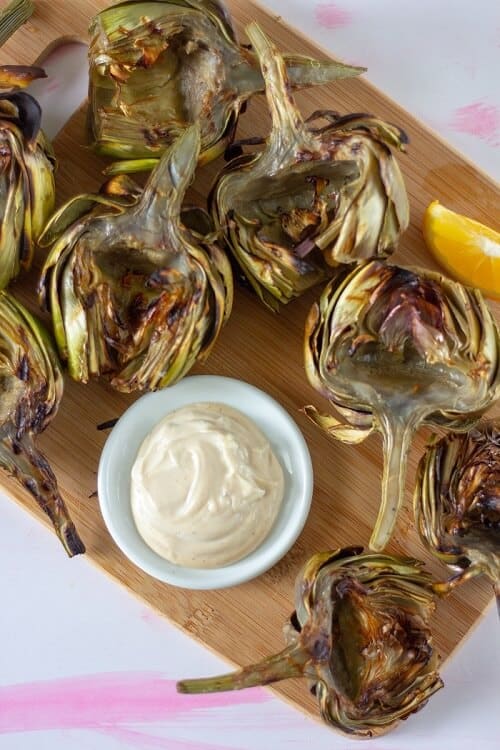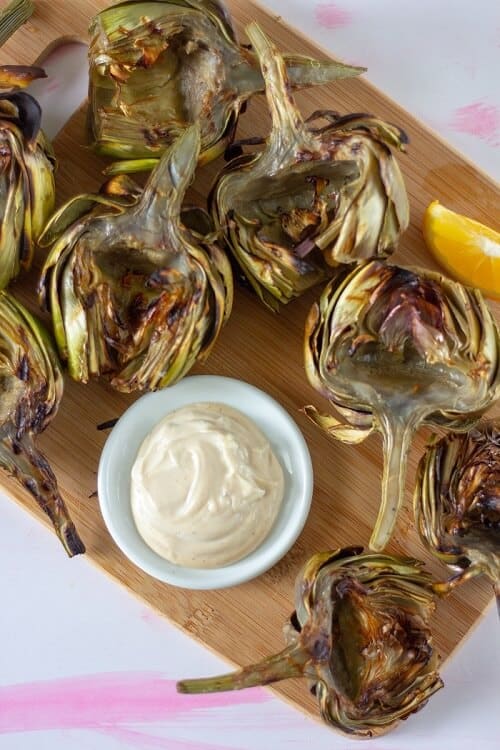 Grilled Artichokes with Soy Garlic Mayo
The sweetness of grilled artichokes goes so well with savory soy garlic mayo.
Course:
Appetizer, Side Dish, Snack
Keyword:
appetizer, artichokes, garlic, gluten-free, grain-free, lemon, mayo, mayonnaise, nut-free, side dish, snack, soy sauce, vegetable, vegetarian
Ingredients
4

artichokes

¼

cup

mayo

1

tablespoon

soy sauce

1

garlic clove

chopped

lemon wedges for serving
Instructions
Peel away the outer layer from the artichoke stem. Cut the top quarter off of the artichokes, then halve lengthwise.

In a medium pot, add the artichokes and cover with water. Bring to a boil and simmer for 15-20 minutes, or until you can easily peel a leaf off of an artichoke. Cool until you can easily handle them, then use a small paring knife to remove (and discard) any prickly bits and the inner purple leaves.

Preheat your grill to 350F-400F. Over direct heat, place the artichokes cut side down and grill for 10-15 minutes, or until the artichokes are crispy around the edges and you see grill marks. Remove the artichokes from heat and cool slightly.

In a small bowl, mix the mayo, soy sauce and garlic. Serve alongside the artichokes and lemon wedges.
other dishes with 👌 condiments