These almond milk mashed potatoes are decadent, with plenty of garlic and butter!
First things first – I want to set the expectation that these mashed potatoes don't hit you over the head with the flavor of almond milk. The difference in both flavor and texture between using almond milk and whole milk is super small.
Ingredients
Almond Milk
Hopefully this goes without saying, but I want to note that this recipe should be made with plain almond milk, not anything flavored or sweetened. I made that mistake with vanilla almond milk when I was trying to make cauliflower rice as a dumb teenager, and I don't need to try vanilla almond milk in mashed potatoes to know that it would be another mistake.
You should use an almond milk you like (fingers crossed that that concept is a no brainer as well), and I'd nudge you to pick one that is on the creamier side. No worries if the only almond milk you have on hand is a little more watery, just keep in mind that you might need to add a little more butter to make up for the lean almond milk.
Russet Potatoes
This is a chunky homestyle mashed potato, not a super smooth French mashed potato vibe, and that's partially thanks to the russet potatoes used in this recipe. There's probably some nostalgia associated to that decision, since the mashed potatoes I ate growing up were made with russet potatoes, though I really do like how dense these are.
You can sub in a different kind of potato if you'd like, so long as you know that the texture will likely be different.
And if you somehow ended up with too many russet potatoes, might I suggest these furikake fries or za'atar fries to use them up?
Equipment
The main piece of equipment you need is an electric mixer, ideally a hand mixer to minimize dishes.
It's so nice using an electric mixer, since it breaks down the potatoes quickly. Game changer when you're making a big batch for a family dinner or get together, rather than a single serving.
You don't have to use an electric mixer, though it does make the process so much faster and easier.
How to Make
Start by peeling and cubing the potatoes.
Put the potatoes in a big pot, and add water until the potatoes are covered by the water. Put the pot on the stove and bring to a boil.
Boil the potatoes until they're fork tender (aka you can pierce a potato with a fork easily, without much resistance; they also shouldn't fall apart when you try to poke the potato), then drain off the water.
Combine the almond milk and vinegar to make a mock "buttermilk."
Add the almond milk "buttermilk", garlic, butter and some salt to the potatoes. Use a hand mixer to mash the potatoes.
If the potatoes are looking too dry, add more almond milk (a little at a time to ensure they don't become too wet). Season to taste with more vinegar, garlic, butter and salt.
Serve hot!
Variations
Vegan
This recipe is not vegan or dairy free as written. What can I say, I love butter and I don't stick to a vegan or dairy free diet, so butter it is.
However, you can definitely make it dairy free if you'd like. Using a vegan butter or margarine would be the easiest swap, though you can also play around with coconut oil or olive oil instead.
One thing to note – using oil might yield a slightly looser mashed potato texture, so keep that in mind.
Seasonings
Ground black pepper and/or herbs (rosemary, chives, and green onions are the first ones that come to mind, but play around with your favorites) would be welcome additions here.
Cheese also sounds delicious, whether you go with something like sharp cheddar or a creamy, mild cheese.
Serving Suggestions
These mashed potatoes don't need more butter on top, but it also doesn't hurt, so go ahead and do your thing. I don't need to tell you that gravy is okay either.
Pairing wise, I love serving a helping alongside some meatballs and marinara, or a crispy pan-fried sausage. In the laziest moments, you can find me eating a mound of mashed potatoes alongside a fried egg and some veggies.
tbh a bowl of potatoes in bed on a lazy afternoon is a perfect savory snack, no toppings or sides required.
Tips and Tricks
Garlic
I love the slight bite of semi-raw garlic, so mixing the raw minced garlic into the hot potatoes without cooking the garlic is perfect for me.
That might be too intense for some people, I get it. We're not all making fear based decisions in our attempt to stave off vampires.
You can saute the garlic in the butter separately, microwave the garlic and butter together, or even roast the garlic. I'd recommend increasing the amount of garlic you use if you roast the garlic since it mellows out the garlic so much, though that's up to you.
Buttermilk
I love the tang of buttermilk in my mashed potatoes, so this version imitates that by combining a bit of vinegar with the almond milk.
In recipes where you need the buttermilk to help a baked good rise, it's important to wait and let the vinegar curdle the milk. There's no such thing that needs to happen here, so no need to wait for the buttermilk to curdle.
Storage
I definitely recommend making these potatoes as close to serving time as possible; I don't think they can ever be as creamy, soft and flavorful as fresh. But, you have some options if you have to make them ahead of time.
Fridge
This is the best way to store your mashed potatoes. Put them in a covered container, and keep them in the fridge for up to a week.
Freezer
This is one of the few situations I would advise a bit of caution if you're going to freeze these. When I ate leftovers that were frozen for about a month, the potatoes were mealy and watery, which wasn't super pleasant to say the least.
Others on the interwebs have had luck with freezing their mashed potatoes, though they recommend adding more (and in some cases, double the amount of) fat to help protect the creaminess of the potatoes.
It'd probably be the easiest to add more butter (since you probably have it on hand to add to the potatoes anyways), though you could pour in some heavy cream or half and half as well.
Reheating Tips
You can reheat them over the stove or in the microwave. My preference is the microwave, especially since I find that mashed potatoes can be a bit dry after hanging out in the fridge for a bit, and the microwave encourages a little more steaminess than the stove imo.
If you notice that the potatoes are a bit dry, you can add a little more almond milk and/or butter to moisten them.
If you're finding that your leftover potatoes (particularly if you frozen them) are really loose and watery, an instructor from the Institute of Culinary Education mentions that you can mix in one plain, boiled potato that's been mashed.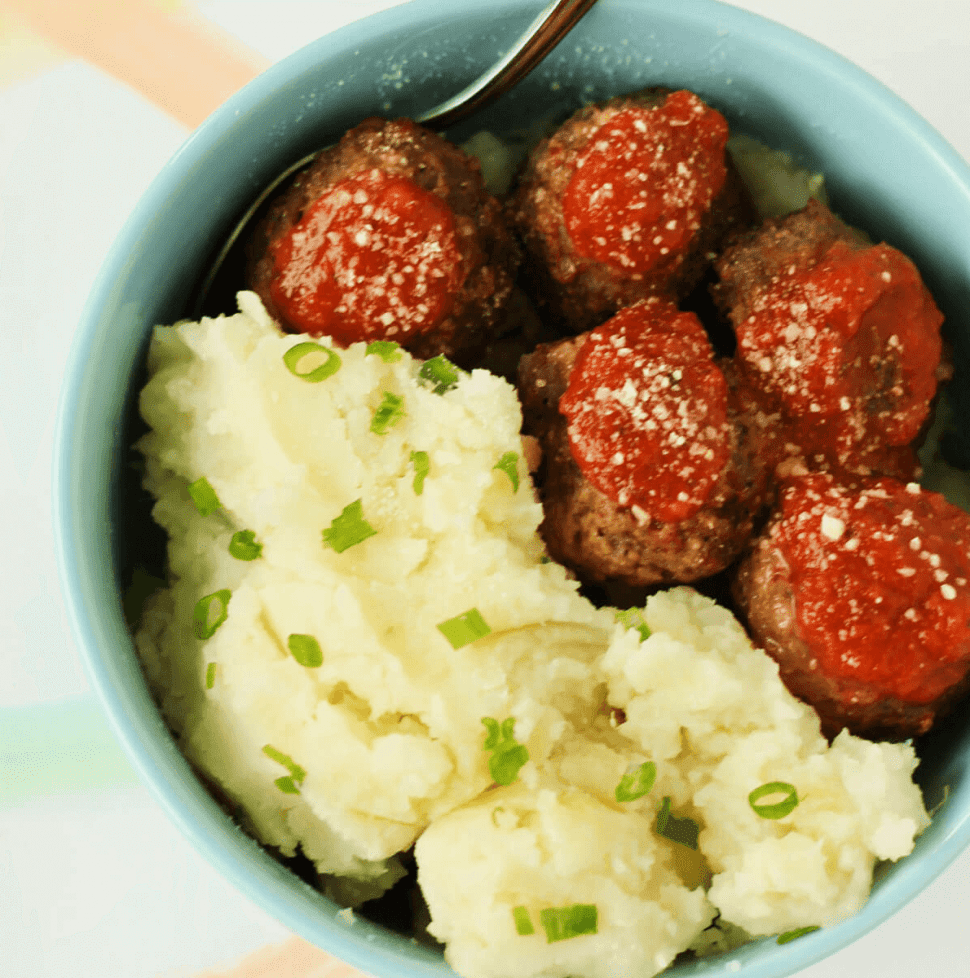 Almond Milk Mashed Potatoes
These almond milk mashed potatoes are cozy, thick, homestyle mashed potatoes. They're flavored with plenty of garlic, butter and buttermilk!
Keyword:
almond milk, egg-free, garlic, nut-free, potatoes, vegetarian
Ingredients
2

pounds

russet potatoes

peeled and cubed

2

garlic cloves

minced

6

tablespoons

unsalted butter

1

cup

plain almond milk

1 ½

tablespoons

white vinegar

Salt to taste
Instructions
Boil the potatoes in salted water until fork tender, about 10 minutes. Drain and place the potatoes back in the pot.

Add the butter and garlic. Cover the pot until the butter melts; this also helps the garlic cook through a bit so it's not as raw tasting.

Mix together the almond milk and vinegar, then add to the potatoes.

Mix with an electric hand mixer until the desired consistency is reached, adding more almond milk to thin it out or change the flavor if necessary. Add salt to taste. Serve warm/hot.
Recipe Notes
You can saute, microwave or roast the garlic if you want the garlic to be more mild.
You can mash the potatoes by hand using a potato masher, ricer or other tool if you don't have a hand mixer (this makes it faster when you're making a big batch).