this purple sweet potato salad satisfies your carb-y, mediterranean cravings while also making sure you get your greens in.
i demean potatoes every day. one of my friends and i use the term "potato" to denote how little lazy we are, or how casual our clothes look in particular instances, or how bad my phone is as a camera. i'm not alone though: the very reputable urban dictionary has a similar definition of potato.
why are we so derogatory towards potatoes? and not that going out isn't fun (i dressed up as an 80s jazzercise lady for halloween, and inhaled some chicken curry and smoked eggplant at supergood kitchen, a yuzu cocktail at miniboss, 2 sips of an amf at some dive bar, and a brandy/vermouth/lavender drink and wings at paper plane, with half a quesadilla from la vic's for dessert), but i could probably stand to be more potato-like these days. my wallet, my stomach and my sleep schedule don't like me much when i'm having a good time.
besides, souvla in sf serves a purple sweet potato salad, and it's anything but potato-y. there's tangy pickled red onion, crunchy toasted walnuts, briny feta and kalamatas.
i like using a mix of kale and arugula, so it's not all dense kale or bitter arugula but instead a balance. the creamy, garlicky dressing is delicious (as are the rest of the toppings), though the stars are the purple sweet potatoes.
they're almost chestnut-like in flavor, much less starchy than a normal sweet potato, and get sweeter in the oven. did i mention that they're also delicious when made into sweet potato haupia pie bars?!
happy lunching!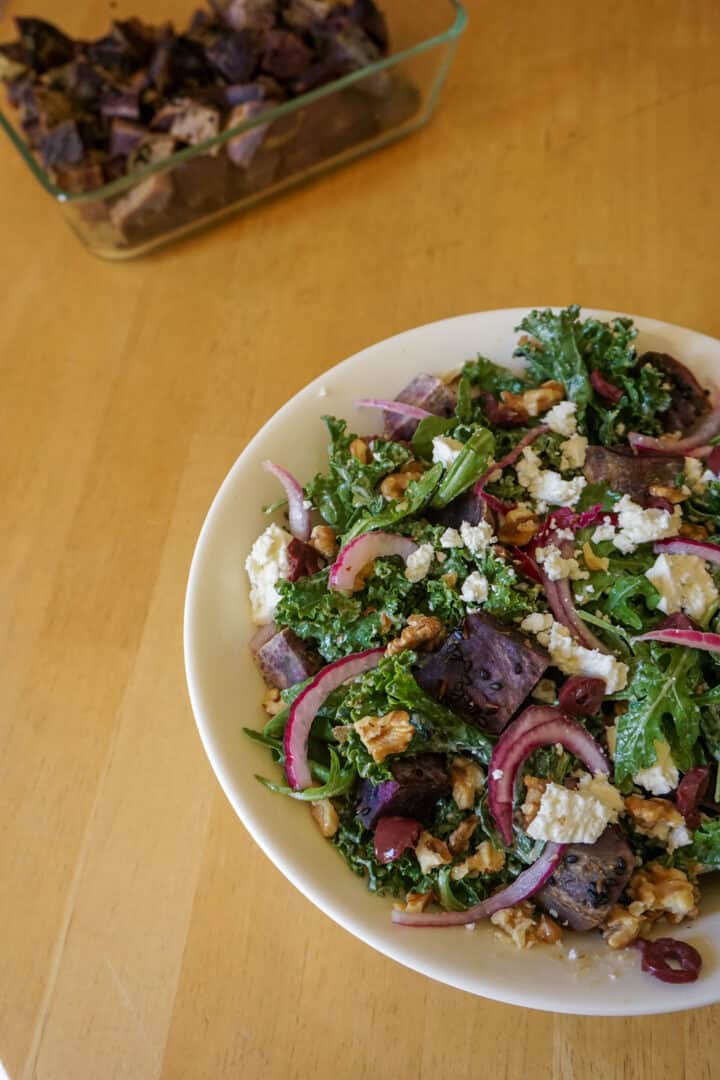 Purple Sweet Potato Salad
This purple sweet potato salad has some delicious za'atar roasted chestnutty potatoes, but the rest of the salad (with pickled red onions, walnuts, olives, marinated kale) is no slouch either.
Course:
Dinner, Lunch, Main Course
Cuisine:
Fusion, Mediterranean
Keyword:
arugula, cheese, cumin, feta, garlic, greens, hazelnuts, herbs, kalamata olives, kale, olives, oregano, pasta salad, pickled red onion, purple sweet potatoes, quick pickles, red onion, sweet potatoes, tahini, vegetables, vegetarian, walnuts, yogurt, za'atar
Ingredients
Quick-Pickled Red Onions
¼

cup

apple cider vinegar

½

tablespoon

granulated sugar

1

teaspoon

kosher salt

½

cup

water

½

red onion

thinly sliced
Za'atar Roasted Purple Sweet Potato
4

medium Japanese purple sweet potatoes

peeled and cubed

1

tablespoon

dried oregano

1

tablespoon

cumin seeds

1

tablespoon

ground cumin

1

tablespoon

sesame seeds
Garlic Tahini Yogurt Dressing
¼

cup

extra virgin olive oil

½

cup

Greek yogurt

room temperature

1

garlic clove

minced

1

tablespoon

lemon juice

1

teaspoon

grated parmesan cheese

1

tablespoon

tahini

1

teaspoon

soy sauce
Assembly
4

cups

mixed greens

½

cup

kalamata olives

chopped

½

cup

toasted walnuts

chopped

½

cup

crumbled feta
Instructions
Quick-Pickled Red Onions
Whisk vinegar, sugar, salt and water in a small bowl until sugar and salt dissolve. Place onion in a jar; pour vinegar mixture over. Let sit at room temperature for at least 1 hour.
Za'atar Roasted Purple Sweet Potato
On a large rimmed baking sheet, toss the potatoes with olive oil and salt.

Roast at 450F for 20 minutes, or until fork-tender. While the potatoes are still hot, toss with the spices. Cool slightly.
Garlic Tahini Yogurt Dressing
Whisk everything, seasoning with salt and pepper to coat.
Assembly
If you're using hearty greens (ie kale), toss the dressing with the kale and let marinate for 30-45 minutes. Right before you're ready to assemble, toss in delicate greens (ie spinach, arugula, romaine).

Divide the greens among 4 bowls. Top with the sweet potatoes, pickled red onions, olives, walnuts and feta.
other tasty salads besides this purple sweet potato salad