this mango noodle salad with cilantro coconut milk dressing is perfect when you want something carb-y and fruit-y for lunch, all sauced up with a herby dressing.
the lazy days of summer have hit. motivation at work is pretty low, though i did get added to a new project that i'm excited about and likening to a playground. i'm antsy for august and september, since i have a few trips (fun and work) coming up. already daydreaming about dragging my coworkers to get these doughnuts with me, knowing i'll be ordering too much at denver biscuit co., and wishing that this (prickly pear!!) ice cream was closer to where i'm actually going to be staying.
in the meantime, i'm making mango noodle salad with cilantro coconut milk dressing. it's from top with cinnamon, with a few tweaks: added some arugula and pickled carrots, and subbed tofu for the halloumi. the greens help add peppery freshness to what otherwise can be a bit light on the vegetables, and i'm convinced that quick pickles work with 99% of savory dishes. the mango and pineapple are delicious ofc, but the creamy, spicy dressing is the star here. if you took thai curry and stuck it in a swimsuit, that's this cilantro coconut milk dressing.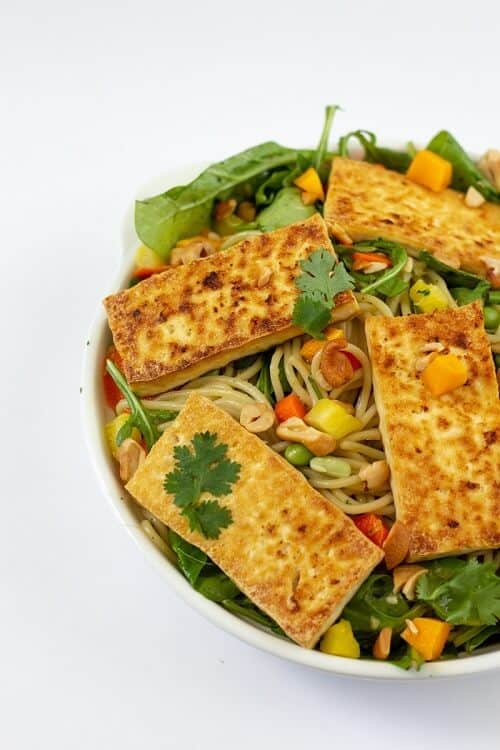 1 year ago: coconut rice bowl with cumin broccoli slaw and quick pickles | strawberry matcha latte
2 years ago: spam musubi
3 years ago: roasted broccoli salad with baba ghanoush
Mango Noodle Salad with Cilantro Coconut Milk Dressing
This mango noodle salad has plenty of sweet fruit, peppery greens and crispy tofu, along with a fragrant cilantro coconut milk dressing.
Course:
Dinner, Lunch, Main Course
Cuisine:
Asian, Fusion, thai
Keyword:
arugula, carrots, cashews, cilantro, coconut milk, dairy-free, dinner, edamame, egg-free, entree, fruit, lunch, main course, mango, noodles, pasta, pasta salad, pickles, pineapple, summer, tofu, vegetables, vegetarian
Ingredients
Mango Noodle Salad
1

carrot

thinly sliced

1

tablespoon

rice wine vinegar

1

tablespoon

granulated sugar

⅔

cup

frozen shelled edamame

5 ½

ounces

dry soba or udon noodles

4 ½

ounces

tofu

cut into ⅛-inch-thick slices

4

ounces

arugula or spinach or other salad greens

½

large ripe mango

peeled and cubed

¼

cup

chopped pineapple

2

scallions

thinly sliced

2

tablespoons

coarsely chopped basil

¼

cup

toasted cashews

coarsely chopped
Cilantro Coconut Milk Dressing
¼

cup

cilantro leaves

finely chopped

1"

knob

ginger

peeled and minced

1

lemon

juice

2

tablespoons

soy sauce

1

tablespoon

granulated sugar

⅓

cup

coconut milk
Instructions
Combine the cucumber, vinegar and sugar; mix until the cucumber is coated. Let marinate for at least 15 minutes, while you prep everything else.

Put the edamame in a colander in the sink. Cook the noodles in a saucepan of boiling water, then pour the noodles and cooking water over the frozen edamame in the colander. Let sit for 30 seconds to thaw the edamame, then rinse under water to prevent the noodles from clumping.

Heat a dry, nonstick skillet over medium heat. Add the tofu and cook until golden on the first side, 5-10 minutes, then flip and cook on the other side. Remove from the pan.

Mix all the dressing ingredients together.

Toss the noodles and edamame with the arugula, mango, scallions, basil, and nuts. Divide the salad between 3 plates and top with the dressing and tofu.
other pasta salads besides this mango noodle salad with cilantro coconut milk dressing